11 Best Wedge Sneakers Of 2023 That Are So Comfy And Stylish
Unlock a new comfort level while walking around wearing gentle and iconic footwear.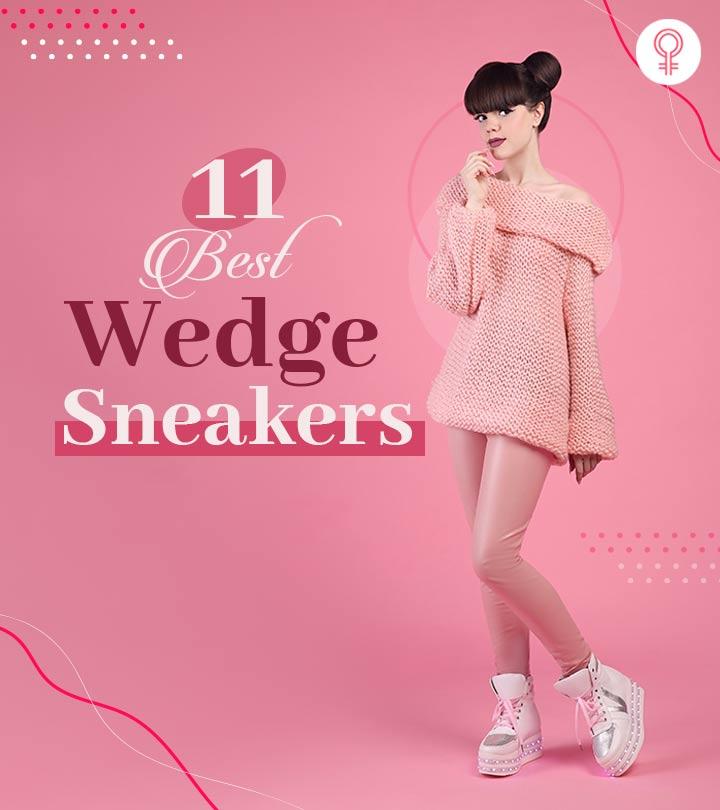 If your friends are taller than you, all you need are fun wedge sneakers to tower over them! These sneakers add extra inches to your height as you look uber cool. Moreover, the best wedge sneakers available are superbly comfortable to wear. The heels do not hurt your foot and suit every other outfit in your wardrobe. So, we recommend you scroll down and take a look at the 11 best wedge sneakers of 2023 that are comfy and stylish.
11 Most Comfortable And Stylish Wedge Sneakers On The Market – 2023's Top Picks
If you are looking for durability, the AONEGOLD Women's Platform Sneakers Wedges should be an excellent option. The two and a half inch concealed heel provides you added height and oomph! The cushioned rubber sole ensures a soft landing, while the nylon-knit upper keeps your feet cool and ventilated. In addition, the elastic in these sneakers snugly hugs your feet and allows you to walk with security.
Pros
Comfortable to wear
Breathable
Lightweight
Ergonomic design
True to size
Cushioned rubber sole
Vegan
Cons
Price at the time of publication: $40.89
The Athlefit Women's Wedge Sneakers are sleek-looking footwear intelligently designed for versatile use. They are made from breathable material that keeps your feet cool and sweat-free. These sneakers fit comfortably because of the side zipper and elastic closure. The cushioned insoles do not ache your feet, while the rubber soles prevent slipping or tripping. The hidden platform heel of about two inches elongates your legs and helps maintain your gait and balance while walking. These casual wedge sneakers go perfectly well with any attire.
Pros
Breathable material
Side zipper
Rubber sole
Cushioned insoles
Easy on and off
Supports high arch feet
Elastic closure
Versatile wear
True size
Cons
Needs breaking-in
Fabric scuffs easily
Price at the time of publication: $36.79
The Cestfini Wedge Sneakers with crisscross detailing on the side are ideal all-weather athletic shoes made from synthetic yet breathable material. The 2-inch concealed heels accentuate your legs, giving you a slender, curvy look. The closure is the lace-up kind which makes for a casual look, yet the slight sheen in the fabric gives it a rather trendy feel! The outsoles are made of rubber and provide a great grip when walking.
Pros
Rubber soles
Breathable material
Lightweight
Comfortable arch support
Stylish glistening design
Lace-up closure
True size
Comes with a money-back guarantee
Cons
Hard insoles
Missing cushioning
Price at the time of publication: $35.59
The UBFEN Women's Fashion Sneakers allow flexible movement of your toes. They snugly stay on your feet while aiding in your low-impact workouts. To perfectly seal your look at parties and events, you can pair these wedge sneakers with shirts, blazers, and well-tailored trousers. The removable insoles in these urban wedge sneakers help add to the heel height. The elastic shoelaces and magic tape in the shoes reduce extra pressure on your feet, allowing you to walk as comfortably as possible.
Pros
Lightweight
Flexible
Stylish embossed look
Removable insoles
Elastic shoelaces
True to size
Cons
Price at the time of publication: $42.99
The Hart is a super comfy wedge sneaker from Cushionaire. The memory foam insoles support and pamper your feet throughout the day. The soft suede upper gives a classy look, while its dual side zippers ensure a perfect fit. The statement wedge heels are about an inch high, so you can walk confidently without the fear of going off balance or slipping. These modern sneakers come in sizes 6 to 11 with options for wide widths.
Pros
Soft insoles
Soft suede material
Easy on and off
Wide toe box
Arch support
Dual side zippers
Durable
Cons
Are you looking for that perfect snug-fit wedge sneaker? The DREAM PAIRS Women's Wedge Sneakers happen to be the ideal pick for you! These vegan leather sneakers have a rounded toe box, a stretch goring panel on the top, and zippers on both sides for a comfortable fit. The thermoplastic rubber sole makes the shoe anti-slip. The concealed wedge heel is approximately two inches tall, and the shoe comes with a moderately padded insole for added comfort.
Pros
Round-toe design
Synthetic leather
Anti-slip TPR sole
Dual side zipper closure
Wide toe box
Breathable upper cover
Top elastic goring
Cons
Price at the time of publication: $33.99
If you are looking for quaint and dainty women's wedge sneakers, you can go for the runway-inspired Quinn Wedge Sneakers by Grasshopper. These stretchy canvas sneakers come with a slip-on design that hugs your fit. The memory foam insole keeps your feet at ease even after a long and tiring day at work. You do not need to worry about heel or foot arch pains any longer since this wedge comes in a comfortable heel height of 1.25 inches. The jute detailing on the wedges impart a trendy designer look. You can select from a wide range of sizes from 6 to 11 inches.
Pros
Stretchy fabric
Soft footbeds
Designer heels
Jute detailing
Rubber sole
Slim fit design
Cons
None
The Felicia Wedge Sneaker by Linea Paolo is the pick of the bunch if you are looking for a premium wedge sneaker that matches your style quotient. The textured upper and contrasting sole gives you a cool sporty streetwear look. The inner leather lining and cushioned insole provide much-needed comfort to your feet all day long and help you go the extra mile! The strategically placed zipper on one side and the upper elastic goring ensure a perfect fit. These sneakers also feature an anti-slip rubber sole to provide you the extra grip and confidence.
Pros
Patterned exterior
Rubber sole
Top goring
Side zipper
Cushioned insole
Cons
Price at the time of publication: $99.36
The Soda Taylor Wedge Fashion Sneakers are made from 100% artificial leather. This pair comes with a dual zipper closure for easy slip-on and off-wearing. The combination of platform and wedge gives you a height boost of over an inch to improve your posture and step up your confidence. The sole is made from a rubber material.
Pros
Dual zipper
Rubber sole
True to size
Easy slip-on style
Vegan
1.25-inch hidden wedge
Cons
Price at the time of publication: $24.5
The Womens Wedge Sneakers from TOP Moda 5.75 inches, including the heel. They are made from 100% synthetic material and feature a lace-up closure augmented by a high Velcro strap for securing the shoes properly. These contemporary sneakers can be worn on both semi-formal and casual occasions. The high wedge is a confidence booster and makes you stand out in a gathering.
Pros
Synthetic material
High top design
Lace-up closure
Velcro top strap
Wide toe box
Bunions-friendly
Cons
Design bulky
No cushioning
Price at the time of publication: $39.95
The Viscozzy Wedge Sneakers are made from quality PU leather for all-season performance. These stylish shoes are ideal for casual dressing. The external material is glossy, imparting a sleek flamboyant look and ensuring that you remain the center of attraction. The lace-up closure lends it a classic appearance. The hidden wedge adds to your inches in the right dimension making you seem to be taller. These unique sneakers are available in universal sizes from 6 to 10. Flaunt an elevated sporty-chic look with these wedge sneakers!
Pros
Made of high-quality PU
Classic design
Lace-up closure
Sleek look
Cons
Price at the time of publication: $36.9
Feeling a bit spoilt for choice, aren't you? We expected no less! Well, our buying guide can help you make the final selection.
What Should You Look For When Buying Wedge Sneakers For Women?
1. Closure Type: Wedge sneakers come with a wide choice of closure types. Some are the lace-up type, while others have elastic goring or zippers. If you need to slip on or off the sneaker, it is best to go for the zippered closure shoe or the ones with elastic goring for ease of wear. But for the classic sneaker look, the lace-up ones always have the vantage point.
2. Wedge Height: Consider the height of the wedges when you buy your sneakers. Most of them come with a 2-inch concealed heel. Still, if you are already tall enough and yet do not want to be left behind on the style express, you can opt for the ones with a one-inch wedge that gives you the satisfaction of wearing a wedge sneaker without making you look overtly lanky.
3. High Top Or Mid-Top: A high-top wedge sneaker typically extends slightly over the ankles. Although it looks great on wearing, it may be bulkier and make the legs look shorter! On the other hand, a mid-top shoe is about ankle-length. In comparison, since a little more of your feet are visible, it creates an illusion of longer legs! So choose the wedge heel that suits your height the best.
Frequently Asked Questions
What are wedge sneakers called?
Wedge sneakers are also called wedgies or lifties as they lift you off the ground due to the sole, which extends as a heel by forming a wedge.
Are wedge sneakers comfortable?
Surprisingly, yes! Wedge sneakers can be pretty comfortable. All that extra rubber in the wedge makes them more cushioned and way snugger than your regular flat-soled sneakers!
Are wedge sneakers in Style 2023?
Yes. When the desire for height combines with the need for being fashion-forward, wedge sneakers steal the show. Wedge sneakers will always remain in style for those wanting a fun, comfy way to put their best foot forward!
Are wedge sneakers cool?
Yes, wedge sneakers are cool, stylish, and comfortable. They are versatile and can be paired with a lot of different outfits.
Is a wedge considered a heel?
Yes. Since a wedge lifts you from the ground slightly and adds height, it is considered a heel.
Are wedge sneakers hard to walk in?
Not at all. Wedge sneakers are not hard to walk in. Instead, they are the most comfortable footwear because of the extra cushioning.
When did wedge sneakers become popular?
Wedges have been around for a long time now, however, they became popular in 2012.
What is the difference between wedge and platform shoes?
Wedge shoes and platform shoes both feature a heel, but platforms have a thick sole alongside. Platforms provide an additional boost in front as opposed to having a level surface heel only at the back.
Why Trust StyleCraze?
The author, Srijani Roy Chowdhury, is a fashion enthusiast who believes that wedge sneakers are fashionable and provide optimal comfort. Her well-researched article ensures high-quality products, keeping your convenience and safety in mind. She has considered your requirements and the necessary quality parameters to bring forth this list of the best wedge sneakers. These shoes are durable, flexible, and come with soft, waterproof insoles.