10 Best Weighted Blankets – Reviews And Buying Guide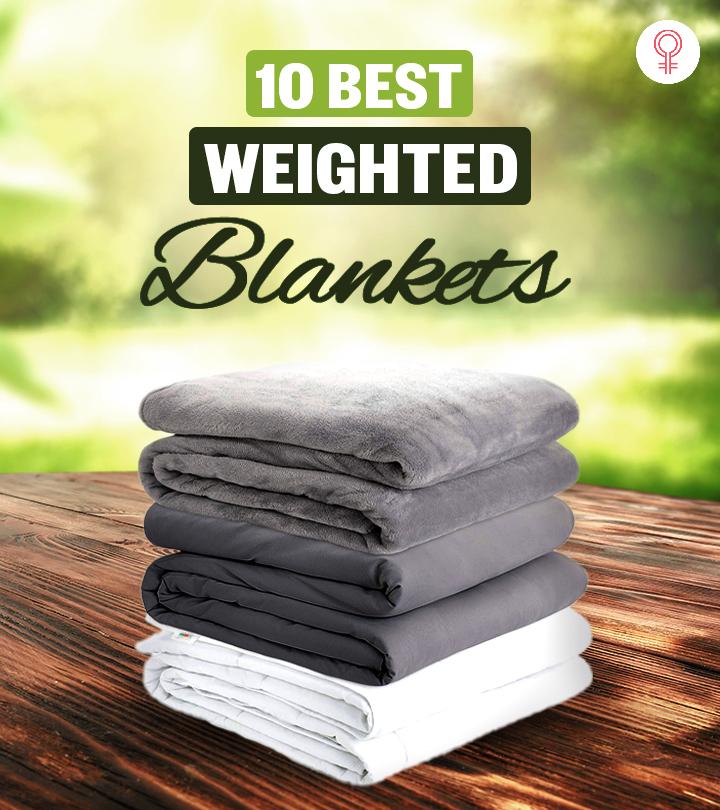 Are you having trouble getting restful sleep at night? Then you may want to pick a weighted blanket. These therapeutic and cozy blankets may look like normal comforters, but they are usually made from premium glass beads and organic cotton. They offer maximum rest and comfort. They provide steady pressure that offers a hug-like feeling to stimulate dopamine and serotonin production, keeping you relaxed and calm. Your body transforms these chemicals into melatonin to induce a good night's sleep.
Here, we have listed the 10 best weighted blankets that can give you the best sleep in a long time. Check them out.
10 Best-Weighted Blankets – Reviews
This top-rated weighted blanket by YnMhelps with serotonin release through deep touch stimulants. The glass beads stuffed throughout this blanket with small compartments exert a constant pressure on your body and soothe your nervous system. This blanket is available in numerous design choices and duvet colors.
It is made of Oeko-Tex cotton that helps with better airflow. The premium glass beads are made of odorless, non-toxic, and hypoallergenic material. Its unique 7-layer structure allows the glass beads to offer temperature control. It contours to your body shape for added comfort.
Pros
Better airflow
Odorless beads
Non-toxic
Hypoallergenic
Offers temperature control
Contours to body shape
Cons
Could be too hot for some
Price at the time of publication: $39.99
This ultra-breathable weighted blanket by Quility is made of 100 percent cotton in the outer layer. Its premium micro glass beads offer a good night's sleep. This weighted blanket comes in a range of colors. Its soft aqua cover is made from original polyester. Its weight is evenly distributed. Its breathable surface offers maximum warmth without making you feel too hot under it.
The blanket is designed with 7 layers for added comfort. It is made with an advanced sewing technology for added durability.
Pros
Non-toxic
Hypoallergenic
Even weight distribution
Durable
Cons
Price at the time of publication: $138.31
The ZoonLi Weighted Blanket comes with little pockets that evenly distribute the weight of the glass beads. Its outer material is made from a super-smooth material that prevents overheating. It works best for temperature control and keeps you warm on snowy, wintry nights. However, it does not overheat on a warmer night.
The blanket comes with a non-glue padding material that keeps the glass beads protected. Its even weight distribution offers added comfort. The glass beads are odorless, hypoallergenic, and non-toxic.
Pros
Hypoallergenic glass beads
Non-toxic
Odorless
Organic cotton prevents allergies
Even weight distribution
No overheating
Cons
Beads may spill out with use
Price at the time of publication: $49.99
The weighted blanket from Weighted Idea is filled with small yet heavy plastic beads sewed seamlessly into small compartments. It is engineered to be roughly 7 to 12 percent of your body weight to induce good, natural sleep. This versatile blanket can be used while sleeping, watching TV, or reading in bed. Its 100% cotton material is safe for skin always.
Pros
Cons
Price at the time of publication: $39.99
The Degrees of Comfort Weighted Blanket comes with double duvet covers, with one being fluffy warm and the other being lightweight. The dual covers make the blanket versatile and help you sleep better. Its CoolMax microfiber technology helps dissipate heat away from your body and gives you that cool sensation through the night.
This weighted blanket suits better for people coping with sensory issues. It is perfect for restless couples. Its small pockets are filled with geranium glass beads that offer even weight distribution. The blanket contours to any body shape. It is made of 7 layers and is engineered with a Duralast fiber stitching for added durability.
Pros
Even weight distribution
Double velvet covers
Dissipates heat away from body
Contours to body
Cons
May not suit short individuals
Price at the time of publication: $89.49
This weighted blanket by Hypnoseris made from 100 percent premium cotton and glass beads. This blanket's all-natural, heavy-duty material offers ultimate comfort and warmth. Its ultra-premium, no-leaking technology and precision computer programmed sewing technique offer added durability. Its little diamond-shaped pockets ensure the glass beads distribute their weight evenly on your body.
The glass beads keep you comfortable. They do not keep shifting around or make you feel excessively warm. The 100% breathable fabric offers better comfort. The blanket is machine-washable on a low, gentle cycle.
Pros
Machine-washable
No-leaking technology
Even weight distribution
Extra durable
Cons
Duvet covers to be purchased separately
Price at the time of publication: $35.99
This seven-layered weighted blanket by Amy Garden is made of highly breathable fabric that ensures you do not feel too warm or constrained. Its inner layer features little pockets designed from polyester and stuffed with non-toxic, hypoallergenic, and odor-free glass beads that distribute the blanket weight evenly. This weighted blanket is especially ideal for people coping with nervousness, PTSD, or stress. The blanket is made of lightweight fabric.
Pros
Non-toxic beads
Hypoallergenic
Odorless
Highly breathable
Lightweight
Affordable
Cons
Duvet cover and inner layer to be purchased separately
The WONAP Bamboo Weighted Blanketis made of natural, breathable bamboo viscose with high-quality glass beads. Its inner portion features super-soft cotton pockets. The glass beads are hypoallergenic, odorless, and non-toxic. The little compartments distribute weight evenly over your body to help you sleep better and deeper.
Its natural viscose material makes it an all-season blanket. Its breathable fabric keeps humidity at bay. You can also use this blanket while watching TV, reading, or taking a power nap in the afternoon. The blanket has dense stitches. The thick bamboo fabric offers better durability.
Pros
Non-toxic beads
Odorless
Hypoallergenic
Even weight distribution
Durable
Suits all seasons
Cons
None
Price at the time of publication: $39.99
The Pine & River Weighted Blanket is made from chilled bamboo fabric. Its natural cooling features help control body temperature. This queen size weighted blanket will cover your queen-size bed without overhanging on the sides. You can also cozy up with this blanket on your living room couch.
The blanket is stuffed with silica beads and their weight is distributed evenly.
This blanket is machine-washable on a low, gentle cycle. However, ensure you do not iron or dry clean. It is ideal for women dealing with menopause, night sweats, and hot flashes.
Pros
Even weight distribution
Affordable
Machine-washable
Cons
Duvet to be purchased separately
When you find it difficult to rest at night, this weighted blanket by Dr. Hart's with a micro-plush cover makes you feel grounded, relaxed, stress-free, and secure. This blanket is created by Karen Hart, an eminent neurologist, and offers you great comfort with its deep touch pressure therapy.
This blanket targets the key pressure points in your body to induce sleep and feelings of relaxation. ItsContourWave organic design contours to your body perfectly. It is ideal for all body types. Its quartz micro-spheres are odorless, non-toxic, and hypoallergenic. Its cover is machine-washable.
Pros
Ideal for all body types
Non-toxic beads
Odorless
Hypoallergenic
Machine-washable cover
Cons
These are the best 10 weighted blankets available online. The following buying guide helps you make a better purchase decision. Keep reading.
What To Consider Before Buying A Weighted Blanket
Blanket Weight: Weighted blankets are available in five-pound increments and start from 5 pounds and go up to 25 pounds. Your blanket should feel comfortable and give you a cozy hug. It must not feel too heavy or suffocating. The right dimensions depend on your bed size and your weight.
A standard weighted blanket is meant for a single person for optimum comfort. If you would like to share it with your partner, pick one large enough for two people.
Weight Distribution: A high quality weighted blanket has even weight distribution with first-rate stitching. The blanket should feature small pockets or compartments to ensure uniform weight distribution. A weighted material that comes cheaper has fewer compartments leading to uneven weight distribution. Such blankets do not provide maximum comfort or any therapeutic benefits.
Material: Look for materials such as cotton or mink – or something that gives you a soft and fleece-like feeling when you cozy up in your bed. A regular blanket at a throwaway price will not give you the comfort you desire. Cotton is your best bet because it is usually used in a breathable blanket for ultimate comfort. You may also look for an inner blanket for extra warmth on a very cold, chilly night.
What you need is a soft, plush blanket that releases your stress and makes you fall asleep fast.
The Users: Weighted blankets are meant for adults and even autistic children, but not for toddlers.Even injured adults and seniors with osteoarthritis should avoid using weighted blankets as the material may hurt or make them feel suffocated.
Trail Period: Always check for a trial period. There is no point in wasting money on a 20 pound blanket that does not offer the comfort you need. The trial period should be at least 30 days.
Washability: The entire blanket must be washable (machine-wash would be preferable).
How Are Weighted Blankets Beneficial?
Weighted blankets use therapeutic materials that apply deep pressure therapy to induce deep sleep and relaxation all through the night. These blankets are beneficial for treating many conditions including insomnia, ADHD, stress, anxiety, depression, restless leg syndrome, mood swings, pain, and even autism. Weighted comforters and vests are gaining attention as therapeutic tools for calming autistic kids and those with sensory issues.
Conclusion
Weighted blankets help promote better sleep. These could be especially beneficial if you are dealing with insomnia, stress, anxiety, or depression. Ensure you consider the buying guide before making a purchase. We are sure you will be happy with your investment.
Expert's Answers for Readers Questions
Who should not use a weighted blanket?
Kids below 3 years of age or underweight children weighing below 50 pounds must not use weighted blankets.
How do you clean a weighted blanket?
Most weighted blankets are machine-washable. Wash the blanket gently in cold or warm water. Avoid bleaching. Tumble-drying ormachine-drying on low heat is recommended. You can air-dry these blankets too. You can even take them to a Laundromat in case you do not have a big, front-loading machine. If your blanket weighs more than 10 pounds, take it to a commercial dry cleaner.
What is the best cooling weighted blanket?
The YnM Weighted Blanket is the best in this category. It is made from high-quality 300-thread-count natural bamboo viscose material that keeps you cool throughout the night. AnYnM blanket set is perfect for hot sleepers who feel warm while taking a nap. YnM blankets weighing five pounds are perfect all family members, including children.
Recommended Articles