The 7 Best Weighted Hula Hoops For At-Home Workouts – 2023
Work out without using heavy and complicated machines at your neighbourhood gym.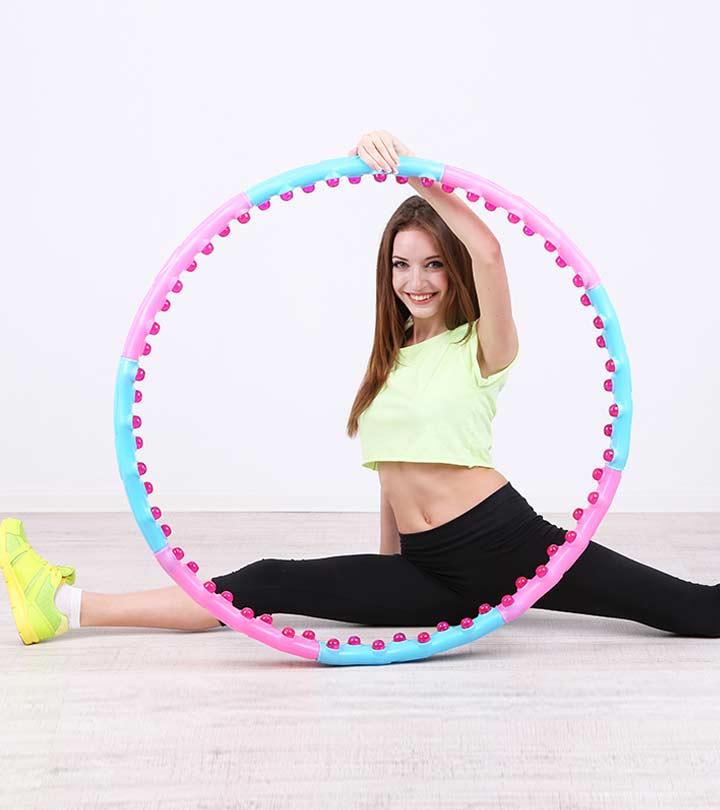 Every fitness enthusiast is always careful about keeping their workout exciting. If the exercise seems monotonous at any point, it could make you lose interest and deviate from the path of fitness. Adding entertainment does not take a lot, and something as simple as owning the best-weighted hula hoops can give the additional push to your workout that you have been waiting for. It improves coordination, tones down your muscles, and reduces weight, and having durable and sturdy hoops will keep you safe from bruises and improve your fitness levels altogether. If you are unsure what to choose to fit your fitness regime the right way without inflicting any injury, don't stress and worry, as we are here to help. Here are 7 handpicked hoops to spice up your exercise routine that you need to check out right away.
What Is Weighted Hula Hoops
Weighted hula hoops are the advanced, sturdier, and heavier variations of the plastic hoops we used to play with when we were kids.  The weight ranges from 1-3kg and is ideal for fitness training. It yields many health benefits ranging from cardiovascular health to weight loss.
It is finally time to look at the best weighted hula hoops available on the market. Keep reading for more details.
7 Best Weighted Hula Hoops – 2023 Update
The Neoweek Weighted Fitness Hoop features a smooth surface padded with high-density foam that provides excellent comfort and prevents waist injuries. This weighted hula hoop is detachable for easy storage, thus ensuring convenience. It is easy to assemble in minutes with the provided installation manual. The 2 pounds exercise tool has an adjustable circumference that measures a maximum of 38-inches and a minimum of 28-inches. It is, therefore, suitable for adults as well as children. Regular exercise with this hula hoop improves core strength. To find out more about this product, check out this unboxing video.
Specifications
Material: Foam
Weight: 2 Pounds
Pros
Convenient and comfortable
Easy to assemble
Lightweight
Easily portable
Cons
Price at the time of publication: $21.99
The Better Sense Weighted Hula Hoops comes with a jump rope and a resistance band for a complete workout session. This detachable hula hoop can be adjusted to three different sizes by removing one or two sections. It, therefore, caters to every body shape and skill level. The high-density foam and premium PP material make this weighted hula hoop sturdy and easily portable. Its button marks enable easy and quick assembly/disassembly, thus saving time and energy. An hour's workout with this hula hoop will help you reduce up to 403 calories.
Specifications
Material: Foam
Weight: 2 Pounds
Pros
Fits well around your waist
Easy to assemble/disassemble
Adjustable size
Easily portable
Cons
Price at the time of publication: $23.99
The Healthymodellife Fitness Hula Hoop weighs only 2lbs and will offer the best resistance to burn those extra calories. It features massage bumps and a smooth design that burn calories and give you the best shape without causing distraction.  Its high-quality construction with extra padding provides absolute comfort.  The simple design allows easy and quick assembling and disassembling so you can grab it and go wherever you want. Finally, this easy-to-spin hula hoop improves your posture and makes your boring exercises fun and effective!
Specifications
Material: Foam
Weight: 2 Pounds
Pros
Offer comfortable experience
Easy to assemble
1-year guarantee
Durable foam material
Cons
Feels too light and flimsy
Price at the time of publication: $24.99
The Skayddb Weighted Smart Hula Hoop with massage function proves useful for relieving lower back pain during labor. It's made of top-notch ABS plastic that's sturdy, durable, and will stay functional for years to come. This smart hula hoop comes with weight-bearing blocks that you can adjust according to your convenience. 24 detachable parts make up this exercise tool and create a 47.24-inches diameter. By pushing a button, you can detach it and adjust it to 16 or 24 sections to suit different sizes for waistlines. Its unique design makes it a good choice for families (adults and children).
Specifications
Material: ABS Plastic
Weight: 3 Pounds Approx. (Weight is adjustable)
Pros
Easily adjustable
Durable construction
Cons
Price at the time of publication: $16.99
Pros
Patented design
Affordable
Detachable
Portable
Cons
Price at the time of publication: $47.4
The Auoxer Weighted Hula Hoops has eight detachable sections that are easy to assemble and transport, and occupy less storage space. This weighted hula hoop is adjustable, and you can remove one or two sections to get a smaller diameter. However, the general diameter is 38 inches which fits many people and holds well around your waist. It weighs 1.9lbs. and provides the best massage intensity to burn the extra calories. The Acrylonitrile Butadiene Styrene (ABS) material covered with NBR Foam provides outstanding performance, comfort, and durability. This video review will help you understand more about the product.
Specifications
Material: Acrylonitrile Butadiene Styrene
Weight: 9 Pounds
Pros
Adjustable width
Durable ABS material
Soft and comfortable NBR Foam
Easy to assemble
Eco-friendly and non-toxic
Cons
None
Price at the time of publication: $19.99
Motus Dynamic Smart Weighted Hula Hoop has a Smooth Track System Technology feature that creates a smooth and silent hooping environment. Its advanced digital LED counter indicates the time used and rotation so you can track your training records easily. The Magnet Power System uses magnetic therapy to improve blood flow, enhance tissue repair, and relieve muscle pain. This package includes a silicone massage head that regulates blood circulation and increases fat burning while preventing irritation on the waist. The 16 motuscarts are made from polycarbonate and ABS plastic which is sturdy and durable. It's detachable and can be assembled/disassembled easily to enhance mobility.
Specifications
Material: Plastic
Weight: 01 Pounds
Pros
Strong and adjustable
70% noise reduction
Functional motion sensors
Safely locks in place
Instruction and video guide
Cons
None
Price at the time of publication: $89.99
All these weighted hula hoops are perfect for improving your core strength and burning extra calories. Read the next section to find out how you can use these exercise tools effectively.
How To Use Weighted Hula Hoops?
Like any other form of fitness exercise, hula hooping should be done with caution. First, you should find the right weight and diameter for your best-weighted hula hoop. It's common to find people having bruises on the abdomen and skin since hula hooping requires repetitive spinning.
If you've ever had low back pain, you should start this exercise at a lower level and increase it as it can be provocative to lower back pain if you start once at a higher intensity. For the best outcome, start with unweighted hoops to master the tricks. After that, you can move to weighted hula hoops under 2lbs so you can perfect your fitness, coordination, and strength.
Note: never do the hula hooping for over 20minutes per session.
Ideally, spinning hula hoops requires you to lower the shoulder to protect the lower back. Also, your chest should be up and your ribs down so you can avoid hyperextending your lower back.  However, if you begin experiencing chest pain, bruising or severe body pain, then pause the exercise and consult your doctor.
This fun exercise tool has several benefits. Let's check them out below.
What Are The Benefits Of Using Weighted Hula Hoops?
Twirling hula hoops will remind you of your childhood memories while helping you to burn fat. One of the main benefits of hula hoops is weight loss.  Opting for a weighted hula hoops burns calories and fats in the abdomen and other areas.
Improves Cardiovascular Health
Another benefit of hula hooping is improved heart health.  15 minutes of regular exercise with this tool will strengthen your heart muscles. As a result, the heart will pump extra blood through the body. The heart rate will increase, thereby lowering the blood pressure and keeping your heart healthy.
When you feel exhausted, you can relax your mind by opting for hula hooping. Hoop spinning is more of a rhythmic exercise that lets you submerge all your mind into the activity. Once you are in, you will have a sense of calmness, so your mind can feel very relaxed.
Spinning weighted hula hoops could reduce lower back pain. Continuous backward and forward movement eliminates muscle tension around the sacrum. Therefore, it increases the blood flow to the spine, and you will feel more flexible.
Weighted hula hoops can therefore, improve your overall health. Consider the following points and ensure best buy.
How To Select The Best Weighted Hula Hoops?
The weight of hula hoops is very important as it determines the intensity of your exercise. If you are getting started, you should consider hula hoops with adjustable weight so you can be comfortable while exercising. This will also help you prevent bruising on the soft tissues around the abdomen area. So, find the best weighted hula hoops that allow you to adjust the weight as you develop your endurance, strength, and experience.
Many weighted hula hoops are designed with a hard material that requires extra padding to offer a more comfortable experience. However, you should look at the padding material to ensure it's skin-friendly, soft, durable, and feels comfy.
Weighted hula hoops with a larger diameter are ideal because you'll require little energy to spin them. However, they can also be quite challenging to spin. The best-weighted hula hoops buying tip is to find one that reaches your mid-chest and waist area while resting in the ground.
Why Trust StyleCraze?
Aditi Naskar, who authored this article, has a diploma in Health & Wellness and is constantly looking for the most effective fitness items. As a fitness enthusiast, she read several customer reviews and product details to make a list of the best weighted hula hoops for her readers. These items in the list are durable and will tone down the muscles, along with helping you reduce weight.
Frequently Asked Questions
Does a weighted hula hoop get rid of lower belly fat?
Yes. Weighted hula hoops engage your stomach and reduce abdominal fat. In addition, the constant spinning movements trim the excess inches from your waist area.
Is using a weighted hula hoop cardio?
Yes. Using a weighted hula hoop is equivalent to engaging in a low-impact cardio workout. They improve your core strength and reduce fat. They also improve your body balance and flexibility.
Is using a weighted hula hoop better than using a regular one to work out?
Yes. Weighted hula hoops increase resistance and help your muscle groups to work harder. Thus, they are effective in developing your core strength and lower body strength while reducing your abdominal fat. On the other hand, regular hula hoops are a fun exercise partner that helps you improve your posture.
How long should I hula hoop every day?
Exercise using a hula hoop for 10 to 20 minutes daily to strengthen your body muscles and improve your coordination.
What size hoop should I get as a beginner? Is bigger better?
Get a 38-inch hula hoop as a beginner. They provide abundant space to spin correctly and tone your waist faster. Bigger hoop size is better as it offers high resistance, which is necessary for building your lower body and core strength.
Is weighted hula hooping good for bad backs?
Yes. Weighted hula hoops offer a remedy for your bad back. It helps you move your back muscles and significantly reduces the pain. Also, they are good as a warmup exercise and activate your core muscles before indulging in strenuous exercises.