15 Best Weighted Vests For CrossFit That Are Worth Buying In 2022
Weigh more with this uniquely designed clothing to get the best results quickly.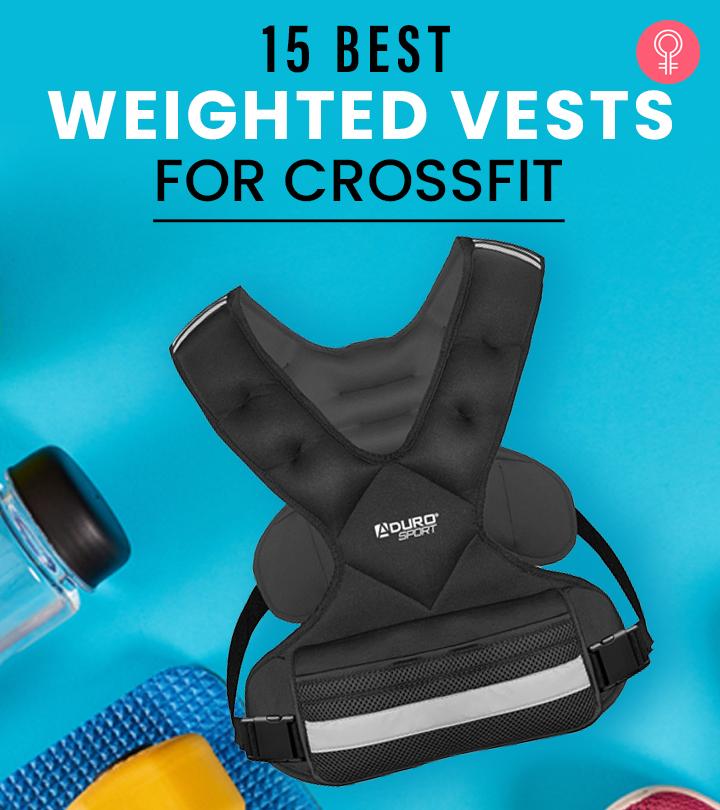 If your body hasn't yet gotten used to your CrossFit routine and needs something to shake things up; 'the best weighted vests for CrossFit might just do the trick. These vests, when worn to your torso, can do many wonders. They can increase your endurance, burn calories faster, and build your stamina. Wear this vest during your pushups or pullups and trust me, it'll get you to sweat. However, while choosing one, you should be careful of its design. Not sure how to fix on buying one? Check our list of carefully chosen weighted vests. It is worth buying one for sure!
15 Best Weighted Vests For CrossFit
The CROSS101 Weighted Vest is camouflage-printed and apt for high-intensity workouts. It is made from heavy-duty material and is available in multiple camo patterns. This weighted vest can add resistance to your workout and comes with pockets for a phone and a water bottle holder attachment. It is a budget-friendly option and useful for walks or hikes. It fits most and is great for CrossFit and strength training. This vest is available in weights ranging from 20 lbs– 140 lbs. Know more about this product in this video.
Pros
Comfortable design
Heavy-duty material
Holds well
Durable
Snug fit
Adjustable weight
Cons
None
This weighted vest from Aduro Sport can be used for various weight training exercises. It is available in four weight ranges: 4 lbs–10 lbs, 11 lbs–20 lbs, 20 lbs–32 lbs, and 26 lbs–46 lbs. You can add or remove weight packs (1.5 lbs each) at any time to adjust the weight and intensity. The vest is made from soft, sweat-resistant, neoprene material, which is slip-resistant during activities. It has two large pockets, one mesh stretch pocket on the back, and a Velcro enclosed pocket in the front, which gives you convenient storage options. The best part is this vest is suitable for all age groups with custom-fit adjustable straps. Learn more about this product in this video.
Pros
Slip-resistant
Sweat-resistant
Durable
Comfortable design
Adjustable weight options
Limited lifetime warranty
Cons
Not suitable for running
Velcro strap doesn't adhere securely.
The CAP Barbell Women's Weighted Vest is flexible and weighs 30 lbs. It features a fully adjustable Velcro waist belt that fits most people. The padded shoulder straps offer a secure, snug fit. The total weight can be readjusted by adding or removing individual packets, which are filled with iron ore fines. This versatile vest is ideal for bodyweight training, and it also includes hooks for chute resistance training. It also features reflective strips, which add to your safety, especially if you are working out in the dark.
Pros
Versatile
Flexible
Comfortable design
Snug fit
Hooks for chute resistance training
Machine washable
Durable
Cons
Pungent chemical odor
Oddly attached Velcro straps
This adjustable weighted vest for CrossFit has a unique X-shape design that fits comfortably on a woman's curves. It is made from soft, stretchy neoprene fabric filled with iron sand. The wide padded shoulder straps feel comfortable and don't dig into your shoulders while you are working out. The adjustable side straps ensure that the vest can fit waist sizes from 24″ to 48″ and keep it in place while exercising. This 8 lbs weighted vest is perfect for CrossFit, strength training, and walking and helps you burn more calories. This video will provide you with added insights about the product.
Pros
Stretchy fabric
Comfortable design
Padded shoulder straps
Adjustable side straps
Cons
The Adurance Weighted Vest has a comfort-fit design and is made of soft neoprene material that is sweat-resistant. It is beneficial for strength and resistance training and perfect for increasing the efficiency and intensity of your workouts. The balanced weights prevent shifting during activity, the reflective accents aid in increased visibility, and the mesh pockets are for added storage. This weighted vest for CrossFit is available in four sizes: 6 lbs, 10 lbs, 14 lbs, and 18 lbs.
Pros
Comfortable
Sweat-resistant
Slide-proof
Reflective accents
Available in 4 weights
Cons
Not durable
Not for adult males
This weighted vest from ZFOsports is specially designed for women. It has pockets for your phone or music devices and a water bottle holder, which is designed to fit all water bottles up to 16 oz. or smaller. The vest has a durable belt that makes it easy to secure. It is available in a range of weights, from 30 lbs to 80 lbs, and the weights are distributed in the back and front.
Pros
Comfortable design
Durable
Easy to use
Phone and water bottle holder
Adjustable belt
Cons
None
The RUNmax Pro Weighted Vest is available in five weight options: 12 lbs, 20 lbs, 40 lbs, 50 lbs, and 60 lbs. You can add and remove weights to increase or decrease the intensity of your workouts. This vest has a shoulder pad option that allows you to add extra shoulder comfort if needed. It also features a phone pocket and water bottle holder for your convenience. This weighted vest provides equal weight distribution at the back and front, which offers maximum comfort without straining your shoulders or back.
Pros
Comfortable design
Adjustable shoulder pads
Adjustable weight
Phone pocket and water bottle holder
Durable
Lifetime warranty
Cons
Too bulky
Unpleasant odor
This weighted vest from Hyperwear features an advanced design that uses patented technology to remove stress from the shoulders. It works great for training and allows for plyometric, dynamic, and inverted movements. This is the thinnest weighted vest and has a sleek design for a non-bulky, perfect fit. This weighted vest is designed with Cordura sleek black fabric with performance stretch, a strong reflective YKK zipper, and orange-colored laces. It is ideal for CrossFit training and works well for Murph WODs. You can also use it for walking or running.
Pros
Sleek design
Form-fitting
Strong reflective zipper
Comfortable
Cons
The miR Women's Weighted Vest features a great design that provides maximum comfort during your CrossFit workouts. It has a snug and secure fit that lets you focus on your exercise and achieve the desired results without any distractions. The attached belt allows for easy adjustments according to your size. This is among the best weighted vests and comes with weight ranging from 10 lbs – 50 lbs. You can increase this load in increments of 3 lbs.
Pros
Comfortable design
Snug fit
Adjustable size
Adjustable weight options
Does not feel too tight on the chest
Durable
Cons
None
The Henkelion Weighted Vest is ergonomically designed and made with soft neoprene material and a mesh pocket on the back to save room and add extra weight. It has an elastic strap at the bottom to fit your waist perfectly and an adjustable strap to prevent slipping and sliding during exercise. This weighted vest is filled with premium iron pellets and metal rock. The equal weight distribution design gives you maximum comfort during all workouts without straining your back or shoulders. This vest is available in six different colors – black, gray, pink, blue, purple, and green.
Pros
Ergonomic design
Comfortable
Convenient pockets
Equal weight distribution
Versatile
Reflective straps
Adjustable buckle
Available in 6 colors
Cons
None
The ZELUS Weighted Vest is made with durable neoprene rubber fabric and is double-stitched and stuffed with chemical-free iron pellets. It comes with detachable front zipper pockets to keep your cell phone, car keys, and other items safe and secure. It also has a rear elastic mesh pocket for extra convenience. The adjustable elastic straps and reflective stripes make it comfortable and safe for use. This weighted vest is evenly filled with iron sand and decreases the risk of injury while working out. It is perfect for circuit training, weightlifting, cardio, strength training, and weight loss.
Pros
Comfortable design
Durable
Double-stitched
Chemical-free filling
Mesh pockets
Reflective tapes for safety
Cons
None
This weighted vest from JBM comes in a universal size that fits most people. It is perfect for strength training, workout, CrossFit, fitness, walking, and running. This 12 lbs weighted vest is made with soft neoprene material with quality sand filling. It has an adjustable buckle strap in front of the chest to offer a snug fit. The vest also comes with reflective tapes for safer night activities, a bottom elastic design to help increase comfort, and a mesh pocket to store your belongings.
Pros
Universal size
Comfortable design
Mesh pockets
Adjustable straps
Reflective tapes for safety
Durable
Cons
Sand may leak from the vest.
The RitFit Weighted Vest is available in different weight ranges: 8 lbs, 10 lbs, 12 lbs, 15 lbs, and 20 lbs. The unisex design is suitable for the body types of both men and women. It is made with soft and breathable neoprene material stuffed with chemical and odor-free iron sand. The vest has adjustable front and side elastic straps, which work great for users with different waist sizes. It ensures flexibility and intensity without sliding and slipping when in motion. The mesh pockets on this vest are convenient for storing belongings.
The thick and wide shoulder tapes help concentrate the weight on the chest and upper body without digging into the shoulders or causing fatigue. This durable weighted vest is perfect for muscle building, aerobic exercise, walking, and strength training. The reflective strips make you visible even in low-light conditions, and the double-stitching edge protector is designed to hold sand inside without leakage.
Pros
Easy to wear
Thick shoulder tapes
Durable
Odor-free sand
Reflective strips for visibility
Convenient pockets
Cons
This weighted vest from Goplus is designed with high-quality, breathable, waterproof neoprene material. It is suitable for all fitness enthusiasts and is available in four weight options (12 lbs, 16 lbs, 20 lbs, and 30 lbs). The thicker and wider shoulder straps can evenly distribute the pressure on the shoulders and back. This weighted vest for CrossFit has two buckles on the front to prevent it from falling off during quick movement exercises. The reflective strips on the vest ensure your safety even at night or in low-visibility areas. The mesh bag at the back helps you store your belongings.
Pros
Easy to clean
Night vision
Breathable material
Ergonomic design
Durable
Cons
None
The Prodigen Running Weight Vest is made of a premium quality chloroprene rubber and breathable, soft, and elastic. It is suitable for all age groups and stays super rigid while use. The H-shape design is a perfect fit for women. It is stuffed with chemical-free iron sands and is perfect for activities like strength training, muscle building, stair climbing, weight loss, weightlifting, walking, and running. This weighted vest has a storage pocket that keeps your valuables secure, while the reflective straps help in low-visibility conditions. It is designed with two adjustable belts that fit your body curves and reduce bounces to prevent injuries. This vest is available in six weight options: 8 lbs, 12 lbs, 16 lbs, 20 lbs, 25 lbs, and 30 lbs.
Pros
Comfortable design
Breathable
Perfect fit
Reflector straps for visibility
Easy to clean
Durable
Suitable for children
Cons
None
If you want to get your hands on the best weighted vests for CrossFit, make sure to keep the following points in mind.
Shopping For A Weighted Vest For CrossFit – A Buying Guide
The material of your vest is a crucial thing to consider, especially its breathability and durability. You want something heavy-duty that does not wear and tear quickly and is breathable enough to keep you comfortable. Neoprene and mesh are breathable and not too expensive. If you are looking at durability, a sweat-resistant fabric with high-quality, and reinforced stitching is ideal. Always look for weighted vests that are made of neoprene, nylon, or Cordura fabric. They are tear-resistant and durable.
As you may have noticed on our list, weighted vests vary by the amount of weight they carry. You need to choose this based solely on your preference and requirements. Many vests allow the weight to be adjusted by inserting or removing a metal bar or sandbag.
Apart from weight adjustments, the best-weighted vest should also allow for size adjustments to help you find the perfect fit. Since most vests come in a one-size-fits-most design, having straps on the front and sides helps you secure them properly to your torso. It is vital to keep the vest from moving too much during intense workouts.
While this is not a must-have feature, it certainly adds more convenience to your fitness routine. A vest with pockets lets you store your phone or music player securely and allows you to focus on your exercise in peace. Some even have water bottle holders to help you stay hydrated while performing grueling routines.
This is one of the most important parameters to consider while buying a weighted vest for CrossFit. Always go for one that fits perfectly and is comfortable during your workouts. Choose a sweat-resistant or padded weighted vest to prevent getting blisters on your skin.
Listed below are some of the benefits you get from wearing a weighted vest while going through your CrossFit workouts.
Benefits Of Wearing A Weighted Vest For CrossFit
Wearing a weighted vest lets you carry extra weight during your workout, which helps increase resistance. You end up exerting more energy, which boosts muscle strength. Improved muscle endurance keeps you going during tough situations. By adding extra weight and resistance to your workout, your endurance improves exponentially over time.
Increased weight results in an increase in calorie loss during intense workouts. For the same activity, a person weighing 160 lbs will not burn as many calories as someone who weighs 200 lbs. A weighted vest gives your system the nudge to work harder and burn more calories, helping boost your weight loss.
Improves Cardiovascular Health
Wearing a weighted vest during CrossFit or any other high-intensity exercise boosts your lungs and heart to work more efficiently. It improves your cardiovascular health in the long run.
In addition to the obvious benefits for your muscles, willpower, and cardiovascular health, a weighted vest also benefits bone health. As you wear your weighted vest for longer periods, it helps increase bone density, stimulates new bone growth, and works as a preventative measure against osteoporosis.
Why Trust StyleCraze?
With a diploma in Health & Wellness, Aditi Naskar is a sports enthusiast and specializes in reviewing fitness products. She advocates the use of weighted vests for CrossFit training as the right product can help burn more calories and improve endurance and stamina. After carefully considering several options regarding their functionality, material, fit, and durability, and extensively researching user reviews, she has shortlisted the products on this list. These products are durable, have a great fit, and optimize CrossFit training.
Frequently Asked Questions
How heavy should a CrossFit weighted vest be?
It depends on your intended use and workout of the day (WOD). However, a weighted vest should not weigh more than 10% of your body weight. If you are interested in heavy aerobic exercise, a lightweight vest is recommended. However, a heavier vest works better for calisthenics. If you are new to weight training, make sure to take things slow and not overload yourself with too much weight.
How effective are weighted vests for CrossFit WODs?
Weighted vests are particularly useful for those looking to make their CrossFit WODs more challenging. Adding extra weight forces your muscles to adapt and make changes that result in a more muscular and more resilient physique. Weighted vests make your WODs more intense with the additional weight.
Are weighted vests bad for your spine?
Yes, weighted vests are bad for your spine. Some weighted vests put pressure on the spine and aid disc degeneration. These vests can also cause chronic neck pain.
Can I wear a weighted vest all day?
It is not recommended to use a weighted vest all day. If overused, these vests can cause muscle burn, soreness, or chronic pain.
Is a weighted vest good for losing weight?
Yes, weighted vests are good for losing weight.
What exercises can I perform wearing a weighted vest for crossfit?
You can perform push-ups, pullups, squats, lunges, and planks by wearing a weighted vest for crossfit.
What is the difference between plate carriers and weighted vests?
The basic difference between plate carriers and weighted vests is that the former does not offer any means to increase its weight while the latter allows you to equip it with small increments of weight. Weighted vests are more flexible than weight carriers.
Recommended Articles