The 12 Best Weighted Vests For Women – Top Picks of 2021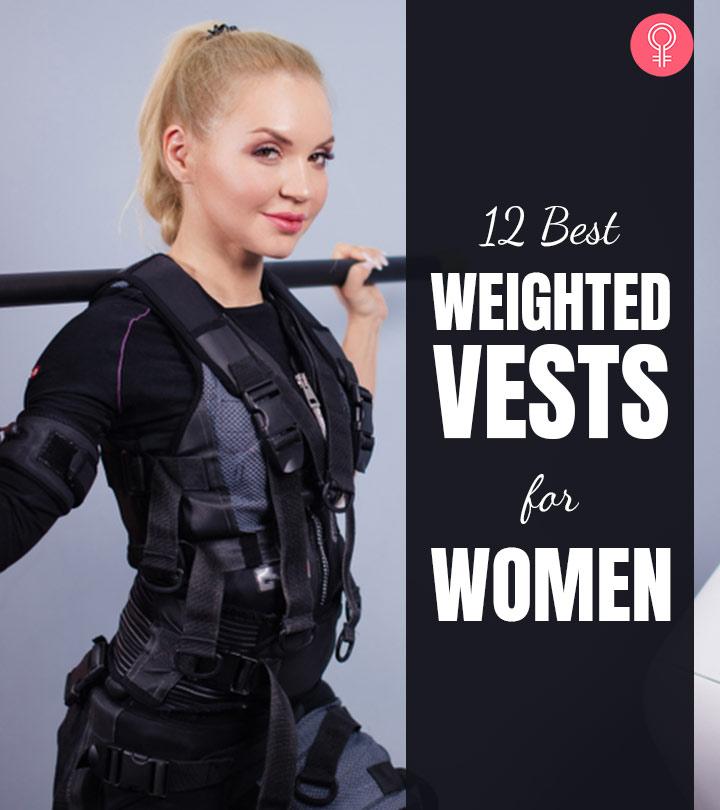 Ever heard of weighted vests? If no, it's high time that you get one. This is because this fitness accessory can be extremely handy when it comes to burning calories and fat and building your muscle strength.
As the name suggests, a weighted vest is a heavy vest and has small pockets in which you can keep weighted objects, like steel bars. It adds extra weight to your body while you workout. Adding extra weight makes your muscles use more force, which improves their efficiency. If you are looking for the best Weighted vests for women, here, we have put together a list of the products on the market. Scroll down to check them out.
The Top 12 Best Weighted Vests For Women of 2021
This is a 30 lbs weighted vest. It is specially designed for women. However, men can also use it. The weights are distributed in the front and the back of the vest. It has a belt that helps to hold it firmly against your body. It comes with a pocket for your mobile or music device and a water bottle holder that can fit water bottles up to 16 oz or smaller.
Pros
Weight options up to 80 lbs
Has multiple pockets
Has a water bottle holder
Cons
May not fit smaller body frames.
Velcro straps are not firm.
The Aduro Sport Weighted Vest is perfect for weight training and cardio. The weights are evenly distributed all over the vest, so it will not slip from your body while you work out. It is perfect for men, women, and kids and has adjustable belts. The vest is made of soft neoprene material, which feels comfortable.
Pros
Has mesh pockets
Comes with Aduro Sport Lifetime Limited Warranty
Odorless filling
Has padded shoulders
Has multiple weight options (4 lbs-25 lbs)
Cons
This weighted vest is made of reinforced nylon and polyester and is extremely durable. It has a fully adjustable waist belt and padded shoulder straps that help to hold the vest on your body firmly without slipping and any discomfort. It has anchor hooks to use the vest for parachute run training. The reflective stripes are for easy visibility.
Pros
Removable weight packets
Multiple weight options (40-150 pounds)
Cons
Pockets are tight (on the 80 lbs vest).
Shoulder straps may not be durable.
This weighted vest has an X-shape silhouette and is designed to fit a woman's figure. Sand is sewn into the vest to distribute the weight evenly all over the body. It is a soft lycra spandex vest with adjustable waist straps to fit waist sizes from 24 to 48 inches.
Pros
Multiple weight options (4 lb-16 lb)
Ideal for running, walking, and cardio
Pockets with elastic closure
Cons
No options to add weight.
Mobile phone holder is too small.
This weighted vest for women is designed to maximize your comfort levels during workouts. This one is a 30-pound vest. The brand offers multiple weight options between 10 pounds and 50 pounds.
Pros
Adjustable velcro belt
Removable weights
Cons
Velcro belt doesn't fit well on small waists.
This weighted vest for women is made with reinforced nylon and polyester. It has an adjustable velcro belt that fits all types of waists. The shoulder straps are padded and provide additional support. It comes with removable weights. The weight packets contain iron ore fines. This vest also has chute resistance training hooks attached to it.
Pros
Removable weights
Reflective strips
Machine washable
Cons
The waist straps are not snug enough.
This is considered one of the versatile and best weighted vests as it can be used by men, women, and kids. The Henkelion Weighted Vest is filled with iron pellets and metal rocks and doesn't use sand. It is ergonomically designed, and the weights are distributed evenly across the vest. The adjustable straps hold the vest in place and prevent slipping. It is made of soft neoprene material and has extra pockets to add additional weight.
Pros
Adjustable buckle
Mesh pockets for storing things
Reflective straps
Color and size options
Weight options (4-12 lbs)
Cons
Fitting issues
May not feel comfortable.
The RitFit Adjustable Weighted Vest is made of soft and comfortable neoprene fabric. This vest can be used by both men and women. It is available in a different range of weights, from 8 lbs to 20 lbs. It is best for Crossfit workouts, strength training, and muscle building. It has built-in pockets for carrying belongings like keys and phones.
Pros
Reflective strips
Double-stitched design to ensure flexibility
Balanced weights (no shifting while movement)
Unisex
Cons
The stitches may get loose.
The ATIVAFIT Sport Weighted Vest is made of soft, breathable fabric. The inner filler has chemical-free iron pellets, and the vest is available in two weight choices – 8 lbs and 16 lbs. This unisex vest is best for strength training, weight loss, muscle building, weightlifting, walking and running. It has a user-friendly design and comes with adjustable straps on both sides.  The non-slip pad on the back evenly distributes the weight, and the front pocket can be used for storing mobile phones, earbuds, or keys.
Pros
Breathable fabric
Chemical-free iron pellets
Adjustable straps
Ergonomic design
Security reflective straps
Cons
None
This woman's weighted vest is comfortable and has an ultra-slim design. It is made of stretchy and breathable fabric. It comes with plastic coated steel weights that weigh 5 lbs. It has thin weights in flexible rubber cases attached to the vest. This helps to maintain flexibility in motion.
Pros
1-year warranty
Lightweight and breathable
Removable weights
Multiple weight options (8 lbs – 13 lbs)
Cons
None
This is a unisex weighted vest. This high-quality vest is available in multiple weight ranges, starting from 10 lbs and up to 20 lbs. It is made of high-grade canvas material and has double adjustment straps that make it perfect for all body shapes and frames.
Pros
Bottle holder
Unisex
Elastic bands
Cons
This is IRONWEAR's new patented weighted vest designed only for women. It is designed to contour a woman's body and doesn't apply any pressure on the chest. It is available in multiple weight options (1 to 21 pounds) and supports body posture. The outer surface of this vest has a ballistic nylon laminate that provides strength and additional padding.
Pros
Easy to clean
Soft knitted nylon
Adjustable weight
Has 20 weight pockets
Cons
With so many options, it is easy to get confused. Don't worry. We have listed some tips that you can follow.
How To Choose The Best Weighted Vest For Women
Check the following things before buying:
The Design: There are two types – one in which the vest covers the chest completely, and the other is with an X-style frame. The design you go for depends on your budget. The former is supportive but expensive. The X-style has a light load and is cheaper.
The Comfort: Adjustability and padding are two areas you should check. Check if there is ample padding in shoulder straps and torso. Also, ensure the waist straps fit snugly.
The Weight Of The Vest: Sand vests usually do not allow weight adjustability, so you cannot use heavier weights if you want to. Vests with metal bars can be removed and replaced.
The Material: Check the material of the vest. Usually, vests with nylon, spandex, and polyester are durable.
Once you have picked your favourite from our list of best Weighted vests for women, here are a few tips you should keep in mind when using it.
Tips For Using Your Weighted Vest
Start with minimum weight and then increase the weight gradually as your body starts to get used to it. Do not shock your body with the excess weight.
Consider the speed-to-weight and power-to-weight ratios. A 5-10 pounds vest won't have much impact on a 300-pound person than on a 175-pound person. Vests are good for beginners who have a low strength level.
Distribute the weights evenly. This improves efficiency and reduces the risk of an injury.
This was our list of the best weighted vests for women that are handy and comfortable. Consider buying a weighted vest from the above list and taking it along for your next workout session. It will not only help you build strength and muscle but also burn calories and tone your body.
Expert's Answers For Readers' Questions
Why should women wear weighted vests?
Weighted vests help build strength and muscle when you work out.
Is wearing a weighted vest safe for women?
Yes, as long as you are choosing the right vest and working out in the right way.
How heavy should a weighted vest be?
It depends on your body weight and strength. If you are a beginner, pick a vest with the lowest weight and increase it gradually.
Do weighted vests help you lose weight?
Yes, if you work out wearing it regularly.
Can I wash my weighted vest?
Yes, you can.
Recommended Articles