Top 15 Weighted Vests For Women To Buy Online In 2023
Improve your endurance and burn extra calories to achieve all your fitness goals.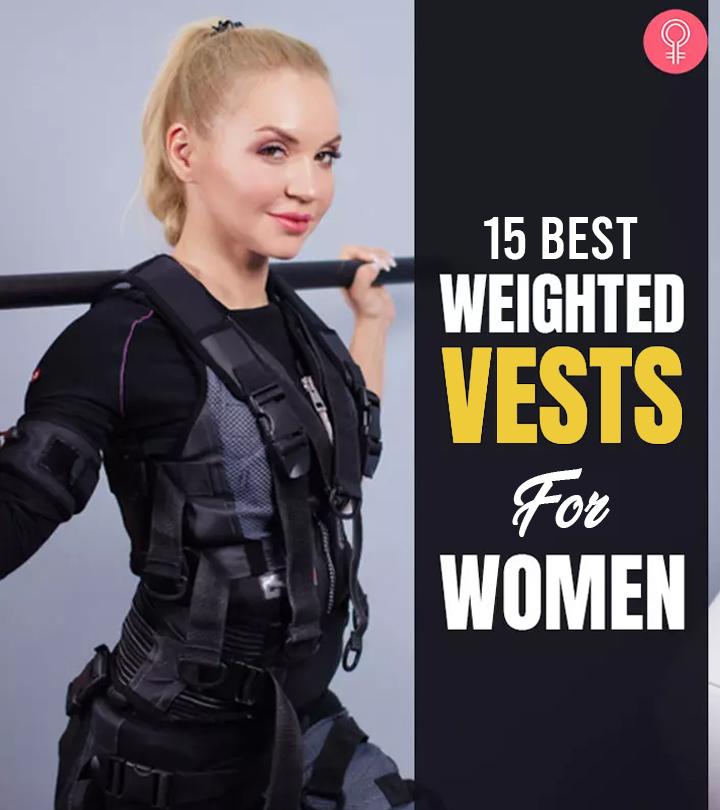 A weighted vest can burn unwanted calories, boost cardiovascular health, and improve endurance and stamina. If you are looking to step up the exercise routine, try the best weighted vests for women. They are a package of comfort, health, and fitness. In this article, we have curated a list of the 15 best vests that will keep your body in shape and make you appear fit after going through several reviews online. Keep scrolling to know more and make an informed choice!
15 Best Weighted Vests For Women Available Right Now
This durable peak resistance iron weighted vest from Aduro Sport is the perfect workout accessory for strength training and cardio. It has an adjustable front belt and buckles, adds extra resistance, and will not slip or slide during any activity. The breathable neoprene padding offers extra comfort to your shoulders. The mesh pocket on the back of the vest allows you to add extra weight. The weights are filled with odor-less iron. Here's an honest video review of the tester trying this product.
Pros
Comfortable design
Breathable material
Balanced weights
Odor-free
Lifetime warranty
Cons
The ZFOsports Weighted Vest is specially designed for women and has pockets for your phone and music devices. It also has a water bottle holder that can fit water bottles up to 16 oz. The vest also has an attached belt for easy setup. The weights are located in the back and front of the vest. Check out this review of this product by a youtuber.
Pros
Comfortable design
Durable
Easy to use
Adjustable belt
Cons
This adjustable weighted vest from CAP Barbell is made of reinforced nylon and polyester. You can adjust the total weight by adding and removing individual weight packets. Each weighted packet is filled with 2.5 lbs of iron ore fines. The vest features padded shoulder straps and a fully adjustable waist belt for a secure and snug fit. It is available in weights ranging from 40-150 lbs. It also has reflective strips for easy visibility while walking or running, and anchor hooks for parachute training. This weighted vest for women is ideal for any bodyweight resistance training.
Pros
Flexible
Durable
Sturdy
Reflective strips
Anchor hooks
Adjustable belt
Cons
This weighted vest for women from Empower is best for walking, running, and strength training. It fits waist sizes ranging from 24″ to 48″. The unique X-shape design fits comfortably on a woman's curves. It does not flatten your chest and helps burn more calories. This 8 lb fixed vest has padded shoulders, reflective safety strips, and adjustable side straps for ease of use. It is made with soft, stretchy neoprene fabric filled with iron sand. You can evenly distribute the weight by adjusting, adding, or removing weights, as per the reviews on Amazon. This weighted vest comes with a downloadable top 42 empower bodyweight exercise guide and recipe book.
Pros
One size fits most
Durable
Unique design
Reflective safety strips
Adjustable side straps
Cons
The Henkelion Weighted Vest is ergonomically designed and made of soft neoprene material, filled with premium iron pellets and metal rock. It has adjustable weights measuring 4 lbs, 6 lbs, 8 lbs, 12 lbs, 16 lbs, and 20 lbs. The weight is distributed throughout the body, and the adjustable strap helps prevent slipping and sliding during exercise. The vest has reflective strips that makes you visible in low light, a convenient mesh pocket for storing your belongings, and an adjustable buckle that is perfect for exercise and weight training. It is a wonderful cross-training accessory available in six attractive colors.
Pros
Ergonomic design
Reflective straps
Adjustable buckle
Versatile
Even weight distribution
Cons
The Adurance Weighted Vest is perfect for weight training and cardio. It increases workout intensity and efficiency. The vest adds extra resistance evenly to body weights and does not slip and slide during any activities. It is made with sweat-resistant neoprene material and features an adjustable front belt. This weighted vest features an adjustable buckle for a custom fit, a mesh pocket for added storage, reflective accents for increased visibility, and balanced weights that prevent shifting during activity. It is available in four different sizes – 6 lbs, 10 lbs, 14 lbs, and 18 lbs.
Pros
Comfortable
Lifetime warranty
Does not slip or slide
Mesh pocket
Adjustable buckle
Sweat-resistant
Reflective accents
Cons
The CAP Barbell Women's Weighted Training Vest is made with reinforced nylon and polyester. It features a fully adjustable touch-and-close fastener waist belt. The padded shoulder straps offer a snug and secure fit. This weighted vest also features reflective strips to keep you safe while working out in the dark, and removable weights to reach your desired weight capacity. You can adjust the total weight by removing or adding individual weight packets. This vest also includes anchor hooks for parachute resistance training.
Pros
Removable weights
Reflective strips
Versatile
Comfortable design
Durable
Easily adjustable
Machine washable
Cons
This high-quality weighted vest for women from miR comes with weights ranging from 10 lbs–50 lbs. You can increase this load in increments of 3 lbs. It provides maximum comfort during your workouts with its snug and secure fit that lets you focus on your exercise and achieve the desired results without any distractions. The attached belt allows for easy adjustments according to your size. The reviewers on Amazon attest to the product's durability and snug fit.
Pros
Comfortable design
Durable
Adjustable weight options
Does not feel too tight on the chest
Cons
None
This weighted vest from Tone Fitness is made with soft neoprene material. You can wear this vest for exercising, walking, running, mobility and agility training, and quickness drills. It features reflective strips for visibility in the dark and an adjustable front belt for a secure and snug fit. It also helps burn calories, increases bone density, and provides enhanced workout performance. This vest is available in black and blue colors.
Pros
Reflective strips
Adjustable front belt
Breathable
Even weight distribution
Cons
The ZELUS Weighted Vest is designed with built-to-last neoprene material. It has detachable front zipper pockets to keep your valuables safe and a rear elastic mesh pocket for extra convenience. The cushioned shoulder straps are made of gentle and non-chafing fabric to keep you comfortable. This weighted vest is perfect for cardio, weightlifting, circuit training, weight loss, and strength training and is well-balanced to prevent the risk of injury while working out. It is compatible with users with bust sizes between 35″ to 47″. It is stuffed with chemical-free iron pellets, and the reflective tapes improve the safety of users in the dark.
Pros
Detachable pockets
Reflective tapes
Durable
Cushioned shoulder straps
Comfortable design
Versatile
Cons
This high-quality strength training weighted vest from ATIVAFIT is made of soft and stretchy material. The inner vest is filled with chemical-free iron pellets and is available in two weights – 8 lbs and 16 lbs. This weight distribution is perfect for strength training, weightlifting, muscle building, walking, weight loss, and running. It also includes a non-slip pad on the back of the shoulder to prevent the vest from slipping and sliding during exercise. This vest has a front pocket to hold your belongings and reflective strips on the shoulder and back to make you visible in low-light conditions.
Pros
Ergonomic design
Adjustable buckle strap
Reflective straps
Chemical-free iron pellets
Breathable fabric
Cons
None
This H-shaped weighted vest for women from Prodigen is made with premium chloroprene rubber. It is ideal for sports lovers and stays super rigid, breathable, soft, and elastic even under extreme conditions. The adjustable buckle strap is perfect for busts between 35″ to 45″. The vest is stuffed with chemical-free iron pellets and is well-suited for running, walking, strength and muscle building, stair climbing, weight loss, or weightlifting. The elastic edge of this weighted vest provides superior flexibility during the workout. The double stitch design prevents sand leakage, and the reflective straps protect you in all weather conditions. The vest also has a storage pocket to keep your valuables.
Pros
H-shaped design
Reflective straps
Adjustable belt
Breathable
Durable
Cons
Might slip while running.
The RitFit Weighted Vest is made from soft and breathable neoprene material and stuffed with chemical and odor-free iron sand. This weighted vest comes with different weight options – 8 lbs, 10 lbs, 12 lbs, 15 lbs, and 20 lbs. It has built-in mesh pockets to store your belongings. The adjustable front and side straps are suitable for all users with different waist sizes, while the double stitching and adjustable straps aim to ensure flexibility and intensity without sliding and slipping during workouts. The double-stitching edge protector is designed to hold sand inside without leaking, and the reflective strips make you visible even in low-light conditions.
Pros
Convenient mesh pocket
Adjustable buckle
Reflective strips
Adjustable front and side straps
Versatile
Cons
None
The Hyperwear Weighted Vest has an ultra-slim design and is made of washable, soft, and durable Cordura brand fabric with a satin lining. It comes with plastic coated steel weights that weigh 5 lbs and thin weights in flexible rubber cases attached to the vest. This helps maintain flexibility in motion. It also allows you to gain strength and burn extra calories while providing bone density support. The vest is available in different weights, ranging from 5 lbs to 10 lbs.
Pros
Lightweight
Breathable
Durable
Removable weights
Easy on-off zipper
Reflective straps
Multiple weight options
1-year warranty
Cons
None
The Gravity Vest Weighted Vest comes with sealed and removable weights to prevent leaks. The top and bottom straps help adjust the fit for different body types while offering low bounce and great fit. The built-in 2.5″ shoulder pads ensure a comfortable fit. This is a perfect weighted vest for HIIT workouts, walking, running, pull-ups, sit-ups, and push-ups.
Pros
Durable
Comfortable design
Even weight distribution
Sealed and removable weights
Low bounce
Cons
None
Here are some of the important things to remember before you buy a weighted vest.
How To Choose The Best Weighted Vest For Women – A Buying Guide
Design: The design is one of the important parameters to consider when buying a weighted vest for women. There are two types of vests – one in which the vest covers the chest completely, and the other with an X-style frame. The design you go for depends on your budget. The former is supportive but expensive, while the X-style has a light load and is cheaper.
Comfort: Adjustability and padding are two areas you should check. Check if there is ample padding in shoulder straps and torso. Also, ensure the waist straps fit snugly. Make sure that the vest is made of soft and breathable material to prevents toughness and give you a comfortable feel. The vest must also suit your body shape and size.
Weight Of The Vest: The weight in the vest depends on the exercise you want to do. For body weight training, choose a weighted vest with the option to add or remove weights. If you are only going for a cardio routine, the pre-filled option will be a better pick. If you are still unsure, consult your fitness instructor for guidance.
Material: Weighted vests can be made of different materials. Vests made of nylon, spandex, and polyester are more durable. Nylon has wear and tear resistance properties, which makes it ideal for long-term use. Polyester adds flexibility to the vest and is also durable. Neoprene vests are the most inexpensive weighted vests available.
Listed below are some of the benefits you get from wearing a weighted vest during your workouts.
Benefits Of Wearing A Weighted Vest
Increased weight results in enhanced calorie burn during intense workouts. A weighted vest gives your system the nudge to work harder, burn more calories, boost metabolism, and accelerate your weight loss.
Wearing a weighted vest lets you carry extra weight during your exercise, which leads to core activation and helps increase resistance. By adding an extra load to your workout, you end up exerting more energy and improving muscle strength.
As you wear your weighted vest for longer periods, it helps increase bone density and works as a preventative measure against osteoporosis. It is a great equipment for posture improvement as well.
Improves Cardiovascular Health
Wearing a weighted vest during your workout routine encourages your heart to work more efficiently. It increases the body's ability to consume oxygen and promotes cardiovascular conditioning in the long run.
Why Trust StyleCraze?
The author, Aditi Naskar, has a diploma in health and wellness and is a fitness buff. She browsed an extensive pool of user feedback and conducted in-depth research to compile this list of the best weighted vests for women. She also considered the features, design, weight, and material of the products before shortlisting them. These vests can help burn calories, increase endurance, and strengthen the bones.
Frequently Asked Questions
How many pounds should a weighted vest be for women?
It depends on your body weight and strength. If you are a beginner, pick a vest with the lowest weight and increase it gradually.
Is a weighted vest good for losing weight?
Yes. If you work out wearing it regularly, you will be able to see the difference. Weighted vests help burn additional calories and extra fat.
Can I wear a weighted vest all day?
It is not advisable to wear a weighted vest all day. It can make you feel tired and cause muscle tenderness.
Do weighted vests build muscle?
Yes. Wearing a weighted vest during your weight-bearing exercises like squats or push-ups can help build muscle.
Can you lose weight walking with a weighted vest?
Yes. Wearing a weighted vest while walking can encourage your body to work harder. It will help burn extra fat and help lose weight.
Are weighted vests good for squats?
Yes. Weighted vests are good for squats.
How heavy should a weighted vest be used for people with autism?
In general, a weighted vest should be between 5-10% of the body weight. It creates calmness, reduces anxiety, increases focus, and encourages self-regulation in people with autism.
Recommended Articles