15 Best White Eyeliners That Will Make Your Eye Makeup Pop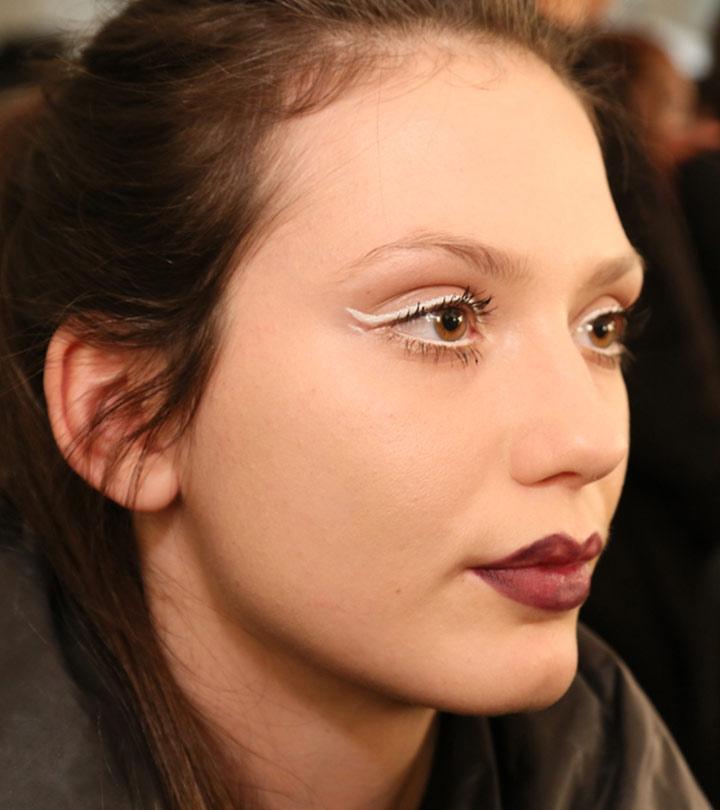 Eyeliner is one of those makeup products that can make or break your look. It can lift or enhance even the dullest eyes. If you are anything like us, you never leave your house without putting on eyeliner. However, are you always reaching out for your usual black or brown eyeliners? If yes, it's high time you choose something out of the ordinary – for instance, a white eyeliner. With our list of the best white eyeliners, we guarantee it won't be challenging to find the right one.
White eyeliners may not be as versatile as black or brown ones, but they surely are becoming a fad. Whether you have small eyes or have had a long night, the perfect white eyeliner can make your eyes pop and make them look more awake. It can also help you achieve a multitude of eyeliner styles – from a fishtail to a classic smokey eyeliner look. Ahead, you will find the 15 best white eyeliners that make your eyes look bigger. Read on to know more!
15 Best White Eyeliners For Bigger Eyes And To Make You Look Younger
The first on our list is this best-selling, limited-edition shade eyeliner by stila. The white matte liquid liner is easy to use as it features a marker-like tip that provides precise application and glides smoothly. It also dries quickly and offers long-lasting results. Rest assured, it won't smudge or run and lasts longer, thanks to its waterproof quality. From natural makeup look to thick, dramatic ones, it helps you achieve a variety of looks that makes your eyes look brighter and refreshed.
Pros
Waterproof formula
Glides smoothly without pulling or dragging
Felt-tip applicator ensures precision
Dries up faster
Does not smudge or run
Enables you to create endless eyeliner looks
Cons
Dries very quickly
Slightly expensive
Are you looking for a sure-shot way of making those droopy eyes pop? NYX Professional Makeup Mechanical Eye Pencil is your go-to option! Intensely pigmented and super creamy, this white eye pencil glides effortlessly and lasts longer without smudging even in the most humid conditions. This is a retractable eyeliner that offers precise application and does not need any sharpening – all you need to do is twist up the tube and apply. Lining and defining your eyes couldn't get any easier than this.
Pros
 Easy-to-use twist-up tube
Retractable pencil
Doesn't need to be sharpened
Highly pigmented formula
Available in 12 other shades
Cruelty-free
Inexpensive
Cons
Might be a little too fragile
Whether you prefer the traditional cat-eye look or you only want to highlight the inner corners of your eyes, this metallic white gold eyeliner will instantly brighten the look of your eyes. This waterproof formula is highly pigmented, so a little goes a long way. All while ensuring that its creamy texture enables a smooth application. You will be glad to know that it is smudge and transfer-proof and stays put for 24 hours straight.
Pros
Long-lasting for 24 hours
Highly pigmented
Easy-glide creamy formula
Eye brightening liner
Does not smudge or transfer
Paraben and cruelty-free
Available in 21 shades and 3 finishes
Cons
May be difficult to sharpen
May not be suitable for sensitive eyes
We can't decide what we love the most about this drugstore white eyeliner. Is it the fact that it is affordable yet offers a high-quality finish? Or is it that it glides on easily for a smooth application? Well, while we take some more time to decide, let us tell you that this mechanical pencil eyeliner is waterproof and lasts for a total of 16 hours without smudging or fading! This rich and creamy formula includes a built-in smudger and sharpener to help you achieve any look you want.
Pros
16-hour wear
Smudge-resistant and fade-proof
Suitable for sensitive eyes
Available in 6 other shades
Doubles as an eyeshadow
Budget-friendly
Cons
The smudger may be rigid or difficult to use
Have you always wanted to try the smokey eye look? But you have small eyes, and you are worried this look will only make your eyes appear much smaller? Then Rimmel Soft Kohl Eyeliner is your best bet! One of the top-rated white eyeliner pencils, it glides smoothly over your lids and blends easily (using fingertips or cotton bud) to help you achieve the ultimate smokey eye look while also making your eyes look bigger. Plus, it's easy to apply and offers an intense color pay-off and lasts for 12 hours straight.
Pros
Lasts for 12 hours
Highly pigmented
Soft, smudgeable formula
Fade-resistant
Comes in a pack of 3
Cons
• May not be suitable for sensitive eyes
• Expensive
It is waterproof, long-lasting, and is not heavy on the wallet – what's not to love about this white luster eyeliner pencil by Maybelline New York. This is a white hue pencil liner with a hint of shimmer that works well to illuminate your eyes without making it look extravagant. It features a twist-up tip for easy and smooth application. It offers a high-pigment finish that is smudge-resistant and lasts all of 16 hours.
Pros
Waterproof and smudge-proof
16-hour wear
Glides smoothly
Brightens eyes
Shimmer finish
Affordable
Available in 4 other luminous shades
Cons
May not work well for lining your waterline
Trust Jane Iredale to come up with an eyeliner pencil that not only accentuates and defines your eyes but also offers conditioning benefits. Formulated with shea butter, macadamia seed oil, and vitamin E, this product moisturizes, soothes, and protects the delicate skin on your eyelids. The tip of the pencil is ultra-soft and creamy that it glides on smoothly without snagging or tugging at your skin. This mineral-based white pencil liner delivers a vibrant and long-lasting finish. Here's a pro tip: Always use Jane Iredale sharpener to keep the point well-rounded.
Pros
Moisturizes and soothes skin
Smooth application
Highly pigmented
Creamy texture
Vegan and gluten-free
Available in 6 other colors
Cons
May not last all day long
More often than not, droopy or hooded eyelids tend to make eyes look tired and sad. But with blinc Longwear Eyeliner Pencil, you don't have to worry about that anymore. The white-hued pencil is designed to enhance your eyes. Hailed as one of the longest-lasting eyeliner pencils available, this product is super smooth and stays put until you are ready to take it off. This creamy, waterproof formula is enriched with antioxidants and vitamins, which helps firm and condition the skin.
Pros
Helps lift droopy eyes
Long staying power
Smudge and fade-proof color
Sulfate, paraben, and talc-free
Fragrance-free
Easy to blend
Comes in 7 other colors
Cons
May not work well on oily skin
Slightly expensive
Just one swipe is all it takes to attain intensely pigmented and highly accurate finish with NARS Larger Than Life Longwear Eyeliner. This gel-like formula is easy to blend and glides on smoothly and evenly and lasts for upto 12 hours without smearing or caking. It features a sharpenable tip that helps you define your waterline while at the same time, it can be smudged to create a smokey eye look.
Pros
Delivers intense color pay-off
Offers precise application
Creamy, blendable formula
Helps to achieve a variety of looks
12-hour wear
Does not smear
Cons
A sequel to the original best-selling LORAC Front Of The Line Pro Liquid Eyeliner, this waterproof eye pencil is packed with a high concentration of pigments that provides full definition to your eyes and a long-lasting finish. In contrast, the super-soft pencil tip ensures a smooth application. From thin lines to a dramatically bold look, you can create endless looks with it. Furthermore, this retractable white pencil is formulated with skin-friendly ingredients that make it safe for contact lens wearers.
Pros
Long-lasting, waterproof formula
Retractable pencil
Available in matte and metallic shades
Super-smooth tip
Built-in sharpener
Ophthalmologist-tested
Suitable for contact lens wearers
Cons
Might be a little difficult to sharpen
From the makers of some of the best skincare and cosmetic products comes this waterproof kohl eyeliner. As the title suggests, this white eyeliner pencil stays forever sharp, thanks to its built-in sharpener integrated into the twist-off cap. Rest assured, this product will always have a pointed tip to deliver ultimate precision every time. Intensely pigmented with a waterproof formula, this automatic, self-sharpening eyeliner yields high coverage that lasts for 12 hours.
Pros
Automatically sharpens every time cap is closed
12-hour wear
Hypoallergenic and fragrance-free
Ophthalmologist and dermatologist-tested
Smudge-proof
Suitable for sensitive eyes and contact lens wearers
Cons
The tip may be a little fragile
100% PURE Creamy Long Last Eyeliner is a buttery smooth and ultra-hydrating white pigment that can do wonders to make your eyes look awake and refreshed. With this product, you don't have to worry about tugging or snagging as the soft tip glides on your eyelids smoothly to accentuate your eyes. Rich in jojoba oil, shea butter, and mango seed oil, this long-lasting eyeliner moisturizes, nourishes, and soothes skin while ensuring flawless application with every use. It is the best waterproof white eyeliner.
Pros
Packed with antioxidants, vitamins, and fatty acids
Nourishes and firms skin
Super smooth tip for ease of application
Vegan and gluten-free
Cruelty-free and non-toxic
Cons
May smear slightly within a few hours
Expensive
This deeply pigmented white shade offers plenty of color in just a single swipe, which is more than enough to add definition to your eyes. It is lightweight and soft and allows you to create smooth strokes. This waterproof eyeliner pencil stays put and is long-lasting. Aside from using it as an eyeliner, it also works as an eye shadow pen, highlighter eye pencil, and lip gloss. It features a sharpenable tip, which helps maintain a pointed tip, and comes in packs of 12.
Pros
Waterproof and durable
Opens up your eyes
12 pencils in a pack
Soothing formula
Safe and gentle for sensitive eyes
Inexpensive
Cons
One of the best eyeliner pencils ideal for both lid and waterline applications, Sephora Collection Eye Pencil To Go delivers a long-lasting matte finish and offers an ultra-precise application. It features a creamy texture that glides on quickly and smoothly while the pure white pigment creates a striking eye makeup look that opens up your eyes and makes them look more youthful.
Pros
Matte finish
Ensures gentle and precise application
A little goes a long way
Creamy texture
Cruelty-free
Cons
May not be suitable for sensitive eyes
Last but not least, we have M.A.C Eye Kohl white eyeliner, which is one of the best products available in the market. True to color and long-wearing – don't you like the sound of that? This Intense White eyeliner features a soft tip that glides on smoothly to deliver a long-lasting matte finish. We love how creamy and pigmented the color is that it helps define your eyes with just a few strokes.
Pros
Good staying power
Super intense color
Silky smooth finish
Ophthalmologist-tested
Suitable for contact lens wearers
Can be used on the waterline
Cons
Now, let's look at a few things that you will have to consider when buying a white eyeliner.
Buying Guide Of White Eyeliner
What Does White Eyeliner Do For Your Eyes
Whether you are using it to highlight the inner corners of your eyes or making a bold statement with a graphic eyeliner style, a good white eyeliner opens up your eyes, creating the illusion of larger and wider eyes. It is more effective when it is used on your waterline as it enhances and brightens your eyes. Furthermore, the white shade also helps counteract redness caused due to allergy.
How To Choose The Best White Eyeliner
While buying a white eyeliner, consider these attributes to help you choose the right white eyeliner.
Long-lasting: Always choose a white eyeliner that has excellent staying power. Also, ensure that it does not smudge or flake and stays put until you remove it. Some eyeliners last for 12 to 16 hours, while others offer 24-hour wear.
Application: The skin on our eyelid is extremely delicate, so you must opt for a product that has a smooth tip that does not snag or pull the skin.
Type: There are 3 different types of white eyeliners available – gel-based, liquid, and pencil eyeliners. Choose the one that is convenient for you to use.
Additional features: While an excellent white eyeliner is meant to make your eyes look more awake, they can also be used for other purposes. Some eyeliners can also be used as an eyeshadow base and a highlighter for your brows and lips.
How To Use White Eyeliner
White eyeliners are a tried-and-true makeup artist staple that can be used in various ways to achieve countless looks. All you need to have is great application skills.
Women with small eyes can create a doe-eyed look by using it along their lower waterline.
Highlight the inner corners of your eyes to make your eyes look wider and bigger.
Draw a thin line along your top lash line or lower lash line to create a soft eyeliner look.
Use it as an eyeshadow to brighten your eyes.
Pair your favorite white eyeliner with a black one if you like to go the 60's retro way
If you like to go bold, create a white cat-eye or smudged smokey look.
From A-list celebrities to artists in the makeup industry, everyone has been trying out this new trend. Whether you are using it on your waterline, top of your eyelids, or for tightlining, white eyeliner will not disappoint you. Check out our list of the 15 best white eyeliners that make your eyes look bigger and more appealing. Have you tried the white eyeliner look yet? How do you like to use it? Do let us know in the comments below!
Expert's Answers For Readers' Questions
Is it safe to use eyeliner on your waterline?
Yes, eyeliner is safe to use along the waterline as long as you use the right product. It should contain ingredients that are safe to use on the waterline.
Does white eyeliner make you look younger?
Yes, white eyeliner can make you look younger when applied on your lower waterline as it creates a doe-eyed look.
What is the best white eyeliner for your waterline?
All the products listed above are some of the best white eyeliners that you will find. But we love 2 products the most. The first one is Wunder2 Super-Stay Liner due to its intensely rich white gold shade that is super creamy and lasts for 24 hours straight. Jane Iredale Eyeliner Pencil is our second most favorite product from the list because of its moisturizing and soothing properties and super creamy texture.
Recommended Articles: