13 Best White Eyeshadows You Need To Try in 2021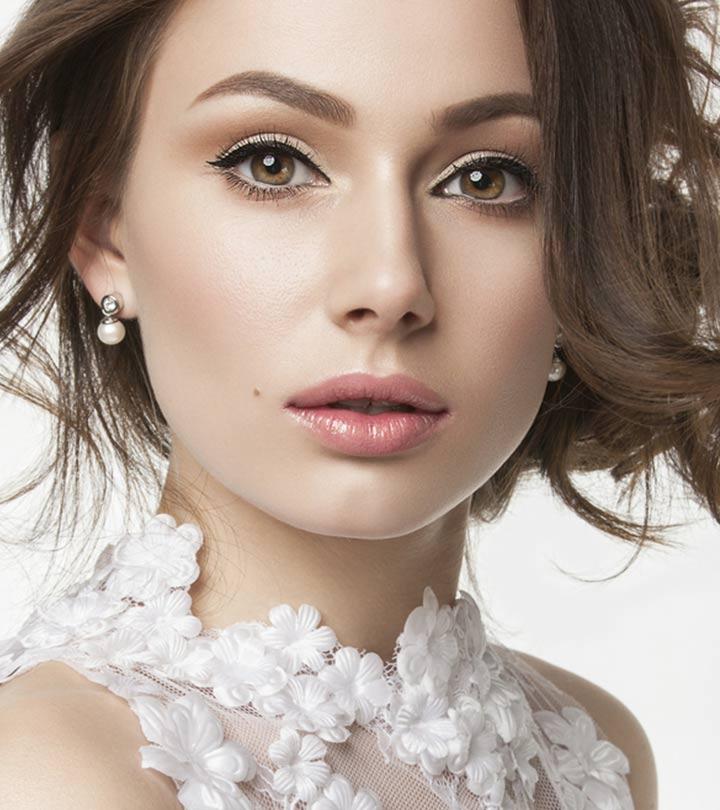 White eyeshadow screams quirky, bold, and fun. And not many prefer to have it in their kitty just because of the lack of knowledge on how to use it. Though it is very common to go for neutral shades like brown, pink, beige, and champagne, white can be that one color that will make you stand out in a crowd with those white eyeshadow looks.
There are also different ways of using the white shade that will not make you look too loud and 'out-there'. If that works for you then, what's stopping you from getting one for yourself? Refer to our carefully curated list of the 13 best white eyeshadows for an out-of-the-world experience. Have fun with the white color for a change!
Top 13 White Eyeshadows of 2021
Now looking like a shimmering snow princess with frosty eyes is no big deal. NYX Professional's Jumbo Eyeliner Pencil is a triple threat; eyeshadow, eyeliner, and highlighter. It glides on your eyelids, water lines, and inner corners as smooth as butter. This white eyeliner proudly boasts of being cruelty-free and is enriched with a blend of mineral oils and powder. The radiant eye pencil's creamy formula suits all skin types and the jumbo pencil helps with easy application.
Pros:
3-in-1 use
Long-lasting
Easily blendable
A creamy formula
Cruelty-free certified by PETA
Cons:
Does not come with a sharpener
This is the only color you need to have for the summer! The formula is a beautiful blend of white and silver cream that sets upon the eyelids beautifully for longer hours. The smooth finish of the luxurious color makes it look creaseless on the eyelid. And you can either use it entirely or smudge it slightly upon a base of a dark-colored eyeshadow for the metallic look. Choose your makeup look for the day according to your mood. The in-built brush comes along for a mess-free application.
Pros:
Lasts for up to 24 hours
Leaves a luminous glow
A waterproof film stays for long hours
Comes with a built-in brush
Cons:
Too glittery for some people
Break the beauty rule and start a new trend with Julep Creme-to-Powder's Eyeshadow Stick. A rich color playoff is what this astonishing product offers. The vitamin-enriched eye color keeps the skin hydrated, protects it from damage, and improves the skin quality leaving it looking wrinkle-free. The soft-focus stick also has a spongy blender/smudging tool for the sensitive eyes on the other side for that mattifying look.
Pros:
Can be applied without a brush
Comes with a spongy smudger
Enriched with vitamin C and E
High pigmentation
Blends evenly
Crease-proof
Waterproof
Long-lasting
Cons:
Looking for a palette that gives you more than just one kind of finish in a single shade? Almay Shadow Squad is a uniquely designed palette where every color comes with 4 types of finish— matte, metallic, satin, and glitter. So there is a new look for every outfit. The velvety texture from the white eyeshadow palette spreads smoothly on any skin tone and leaves your eyes wanting for more. Now, shine from day to dusk as you have shades with a separate finish for every occasion.
Pros:
Ophthalmologist and dermatologist-tested
Reasonably-priced
1 shade with 4 finishes
Smooth texture
Hypoallergenic
Cons:
It's time to spice things up with a white on white eyeshadow look. This new collection from Maybelline New York is a set of silky smooth eyeshadow color for your ultra-rich, all-day look. And the extraordinary white shade is the best example of that! The creamy saturated pigments look smooth on the eyelids and don't crease or fade. The high-quality white cream eyeshadow color does not need any touch-ups as these last for as long as an entire day. So wear it alone or mix and match with other shades, but do it anyway to make a statement.
Pros:
Saturated pigments
Creamy texture
Doesn't fade off
Easily blendable
Cons:
Does not give an intense effect
Who says only the color black has the patent over smoky eyes? With the one and only Jane Iredale's white powder eyeshadow, now any look is possible. The light-diffusing, pressed eyeshadow features highly-pigmented granules that blend into the skin so smoothly that the eyeshadow looks and feels like second skin. The natural extracts reduce skin irritation making it one of the best products for sensitive skin. So what's not to love? Blend it with the same shade of a matte finish for the astonishing smoky effect.
Pros:
Highly-pigmented
Sensitivity-tested
Lightweight formula
Diffuses easily
Pine bark extracts reduce irritation
Cons:
Does not come with a brush
Going for the ultimate cat-eye look is now cakewalk with Bloody Mary's White Eyeshadow. The product with its rich pigments blends smoothly onto the eyelid and lasts for long hours. If you want the colors to stay for long hours, apply a cream base first, and then apply the powdery matte white eyeshadow makeup over it. Start by applying a small amount of the product upon the lids and simply keep adding onto it according to the intensity you need for the look.
Pros:
Creates a high impact
Richly-pigmented
Light-weight
Long-lasting
Cruelty-free
Vegan
Cons:
This product is built keeping all the natural and organic ingredients in mind. Certified as 99-100% natural and cruelty-free, the brand discourages animal-cruelty. Lauren Brooke Cosmetiques Natural Creme Eyeshadow's portfolio of natural ingredients like vitamins and minerals, shea butter, rosehip, and jojoba oil hydrates the skin and softens it. The product with its anti-aging properties keeps your skin revitalized. Use the crème eyeshadows to set your powder eye colors or use it as a highlighter for all-day wear.
Pros:
Richly-pigmented
99.7% certified organic base used
Gluten and paraben-free
Cert clean certified
A non-GMO product
Biodegradable ingredients used
Infused with 100% natural vitamins and minerals
Certified cruelty-free by Leaping Bunny and PETA
Cons:
Not suitable for all ages as it's too shiny
White shimmer and matte black—can there be a better combo of colors for the eyes? Absolutely not! NARS Duo's Pandora eyeshadow creates looks for every occasion. The pigments are light and sit on the eyelids very easily. The black and white eye makeup features natural shimmer and matte finish that blends perfectly on the skin leaving a radiant finish. Give this combination a go and mix and match to create looks that stand out.
Pros:
A set with 2 colors
A sheer natural color
High on pigmentation
Transparent pigments avoid heaviness
Cons:
You can never go wrong with shimmery pearl eyeshadows. Suited for grand parties and huge gathering, Pure Ziva Eye Color's white satin shade is what makes the heads turn. The eye color is clean and scientifically proven to be one of the best eye colors for the skin. The reason being, its smooth finish, and creamy texture sets on the skin, making it look like a match made in heaven. You can also use it with other makeup products as a highlighter for the inner and outer corners or the water lines.
Pros:
Dermatologically and allergy-tested
Ophthalmologist-tested
Talc and paraben-free
Cruelty-free
Vegan
Cons:
Does not come with a brush
Darker eyeshadows are for creating depth, lighter eyeshadows are for a flowy, breezy look. Bele Makeup Italia's Aqua shade is for the metallic aqua look that makes the eyes look like that of a mermaid's. The intense texture of the pigmented white eyeshadow releases complete color and leaves the eyelids looking smooth and feeling great. The shade boasts an ultra-shiny but wet appearance and gives the eyes a stylish pop. Manufactured in Italy, the product follows all safety standards and follows the initiative of building a cruelty-free environment. Use it individually or mix it up with another color, watch the eyeshadow rule the look for the day.
Pros:
Manufactured in Italy
Intense texture
Cruelty-free
GMO-free
Certified by the Italian supplier
Cons:
Graftobian Ultrasilk Matte Eyeshadow is just what a professional needs, a mix of matte and shimmery. This shiny eye color is comfortable on the skin and stays for long hours. Formulated with very little synthetics, this color doesn't cause any harm to the skin and protects it from the harsh lights and polluted surroundings of a professional set. The matte white eyeshadow finish along with some shimmer enhances the eyes and brings it to life.
Pros:
Ideal for professional use
Manufactured in the U.S
Leaves a non-reflective finish
Comfortable on skin
Durable
Cons:
Slightly shimmery for daily use
A first of its kind liquid eyeshadow, this is used to create glittery looks for a big night out or a huge party. The eyeshadow is known for its versatility and can also be used as a liquid eyeliner. Blend it with a dark color to get a metallic green, blue or red look, or spread it just over a base with light shade; the eyeshadow makes your eyes look great in both. Take some on the wand and glide it over the eyelid, let it set for some time and watch the eyes sparkle away.
Pros:
Liquid eyeshadow
Dons a multi-dimensional sparkle effect
Formulated to wear over a base eyeshadow
Comes in a nice packaging
Cons:
Sometimes white eyeshadows have more than one use. The points given below, elaborate more on that.
Some Of The Best Ways To Use A White Eyeshadow
Eyeshadow, if used in the right way, can create magic. But, one has to be completely aware of what they are using it for. Some of the best ways to use white eyeshadows are as follows:-
If you use the entire bottle of eyeshadow over the eyelid then it might change your complete look for the day. But sometimes a very little amount brings in a lot of difference. And that little amount can be used in highlighting the brow bone or the water lines. When white eyeshadow is used as a highlighter, it makes the eyes look big, bright, and more appealing.
White eyeshadows can be used all over the face to brighten it up. A very little amount of the small and shimmery granules of the product when applied can make your face sparkle like a star.
White eyeshadows look best when used over another bright-colored eyeshadow. This sprinkles a dash of drama to the look and the eyes start speaking a language of its own. The corner of the eyes is the best place to use it to define it further.
Though, we know the different uses of an eyeshadow, we aren't sure of what should be done to make the best use of it.
How To Use White Eyeshadow To Get The Best Look?
The entire look depends on how good you are at applying the eyeshadows. It involves a very few simple steps-
Start with the best brush as the entire application mostly depends on how the brush works well on the eyelids.
Apply a base eyeshadow of a different color upon the eyelid. You can either go for one color or mix it up using more than one color
Now add a thin layer of the white shadow over the base color to give it a shimmery, sparkling effect
Finally, rim the lashes with a dark-colored mascara to add extra drama to the eye makeup
You can also add the white eyeshadow to highlight your brow bone, the corner of your eyes, or the water line to add some starry effects overall.
Be it to make a bold statement or to try something out of the ordinary, white eyeshadows are sure going to leave you feeling mesmerized and looking extraordinary. Try different eyeshadow looks by getting a few of the best eyeshadows from our list and turn your eyes looking magical.
Frequently Asked Questions
Where do you apply white eyeshadow?
Eyeshadows are usually applied over an eyelid. White shadows are nothing different. They are also applied to the area beneath the eyebrows.
Can you use white eyeshadow as a setting powder?
White eyeshadows look chalky and streaky. That's why they can also be used as setting powder or a white eyeshadow primer.