12 Best White Eyeshadows You Need To Try in 2023
These white eyeshadows can add a fun and quirky twist to your makeup look.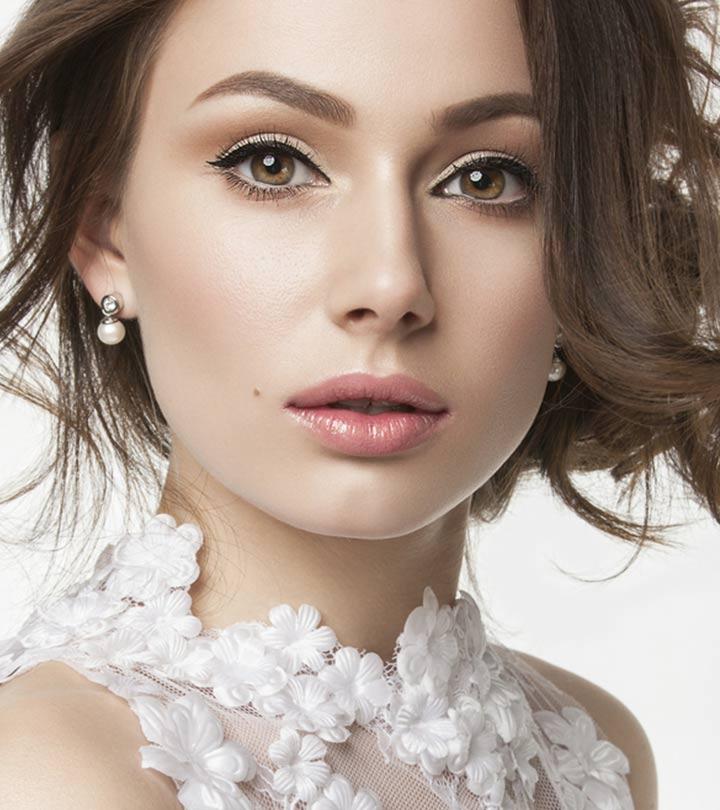 Brown, beige, pink, champagne are common neutral shades that can be spotted on almost everyone's eyelids. But, the best white eyeshadows are the real game-changers. These are bold, quirky, and fun. It is not commonly found in every vanity because often, people are not aware of how to carry it with their outfits. But with the right strokes and blends, a white eyeshadow will make you stand out in the crowd like never before.
Jamila el Bouch, a celebrity makeup artist with 10 years of experience, says, "A great way to set creamy eyeshadow formula is to use a white eyeshadow or a translucent powder. With this technique your eyeshadow will not budge while wearing it. This is a great way to make a creamy formula long wearing."
If you worry that white will make you look too bold and loud or too much out there, then you have not found the right shades yet or have not applied them well. To solve this problem, we have listed the 12 best white eyeshadows for you to have an out-of-the-box makeup look. There is also a guideline to help you wear this shade like a pro. Scroll down to find the perfect white to shine on!
Top 12 White Eyeshadows of 2023
Pros
3-in-1 use
Long-lasting
Easily blendable
A creamy formula
Cruelty-free certified by PETA
Cons
Does not come with a sharpener
Price at the time of publication: $4.5
Pros
Lasts for up to 24 hours
Leaves a luminous glow
A waterproof film stays for long hours
Comes with a built-in brush
Cons
Too glittery for some people
Price at the time of publication: $5.09
Pros
Can be applied without a brush
Comes with a spongy smudger
Enriched with vitamin C and E
High pigmentation
Blends evenly
Crease-proof
Waterproof
Long-lasting
Cons
Price at the time of publication: $16.0
Pros
Saturated pigments
Creamy texture
Doesn't fade off
Easily blendable
Cons
Does not give an intense effect
Pros
Buildable formula
Hypoallergenic
Long lasting
Ophthalmologist tested
Fragrance-free
Cruelty-free
Cons
None
Price at the time of publication: $6.2
Pros
Creates a high impact
Richly-pigmented
Light-weight
Long-lasting
Cruelty-free
Vegan
Cons
Price at the time of publication: $14.99
Pros
Richly-pigmented
99.7% certified organic base used
Gluten and paraben-free
Cert clean certified
A non-GMO product
Biodegradable ingredients used
Infused with 100% natural vitamins and minerals
Certified cruelty-free by Leaping Bunny and PETA
Cons
Not suitable for all ages as it's too shiny
Price at the time of publication: $13.0
Pros
A set with 2 colors
A sheer natural color
High on pigmentation
Transparent pigments avoid heaviness
Cons
Price at the time of publication: $18.99
You can never go wrong with shimmery pearl eyeshadows. Suited for grand parties and huge gathering, Pure Ziva Eye Color's white satin shade is what makes the heads turn. The eye color is clean and scientifically proven to be one of the best eye colors for the skin. The reason being, its smooth finish, and creamy texture sets on the skin, making it look like a match made in heaven. You can also use it with other makeup products as a highlighter for the inner and outer corners or the water lines.
Pros
Dermatologically and allergy-tested
Ophthalmologist-tested
Talc and paraben-free
Cruelty-free
Vegan
Cons
Does not come with a brush
Price at the time of publication: $13.99
Pros
Manufactured in Italy
Intense texture
Cruelty-free
GMO-free
Certified by the Italian supplier
Cons
Price at the time of publication: $20.0
Graftobian Ultrasilk Matte Eyeshadow is just what a professional needs, a mix of matte and shimmery. This shiny eye color is comfortable on the skin and stays for long hours. Formulated with very little synthetics, this color doesn't cause any harm to the skin and protects it from the harsh lights and polluted surroundings of a professional set. The matte white eyeshadow finish along with some shimmer enhances the eyes and brings it to life.
Pros
Ideal for professional use
Manufactured in the U.S
Leaves a non-reflective finish
Comfortable on skin
Durable
Cons
Slightly shimmery for daily use
Price at the time of publication: $12.5
Pros
Liquid eyeshadow
Dons a multi-dimensional sparkle effect
Formulated to wear over a base eyeshadow
Comes in a nice packaging
Cons
Price at the time of publication: $24.0
White eyeshadows offer a stark and dramatic look! They make your eyes look brighter, rejuvenated, and more awake! To find the perfect creamy white eyeshadow, you need to know what to look out for. In this buying guide, we will walk you through the points you need to remember while searching for the right shade of white eyeshadow.
What To Consider When Buying White Eyeshadows – Buying Guide
Formula: White eyeshadow can be worn alone or as a base for contouring darker shades. They are available in different formulas like powder, cream, and pencil. Powder formulas are perfect for light, natural effects while creamy eyeshadows offer vibrancy.
Waterproof: Always look for a waterproof and sweatproof eyeshadow. Runny eyeshadows may ruin your makeup. Also, waterproof formulas stay for longer hours.
Budget-friendly: Make sure the white eyeshadow you pick is budget-friendly. You can find quality products at affordable prices as well. A low priced eyeshadow does not always indicate its quality level. Also, do online research and check reviews to find the right kind of white eyeshadow for yourself.
Blendable: This is a vital point to consider. Choose an eyeshadow that blends easily. You shouldn't have to work hard to blend the white shades with the rest of your eye makeup.
Pigmentation: Choose white eyeshadows with high pigmentation and great color payoff. Your eyeshadow can be shimmery, matte, or glossy but it will only be visible if the formula is well-pigmented.
Chemical-free: Make sure the product is enriched with nourishing ingredients such as glycerin, jojoba oil, and shea butter. Always stay away from harmful ingredients that might put your skin at risk. Look for formulas that are paraben-free, alcohol-free, silicone-free, gluten-free, and phthalate-free. A skin-safe product is highly admirable.
Brand: Many reputable brands deliver eyeshadows made from quality ingredients. Those eyeshadows are also dermatologically tested which proves their safety. Research well about the brand behind your desired product before you make a purchase.
Sometimes white eyeshadows have more than one use. The points given below, elaborate more on that.
Some Of The Best Ways To Use A White Eyeshadow
Eyeshadow, if used in the right way, can create magic. But, one has to be completely aware of what they are using it for. Some of the best ways to use white eyeshadows are as follows:-
If you use the entire bottle of eyeshadow over the eyelid then it might change your complete look for the day. But sometimes a very little amount brings in a lot of difference. And that little amount can be used in highlighting the brow bone or the water lines. When white eyeshadow is used as a highlighter, it makes the eyes look big, bright, and more appealing.
White eyeshadows can be used all over the face to brighten it up. A very little amount of the small and shimmery granules of the product when applied can make your face sparkle like a star.
White eyeshadows look best when used over another bright-colored eyeshadow. This sprinkles a dash of drama to the look and the eyes start speaking a language of its own. The corner of the eyes is the best place to use it to define it further.
Though, we know the different uses of an eyeshadow, we aren't sure of what should be done to make the best use of it.
How To Use White Eyeshadow To Get The Best Look?
The entire look depends on how good you are at applying the eyeshadows. It involves a very few simple steps-
Start with the best brush as the entire application mostly depends on how the brush works well on the eyelids.
Apply a base eyeshadow of a different color upon the eyelid. You can either go for one color or mix it up using more than one color
Now add a thin layer of the white shadow over the base color to give it a shimmery, sparkling effect
Finally, rim the lashes with a dark-colored mascara to add extra drama to the eye makeup
You can also add the white eyeshadow to highlight your brow bone, the corner of your eyes, or the water line to add some starry effects overall.
Chaitra Krishnan, the author, has a deep interest in makeup and makeup products. After thorough research, she has provided a detailed list of the best white eyeshadows that will help you nail various eye looks. She went through numerous reviews and feedback on multiple forums and brand websites to help you pick the perfect eyeshadow that suits all skin types. The products listed in this article are long-lasting, skin-friendly, and also help smooth out the creases on your eyelids.
Where do you apply white eyeshadow?
Eyeshadows are usually applied over an eyelid. White shadows are nothing different. They are also applied to the area beneath the eyebrows.
Can you use white eyeshadow as a setting powder?
White eyeshadows look chalky and streaky. That's why they can also be used as setting powder or a white eyeshadow primer.