11 Best White Platform Sneakers Of 2023 – Reviews & Buying Guide
Attain an instant height and style by wearing these eye-catching white sneakers.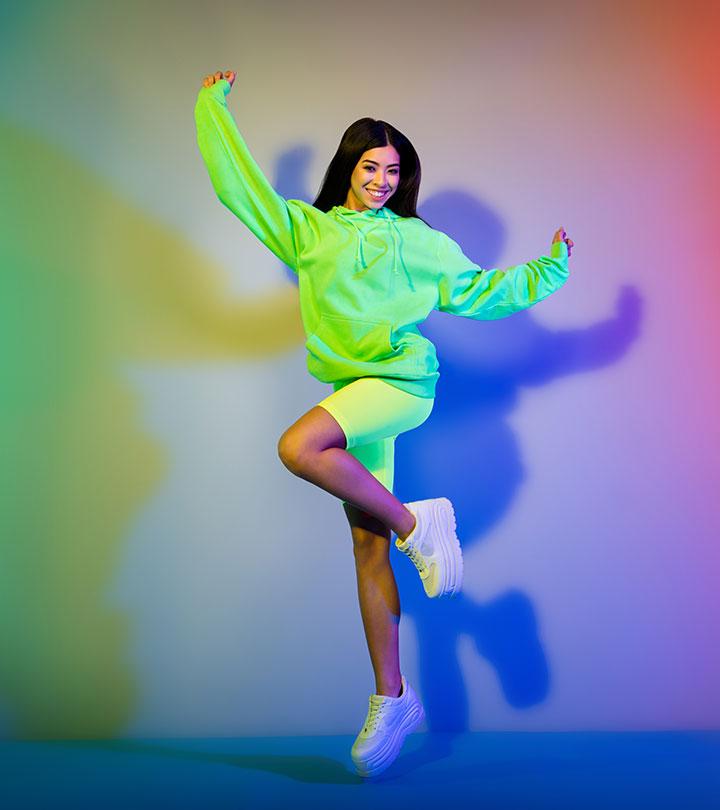 A platform heel completing every dress and style is what every woman dreams of. At least some us do. That's why god created the best white platform sneakers of 2023 that are a surprising blend of fashion and style. Be it a casual hangout with your friends, a family get together, or a date with that special someone, these sneakers complement every look! In fact, you can ditch your stilettos walk up to the isle comfortably in these platform sneakers on your D-day.
We know that choosing the right pair of platform sneakers can be overwhelming. That's why we have created a list of the 11 best options that are sure to win your heart. Keep scrolling to take your pick.
11 Best White Platform Sneakers You Can Buy
This platform sneaker from Superga is a good choice for women looking for comfort and fashion. The 100% natural rubber outsole provides a superior grip, while the 1.5-inch high platform heel gives you the leverage that you desire. The comfortable and breathable upper is made of 100% cotton that allows superior airflow, so you can be up on your feet all day long. This classic kick has a low-top shaft around the ankle arch and features a chunky rubber platform and unlined cotton upper. They go with everything – from jeans to a flowy summer dress.
Pros
Breathable
Lace-up design
Rubber outsole
Comfortable
Easy to wear
Cons
Price at the time of publication: $64.94
Leave it to Soda to bring you class and comfort and redefine luxury with this sneaker. The polyurethane sole is durable and comfortable, while the platform heel measures approximately 1.5 inches. The shoe also comes with a comfortable cushioned gel style insole and cushion foam for superior support and softness for your feet. Wear it for a hike or a night out with friends.
Pros
Slip-on design
Polyurethane outsole
Breathable
Cushion foam
Super light
Gel insole
Cons
Insole padding cannot be removed
Price at the time of publication: $25.01
The Sperry Women's Crest Vibe Platform Sneaker has a non-marking rubber outsole for flexibility. The shaft measures approximately low-top from the ankle arch. The lightweight upper is made of leather and is super-breathable and airy. The rawhide laces with barrel ties do not require tying and allow you to put on the shoes or remove them with ease. The outsole has razor-cut wave-siping that provides unparalleled traction in wet or dry conditions. The white platform sneaker also comes with a memory foam insole that provides softness and makes your foot feel comfortable all day.
Pros
Lace-up design
Rubber non-marking outsole
Memory foam insole
Breathable
Lightweight
Anti-slip design
Cons
None
Price at the time of publication: $79.99
The Roxy Women's Sheilahh Slip-on Platform Sneaker has a rubber sole with a terry cloth lining for superior comfort. The faux leather upper makes it look classy and timeless. The chunky platform styling has a slip-on design with knotted elasticized laces for superior adjustment. The shoe also comes with a padded tongue and collar detail for ease of wearing. The beautiful mesh eyelets offer breathability on those hot summer days. With a beautiful Roxy art pattern, the outsole leaves your flower-laden footprint everywhere you go.
Pros
Slip-on design
Rubber outsole
Padded tongue
Breathable material
Mesh eyelets
Super light
Cons
Price at the time of publication: $49.99
These white platform sneakers from ZGR lift you and your spirits. They have 1.58-inch platform heels that add to your height for a slimmer and taller look. The soft PU leather upper provides waterproof protection to your feet and is also easy to clean. The shoes have soft insoles with breathable holes on the sides to keep your feet comfortable and dry all day long. The light and wear-resistant PVC outsoles provide a non-slip grip for superior traction to walk on uneven surfaces. The shoes are super light, flexible, and durable, and the soft and thick lining provides a snug feel even after a long day of walking.
Pros
Waterproof
Breathable
Ankle support
Flexible
Durable
Super light
Cons
Price at the time of publication: $25.99
The Triple Up Leather Platform Sneakers from Keds add a designer touch to your sneaker collection with their golden detailing. They have 1.5-inch platform heels to make you feel taller without compromising on comfort. The shoes are made with 100% leather and have rubber soles that provide superior grip and support. They have cushioned footbeds that keep your feet comfortable throughout the day. The leather upper is waterproof and easy to clean.
Pros
Rubber outsole
6 eyelet lace-up design
100% leather upper
Waterproof
Extra height in midsole
Cushioned footbed
Easy to wash and dry
Cons
Price at the time of publication: $74.95
The Puma Women's Smash Platform Sneaker looks super stylish and comfortable. The tennis-inspired silhouette features a luxurious leather upper and a funky, textured platform. It has trademark clean lines and the famous lateral Formstrip with a rubber sole for stability. A SoftFoam comfort insert provides unparalleled comfort and keeps your feet fresh all day long. The platform outsole is inspired by the classic smash wins and has an interesting organic texture.
Pros
Lace-up design
Leather upper
Rubber outsole
SoftFoam insole
Ankle support
Cons
Price at the time of publication: $44.99
If you are looking for a pair of white sneakers that reminds you of the classic 90's style, go for the ones from Hypocrute. The platform heels are 1.18 inches thick. The rubber outsole provides balance and stability while visually elevating the length of your legs. The adjustable lace-up design allows you to manipulate the size to fit your feet perfectly. The breathable canvas upper provides sufficient airflow for a dry and comfortable feel all day long. The comfortable lining serves as a superior cushion. The low-top design with a classic round toe is ideal for women to wear with shorts, skirts, or jeans.
Pros
Lightweight
Breathable
Lace-up design
Canvas upper
Round-toe design
Anti-slip rubber outsole
Super light
Low-top design
Cons
Price at the time of publication: $23.99
If you don't already own a classic Vans pair, do yourself a favor and get the Vans Old Skool Platform sneakers. The rubber sole features a platform signature rubber waffle outsole. The classic side stripe skate shoe with padded collars provides support and flexibility like no other. Its sturdy canvas and suede upper give it a comfortable and old-school classic look.
Pros
Lace-up design
Suede upper
Rubber outsole
Medium ankle support
True to size
Cons
None
Price at the time of publication: $74.99
The Soludos Women's Ibiza Platform Sneakers are made of cowhide leather that has a signature hand-stitched detail at the heel. They lace-up front of the shoes allows you to adjust the size to fit your feet perfectly. The rubber soles provide superior grip and comfort, while the Ortholite molded insoles provide super-soft cushioning to keep your feet comfortable.
Pros
Lace-up design
Rubber outsole
Lightweight
Ortholite molded insole
Eco-friendly laces
Cons
Price at the time of publication: $138.94
The Linea Paolo Store's Kendra Platform Sneakers have geometric laser-cut perforations in the leather upper for an airy and breathable feel. The padded footbeds have platform soles that measure 2 inches in height. The lace-up design has leather lining and comfortable cushioned insoles. The quality rubber outsoles provide superior grip and traction.
Pros
Lace-up design
Rubber outsole
Geometric laser-cut perforations
Leather upper and lining
Anti-slip
Easy to clean
Cons
Price at the time of publication: $41.85
Platform sneakers are great for people who love the height of heels but don't like the pain that they usually come with. We have listed a few of their benefits below. Take a look.
What Are The Benefits of Using Platform Sneakers?
Platform sneakers put less strain on the balls of the feet as compared to high heels.
They can add a height of around 2 inches, making you appear taller and boost your confidence.
Platform sneakers also offer extra comfort as they have thick soles and distribute your weight evenly.
They provide enhanced shock absorption to prevent injuries.
They are versatile enough to be paired with any outfit.
Let us now look at the factors to consider before buying a pair of platform sneakers.
How To Choose The Best White Platform Sneakers
The sole is key to determining the comfort level of the shoe. Platform sneakers come with a variety of sole options, ranging from rubber to PVC to PU, which determine their flexibility, grip, and longevity. Rubber provides more traction, while PU is relatively lightweight. So, choose according to your needs. Ensure the soles are durable, waterproof, and lightweight.
Platform sneakers are made of canvas, leather, suede, etc. Canvas sneakers are more breathable and can withstand rough use, while leather is more durable and easy to clean but needs maintenance. Suede looks chic and stylish but requires constant care. Choose according to your requirements.
Platform sneakers can be low-top or high-top. If you want full ankle support, go for high-top sneakers. For anybody who seeks comfort and flexibility without any hindrance of ankle support, a low-top is good to go.
Slip-On Or Lace-Up Design
For people who are in a rush, a slip-on design is the most convenient option. For people who want a secured and tight grip, a lace-up design is a perfect solution.
Why Trust StyleCraze?
Baishali Bhattacharya is a certified image consultant. She understands the importance of looking good and having confidence in what you wear and the way you present yourself. This post on the best white platform sneakers was written after thoroughly researching various websites and e-retail shops. This curation of sneakers is prepared based on the reviews and satisfaction of customers and considering the quality and durability of each shoe. She also gives you a guide to help you pick the best platform sneakers.
Frequently Asked Questions
Are white platform sneakers in style?
Yes, a white platform sneaker can go with any outfit and is always in style.
Is it hard to walk in platform sneakers?
No. It is not too difficult to walk in platform sneakers as long as you are comfortable with the height of the heels.
How do I make my platform sneakers more comfortable?
• Choose the correct size.
• Wear a thick sock.
• Walk around in your house to break in the shoe.
• Use a shoe stretcher or padding.
• Choose the correct height of the heel.
How do you keep white platform sneakers clean?
Mix one spoonful of liquid soap with water and rub the mixture on the sneaker with a toothbrush. Wipe off the excess water with a clean cloth.
Can I wear white platform sneakers being 50 yrs old?
Yes, you can wear white platform sneakers at 50, as the base of the heel is flat and easier to walk in.
Do you wear socks with white platform sneakers?
Yes, you can wear socks with white sneakers to create a funky and vibrant look.
Recommended Articles