13 Best White Polishes Of 2020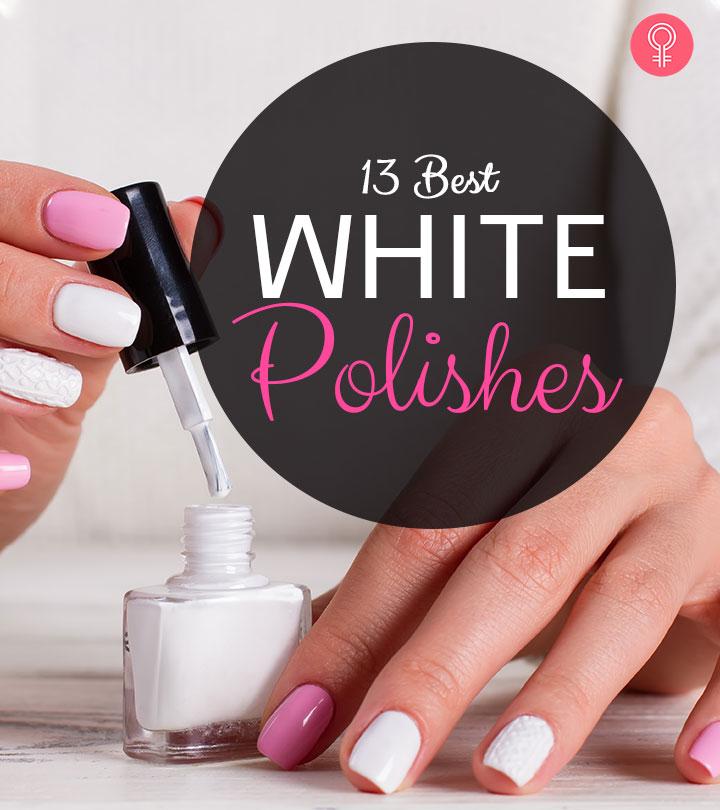 White nail polish is a timeless classic. It goes well with any outfit and is suitable for all occasions and skin tones, no matter what time of the year it is. However, picking the right one may not be as easy as it may seem.
All white hues are not the same. Also, choosing the right formula, finish, and shade of white nail polish can be daunting. Worry not, we have got you covered. In this article, we have rounded up a list of the best white nail polishes for all your needs. Check them out.
13 Best White Nail Polishes
Purity by Zoya is a bright, pure white nail polish with a glossy crème finish on the nails. It is fully opaque after two coats. You can use it as a base, tip, or accent to brighten up any manicure. This big-10 formula is free of camphor, dibutyl, ethyl, formaldehyde, formaldehyde resin, lead, parabens, toluene, tosylamide, TPHP, and xylene.
Benefits
Long-lasting
Paraben-free
Formaldehyde-free
Toluene-free
Opaque finish
This cloudy, sheer white nail polish gives flawless coverage with a glossy finish. The brush fits all nail sizes and ensures streak-free application. This lovely nail color is sugary, soft, and sweet. Apply two to three coats if you want an opaque finish.
Benefits
Gives flawless coverage with a single stroke
Long-lasting and durable
DBP-free
Formaldehyde-free
Toluene-free
O.P.I's Alpine Snow white nail polish is timeless and can be found in almost every nail salon. It is sheer, clean, and crisp and perfect for French tips with a crème finish. It can also be used as a shiny subtle top coat over glitter nails. This white nail polish lasts up to seven days without chipping.
Benefits
Can be used as a simple base coat
Quick-drying
No chipping
Lasts up to 7 days
The Sally Hansen White Nail Polish is from the Color Therapy collection. It is infused with argan oil that restores the health of your nails and keeps them moisturized and nourished. The fade-proof, chip-resistant nail polish delivers long-lasting color while nourishing your nails. It has a thick brush that makes application easy. You can use this nail polish as a topcoat for a glossy and shiny finish.
Benefits
Moisturizes and nourishes the nails
Fade-proof
Chip-resistant
Butter LONDON's nail lacquer in the shade Princess Cut is an opaque white nail polish that is highly pigmented and offers a gel-like finish and shine. It contains light reflecting shimmer and diamond powder that make your nails look brighter. The patented Shock Resisting Polymer Technology ensures to deliver unlimited shine and lasts for up to 10 days. This fade-resistant nail polish protects, smoothens, and strengthens your nails.
Benefits
Is 8-free (i.e., free of DBP, formaldehyde, formaldehyde resin, toluene, camphor, ethyl tosylamide, xylene, and TPHP)
Lasts up to 10 days
Fade-resistant
Chip-resistant
Delivers brilliant shine
The Essie white nail polish has a glossy finish and provides flawless coverage. The brush glides easily for even and streak-free application. It is long-lasting and chip-resistant. This white nail polish is perfect for French tips as well as a topcoat apart from full coverage application.
Benefits
Gives flawless and full coverage even with a single stroke
Comes with an easy glide brush for a seamless finish
Dries quickly
Chip-resistant
Free of DBP, formaldehyde, and toluene
OneDor® Gel White Nail Polish is an all-in-one nail polish with an odorless formula. It doesn't need a gel base for a firm finish. It needs 2 minutes of curing under a UV lamp so that the gel gets completely dried under the light for the white nail polish to last longer without chipping. This white nail polish is chemical-free and skin-friendly and lasts up to 7 days.
Benefits
No harsh adhesives
Easy to apply and remove
No harmful fumes or odors
Acetone-free
Formaldehyde-free
Smudge-proof
This soft white nail polish is a neutral nail color that goes well with all outfits and skin tones. It offers unbeatable shine and is long-lasting and chip-resistant. If you want a sheer finish, apply a single coat. For an opaque finish, apply two to three coats. It features OPI's exclusive ProWide Brush that offers flawless application.
Benefits
Suits all skin tones
Highly pigmented with full coverage
Has a subtle shine
Long-lasting
Chip-resistant
Smith and Cult's white nail polish in the shade Sugarette has a brilliant metallic shine. It is one of the best white nail polishes and gives your nails flawless coverage and brilliant shine. The white nail polish is made from an 8-free formula (no camphor, dibutyl phthalate, ethyl tosylamide, formaldehyde, formaldehyde resin, toluene, triphenyl phosphate, and xylene) and is vegan and cruelty-free.
Benefits
8-free formula
Vegan and cruelty-free
Long-lasting
Chip-resistant
Delivers high shine and smooth coverage
The MODE Cosmetics Luxurious Snow White Pure Frost Pearl Nail Enamel is a high performance, professional salon-finish formula. This long-lasting nail polish has a built-in UV filter to protect your nails and keep them healthy. It has a glossy and shiny finish and is chip-resistant.
Benefits
Lasts long
Provides full coverage
Glossy finish
Cruelty-free and vegan
Chip-resistant
This white nail polish is tinted with a hint of blue and gray. It has UV filters that prevent fading or yellowing of the color. It is formulated without chemicals like formaldehyde, DBP, formaldehyde resin, toluene, and camphor. This highly pigmented formula is long-lasting and gives a bright, smooth, and vibrant finish in a single stroke.
Benefits
Contains UV filters
Vegan and cruelty-free
Long-lasting
5-free (no camphor, DBP, formaldehyde, formaldehyde resin, and toluene)
Offers great coverage in a single stroke
This nail lacquer has a creamy white formula with a glossy finish and looks ultra-glamorous. The highly pigmented formula offers complete coverage and imparts show-stopping shine and finish. It has an easy flow brush that makes the polish glide smoothly onto the nails.
Benefits
High shine
Long-lasting
Highly pigmented
No DBP, formaldehyde, and toluene
Covergirl's Snow Storm Nail Gloss offers glossy shine, smooth finish, and even color. It comes with built-in base and topcoats that make the white nail polish last longer and maintain its glossy shine for up to a week. It applies in a thin layer and dries quickly.
Benefits
Lasts up to 7 days
Built-in topcoat offers glossy shine
Full coverage
These were the 13 best white nail polish options that could give you the perfect French-tipped manicure or all-white nails. Sheer, opaque, snowy white, or a slightly metallic pearl white – this list has it all! We hope this list helped you explore the various shades of white and guided you to pick the right shade for you.
Recommended Articles
The following two tabs change content below.

Latest posts by Harini Natarajan (see all)

Harini Natarajan
Harini has over 12 years of experience in content writing and editing for online media. She specializes in the areas of business, health and wellness, and lifestyle and is proficient in Medical Sciences (Biology, Human Anatomy and Physiology, and Biochemistry). As the Chief Editor, Harini ensures that her team delivers interesting, engaging, and authentic content. Her background in Biomedical Engineering helps her decode and interpret the finer nuances of scientific research for her team. Harini is a certified bibliophile and a closet poet. She also loves dancing and traveling to offbeat destinations.