15 Best Whitening Toothpastes To Keep Your Breath Fresh In 2021 Dull, yellow teeth with stains are surely very unattractive. Not only can teeth discoloration hamper your oral hygiene, but it can also bring down your confidence. Whitening toothpastes can be a ray of hope while dealing with such oral issues. Surely, the whitening effect takes some time to roll, but the toothpaste goes a long way in keeping your teeth bright, healthy and strong. The best whitening toothpastes not only work towards removing the tough stains but also upgrades the gum health which is something worth investing in.
Key ingredients of most of the whitening toothpastes are fluoride, charcoal and hydrated silica, all contributing towards brightening of teeth and overall oral health. There is a long list of whitening toothpastes when it comes to choosing the best for you. So here we have a list of the top whitening toothpastes narrowed down for you. Take a look-
How Does Whitening Toothpastes Work?
Generally, the most effective whitening toothpastes contain fluoride, charcoal, hydrated silica or any other compound that help in reducing build up from the teeth. These ingredients serve as scrub for the tooth surface and help in removing the existing teeth stains. Though these toothpastes can be effective, they are less likely to show instant results or overnight results. The process takes time and needs consistent use.
15 Best Whitening Toothpastes To Get Rid Of Stubborn Stains In 2021
Colgate Optic White Advanced teeth whitening toothpaste is a safe solution to remove teeth stains caused by coffee, tea and wine. The fluoride formula whitens the teeth from inside out and makes teeth 4 shades brighter. It is ideal for daily use and is gentle on the teeth-enamel. You can even protect your teeth from cavities by the regular use of this toothpaste. Loaded with dentist recommended 2 percent hydrogen peroxide, this toothpaste does deep cleaning for the teeth. Its long-lasting cool minty wintergreen flavor helps you keep your breath fresh all day long.
Pros
Vegan
Sugar-free
Gluten-free
Safe for daily use
Cons
Quantity might feel less to some
 2. Cali White Nature's Whitening Toothpaste
When looking for a natural solution to teeth whitening, this can be a great choice. Induced with powerful ingredients like organic coconut oil, tea tree oil, activated charcoal and baking soda, this whitening toothpaste is effective and super cleansing. It helps you get rid of stains and plaque without being harsh to your teeth. This chemical-free toothpaste is safe for kids and works well for gums too. With the goodness of diatomaceous earth, xylitol and peppermint oil, the teeth can be made brighter up to 7.7 shades.
Pros
Non-GMO
Gluten-free
SLS-free
Soy-free
Cons
Might feel a less refreshing to some
Tom's of Maine natural fluoride-free whitening toothpaste has an amazing, refreshing peppermint flavor. With its anti-plaque formula, this toothpaste is effective at tackling tartar buildup. Formulated with zinc citrate and xylitol and peppermint, it is one of the greatest options for natural whitening toothpaste. The toothpaste is ideal for reducing surface stains and making them appear brighter. Peppermint flavor helps you keep your mouth and breath fresh.
Pros
No dyes
No sweeteners
Recyclable tube
Naturally derived ingredients
Cons
Might not keep breath fresh for long
Sensodyne pronamel gentle whitening toothpaste is specially formulated for tooth sensitivity. The formula cleans the teeth, protects against cavities and gently fades away the stains. While cleaning the teeth, the formula strengthens the enamel, keeping the teeth safe from erosion and reduces sensitivity. This pack of 3 whitening toothpaste helps you bear the harsh triggers like heat, cold, acidity from foods etc. You can also use the toothpaste to maintain the natural whiteness of your teeth by brushing your teeth with this toothpaste daily for 2 minutes.
Pros
No sulfur
Minty flavor
Hardens enamel
Sweet aftertaste
Cons
Slightly lingering aftertaste
ARM & HAMMER Advanced White Extreme Whitening Toothpaste works like a charm and is suitable for those who want to brighten their teeth with the power of baking soda. Baking soda helps in neutralizing the acids in the mouth, which are usually responsible for destructed tooth enamel and damaged gums. Infused with the stain defense technology, the formula helps in removing stains and preventing new stains from appearing. Its fluoride content protects teeth from tartar buildup and keeps cavities away. For that extra whitening power, it uses sodium carbonate peroxide. Also, the formula is gentle which makes this toothpaste completely safe for enamel despite being effective.
Pros
Low abrasion
Removes plaque
Stain defense technology
Comes in a twin pack
Cons
Might not less tasty for some
Sensodyne toothpaste is known for its sensitivity eliminating power. What is lesser known about this toothpaste is its power to whiten your teeth and polish away the stains on teeth. It helps your oral hygiene on point by considering every aspect of oral health. From nerve sensitivity, cavity protection to teeth brightening, the toothpaste covers it all. Just by brushing twice a day with this toothpaste, you can build a soothing layer around your nerves, reduce sticky build up and make your teeth healthier. Available in this combo pack of 3, the toothpaste is ideal to derive exceptional benefits from regular brushing habits. 
Pros
SLS-free
Multifunctional
Gives long-lasting protection
Has tartar control formulation
Cons
Parodontax Whitening Toothpaste is the ideal daily toothpaste that counters cavity and gum issues. With stannous fluoride, an antibacterial agent, as the key ingredient in it, the toothpaste helps build gum health by keeping the gums and teeth intact and strengthening the teeth. The toothpaste may even be helpful in tackling gum issues like bleeding and gingivitis. It is gentle on the teeth and helps whiten them without any abrasive action. The formula is effective at removing plaque and cleaning off the bad bacteria from the mouth. Parodontax serves as your daily anti-cavity toothpaste, specially formulated for your overall gum health and fresh breath.
Pros
Gentle formula
Keeps breath fresh
Removes plaque
Healthier gums
Cons
Burt's Bees Toothpaste is created for an amazing brushing experience. By using this toothpaste, you can say goodbye to a boring morning and enjoy the freshness of your breath. With the use of essential oils, hydrated silica and peppermint, the toothpaste upgrades your oral hygiene level. It deep cleans the mouth and helps in removing surface stains. Made without harsh chemicals, this toothpaste enhances gum health without deteriorating the enamel. It is a preservative-free whitening formula that helps you smile without being cautious of yellow teeth or bad breath.
Pros
No SLS
Free from paraben
No artificial sweeteners
No plastic microbeads
Cons
Consistency might feel thin to some
Rembrandt intense stain whitening toothpaste, as the name suggests, is especially created for removing deep stains from teeth. It has tetrapotassium pyrophosphate, a compound for removing buildup, which ultimately helps in preventing tough stains caused by coffee, tea and  red wine. The formula contains 0.15percent sodium fluoride as its major ingredient and is safe for daily use. It is a good whitening toothpaste as it helps in restoring the enamel and making the teeth stronger. The refreshing mint flavor makes brushing your teeth a delightful activity. With just regular brushing of your teeth, this toothpaste can boost your oral hygiene.
Pros
Refreshing taste
Safe for daily use
Fights tough stains
Restores enamel
Cons
Might not be effective for smoke stains
 Nu Skin AP 24 Whitening Fluoride Toothpaste is the ultimate choice when it comes to a toothpaste with peroxide-free formula. It has fluoride that prevents cavities and keeps the teeth strong. Available in vanilla mint formula, this peroxide-free whitening toothpaste does a great job at cleaning your mouth and keeping you refreshed. The formula prevents build up and lets you enjoy a just-brushed feel all day long. It comes in a handy tube packaging that you can carry even while travelling.
Pros
Good taste
No bleaching agent
Makes teeth smooth
Helps reduce tooth discoloration
Cons
Flavor might not feel strong enough
If you are truly Mother nature's fan, then this toothpaste is undoubtedly for you. Infused with activated charcoal prepared for sustainable bamboo, tea tree oil, coconut oil, and xylitol, the toothpaste ensures top-notch oral health. Activated charcoal functions well and deep cleans your teeth. It reduces odor and removes stains effectively. The formula is gentle and refreshes your breath with the natural power of spearmint,  fresh mint and peppermint. There are no artificial sweeteners used in this charcoal toothpaste which makes the formula safe for tooth enamel. 
Pros
SLS free
No dyes
Fluoride-free
Paraben-free
Gluten-free
Cons
Lumineux Oral Essentials Teeth Whitening Toothpaste is a powerful formula that targets dullness of teeth, bad bacteria, stubborn teeth stains and plaque. With the use of active ingredients like aloe vera, Dead Sea salt, the toothpaste counters buildup naturally. This toothpaste contains potent oils that make stain removal a simple yet effective process. There is no sensitivity involved as the oils are gentle on teeth and prevent any sort of abrasiveness. The toothpaste is popular for using natural goodness for brightening of teeth. It works wonderfully on the bad breath and makes your mouth free from toxins created by bacteria, thus also uplifting digestive health.
 Pros
Enamel safe
No gum irritation
No harsh chemicals
Balances microbiome
Cons
Marvis Whitening toothpaste is a special formula created in Italy and is approved by the FDA. The method used in its creation is traditional, which enhances the teeth quality and provides maximum protection to teeth and gums. From performing the job of a regular toothpaste i.e. cleaning, lending freshness to the mouth, to working on tartar and ensuring a sparkling white smile, this toothpaste does it all. Its unique sharp mint taste makes your breath smell pleasant and gives you the confidence to smile more.
 Pros
Vegan
Paraben-free
Cruelty-free
Gluten-free
 Cons
Freshness does not last long
Supersmile Whitening Toothpaste is a doctor formulated toothpaste created for those who need a reliable and powerful teeth whitening formula. This sensitive whitening toothpaste is especially designed to whiten teeth and enhance oral health with the use of Calprox, a powerful formula with calcium peroxide. Calprox has the ability to dissolve sticky deposits from teeth in a gentle way. With the use of fluoride, phosphates, calcium and no abrasives, this toothpaste has protective strength against cavities. It can also be used to remove stains from teeth that become a hindrance in your attractive smile. The toothpaste is beneficial for removing plaque buildup without causing any sensitivity.
Pros
No SLS
No silica
Free from allergens
No animal by-products
Cons
 Opalescence whitening toothpaste is a relief for those who wish to get rid of tooth discoloration. It is an award-winning teeth whitener that works towards brightening your teeth instantly. The formula contains fluoride and silica to take care of your teeth brightening needs. It is very gentle on the smooth surface of teeth and removes surface stains effectively. Sweetened with xylitol, the toothpaste reduces the risk of tooth decay. Its cool mint flavor keeps your mouth clean and refreshed. You can use it daily just like your regular toothpaste.
 Pros
Gluten-free
Great quality
Has low RDA
 Cons
Some may not like the taste
 Surely, some of these products and their exclusive features might tempt you to include them in your daily routine. But before heading to making a purchase for yourself, have a look at the points mentioned below to buy better.
How To Choose Whitening Toothpaste?
Look for the following points while choosing the best whitening toothpaste for yourself-
Consult your doctor before choosing any toothpaste if you have teeth issues.
Choose an ADA-approved formula or approved by a dental organization for better safety.
Avoid opting for whitening toothpastes with bleaching agents like hydrogen peroxide or carbamide peroxide in them.
For people with sensitive teeth, it is good to avoid toothpastes that contain silica or dicalcium phosphate that might be harsh on the enamel.
 Though teeth brightening is optional, its impacts are far-reaching. Investing in the best whitening toothpaste can be really beneficial for your appearance and confidence. Nobody likes to deal with stains or discoloration and whitening toothpastes, genuinely are easy methods to tackle teeth staining. Daily indulgence in tea, coffee, wine or berries can make teeth staining a regular thing and a whitening toothpaste is probably one of the easiest and most effective ways to encounter it. You definitely can't change your lifestyle when it comes to drinking habits but you sure can include a whitening toothpaste in your daily lifestyle to modify the impact of your eating and drinking habits.
Frequently Asked Questions
Does Whitening Toothpaste Work?
Yes, whitening toothpaste works.
Is It Ok To Use Whitening Toothpaste Every day?
Yes, it is ok to use whitening toothpaste every day.
Does Whitening Toothpaste Make Your Teeth More Sensitive?
Yes, some whitening toothpastes that contain abrasive elements might make your teeth more sensitive.
Can We Use Whitening Toothpaste With Braces?
Yes, we can use whitening toothpaste with braces.
Can We Use Whitening Toothpaste While Pregnant?
Yes, we can use whitening toothpaste while being pregnant. However, consult your doctor before you start using them to be on the safer side.
The following two tabs change content below.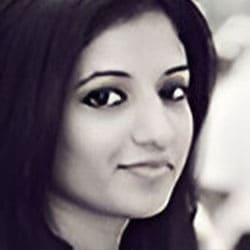 Chaitra is an extremely passionate writer and storyteller. She has a triple main Bachelor's degree in Journalism, Communicative English, and Economics and a Master's degree in Journalism and Mass Communication. She has more than three years of experience in content writing and editing and specializes in beauty, fashion, and lifestyle genres. Her background in journalism helps her guide her team in churning out fine content for the readers. When she's not editing or juggling tasks at work, she likes to daydream and stalk doggos on Instagram.