7 Best Wigs For Older Women That Are Simply Flattering – 2023
Hide your bald patches with the wigs and welcome the mature years of your life.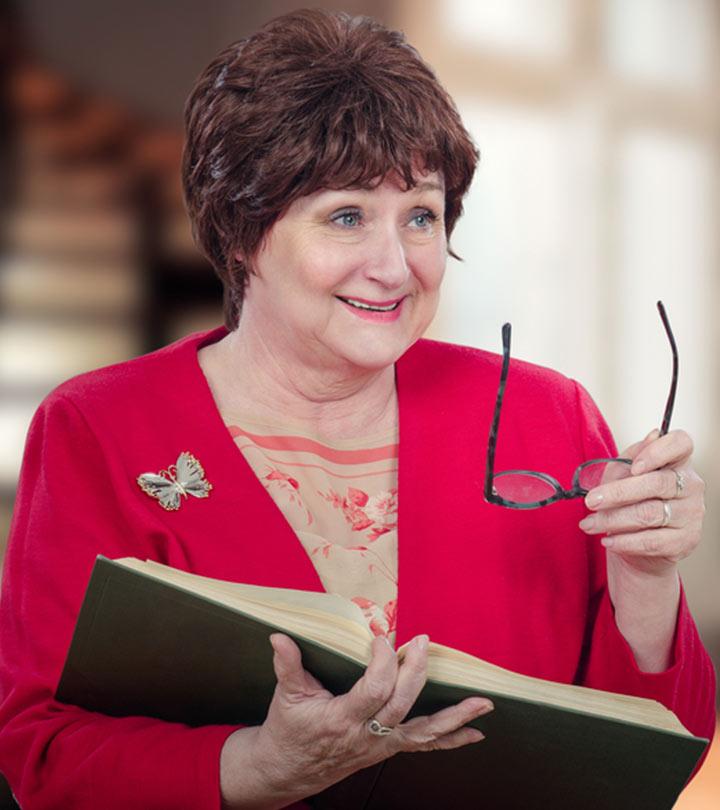 Aging is a beautiful process, but it comes with a price. As you mature, your hair and skin start to lose their elasticity, and before you know it, you have already lost half the width of your hair. If you have been searching for the best wigs for older women, we will give you exactly what you need. Wigs are no more just a tool to hide your bald patch. With the popularity of hair extensions and wigs, more companies are working on making wigs that will give you a natural look and add volume to your hair. The best part is, most celebrities you adore are actually wearing wigs to make them look younger than they are. Here are some of the most natural-looking wigs you can try.
7 Best Wigs For Older Women
After years of waking up early in the morning to curl, iron, and groom your long tresses, you must have become tired of high-maintenance hairstyles. To make your mornings easier, here's YX's puffy, straight and short wig with bangs which mirrors the short and sassy haircuts of the '70s and '80s. Although made of synthetic material, it looks just as good as natural hair. The inside of the wig features a rose net with an open weft design, which keeps your scalp airy and comfortable all day long. If you are looking for a wig to give you a natural-looking hairline, this is the one for you!
Pros
Easy to wear and maintain
Adjustable straps to accommodate your head
Natural-looking hairline
Lace design provides full coverage
Heat-resistant
Cons
Price at the time of publication: $19.98
Have you been looking for a chic, affordable, and easy-to-maintain wig that can hide your thinning hair or your bare scalp? The Haircube Pixie Cut Wig will definitely not disappoint you! Made of 70% human hair and 30% heat-friendly synthetic fiber (Japanese Kanekalon), this wig comes with adjustable Velcro straps, velvet-lined ear tabs, and a basic cap, which provides a snug and secure fit, and allows for ventilation. With beautifully tapered lengths and a slightly angled fringe, this wig is designed to allow you to explore loads of styling options. If the fringe seems too long for you, you can cut it shorter or put the wig on backwards.
Pros
Conforms to the shape of your temples
Made of 70% human hair
A multitude of ways to style it
Suitable for all face shapes
Cons
Size tends to run small
Available in one color
Price at the time of publication: $59.0
If you are someone who doesn't like experimenting with too many different colors and styles, this natural-looking silver-gray wig by Cexin is perfect for you! With soft feathery wavy layers, this wig is suitable for any occasion. The synthetic material it is made from, makes this wig convenient, low-maintenance, and durable. This wig comes along with a net wig cap that helps conceal your real hair.
Pros
Easy to maintain
Durable
Can be hand-washed
Low-cost
Cons
Price at the time of publication: $13.99
The Prestigious wig by Toni Brattin is available in 13 colors and is modelled in a short classic pixie style. With a range of fabulous hair extensions, wigs, and hairpieces, entrepreneur, Toni Brattin, has made it her mission to help women feel beautiful. This wig is made from premium-quality synthetic fiber that is heat-proof and allows you to blow dry or curl your hair as you desire. It also comes with a custom-fit cap that easily fits and adjusts to the average head size and a nylon wig cap that holds the wig perfectly in place. With subtle layering and tapered edges, there are endless styling possibilities with this wig!
Pros
Snug fit
Heat-resistant
Available in 13 colors
Full of volume
Cons
Price at the time of publication: $126.65
Channel your inner fashionista with this Trendsetter wig by Toni Brattin! The look is sassy and edgy with beautiful long side-swept bangs, and straight razor-cut chunky layers for extra flare. This wig is made of heat-friendly synthetic fibers. It is easy to personalize it and create different styles by curling, ironing or blow-drying it. This wig comes with a cap that fits an average-sized head, a nylon net wig, and a storage box. If you ask us, style has nothing to do with age! If you have got the style, you will rock it at any age.
Pros
Heat-proof
Fits the average-sized head
Available in 10 colors
Easy to wash
Easy to maintain
Cons
Price at the time of publication: $126.65
Do you love Helen Mirren's short and sophisticated hairstyles? Try out this short bob silver-gray wig by Ohrwurm to achieve the look. This wig comes with two adjustable straps, which makes it suitable for different head sizes. The adjustable cap comes with a rose net design on the inside, making it breathable and comfortable. It is made using good quality, silky-smooth, synthetic fiber, which is heat-resistant and can be straightened and curled without a worry. It includes a hair net and a plastic zip-lock bag for secure storage. We love the fact that the wig is low maintenance and needs no styling.
Pros
Breathable rose net design
Heat-resistant
Plastic zip-lock bag for storage
Easy to wear
Cons
Hair shedding
Tends to get tangled if not maintained well
Price at the time of publication: $21.98
Iconic, timeless, and a huge part of our pop culture – this is what Rasta Imposta Curly Short Wig is all about. Inspired by one of The Golden Girls characters, this wig with beautifully twisted curls can be worn to achieve a simple yet classic look. Ideal for women over 60, this white wig is made of synthetic fibers that lends it a smooth and shiny appearance. Most of all, the wig fits perfectly on any head size and can last for years. Guess what? This wig is suitable if you are dressing up for cosplay as well.
Pros
Heat-resistant
Versatile wig
Silky smooth
Cons
Curls loosen a bit over time
One size fits all
Price at the time of publication: $19.99
You can always turn to a wig to enhance your look. Whether it be for everyday wear or for that one special occasion, a good wig adds an oomph factor to your look, regardless of what age you are. Given below are some factors to consider when you purchase a wig for any situation.
How To Select The Best Wigs For Older Women
Size: The most important thing to consider while buying a wig is getting a perfect size. Ensuring that your wig fits you perfectly will make the entire process much more comfortable and look natural.
Most women's wigs come in sizes petite, average, and large.  Start by measuring the circumference of your head by measuring along the hairline, behind the ear and till the nape of your neck with the help of a measuring tape. Use the measurements and refer to the sizing chart provided by the brand to determine your wig size.
Material: Wigs are usually made either with synthetic hair or human hair. It depends entirely upon what your references are. Synthetic wigs are generally cheaper and easier to maintain, but human hair wig gives you a natural look compared to a synthetic one.
Length And Texture: Once you figure out your size and choose the material you want, proceed to decide the length and texture of your wig. You may want a curly or wavy wig or want to go with straight hair. The length of the wig also depends on the look you want to achieve. Most wigs are available in short, chin-length, shoulder-length, or long hair styles.
Color: Wigs come in hundreds of different colors. For most people, they opt to go with a shade similar to their own hair color for a natural look. You may choose a totally different and fun color if you are looking to change your natural hair color without any chemical treatments.
Durability: Ensure that the wig is sturdy and durable. Invest in a good quality wig that does not tangle or shed easily and is heat-resistant, so that you can restyle your wig when needed.
Why Trust StyleCraze?
Kirtana Divakar is an avid hair care enthusiast, which means she has plenty of experience with wigs. After conducting comprehensive research and analyzing numerous reviews, the author narrowed down her search to the top 7 stylish and natural-looking wigs for older women. Wear these beautiful, realistic wigs with confidence and style them in a way that suits your fancy.
Frequently Asked Questions
What type of wig is the most comfortable for senior women?
Senior women can invest in a wig with the following features:
• Shoulder-length hair
• Natural hair, which is not synthetic
• Decent colors like brown, blond, red, and black.
How long does a human hair wig last?
A human hair wig can last up to 3 years with proper care and usage.
How long can a senior woman wear a wig without taking it off?
Senior women can wear a wig all day long. However, it is best to take it off while sleeping.
Do wigs make you look older?
No, wigs can bring back the youth in you if you pick the right one that looks good on your face type.
What should you not do with a wig?
• Don't shampoo your wig.
• Don't brush them all the time.
• Stay away from styling them with a heating tool.
• Don't wash them in a washing machine.
• Don't pluck them.
Recommended Articles
Best Wigs For Women
Best Wigs For White Women
Best Human Hair Wigs To Look Stunning
Best Wigs With Bangs For Everyday Experiments!
Best Wigs For Round Faces