11 Best Window Fans In 2021 And Buying Guide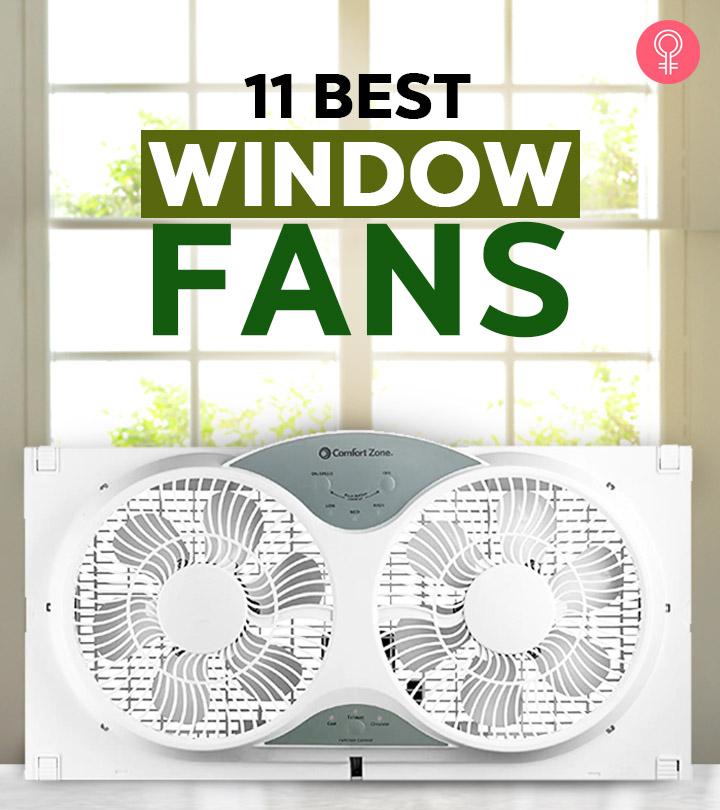 If you are searching for an effective option to keep your house cool by cutting down on the power costs, go for window fans. They are durable and energy-efficient. They not only cool an entire room but also replace hot or stale air with the fresh air from outside. Moreover, they also get rid of unpleasant odors, enhancing the quality of air indoors.
We have listed the 11 best window fans available online for your consideration. Scroll down to check them out!
Top 10 Best Window Fans In 2021
The Bionaire Window Fan is a twin fan unit with high durability and remote control feature. The programmable thermostat turns the fan off or on automatically, in conjunction with the surrounding temperature. It has an LED digital display and reversible airflow control. It can fit large windows of 24-37 inches width, and the built-in adjustable extender offers firm support for convenient adjustments. The water-resistant motors are UL approved and can be used safely during rains.
Specifications
Dimensions: 5 x 14.1 x 6 inches
Weight: 4 pounds
Color: White
Type: Double window fan
Speed Settings: 3
Pros
Programmable thermostat
5-year warranty
Water-resistant motors
Reversible airflow
Remote controlled
Durable
Cons
The Holmes Twin Window Fan comes with an 8-inch dual blade operation and an electronically reversible motor for seamless air circulation. You can adjust the intake and exhaust airflow as per your requirement. This window fan has an extender screen and panel that helps secure the fan onto large windows.
Specifications
Dimensions: 9 x 13.5 x 5.7 inches
Weight: 5 pounds
Color: Gray
Type: Double window fan
Speed Settings: 2
Pros
Lightweight
Slim
Easy to install
3-year warranty
Water-resistant motors
Cons
The CCC Comfort Zone Window Fan is popular for its efficiency and affordability. It features three speed settings, which can be adjusted manually. This fan fits most window sizes with accordion expanders that can be adjusted from 23.5 inches to 37 inches. The expanders can be locked securely to the window frame after installation. The removable screen prevents bugs and debris from getting in through the fan blades.
Specifications
Dimensions: 25 x 4.9 x 13.9 inches
Weight: 62 pounds
Color: White
Type: Double window fan
Speed Settings: 3
Pros
Remote controlled
Keeps bugs out
Multi-function options
Affordable
Cons
The Genesis Window Fan is durable and fits into windows up to 37 inches wide or tall using the extendable panels. The twin fans can be set to bring in cool and fresh air from outside or flipped to exhaust at the switch of a button. The two 9-inch fans come with independent copper motors that can withstand any weather conditions. Its two removable stand legs make it easy for use on the floor and the table.
Specifications
Dimensions: 4 x 24 x 12 inches
Weight: 23 pounds
Color: White
Type: Double window fan
Speed Settings: 3
Pros
Expandable panels
Portable
LED indicator lights
Compact design
Rust-resistant
Removable legs
Cons
The Lasko Window Fan is electrically reversible, portable, and consumes power efficiently. It produces over 2470 CFM at the highest speed setting, making it an ideal option for large rooms. This fan features a dial selector to control the intake or exhaust airflow. The Storm Guard feature enables you to close the window doors behind the fan when not in use or during rains.
Specifications
Dimensions: 22 x 7 x 20 inches
Weight: 14 pounds
Color: White/Cream
Type: Single window fan
Speed Settings: 3
Pros
Quiet operation
Easy to install
Electrically reversible
Lightweight
Cons
The Air King Window Fan fits window openings between 27 to 38 inches. It comes with a single-phase motor, a sleeve bearing, front-mounted switch, and a split capacitor. While the blades and grills are made of powder-coated steel, the housing is constructed with impact-resistant plastic.
Specifications
Dimensions: 75 x 11.25 x 26.25 inches
Weight: 16 pounds
Color: Black
Type: Single window fan
Speed Settings: 3
Pros
Includes Storm Guard sliding panel
Permanently lubricated
Low maintenance
Durable
Affordable
Cons
Can get noisy at high speeds
Might vibrate
The Bovado USA Twin Window Cooling Fan is remote controlled and can be set to exhaust, circulate, and intake modes. The lock extenders can fit up to 37 inches window frames while the extender panels offer a custom fit. It includes a fabric cover to keep humid or hot air out of your room when the fan is off. The bug screen at the back of this fan keeps flies, mosquitos, and bugs out.
Specifications
Dimensions: 5 x 14 x 5 inches
Weight: 09 pounds
Color: White
Type: Double window fan
Speed Settings: 3
Pros
Electronically reversible
Remote controlled
Includes fabric cover and bug screen
Cons
No products found.
The Honeywell Enviracaire Window Fan fits most slider and double-hung window frames between 23 inches and 38.5 inches. It has a twin-blade operation, and the reversible airflow feature allows smooth transition of intake and exhaust airflow. The adjustable side screen helps keep dust and bugs out while the rain-resistant motor keeps this window fan safe during harsh weather.
Specifications
Dimensions: 09 x 6.5 x 12.6 inches
Weight: 2 pounds
Color: White
Type: Double window fan
Speed Settings: 3
Pros
Removable grills
Adjustable side screens
Rain-resistant motor
5-year warranty
Cons
Might make rattling noise
The Optimus Window Fan features a rain-resistant motor that ensures efficient air delivery. The feet also provide a tabletop standing operation if you do not want to fit it against a window. It has manually reversible speed control to pull in cool air and exhaust out stale air. If you are looking for a portable fan for your home, this is one of the best options.
Specifications
Dimensions: 6 x 5.3 x 11.8 inches
Weight: 7 pounds
Color: White/Cream
Type: Double window fan
Speed Settings: 2
Pros
Rain-resistant motor
Lightweight
Affordable
Assembly not required
Cons
Ineffective intake function
The HowPlumb Twin Window Fan is lightweight and comes with a snap-on handle for convenient portability. It is an ideal choice for most small and medium-sized spaces.This dual window fan fits easily into a frame measuring 23.5 -37 inches. It has three airflow options – exhaust, intake, and circulate that involves one fan pulling the humid air out while the other brings in the fresh air. The bug screen keeps pests out, and the fabric cover prevents hot and humid air from entering the room.
Specifications
Dimensions: 25 x 4.75 x 13.75 inches
Weight: 8 pounds
Color: White/Cream
Type: Double window fan
Speed Settings: 3
Pros
Remote controlled
Includes fabric cover and bug screen
Portable
Lightweight
Cons
Not easy to install
Can be loud
With three speed settings of low, medium, and high on this JPOWER dual blade reversible fan, you get an optimized air quality that suits any and all environments. It possesses independent, electronically-reversible motors that intake cool air, exhaust stale air, and have air exchange simultaneously. The accordion extender screens adjust to window frames of 22.8 to 36 inches. It is ideal for both window and tabletop use as it comes with two removable, sturdy stands.
Specifications
Dimensions: 02 x 12.2 x 5.43 inches
Weight: 28 pounds
Color: White
Type: Double window fan
Speed Settings: 3
Pros
Portable
Electronically reversible
Expandable side panels
1-year limited warranty
Cons
That was our round-up of the 11 best window fans. In the next section, we will look at how window fans work and why you need one.
How Does A Window Fan Work?
A window fan functions in either of the following ways
Pulls in the cold air from outside
Pushes out the stuffy/hot air from the room
The main function is decided by the positioning of the window box fan. You can combine the two functions if you install one fan for pulling in the cold air and the other for pushing the hot air out of the room. Some fans offer reversibility, and you can just switch between the intake and exhaust modes.
Why Do You Need A Window Fan?
When compared to air conditioners, window fans are more economical and an energy-saving way to cool your house. While they are often used as a supplementation to air conditioners, if used properly, they might replace them altogether. If you are looking to save energy and money while staying cool sitting inside your room, go for a window box fan.
There are three different kinds of window fans available online, and each of them comes with their set of functionalities.
What Are The Different Types Of Window Fans?
1. Single Unit
A single unit comes with only one large fan that is approximately 24 inches in diameter. It is ideal for cooling the entire house. Since it has a high CFM rating, it might get loud at a high setting.
2. Double Fan Unit
A double window fan is the most popular choice amongst all the types. It houses two fans, ranging from 6 to 10 inches in diameter. It is ideal for medium-sized rooms. It has a moderate CFM rating and does not produce a loud noise. It is versatile and fits sliding, casement, or double-hung windows.
3. Triple Fan Unit
This unit features three fans with a diameter ranging from 4 to 7 inches. They are small, have a high CFM rating, and ideal for studio apartments or dorm rooms. However, it is difficult to know how efficient they are with high volume airflow.
Now, that you are aware of the three basic types of window fans, let's us talk about the things that you need to look for to choose the perfect window box fan that suits your home and living arrangements. Here are a few things to consider before buying a window fan.
What Are The Things To Consider Before Buying A Window Fan?
1. Reversibility
Most window fans come with an easy reverse method to draw air inside or function like an exhaust. Some use an electronically-reversible fan motor where you change the mode at the push of a button. Others require you to turn them around manually by removing the fans from your window. It is better to spend a little more and get an electronically-reversible window fan.
2. Noise Level
You would not want a fan that gives you a headache due to its loud noise. Therefore, make sure to check its sound level. Usually, the single unit fans are louder than the others.
3. Speed Settings
The more options you have for the fan speed settings, the better. Most window fans come with three speed settings.
4. Warranty
A manufacturer's warranty gives you an idea of how long the product will last. Most window fans have a warranty that lasts around 1 to 5 years. In case the fan stops working during the warranty period, it can be argued as a defect in the parts and quality. Thus, check how the warranty works and the process of claiming service.
5. Controls
When it comes to the controls of a window fan, see if it can be easily operated. Remote control makes the operation easy and comfortable. For a slider switch, check the ease of use in switching the speed settings. If it is a dial selector, see how tight it is or how quickly the push-buttons respond.
7. Material
Consider going for a window fan that includes as little plastic as possible. Opt for one that has a metal housing. Weather-proof motors ensure that your fans stay safe from any electrical shocks during rains. This can be indicated by its damp rating.
A window box fan enhances the air quality inside your house and keeps it cool. Thus, investing in a window box fan is a great decision. Pick a suitable one from our list of products and enjoy quality air indoors.
Frequently Asked Questions
Should a window fan be on intake or exhaust?
Since most window fans have both intake and exhaust options,  use the reversibility mechanism to change it as per your requirement. For example, an exhaust option works great for the kitchen while the intake option is best suited during sleeping to draw in the cool night air.
Do window fans use a lot of electricity?
No. Window fans use lesser power than air conditioners. Most windows fans consume 35 to 100 watts, depending on the brand and model.
Is it cheaper to use a box fan or AC?
Fans are definitely cheaper than air conditioners. You can either use them instead of ACs or even alongside them to save money.
How to use window fans for home cooling?
For using window fans as a cooling unit, bring the outdoor, fresh air inside your home when the air outside is cooler than inside. Once the inside air gets cool enough to cancel out the daytime temperature, turn off the unit,  and close the windows.
Are window fans safe in the rain?
All window fans come with an enclosed motor that can be used safely in rains. However, it is advised to remove the unit from the window during a heavy downpour to avoid the powerful winds blowing water into your house.
Recommended Articles
The following two tabs change content below.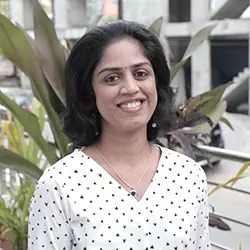 As Head Of Content Operations, Harini sets the tone and editorial direction for StyleCraze to deliver engaging, interesting, and authentic...
more