The 15 Best Wine Openers Of 2023 You Need To Try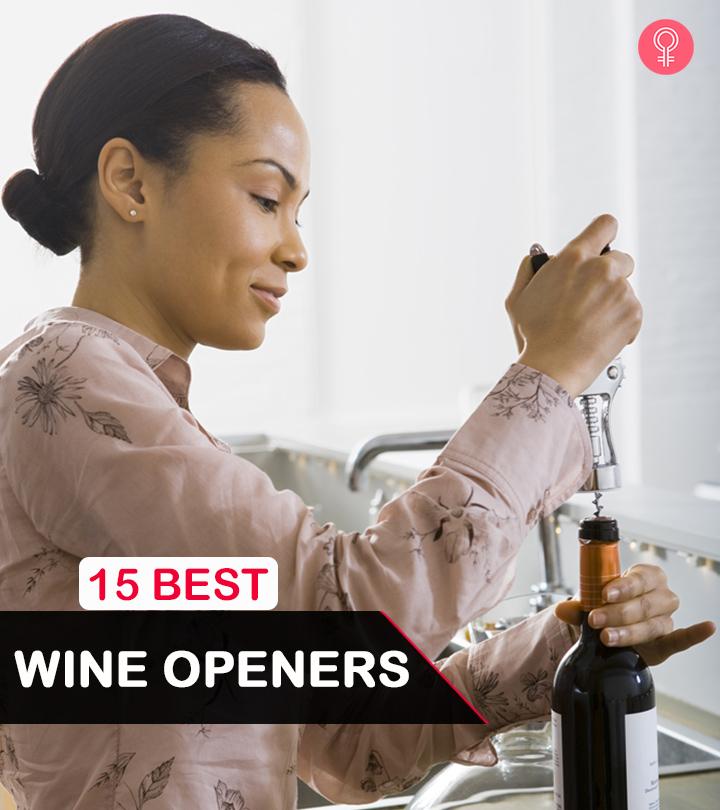 Imagine that it is Friday night, and you have a bottle of Pinot Noir at home. You get back home from work, slip into your pajamas after a warm shower, light up some scented candles, turn on the music, grab your bottle of wine and a glass, and start searching for the wine opener. Much to your disappointment, you realize you do not have one.
Even the most expensive bottle of wine can be totally worthless if you do not have the tool to open it. Do not let such things ruin your evenings. Scroll down to check the best and the most dependable wine openers you can buy.
15 Best Wine Openers You Can Buy
This electric wine opener has a foil cutter for removing seals. The design is small and sophisticated that fits all traditional wine bottles with ease. It has a simple push-button operation and removes a cork in seconds. A single charge stays for 6 hours and can open about 30 wine bottles. It has a soft-grip handle design and works with both synthetic and natural corks.
This rechargeable electric wine opener removes cork easily and is compatible with wine bottles of any size. It can open up to 30 wine bottles on a single charge. It is small enough to be stored easily. It has a 100-240V wide input voltage range and can be used anywhere in the world. It comes with 12 months warranty and lifetime customer support.
Pros
One-button operation
Small
Can open 30 bottles on a single charge
Easy to grip and use
12 months warranty
Lifetime customer support
Cons
None
This is an air pump wine opener. It is simple and easy to open wine bottles quickly. You do not need to twist or pull the cork to take it out with this opener. Just slide the needle in, pump a few times, and the cork comes out. This wine opener eliminates the chances of cork damage. It is compatible with all types and sizes of wine bottles. It also has a foil cutter, so you do not need to buy it separately.
This is an extremely sturdy corkscrew and is often preferred by sommeliers. This corkscrew has a coated screw that glides smoothly through the cork, and the stopper prevents it from breaking. The ergonomically designed handle makes the bottle opener comfortable to grasp. This is a double-duty corkscrew that can be used both as a beer and wine bottle opener.
Pros
Can open both beer and wine bottles
Sturdy 3-inch long wings
Rust-proof
Stain-resistant
Dishwasher safe
Low maintenance
Lifetime guarantee
Cons
Cork fragments tend to build up around the worm.
Might not be long-lasting.
This classic electric wine opener has a European inspired curved design. It has an ergonomic grip and stands vertically and does not need a separate base stand. This wine opener comes along with a wine pourer and stopper. It also has a patent-pending removable lid that converts into a foil cutter. It can open 60 bottles on a single charge and operates with a single push button.
This is a rabbit wine opener that has the classic lever and corkscrew worm design. It can easily remove stubborn and fragile corks. It has a foil cutter  made of zinc alloy plating, which makes it durable and attractive.
Pros
Includes an extra corkscrew
Durable
Easy to use
Includes foil cutter
Cons
The corkscrew might malfunction.
This wine bottle opener has a lever-pull design that lets you remove the cork effortlessly. It has a precision design with an ergonomic hand grip to remove the cork in a single motion. The extra-long handles allow a comfortable grip. This wine opener works on both natural and synthetic corks.
This wine opener lets you pour wine without removing the cork. It has a Teflon coated wine needle that you need to push into the cork. With the needle still inside, you pour wine through it using the trigger attached to the tip and then releasing. You can take out the needle and preserve the wine. This corkscrew is filled with ultra-pure argon gas (99. 99%) to ensure that no argon escapes, and your wine tastes the same even after years.
Pros
Includes two wine-preserver metallic accents
Includes two Coravin capsules
Soft-touch grip
Easy to use
Cons
The capsules do not last long.
The argon capsules are expensive.
This is a self-pulling travel corkscrew based on the design of Herbert Allen's original table model. It has a rotating handle, and you can easily turn it using just one finger. It effortlessly removes even the driest, brittle, and stubborn corks from any wine bottle.
This electric corkscrew is very easy to operate with just two buttons: "remove" button to uncork the bottle and "eject" button to release the cork. The stainless steel body of this device looks elegant. It works on both synthetic and natural corks without damaging them. It also has a foil cutter for trimming the seal neatly.
Pros
Uncorks 50 bottles in a single charge Easy to clean
Compact
Cordless
Lightweight
Cons
This is a bestselling set by the brand and contains a rabbit vertical corkscrew, foil cutter, extra spiral, and Rabbit Wine bottle stoppers. With this corkscrew, you can pull out the cork in just 3 seconds. It does not need much strength, and those with limited hand movement can use it easily. The bottle stoppers form an airtight seal to preserve the wine and ensure long-term storage without affecting the taste.
This two-step ratchet lever corkscrew has a built-in foil cutter. It is designed for professionals and uses a lever to make the cork removal process smooth and easy. It is made of is made from stainless steel and is durable. 
Pros
Built-in foil cutter
Soft-touch handle
10-year warranty
Sturdy
Cons
None
This cork has a removable  foil cutter. The self-centering screw can easily remove cork of any style. It has curved, die-cast handles that are comfortable to hold and an extended body that is easy to grip. The soft non-slip knob is easy to turn. Its unique design removes the cork without damaging it.
This is a cordless electric wine opener that easily removes the cork from the bottle. It has a button that removes the cork from the bottle when moved down and releases the cork from the screw when moved up. The stainless steel body has a transparent outer case. It includes an aluminum foil cutter and a USB cable that supports a variety of ways to charge the corkscrew.
Pros
Easy to operate
Sleek design
Environmental-friendly charging
Foil cutter included
Micro USB charging cable
Durable
Food-grade screw
Cons
The foil cutter is a bit flimsy.
This corkscrew uses a compress inert gas to easily pop open corks from any wine bottle. It has cartridges, and with each one, you can open almost 80 bottles. It fits over wine bottles of any size and shape. You need to push the needle into the cork and press the top button.
Pros
Easy to use
Sleek design
Multicolor
Refill cartridges available
Cons
None
By now, you must have understood that there are several types of wine openers available on the market. While you can always get the good ol' corkscrew wine opener, there are several other variations you would love to explore and choose from. Whether you are buying it for yourself or for someone to gift, we will help you to pick the best one.
Types Of Wine Openers
There are several types of wine openers you can pick from:
1. The Traditional Corkscrew
This all-time favorite will always have the top spot. The traditional corkscrew is the simplest of all the wine openers available on the market. It has a handle on the top and a twisted screw-like structure (called the "worm") that needs to be screwed into the cork to pull it out. It is affordable and easy to use. However, you need to have strong arms to pull the cork out of the bottle.
2. Waiter Corkscrew
The waiter corkscrew is sometimes referred to as the "wine key." The design of this corkscrew lets you use the wine key to help you pull the cork from the bottle. Though it needs lesser arm-strength than the traditional corkscrew, you need to master the skill. Ensure that the worm is pushed to the center of the cork and screwed properly. The lever should also rest on the bottle rim at the right angle for pulling the cork.
3. The Wing/Winged Corkscrew
The wing or winged corkscrew is the most popular type of wine opener. It has an additional lever on each side, also called the wings. With these extra levers, you need not worry about angling the screw in the correct way. This wine opener is simple and needs minimal effort.  However, do not try to open brittle, aged wine bottles with this opener.
4. Rabbit Or Lever Corkscrew
You clamp the bottle with the rabbit or lever corkscrew, push the lever down, and then pull the cork out. It is simpler than a winged corkscrew. This corkscrew does not require any arm strength, and even people with conditions like arthritis can easily use it.
5. Electric Wine Opener
This is the easiest to operate among all the wine openers discussed so far. You put the wine opener on the top of the bottle, press the button, and that's it. The wine opener does the rest of the work for you and takes out the cork.
6. Counter top Mounted Or Legacy Wine Opener
This high-end wine opener was popularly used by the bygone winemakers. It is like a relic for any collector.  It functions similarly like a lever corkscrew – you just have to push the lever down and pull the cork out.
You can pick any of these wine openers as per your convenience. Here are a few points to keep in mind before picking any of these.
How To Choose A Wine Opener – Buying Guide
Ease Of Use: Buy one that is easy to use as you do not want to have a hard time using a corkscrew
The Price: Corkscrews with advanced features are costly. Check which one gets the job done and buy that.
The Size: Go for a smaller and winged corkscrew if you want a lightweight, portable one. Lever corkscrews are often big and cannot be carried around easily.
Durability: Affordable does not mean durable unless you want a corkscrew that gets the job done and is not expensive. If you want something durable, you have to spend more.
The Worm Length: Ideally, the worm should be 1.75 inches long. Longer ones may puncture the cork, and shorter than this length may not extract the cork properly.
Type Of Cork: Lever corkscrews cannot open a synthetic cork smoothly but can be used on old corks and aged wine bottles. On the other hand, winged corkscrews and wine keys can open synthetic corks but are not suitable for older corks. You may keep both types, depending on what type of wines and wine bottles you might have to open.
Choosing the right wine opener is all about setting your priorities right. Ask yourself whether you want an opener that gets the job done and makes the work effortless or you want a piece that you can also flaunt to your friends? When you have the answer, scroll up and pick the one that matches your requirement.  Cheers!
Recommended Articles
The following two tabs change content below.