15 Best Winter Gloves For Women To Stay Warm, As Per An Expert – 2023
Keep coldness at bay with thickly-insulated gloves that are skin-friendly and warm.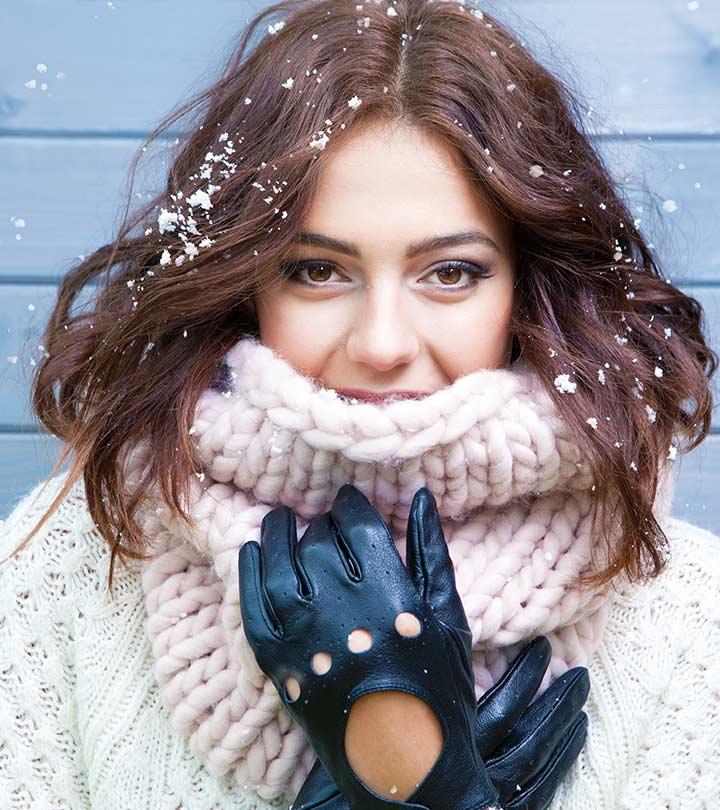 Venturing outdoors in winters with bare hands is pure agony. Despite your winter coats, boots, and sweaters, you need the best winter gloves for women to prevent your hands from freezing. You need a quality pair of thick, insulated, and touchscreen-friendly gloves that often fall to the wayside. A good pair of gloves should fit you well, feel comfortable, and be your ideal companion during the snowy winters. Your hands need the best gloves when those icy winds gust through and bring chills. Here are the top picks of some of the trendiest pairs of gloves that are a must-have in the colder months. Keep scrolling!
15 Best Winter Gloves For Women That Will Keep You Cozy – 2023
Get your hands winter-ready in these premium hand gloves by Hindawi. A well-known brand for winter wear worldwide, these uniquely designed pair of gloves with anti-skid function are a must-have for those who can't keep their hands off their phones! Warm, durable, and skin-friendly, they make a perfect pair for indoor as well as outdoor activities. This pair of gloves comes with a cozy sherpa-trim beanie with a trendy front logo patch. Many customers have shared great reviews of these anti-skid gloves that guarantee a strong grip. They are ideal for driving as well.
Pros
Skin-friendly fuzzy lining provides extra warmth
Ideal for driving cars in the harsh winter
Anti-skid
Cons
Hand-wash only
Not suitable for snow activities
Don't sacrifice your style to keep yourself warm this winter. These snow-resistant gloves are elegantly designed by Knolee to glam up your winter look instantly. Styled with cute buttons, they are stretchable as the inline material is made of soft and thick fleece to keep your hands toasty warm. Many customers have shared rave reviews mentioning the touchscreen-friendly tips of the gloves. They help you use your phones and tabs with the utmost ease.
Pros
Enables smartphone and tablet use
Ideal for indoor, outdoor and even snow activities
Available in multiple colors
Cons
Nothing will warm you up like these winter gloves by Pvendor. It is knit with layers of high-quality yarn to assure warmth, comfort, and breathability. The fabric is light and soft, and you'll not want to take them off even at home. Reviewers love the product because it comes with elastic bands on the cuff to make it wind-resistant. Pvendor winter gloves also have an anti-slip grip on the palm and touch screen feature making them a great choice for all your activities and errands.
Pros
Wind-proof ribbed cuffs
Breathable, light and durable
Available in multiple colors
Cons
Not suitable for snow activities
Pros
Full-hand waterproof membrane insert keeps hands dry
Can be worn by men and women
Suitable for extreme and harsh winters and can resist temperatures below -30°F
Cons
Pros
Premium anti-slip PU leather enhances grip
3M Thermal Thinsulate insulation
Windproof, waterproof, and touch screen compatible
Snow-proof fabric
Cons
Restricts air circulation to hands.
Are you looking for something soft yet chic to protect your hands this winter? Then Osito Etip Gloves for Women by The North Face is your best bet. Incredibly soft with radiometric articulation that keeps your hands relaxed, they assure comfort and warmth for a very long time. A perfect combination of style, and warmth, its one-of-a-kind design makes it an ideal addition to your winter collection. Don't miss out on this one, ladies!
Pros
Five-finger touch-screen capability
Radiometric articulation keeps the hand in a relaxed position
Cons
Make the best of the winter this year with BYMORE Winter Gloves that guarantees the warmth of summer even in -10°C! Besides this, it also has an anti-slip silicone palm that assures a firm grip while driving or indulging in sports activities. Its elasticized cuffs are wind-proof and ribbed to prevent cold air from chilling your bones. Perfect for harsh and extreme winters, you must give these winter gloves a go!
Pros
Offers a snug fit
Allows use of phones and tablet
Anti-slip silicone palm
Cons
Not suitable for temperatures under -10°C
Thinsulate Insulated Waterproof Ski Gloves by Andorra takes warm and cozy to a whole new level! These versatile gloves may look bulky but are lightweight and extremely comfortable to wear for a long time. With anti-slip features and a textured palm, you can enjoy a firm grip while driving and skiing! It has a secret zipper pocket to hold all your small valuables and cash. So what are you waiting for? Make a style statement this winter with these trendy and supremely warm hand gloves.
Pros
Anti-slip textured palm and fingers that offers a firm grip
A zipper pocket to hold valuables
Cons
Isn't suitable for extremely cold weather
Not water or wind-proof
Did you know that Pvendor Winter Warm Knit Gloves offer 30% more warmth than the other gloves in the market? These wool blend gloves are designed to retain the heat in your hands and keep you warm for a long time. These gloves have a triangular, anti-slip rubber texture to add friction and ensure an enhanced grip. Made from 30% wool, 70% acrylic, and soft wool lining, it guarantees optimum warmth to the hands.
Pros
Triangular anti-slip rubber texture palm
Cold-resistance up to -20°C
Cons
Size is not suitable for all
A classic blend of elegance, simplicity, and warmth, Patelai Women's Winter Gloves are the fancy hand gloves that your winter wardrobe is missing! The micro velvet material inside protects your delicate hands, while the cute buttons and bow-knot design up the glam quotient.
Pros
Micro velvet lining keeps your hands warm
Easy to wear
Cons
The material is thin and is not suitable for harsh winter conditions
Not recommended for snow activities
Winter fashion is all about soft and cozy. And that is precisely what Achiou Winter Knit Gloves offers. Crafted from high-quality fabric, you can easily enjoy outdoor activities, all through autumn or winter, with these gloves. Since they are touch-screen friendly, you can use your phone or tablet without having to put these gloves away. They are also available in a wide range of colors to choose from.
Pros
Made from breathable fabric
Ideal for outdoor activities
Cons
Not durable
Not recommended for snow activities
Use your phone without bracing the chilly winds! Head Ladies' Digital Sport Running Gloves is precisely what every woman needs this winter! Offering protection from the cold, its silicone palm design guarantees warmth along with a solid grip. If you are into sports or physical activities, then these gloves are ideal for you. Moreover, these gloves have reflective accents that provide visibility in low light.
Pros
Enables use of touch-screen devices
Comfortable and durable
Cons
Limited functionality in extreme freezing temperatures
Carhartt Women's Quilts Insulated Breathable Gloves offer breathable protection to your hands in the most extreme conditions, even snowstorms. Since these weatherproof gloves have integrated channel quilting, they provide optimal warmth and comfort. Its microfiber lining ensures a snug yet comfortable fit. A perfect investment for those who have to brave severe winter winds and cold weather, these soft, cushioned gloves will keep you warm, and the stretchy fleece cuff will keep your hands windproof for a long time.
Pros
Features dry-max waterproof insert
Offers breathable protection to hands
Cons
Not suitable for all sizes
Extremely warm, cozy, and comfy, TRENDOUX Winter Gloves are designed to protect and care for your hands. They are not bulky in design and are lightweight. Slim, sleek, and soft; this is a combination that is not easy to come by. Its anti-slip and touch-screen friendly design allows you to use your phone and drive your car with ease.
Pros
Anti-slip
Soft napping wool ensures comfort
Cons
Not suitable for snow activities
Not durable
Pros
Device-friendly gloves
Perfect fit with superior warmth
Cons
Size is not suitable for all
We will now understand how you can choose the best winter gloves.
How To Choose The Best Winter Gloves?
Picking out the right pair of winter gloves can be tricky, and one mistake can leave you with freezing hands! Hence, we have listed down a few tips that can help you shop for the best winter gloves this season:
Material is everything. It has to be high-quality, heat-preserving, moisture-resistant, moisture-wicking, quick-drying, and breathable at the same time. Read about the material or conduct a fabric testing session before you select a pair.
Thermal winter gloves are designed to offer you two layers of protection against the cold.
Winter gloves made from leather, cashmere, and microfleece material offer varying levels of warmth and protection against the cold. Gloves with primaloft insulation offer lightweight protection from harsh, cold temperatures.
If you want to keep the cold out and have a solid grip, then winter gloves made of nylon are the perfect option.
You need to prioritize comfort and fit while choosing the ideal gloves to keep your hands warm. Gloves made of anti-pilling fabric last longer and require less-frequent adjustment. You can conduct a fit assessment while choosing the right pair of gloves.
Why Trust StyleCraze?
Srijani Roy Chowdhury is a fashion aficionado who loves keeping up with all the latest fashion trends out there. She has gone through numerous product reviews online to bring you the best winter gloves to keep your hands warm and comfortable. This curated collection of winter gloves is skin-friendly, durable, breathable, and touchscreen-friendly, making them the perfect stylish companions on those chilly and snowy winter months.
Frequently Asked Questions
Which gloves are the best for winter?
Gloves with multilayered, insulated, or fleece inline will be warm enough for harsh winter conditions. You could check out any of the gloves mentioned above.
Which are the best gloves to keep your hands warm?
Some of the best gloves designed to keep your hands warm are Achiou Winter Knit Gloves and Carhartt Women's Quilts Insulated Breathable Glove. They are designed to provide optimal warmth and comfort.
Should winter gloves be tight or loose?
Winter gloves should fit comfortably. They shouldn't be too tight or loose. There should be enough space at the end of open palms to pinch a quarter-inch of fabric.
Do leather gloves keep your hands warm?
Yes, leather gloves keep your hands warm. They absorb heat and act as a layer of protection from the cold.
Why don't gloves keep my hands warm?
A pair of gloves made of low-quality materials will not provide adequate warmth, especially in cold weather.