13 Best Wireless Bralettes To Keep You Free And Comfy – 2022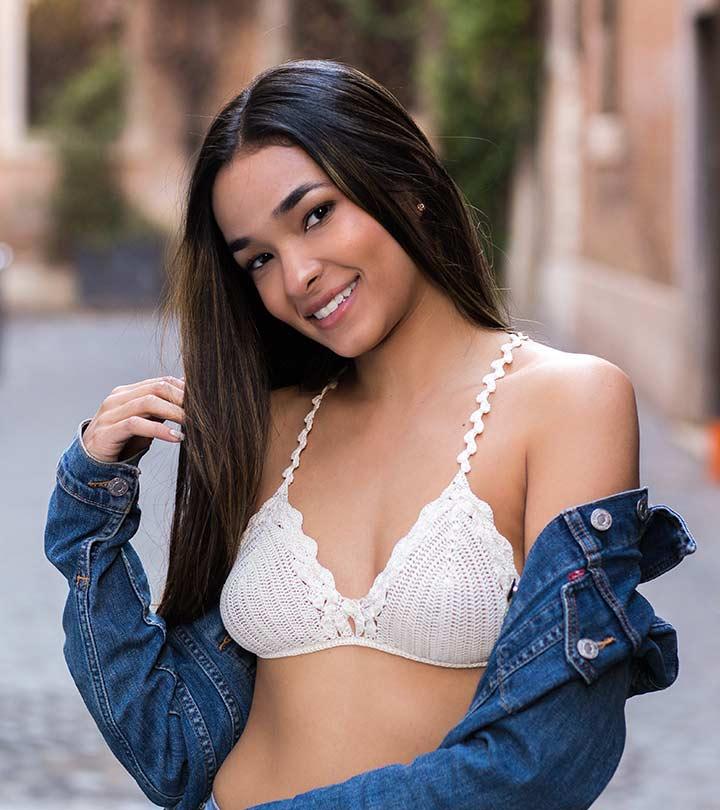 Leaving behind bras as an everyday staple during the work-from-home phase has been the best revolutionary moment. They are undoubtedly supportive and functional, but it's also impossible to deny that they are super uncomfy, and we don't want them back. Some are too long; some are ill-fitting, whereas some are just here to kill us with underwires. However, we have good news, ladies, and that is the arrival of wireless bralettes that will help you reverse into normalcy but with comfort. Now you can wear these bralettes under a tee, cotton shirt, and whatnot.
These bras are lighter, comfortable versions of bras, and they are an idea for days when you don't want to wear a bra 24/7. They offer comfort and a good amount of support with super cutesy colors, styles, designs, and fabrics. For women with petite frame who have smaller bust to women with a bigger bust, these bralettes will work great on every body type. So, to help you pick on the best ones, we have curated a list of the top 13 wireless bralettes that are sexy, comfy, and trendy too. Now go ahead and check out these stylish yet comfortable bralettes that we have listed below.
13 Glamourous Wireless Bralettes For Maximum Comfort in 2022
For a relaxed day at home doing yoga and running errands, you can try Comfy Bra's classic t-shirt bra, which is available in a pullover style scoop neck and comes without padding so you can slip it on easily. The non-padded bralette is made up of a lightweight ribbed fabric that has a compression fit to support your chest without any wires. Offering a generous amount of coverage, the number also comes with wide straps and an elasticated underbust band for a secure fit.
Pros
Easy pull-over style
Scoop neck design
Compression fit
Lightweight and non-padded
Widem seamless straps
Available in beautiful colors
Cons
The size might run slightly small.
If you're looking for a comfortable bralette with ultralight padding to cushion the girls, take a look at this demi-padded bralette that comes with removable pads. The nylon-spandex V-neck bra is fitted with a hook-and-eye closure as well as adjustable straps that can be worn in the standard way or as a cross-back depending on your outfit. Especially ideal for low-neck clothing, the soft and stretchable bralette is versatile and available in a vast range of sizes, giving every woman's bust the support and relief they need to function at max efficiency throughout the day.
Pros
Easy to wear
Cross-back option
Adjustable straps
Nylon-spandex fabric
Available in a pack of 4
Multiple color options
Cons
The padding might be slightly small for some.
Sloggi's Zero-Feel bralette more than lives up to its name by being extremely lightweight and comfortable. The classic seamless V-necked bra is practically invisible under clothes and has lightly padded push-up cups that support your chest. Its polyamide elastane fabric features dot bonding technology, which allows the bralette to hug your body perfectly while making you feel free and airy the entire day. It also comes with wide straps and a 360° stretch technology built exclusively in Japan that remains gentle against the skin and doesn't compress or leave angry welts after prolonged wear.
Pros
Removable padding
Seamless and wireless
360° stretch material
Attractive V-neck design
Invisible under tops
Available in 6 colors
Cons
Straps might be slightly long for petite women
Has anyone ever turned away from a gorgeously dainty lace bralette that also happens to be versatile enough to be worn in 3 different ways? This irresistible bralette from Maindenform isn't just a pretty face, but it also offers ample support to your chest. Equipped with foam cups for better shaping, the nylon-spandex bra has adjustable, convertible straps that can be worn as a classic, crisscross, or halter-neck, thus opening up a whole new world of tops and dresses for everyday wear. The longline design and back mesh panel lend it style and breathability, making this an effortless option for lounging around, heading out, and everything in between.
Pros
Beautiful lace design
Foam cups for shape
Versatile to style
Breathable mesh panel
Lightweight and supportive
Multiple colors and patterns
Cons
You might have to size up.
If you aren't aware of the comfortable and supportive offerings by Fruit of the Loom, you should be. This unlined and underrated bralette comes with triangle-shaped cups that connect via a hook-and-eye closure. The bralette is lightweight and made from soft, stretchy, breathable fabric that neither pokes nor prods the chest. Its built-up front straps are easy to adjust and joined to a bottom band made from elastic that is simple and effective at perking you up without making its presence felt.
Pros
Soft and unlined
Easy to remove
Lightweight fabric
Size-inclusive brand
Logo elastic bottom band
Available in a 2-pack
Cons
The band size might run a little small.
Cute bralettes will always be all the rage, especially if you are wearing a sheer number. Opt for this delicate bralette when you're looking for something unlined with lace cups and durable elastic underneath for optimum support. This piece can be worn pullover-style and comes with adjustable stretch straps that stay in place no matter how much you move. We love that the nylon-spandex bra is embellished in scalloped lace, which feels super-comfy and looks stunning when you slip it on.
Pros
Wireless and breathable
Uninterrupted scalloped lace
Easy pull-over-head style
Back adjustable stretch straps
Unlined sheer lace cups
Available in 11 colors
Cons
The cups might not be as supportive.
Cotton-lined cups with lace overlays and a plunging neckline are ideal for everything from a casual summer brunch to a cheeky night in. In addition to these features, Jenny Jen's glamorous wireless bra also stands out because of its front lace design and V-shaped straps that enhance the look of low-cut dresses and tops. Despite being unpadded, it feels extremely comfy and provides light support to the gals. With a strappy back and hook-and-eye closure in the rear, you can get a shapely, natural-looking fit.
Pros
Strappy front and back
Soft cotton lining
Adjustable straps
Hook-and-eye back closure
Rayon-spandex blend
Available in 6 colors
Cons
Might not be as supportive for bigger busts
Hit the gym or the outdoors with Reebok Women's wireless racerback sports bra that has removable pads for medium support and maximum comfort. The wirefree sports bra is made of moisture-wicking fabric with mesh panels. so you can remain cool and dry during your workout while also being flexible. The open racerback gives you a sleek, form-fitting look as you indulge in low or medium-impact activities and has a wide underbust band to keep your breasts in place.
Pros
Wireless design
Racerback style
Removable pads
Moisture-wicking fabric
Flexible and supportive
Available in multiple colors
Cons
Not as aesthetically pleasing
Whether it's a work-from-home-all-day kind of day or multiple trips to the market kind, Vanity Fair's ultra-comfortable and seamless padded offering is bound to become your favorite lounge bralette. The pads in this wirefree bralette are removable, though, which means you can unlock even greater comfort whenever you need. Made from a soft, stretchable fabric that is ideal for everyday loungewear, the pull-on style bra features narrow elastic straps and an elastic underband for extra support and shaping.
Pros
Wirefree and seamless
Removable pads
Pull-on closure
Narrow elastic straps
Ultra-soft fabric
Comes in packs of 2 and 3
Cons
Straps may be slightly thin for some
If you are looking for a bralette that can double as a mildly sexy crop top for exercise or yoga sessions, the best wireless number you will find is this one from Simiya. The ribbed, lightweight top is made up of a high-elastic fabric that absorbs sweat, making you feel unhindered in your workouts. There's no padding, but the sports bra does offer a compression fit along with wide straps and an elastic hem band to make you feel supported and comfortable while creating the right amount of coverage.
Pros
Versatile use
Non-padded
Super-lightweight
Flexible elastic fabric
Wicks away moisture
Available in 2-packs
Cons
Might ride up slightly due to lack of wire
DKNY's triangular-shaped bralette is crafted with lightweight mesh fabric for days when you want to be unencumbered by wires but still want support. This nylon-spandex wireless number comes with no padding and has super-soft elastic straps for support, not to mention a buckle closure that's easy to hook. The straps are adjustable and the cups of the bralette are incredibly comfy. The mesh details lend breathability to the bralette while keeping things rather seamless.
Pros
Soft, luxurious fabric
Non-padded design
Thick elastic band
Easy buckle closure
Adjustable straps
Available in multiple styles
Cons
Sit back, relax, and get comfortable with Jockey's molded cup bralette, which has wirefree and non-removable padded cups that provide your chest with the shape and support it needs sans any of the pinching or discomfort. The seamless bra comes with wide straps and a wider underband for maximum security, while the extra back and side smoothing creates a flattering fit. The fabric is breathable, stretchy, and so soft that it almost feels like a second skin.
Pros
Soft and wireless
Seamless fitting
Molded cups
Non-removable pads
Breathable, stretchy fabric
Supportive and good coverage
Cons
You might have to size up.
When it comes to everyday casualwear that's also a treat to the eyes, few brands come close to Calvin Klein inners. This cotton wireless bralette was made to keep you supported during light to medium-impact activities. Crafted from a soft and flexible cotton blend fabric, the pullover style bra has soft-lined cups that feel featherlight and gentle on the skin. With no hardware in the way, the racerback style adds flexibility, disappears under the clothes, and moves with your upper body. Courtesy of the scoop neck design, you can wear the bra under anything without it peeking out.
Pros
Cotton blend fabric
Easy to pull on
Lightly lined cups
Racerback style
Elastic underband
Available in 10 colors
Cons
Now that you've taken a look at our list of the 13 best wireless bralettes that maximize comfort, here are some tips you can keep in mind while making your selection.
 How Do I Choose The Right Wireless Bralette?
If you're looking for optimum comfort, you can opt for a pullover style bralette where you don't have to fuss around with hooks and clasps but just slip it over your head instead. However, if you find hook-and-eye closures more convenient, look for scoop or V-shaped necklines along with thick underbands that give you a generous amount of coverage without showing through most outfits.
While the purpose of seams is to enhance support, they can also be slightly uncomfortable. If you're looking for the comfiest bralette possible so you can be at total ease, seamless bras are the ideal choice. You can pair them with everyday tees and tank tops as they are seamless and won't result in tacky, see-through lines.
If your bralette is going to be exposed under sheer tops, you can opt for thin straps that don't look out of place. However, if proper support is your top priority, wider straps are the way to go.
A casual bralette to lounge around in at home doesn't really need padding, but when you want to go out and would like a little extra support and coverage, go for a bralette with pads. Bonus points if the pads are removable because you get the best of both worlds and you can wash the bra inside-out.
Why Trust StyleCraze?
The author, Priyam Gupta, is a fashion enthusiast and finds her passion in reviewing clothing products for the users. For this article, she has studied extensively about gorgeous wireless bralettes and scrolled through hundreds of reviews on trusted online platforms to compile the above list of products. These are lighter, comfortable versions of regular bras that offer good support and are available in super cutesy colors, styles, designs, and fabrics.
Frequently Asked Questions
hould I size up or down for b Bralette?
When buying a bralette, comfort is the most important factor. It's best to get a bralette that's not too tight or too loose. However, since different brands have different sizing charts, make sure to check the one for your selection, along with the manufacturer's instructions about whether the fit is true to size. Going through customer reviews will also give you an idea about the fit.
Are bralettes good for large breasts?
Bralettes are more suited to smaller breasts as they are usually wireless and non-padded. The lift and support that a bralette provides may not be enough for curvy women with larger cup sizes. However, there are bralettes with removable padding and thick elastic underbands that are specifically designed for big busts.
What is the difference between a wireless bra and a bralette?
A bralette tends to have more styles and designs and can be worn as a top, whereas a wireless bra generally goes under clothing. The support offered by a bralette is also a little lighter than wireless bras, which are built more like sports bras.
Do bralettes cause sagging?
While bralettes do not cause sagging, they may not do much to prevent it as they offer very little in the way of support.
Recommended Articles: