The 11 Best Witch Hazel Toners That Are Hypoallergenic – 2022
Eliminate that extra oiliness from your face skin-brightening gentle formulas.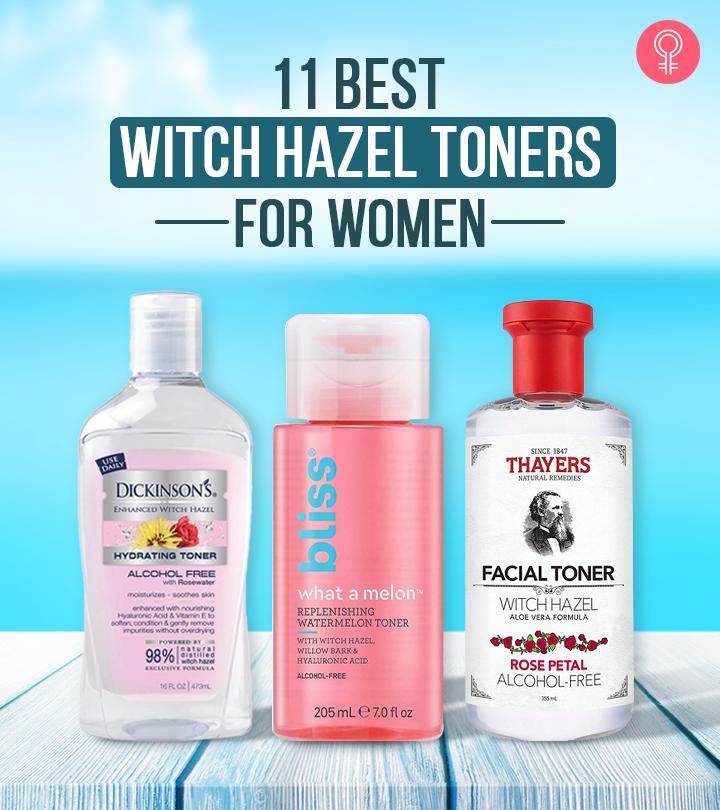 Witch hazel is a natural astringent with essential antibacterial and anti-inflammatory properties. That's why the best witch hazel toners are the most popular toners to eliminate oiliness and prepare the skin to absorb other beauty products more effectively. This skin care ingredient is tried, tested, and extensively used in many beauty products. If you want to include it in your everyday routine, we have listed the 11 best witch hazel toners for you to have healthy, balanced, and smooth skin. Take a look!
11 Best Witch Hazel Toners
This moisturizing witch hazel toner from Thayers harnesses the goodness of the nutrient-rich aloe vera to hydrate the skin. It also maintains the skin's natural barrier. The toner is infused with non-distilled witch hazel extracts. The rose water in this preparation increases its natural astringent properties. It controls sebum production, seals moisture, and combats free radicals. This pH-balancing toner has skin-brightening and anti-aging properties. It also soothes and heals infections. It penetrates the skin and cleanses dirt and grime. It shrinks open pores and eliminates the appearance of blackheads and whiteheads. To get a better understanding of the product, you can check out this video on YouTube.
Key Ingredients: Witch Hazel, rose petals, Aloe barbadensis leaf juice 
Pros
Paraben-free
Phthalate-free
Propylene glycol-free
Cruelty-free
Gluten-free
Dermatologist-tested
Soft fragrance 
Cons
Contains phenoxyethanol (a preservative)
This balanced skin clarifying toner from Bioré is formulated with 2% salicylic acid to heal the skin of infections and acne. It also cleanses the skin of build-up from oil, dirt, and grime. The astringent properties of witch hazel help prevent new breakouts by cleansing and shrinking open pores, while refreshing and clarifying the skin. This oil-free preparation also has exfoliating properties that slough away dead skin cells and reveal a clearer and brighter skin tone. The toner is ideal for acne-prone oily skin as it controls sebum production without drying the skin out. This toner is lightweight.
Key Ingredients: Witch hazel, 2% salicylic acid 
Pros
Non-comedogenic
Oil-free
Lightweight
Dermatologist-tested 
Cons
Not suitable for sensitive skin
The alcohol-free hydrating toner from Dickinson's is powered by 98% natural organic certified witch hazel that has been distilled to retain its purity. The toner gently removes impurities from the skin. It is enriched with hyaluronic acid and vitamin E that help increase skin moisture and firm the skin. The rosewater and aloe vera juice in this formula offers a refreshing and ultra-clean feel. This lightweight preparation cleanses the skin of impurities, refines pores, and leaves the skin soft and smooth.
Key Ingredients: Witch hazel, hyaluronic acid, rosewater, vitamin E, Aloe barbadensis leaf juice 
Pros
Paraben-free
Sulfate-free
Dye-free
Gluten-free
Alcohol-free
Dermatologist-recommended
Cons
The facial cleansing toner from Neutrogena is formulated with a combination of witch hazel extracts along with alpha- and beta-hydroxy acids that visibly reduce open pores and exfoliate dead skin cells. This non-drying formula smoothens rough and uneven patches on the skin and leaves skin soft and supple. It penetrates the skin and clears away impurities and leftover makeup. The aloe vera, eucalyptus, and peppermint leaf extracts help moisturize the skin. The toner's antibacterial properties help prevent future breakouts. This hypoallergenic preparation has been dermatologist-tested and is suitable for all skin types.
Key ingredients: Witch hazel, salicylic acid, aloe vera leaf extract, eucalyptus leaf extract, peppermint leaf extract, allantoin 
Pros
Non-drying
Non-comedogenic
Oil-free
Hypoallergenic
Dermatologist-tested
Suits all skin types 
Cons
The Proactiv revitalizing toner is packed with botanical extracts from aloe vera, allantoin, chamomile, witch hazel, and panthenol. These ingredients help absorb surface oil, clarify open pores, and reduce inflammation. This toner is formulated with glycolic acid that gently exfoliates dead skin cells and minimizes breakouts while promoting the skin cell renewal process. This alcohol-free preparation clears dirt, oil, and makeup. It also helps maintain the skin's pH balance. It maintains the skin's moisture balance and keeps the skin soft and radiant.
Key Ingredients: Aloe, chamomile, allantoin, witch hazel, panthenol (vitamin B complex) 
Pros
Alcohol-free
Safe for all ages
Cons
Not suitable for sensitive skin
The lavender and witch hazel toner from Mario Badescu deeply cleanses the skin without stripping it of its natural oils and moisture. It is enriched with a blend of lavender essential water and oil to calm and soothe stressed skin. The witch hazel clarifies pores and reduces the appearance of acne, blackheads, and blemishes. It is also infused with rosewater and aloe vera responsible for its moisturizing and hydrating properties. When used twice daily, this toner effectively restores the natural balance of the skin and reveals a radiant, youthful complexion.
Key Ingredients: Witch hazel, aloe, lavender essential water, lavender oil, rosewater 
Pros
Phthalate-free
Alcohol-free
Paraben-free
Gluten-free
Synthetic fragrance-free
Vegan 
Cons
None
The Maple Holistic toner is fortified with a blend of botanical extracts that offer therapeutic benefits to the skin. This witch hazel, lavender, and aloe formula balances the production of sebum. It also tightens skin pores and combats acne. It helps slough away the dead skin cells and protects the skin from damage. The toner works gently to cleanse makeup residue and everyday pollutants while soothing skin irritation and keeping skin hydrated. This versatile toner can also be included in the hair care routine to keep the scalp clean and flake-free.
Key Ingredients: Witch hazel, lavender, and aloe vera 
Pros
Non-greasy
Hypoallergenic
Paraben-free
Cruelty-free
Vegan
Alcohol-free 
Cons
The pore minimizing toner from Differin is enriched with witch hazel to remove dirt and impurities from your skin. The toner also unclogs open pores and reduces excess oil production. It is fortified with vitamin B, aloe vera, and rosehip extract that keeps the skin hydrated, nourished, and well-conditioned. The chamomile in this alcohol-free toner gives a soothing effect and keeps your skin calm. This toner is suitable for all skin types and can be used twice a day to tighten open pores. It also keeps the skin clear of acne and blemishes.
Key Ingredients: Witch hazel, chamomile, vitamin B, rosehip extract, aloe 
Pros
Suits all skin types
Alcohol-free 
Cons
This gentle, non-irritating toner from Secret Key is packed with the goodness of numerous botanical extracts that keep the skin soothed and calm. The astringent properties of witch hazel control oil production and cleanse and tighten blocked pores. The toner also penetrates the skin and clears away makeup residue and daily grime. The snail mucus extract in this preparation helps reduce wrinkles and fade dark spots. The toner is also infused with aloe vera and mulberry extract that keep the skin moisturized.
Key Ingredients: Snail mucus extract, heartsease (viola tricolor extract), mulberry root extract, portulaca extract, hollyhock extract, aloe vera extract, witch hazel extract, usnea extract 
Pros
Paraben-free
Benzophenone-free
Mineral oil-free
No chemical preservatives 
Cons
The watermelon toner from Bliss is a powerhouse of natural ingredients that blend together to energize dull and tired skin. Its watermelon extract is rich in antioxidants and infuses the skin with hydration and nutrition while. It also fortifies the natural moisture barrier. The natural astringent properties of witch hazel have a pore-tightening effect and keep the skin free of excess oil and grime. The willow bark and cucumber extracts work together to exfoliate dead skin cells and keep the skin calm and revitalized. This lightweight preparation also protects the skin from free radicals and slows down the aging process.
Key Ingredients: Watermelon fruit extract, witch hazel, willow bark extract, sodium hyaluronate, cucumber fruit extract 
Pros
Phthalate-free
Sulfate-free
Paraben-free
Alcohol-Free
Cruelty-free
Vegan
Cons
This USDA-certified organic toner from Sky Organics is crafted from a powerful blend of tea tree and witch hazel. This convenient facial mist uses organic witch hazel that keeps skin hydrated all day long. The tea tree leaf oil in this formula has antibacterial properties that soothe acne-prone skin, cleanse blocked pores, and combat future breakouts. This toner enhances the absorption of moisturizers and helps maintain the skin barrier. It has a non-greasy texture and can also be used under makeup.
Key ingredients: Witch hazel, tea tree leaf oil 
Pros
Cruelty-free
Paraben-free
Phthalate-free
Alcohol-free
Non-toxic
Vegan 
Cons
Why Trust Stylecraze?
Finding a witch hazel toner is no easy task. To help you, our skincare expert and certified skincare coach Shiboli Chakraborti has compiled a list of the best witch hazel toners. She has compared multiple product reviews to handpick the perfect ones and has described their formula in detail so that you can choose a toner to suit your skin concerns.
Frequently Asked Questions
What does witch hazel do to your face?
Witch hazel helps heal damaged skin, absorbs excess oils, cleanses dirt and grime, eases inflammation, tightens pores, and helps reduce acne.
Is witch hazel a good toner?
Yes, witch hazel is a natural toner that helps address a number of skin conditions. It can be used in combination with other ingredients to keep your skin shine-free. It also clears dirt and makeup residue.
Should I use witch hazel every day?
You can use witch hazel twice a week to everyday, depending on your skin requirements. But it is essential to check the other ingredients in your toner before use. Limit use if your toner contains alcohol.
Is witch hazel good for aging skin?
Witch hazel has astringent properties that help tighten pores and firm up the skin, thereby potentially slowing down the aging process. It also has antioxidant properties that fight free radicals.
Recommended Articles: