13 Best Anklets That Look Great With Any Kind Of Outfit – 2022
Add a feminine charm to any outfit with these chic and eye-catching anklets.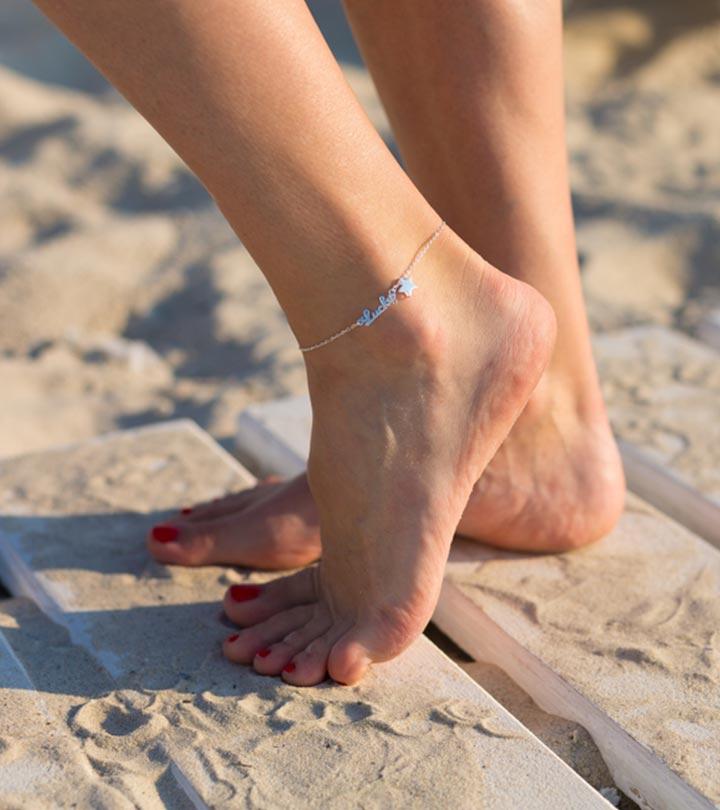 If you are eyeing for a sassy and cute accessory to amp up your style game, you must check out the best anklets. Popular among women and girls alike, the ankle bracelets spice up your look and look great with any outfit. Although they used to be made of precious metals and stones in the olden days, today, you can get braided ropes, colorful embellishments, and generic stones attached to them, which makes them much more affordable. Anklets are also great for gifting someone you love. We have listed the 13 best ankle bracelets listed below. Take a look!
13 Popular And Cute Ankle Bracelets For Women
This beautiful anklet by Barzel is super sleek and elegant. It is 3.5 mm thick and comes in three different sizes to choose from – 9 inches, 10 inches, and 11 inches. The anklet has a layer of 18K gold encasing its outer surface, which helps it retain its color and does not oxidize. The sturdy lobster claw clasp is secure and keeps your anklet safe around your ankles. Its 080-gauge link design makes it the perfect gift for your loved one.
Pros
Lightweight
Sturdy
Does not tarnish
Value for money
Cons
Wear a different anklet every day to match your outfit with this gorgeous 16-piece silver anklet set from Softones. These ankle bracelets come in a variety of designs that are sure to suit any attire and occasion. Each anklet is 7.9 inches long and has a 2-inch extended chain to adjust it according to your needs. They are made with silver-tone and gold-tone plated environmental alloy and are safe to wear. These ankle bracelets make a perfect gift for any occasion and come along with an adorable gift bag.
Pros
Cute designs
Lightweight
Adjustable
Cons
Break and tarnish easily.
This ankle bracelet from Barzel has cute little elephant embellishments. The elephant is considered a symbol of prosperity and luck. It is 10 inches long and made with premium quality brass material, encased with 18K gold. The lobster claw clasp provides a sturdy and safe closure. This anklet comes in an elegant jewelry box for safe storage and gifting.
Pros
Does not tarnish
Sturdy
Durable
Secure clasp
Cons
This enchanting masterpiece by Brazel is super adorable and elegant. It has tiny butterfly embellishments encasing colorful crystals that give it a stunning look. The cubic zirconia crystals shine beautifully on a sunny day. This accessory is perfect to wear on vacations or at the beach. The anklet is 10 inches long and comes with a lobster claw hook. It is made of sturdy brass plated with 18K pure gold for retaining optimal color.
Pros
Lightweight
Sturdy
Does not tarnish
Elegant design
Cons
This classy three-layered ankle bracket by Zoestar is made of quality alloy material. It has a thin top layer, a beautiful fish bone designed middle layer, and a white crystal embellished bottom layer. This stunning anklet set can be worn as a whole or separately according to your preference. Each anklet is secured with a sturdy lobster claw clasp. This boho design goes well with any attire and makes for a charming gift for your mom, sister, or girlfriend. The anklets measure 10.2 inches.
Pros
Lightweight
Versatile use
Cons
Not sweat or waterproof
Not adjustable
Breaks easily
This gorgeous looking 12-piece ankle bracelet set by Starain is ideal for all your fashionable looks. Each of these bracelets has timeless charms and designs like cute pineapples, turtles, stars, hearts, and elephants. There are also chic designs like a fish bone structure or crystal embellishments. The anklets are 7.9 inches long and have an additional 2 inches extended chain for convenient adjustments. They are made of environmental alloy and are hypoallergenic. These bracelets are encased in an elegant velvet bag and are the perfect gift for your loved ones.
Pros
Hypoallergenic
Lead-free
Nickel-free
Adjustable
Cute embellishments
Cons
This chic ankle bracelet by LOYATA is made of sturdy brass and coated with 14K gold. This bohemian ankle bracelet is detailed with a blue evil eye and three tiny stones. The evil eye beads are set to bring you luck and charm. It is suitable for any occasion and matches various attires. This ankle bracelet is hypoallergenic and does not cause any harmful skin reactions. It is secured with a strong lobster claw clasp for extra protection. It is 8.3 inches long and has an additional 2-inch chain to adjust the size according to your convenience. The end of the adjustable chain has a beautiful crystal embellishment. This charm ankle bracelet makes a perfect gift for your loved one.
Pros
Does not tarnish
Adjustable
Hypoallergenic
Nickel-free
Cons
This boho style handmade foot chain by Suyi comes in a set of five different beach designs. It is embellished with cute elephants, stars, and turtles. These anklets can be worn as a set or individual pieces, depending on your convenience. They are handmade with quality rope and metal that are flexible and adjustable. The set includes a double-layered anklet, a sun charm anklet, a beaded anklet, a chained anklet, and boho chains and charms. These ankle bracelets are ideal for gifting and can be worn on any occasion.
Pros
Unique designs
Adjustable
Value for money
Cons
If you are looking for a heart-warming and memorable gift for your loved one, this personalized ankle bracelet by She1001 is a perfect choice. You can choose the style, design, and color of the ankle bracelet, along with the name to personalize it. This custom-made chain is 8.7 inches to 9.7 inches long. The rose gold plated or 18K gold plated ankle bracelet is made with quality stainless steel, which is corrosion-resistant and does not get tarnished. The material is also durable and non-toxic. It comes with a warranty card and a velvet pouch.
Pros
Personalized design
Secure latch
Does not tarnish
Velvet pouch
Cons
No products found.
This Cuban ankle bracelet by TENGYUE is embellished with a cute butterfly made of crystal. Butterflies symbolize rebirth, beauty, and transformation of life. The anklet is made of superior quality alloy coated with hypoallergenic silver. It is 8.5 inches long and has an additional 2 inches extended chain for adjustments. The anklet comes in an elegant gift box and is the ideal gift for your loved one for any occasion.
Pros
Hypoallergenic
Adjustable
Cons
This exquisite bohemian ankle bracelet set by Hicarer includes eight anklets embellished with silver butterflies, gold beads, and colorful rhinestones that add a touch of boho to your personality. They are made with high-quality alloy and are suitable for sensitive skin. The anklets are lightweight and 10 inches long, along with a 3-inch extension. The sturdy lobster claw clasp secures the anklets in place perfectly. This boho beach ankle bracelet set is an excellent gift to express your love for your special one!
Pros
Does not tarnish
Adjustable
Hypoallergenic
Nickel-free
Lead-free
Cons
The exquisite design of this silver anklet gives your ankle a cute feminine touch. It is 8.5 inches long and has an extended chain that is 2 inches long for adjustments. The anklet is made of high-quality alloy and coated with hypoallergenic silver, which will not make your ankle green after prolong use. This lightweight anklet weighs only 5 grams and can be gifted on any occasion.
Pros
Hypoallergenic
Adjustable
Lightweight
Cons
This gorgeous ankle bracelet by Yesteel is yet another personalized jewelry piece that has made it to our list. The anklet has an initial letter engraved in a beautiful heart-shaped charm. It is made of high-quality material which is 14K gold plated, hypoallergenic, and does not irritate your skin. It is 8.5 inches long and has an additional 2 inches extension, which is embellished with a rhinestone charm for a classy touch.
Pros
Customized design
Does not tarnish
Hypoallergenic
Cons
Why Trust StyleCraze?
The author, Baishali Bhattacharya, is a certified image consultant and loves reviewing the latest arrivals for the users. She has extensively studied ankle bracelets for women and curated the above list of products, considering their cute designs, look, sturdiness, and durability. These lightweight bracelets are endorsed by numerous users through their reviews. They are durable and sure to amp up your look.
Frequently Asked Questions
Which leg should a woman wear an anklet on?
A woman can wear an anklet on either or both of her ankles.
How do you know what size anklet to buy?
For petite ankles, the anklet size would be 8 to 8.5 inches, for average ankles, 9 to 10 inches, and for plus size ankles, 11 to 15 inches.
Can you wear anklets with socks?
Yes, in recent times, sporting ankles on top of socks is becoming a fashion statement. But make sure the hanging embellishments don't pull on your socks.
What does wearing an anklet bracelet mean?
Ankle bracelets are usually worn as a style statement. They go well with many outfits. Some women wear them as a cultural indication of the fact that they are either married or engaged.
Are anklets attractive?
Anklets look very attractive especially when worn with dresses. They amp up your style and add a chic look to your outfits.
Is it OK to wear gold anklets?
Yes, there is nothing wrong with wearing gold anklets.
What is the meaning of anklet on right ankle?
In some western cultures, wearing an anklet on the right ankle signifies that they are single and ready for a relationship.
Why do we wear silver anklets?
Silver anklet is a delicate piece of jewelry that is believed to help with improved blood circulation. It is siad to keep the positive energy flowing around you.
Which metal is good for anklets?
Both gold and silver metals are considered great for anklets. You can wear any one to match with your outfit.
Recommended Articles