13 Best Women's Blazers You Should Try In 2023
Turn all heads in the crowd with these versatile and stylish pieces of clothing.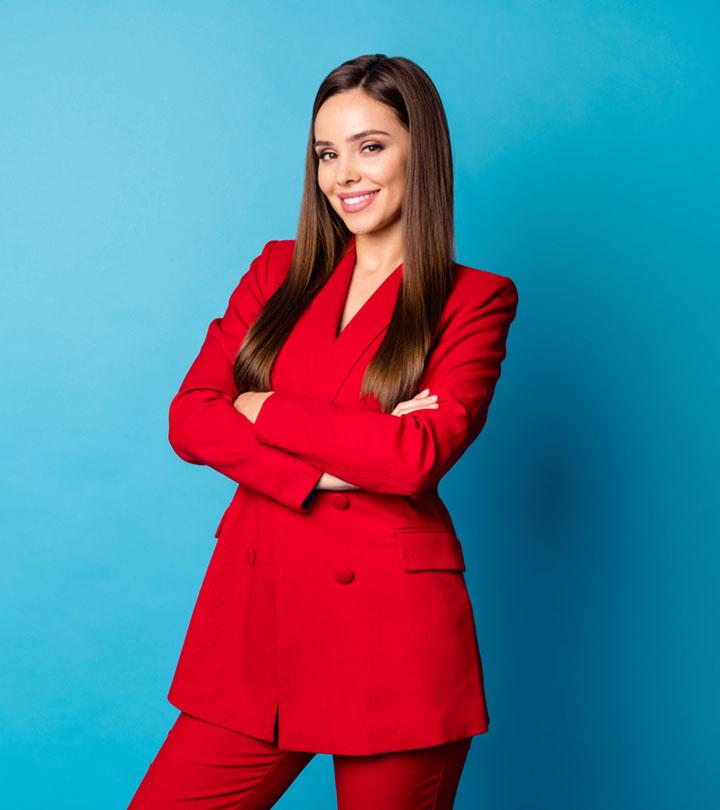 Those days are long gone when blazers were only meant for professional meetings and office wear. Nowadays, blazers are loved by celebrities and fashion influencers alike because they are available in various styles, and you can wear them almost anywhere. The best blazers for women have become a wardrobe staple over the past few years. Nowadays, blazers are more like lightweight jackets that offer versatility and elevate your style in several different ways.
If you want to wear a blazer for professional purposes, then look for some non-chunky varieties that will give you a sharp look, and some thicker fabrics look oversized and perfect for casual wear. Mette Baillie, a couture designer says that "When shopping for a blazer, spend the much money on this garment as you can afford. This is such a versatile piece that you will get lots of wear and it will pay off to go for the best quality."  A good blazer will make you feel powerful and confident and give you a bossy feeling. Furthermore, you can pair your blazer with your favorite pair of jeans, skirts, and heeled boots to get that classic statement look.
With so many styles and colors available, choosing one that will fit your preferences can be overwhelming. But, fret not. We have got you covered. In this article, we have curated a list of the best blazers that will help you rock your lunch dates, meetings, mall outings, and more. Keep reading to check out our top picks!
13 Best Blazers For Women To Instantly Glam Up Your Look
A high-quality blazer that fits you like a custom garment and makes you feel your best is such a blessing. Designed with a blend of rayon, spandex, and polyester, this Auliné blazer features a form-fitting and beautifully stretchy fabric that lets you flaunt your figure. It comes with 3/4 scrunch sleeves that lend it a chic, fashion-forward look. Available in a variety of bright colors and amazing patterns, this collection has the ideal blazer for every occasion, whether it's a regular day at the office or a big day at home. It has a versatile appeal that flatters women of all ages in every season.
Pros
 Super-soft
 Lightweight
 Stylish design
 Form-fitting
 Durable material
 Available in 19 beautiful colors
Cons
Price at the time of publication: $29.99
If you have a unique look in your mind and want to keep it simple yet beautiful, this is the blazer for you. The polyester material offers quite a bit of stretch, draping nicely over the shoulders and making you look polished. Its scrunched sleeves are of 3/4th length and stay in place really well, so you don't have to keep fidgeting and pulling them up. It opens like a cardigan and feels like a jacket, both weight- and fit-wise. Whether you are travelling on holiday or going to the office, this versatile blazer will come in very handy. Since it's so lightweight, you can layer it over any outfit from jeans to shorts and dresses.
Pros
 Elegant and versatile
 Looks professional
 Acts like a slimming jacket
 Three-quarter length sleeves
 Available in 27 colors
Cons
 Some may find it too lightweight.
Price at the time of publication: $35.98
Crafted with a blend of polyester and spandex, this blazer stands out as an excellent drape. It has a fine, smooth feel that offers immense comfort and feels light on the body. The athletic shoulders are slightly lifted to give you a sharp, commanding silhouette. It has a flat black hem along with a front drop that lends an elegant touch to it. Perfect for teaming up with a shirt, t-shirt, tank top, or casual top, the blazer is suitable for both formal and casual occasions.
Pros
 Lightweight
 Premium fabric
 Flattering for figure
 Available in 25 colors and patterns
Cons
Price at the time of publication: $29.99
Pros
 Shiny fabric
 Variety of colors
 Has button closure
 Great quality stitching
Cons
Price at the time of publication: $46.96
Pros
 Fully lined
 Has pockets
 Breathable fabric
 Slimming at the waist
Cons
 Slightly low on breathability
Price at the time of publication: $46.99
A hint of vintage never hurt anyone. The design on this Grace Karin blazer is one-of-a-kind, with an open front and ruffles at the bottom. Made from cotton and spandex, the suit is lined, offers a decent stretch, and feels comfortable enough to wear with everything. It boasts a formal lapel collar that's perfect for casual and formal occasions. The material is lightweight, which makes this blazer a great option to be your go-to for trips. The blazer has 3/4th sleeves, making it ideal for summer, spring, and autumn.
Pros
 Nicely lined
 Has a stretchable fit
 Suits people with all shapes
 Comes in many bright shades
Cons
 Sleeves might run short for some
Price at the time of publication: $31.99
Calvin Klein is a premium brand known for its clothing range, chic minimalist design, and distinctly luxe aesthetics. This far-from-traditional blazer from Calvin Klein belongs to one of the finest collections, representing style, elegance, and sophistication with a touch of modernity. Crafted with a blend of spandex, rayon, and polyester, the fabric feels nice with a slight density. Lined beautifully, it makes your shape look flattering, fits great, and has a two-button closure. When searching for something that makes you look a class apart, this has to be your top choice.
Pros
 Has flap pockets
 Size inclusive
 Stylish lapel collar

 Soft and silky lining

 Comes with an extra button
Cons
Price at the time of publication: $79.94
The Drop Blake blazer is designed for women who like their outfits all elegant and flowy. It has a fantastic drape that skims the tummy and hips, making you look slimmer and sharper. It's also super-soft to the touch and lets you enjoy a finely polished look. Team the coat with everyday t-shirts or tops and you are all set to glam up every special occasion. The classic long-line blazer goes well with everything from pants and skirts to shorts and denims. Once you get your hands on these, your entire wardrobe will feel elevated and look even more interesting.
Pros
 Has pockets
 Luxe stretch fabric
 Stylish notched collar
 Flatters the figure
 Available in 3 colors
Cons
 The back vent isn't as structured as the rest of the suit.
Price at the time of publication: $62.92
This blazer collection is rare, timeless, and as comfy as it looks. The classic Mercantile suit gives you an elegant feel that you can only get from a boarding school design. Crafted from a blend of durable and lush fabrics like polyester, viscose, and elastane, it comes with bespoke details such as buttons at the cuff and a silky striped lining. The notch lapel and chest pocket are also part of its highlights. The blazer is ideal for those who'd like to call attention to their waist, as it skims around the hips and provides a slim appearance.
Pros
 Felt under collar
 Silky striped lining
 Gold button front closure
 Functional buttons at cuffs
 Available in 2 colors
Cons
Price at the time of publication: $85
When looking for a smart blazer, this one from Tommy Hilfiger deserves a mention. It is crafted from a blend of materials like polyester, rayon, and ultra-stretchy spandex, feeling delicate and comfortable on the skin. The blazer is fully lined and adheres to the shape of your body without constricting you too much. It can be layered over a shirt for a formal look or over tops, dresses, and skirts for that classic cool vibe. The fabric isn't too heavy, so you don't look boxy or clunky and the blazer is ready for wear through 3 out of 4 seasons.
Pros
 Satin-lined
 Versatile blazer
 Available in multiple shades
 3 buttons on the sleeves
Cons
 Some might find it a little too long.
Price at the time of publication: $58.24
When looking for the most casual class of blazers for your everyday looks, definitely don't sleep on this one. It has a zebra-striped print design that catches the eye while streamlining your frame. Easy to team up with jeans or skirts, this notched lapel suit has the kind of versatile style that elevates pretty much anything you wear it with, whether it's for formal or casual occasions. It comes with a 2-button closure on the front and flap pockets on the side, making the blazer as convenient as it's comfortable. The designers recommend that you hand wash it with similar colors to maintain the fabric's appeal.
Pros
 Full lining
 Thick material
 Feels soft and comfy
 Ideal for casual wear
 Available in 5 colors
Cons
 Doesn't offer a lot of stretch
Price at the time of publication: $40.99
There's nothing more elegant than throwing on this pristine, gold-accented blazer over a pair of trousers or shorts and going about your day. Made with a soft, light fabric, it's especially a blessing for those who can't stand bulky, heavy suits. The contrasting button closures alone are enough to make however you decide to dress this up an unforgettable choice. If you'd like more than one of these in your closet, it's available in blue, brown, and grey among others, so you can match it up with every outfit. From casual to formal events, this double-breasted blazer is ready for anything in any season except winter.
Pros
 Incredibly comfy
 Breathable fabric
 Draped open front
 Has front side pockets
 Available in 8 colors
Cons
 The sleeves might be slightly loose for some.
Price at the time of publication: $34.98
Pros
 Smart design
 Full-button closure
 Versatile style
 Ideal for plus sizes
 2 front pockets
Cons
Price at the time of publication: $61.8
So, that was it for the 13 best women's blazers. Before heading to the purchase section, take a look at our buying guide that will tell you what to look for in the blazer of your choice.
How To Choose The Best Blazer
Before buying a blazer, make sure you like the fit. It should neither be too loose nor too tight. A tight blazer becomes uncomfortable after some time, whereas a loose one might get in the way of doing things. Hold out for the perfect fit that flaunts your figure and drapes comfortably over the shoulders and sleeves. However, if you're going for an oversized blazer, the fit needs to be more secure around the shoulders than anywhere else.
Take your body shape into consideration before getting your hands on a blazer. If you have a pear-shaped body, look for long blazers that cover your lower half well and balance your silhouette. In case you have an apple-shaped body, go for suits with thinner fabrics that glide beautifully and slim down the upper half. For those who have an inverted triangle shape, choose blazers that don't have shoulder pads. Hourglass silhouettes, on the other hand, can get away with pretty much any style and design.
A lot of blazer designs these days are blurring the lines between formal and casual wear, but it's still necessary to know what you are buying for. If you want something formal, classic colors that have decent patterns (nothing too crazy if you want to keep it timeless) will serve you well. If you want something fun, choose printed blazers in solid bright colors or geometric patterns, and don't be afraid to play around with button sizes.
What To Wear With A Blazer
You can put on a blazer on top of a shirt, classic blouse, or casual tank top. Blazers can even be worn on a full or half-sleeve sweater. For a professional look, go for a smart shirt or round-neck t-shirt.
Blazers and jeans are a match made in heaven, but you can take it up a notch and wear it with skirts and shorts, too. In terms of work-friendly attire, nothing tops a pencil skirt and blazer combo.
Swap out the usual top-denims-blazer routine with a summer dress and you have yourself an effortlessly attractive look that will boost your mood. To keep things formal, pair it with a pencil dress with strappy heels or platforms to complete the outfit.
Why Trust StyleCraze?
The author, Priyam Gupta, is a fashion enthusiast and loves keeping up with the latest trends. She has extensively researched a wide range of blazers for women to narrow down on the products listed above. This list has also been compiled, keeping in mind hundreds of reviews posted by the users online. These elegant-looking blazers are super stylish and durable and come in various attractive colors and designs.
Frequently Asked Questions
How is a blazer supposed to fit a woman?
Your blazer can fit comfortably over your shoulders but not too tightly. Your blazer's length should fall just above your hip bone.
Do women's blazers need to button?
Yes, mostly all the blazers have buttons to help them maintain correct clothing etiquette.
Can you wear a formal blazer?
Yes, blazers are a fashionable pick for both formal and informal occasions.
What type of fabric is used for blazers?
Blazers are made from a blend of rayon, polyester, and viscose.
Can we wear a blazer in summer?
Yes, you can wear cotton blazers in summer.
Is it OK to machine wash blazers?
No. Use only hand cleaning, and not machine washing to avoid fabric damage.
How often should blazers be washed?
You can clean blazers 2-3 times in a couple of months, depending on the usage and situations they are exposed to.
Vegan Leather Jackets To Make You Look Smoldering