13 Best Cashmere Sweaters For Women That Are Cozy – 2022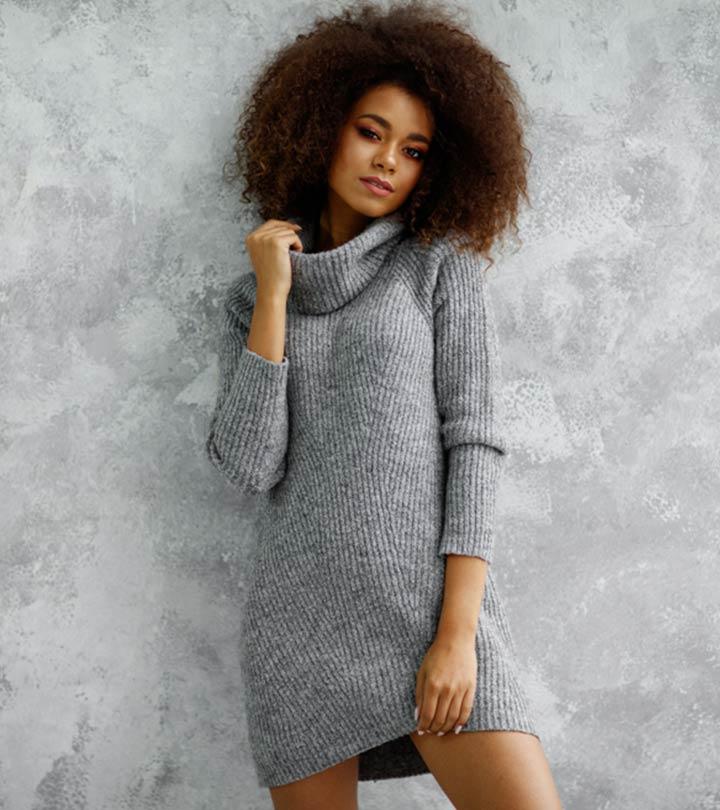 There is a reason why cashmere sweaters typically cost a pretty penny. The best women's cashmere sweaters have cozy knits and offer superior warmth and softness. They are available in different styles like crews, cardigans, and turtle necks. A classic cashmere sweater is endlessly versatile, and you can pair it well with jeans, leggings, skirts, and trousers. Their softness will offer you an extra dose of comfort. However, with so many fashion retailers and brands throwing around the '100% cashmere' label, it is quite hard to figure out where you can find the sweaters worth your hard-earned money. Check out our list of the coziest women's cashmere sweaters to weigh your best options. Scroll down!
13 Best Cashmere Sweaters
Oversized pullovers never looked this good! Liny Xin's cashmere pullover is a fusion of softness and style that is undeniably chic this time of the year. It is crafted from two-ply yarn to resist piling and assures exceptional quality and durability. Take your style game to the next level by stepping out in this pullover, for winters to come!
Features: 
Inner Mongolia 2-ply cashmere and wool blend
Oversized with threaded neck and cuff
Lightweight and super soft
Hand-wash in cold water
Available in multiple colors
Amazon Essentials doesn't disappoint when it comes to presenting beauty with simplicity. Pair this V-neck cashmere sweater with a white shirt or over jeggings, you're bound to get compliments at work. Its high-quality, lightweight fiber is easy to style, making it a winter staple.
Features: 
V-neck line cashmere sweater
Ribbed cuff, colors, and hem for a perfect fit
Machine wash
Available in multiple colors and patterns
We like big buttons, and we cannot lie! Ladies, take a break from the simplicity and go exclusive with this asymmetrical-designed pullover sweater with a cowl neck. The knitting design adds drama to the otherwise soft and supple texture. This cashmere winter wear can be styled on denim or skinny jeans to show off its fun and flirty tulip hem.
Features: 
Pullover sweater with cowl-turtleneck
Asymmetrical design with big buttons
Tulip hem with raglan style sleeves
Feel invincible in this exquisite batwing sleeve cashmere sweater this season. It embodies panache, flair, and beauty for a woman who likes to make a style statement wherever she goes. Made from 35% Wool, 15% Cashmere, 50% Acrylic, the batwing design adds an edge to this otherwise relaxed and loose V-neck sweater. Keeping it feminine, this long-lasting, warm cashmere sweater is the real deal!
Features:
Made from 35% Wool, 15% Cashmere, 50% Acrylic
Lightweight, soft and relaxed fit
Batwing-style sleeves sweater
Hand-wash only
Let this winter not be about layers and boring jackets. Amp up your style with the Batwing Sleeve Casual Cashmere Jumper by Ckikiou. An all-season jumper that keeps you warm, its fabric is flexible and smooth on the skin and is designed to offer a relaxed fit. The elastic band on the hem gives you the fit you desire and makes it an ideal sweater for those who want to brighten up a dull winter morning. Warm and incredibly soft, you'll barely feel this exquisite cashmere knitwear on you.
Features:
The sweater has a pull-on closure
Made from a classic mix of cashmere, cotton, and polyester
Stretchable and soft fabric
High quality cashmere
Unique elastic hem
If you like long and loose winter wear, then this is the one for you! Sweeten up your winter experience with Ilishop Women's Winter Cashmere Poncho Sweater. A design that spells boho-chic like no other, you can pair it with any of your casual outfits for the day. Whether you are traveling, having a day at the beach, or heading to the mall to shop, this oversized poncho is precisely what you need. And the surprise element, it's a reversible poncho making it a complete package of style, comfort, and elegance.
Features:
Cozy, light, and easy-to-wear fit
Reversible poncho
Not suitable for machine wash
Ideal for traveling, beach, and long journeys
Available in a wide range of colors
Nothing spells chic better than a turtleneck sweater. Hailed as the 'LBD' of the sweater world, this sweater spruces up your #OOTN instantly. Whether you pair it with a blazer or an overcoat, this sweater is sure to keep you warm and toasty. Machine-wash friendly, this sweater is a real steal!
Features:
Comfortable, soft, and durable
Machine wash
Available in several colors
Recommended for formal and casual occasions
Designed to give you the perfect fit, Knittons Women's Soft Merino Wool Crewneck Sweater is sure to steal the show. It is made of a single thread without any knots that ensures that you never find any holes in it. Made from 100% merino wool, the comfortable sweater stretches well, doesn't wrinkle, and perfectly hugs your body, giving you the most desired fit. You can pair it with jeans, a blazer, or an overcoat and wear it to work, brunch, or an evening party and watch as you make heads turn.
Features:
100% merino wool
No wrinkling
Hand wash only
If elegant and simple suits your fashion taste, then you ought to give this beauty a try. Made by Jennie Liu, this cashmere sweater is soft, cozy, has a relaxed fit and can be worn on its own or paired with a shirt, blazer or an overcoat. Crafted from the world's finest cashmere, it assures superior quality and long-lasting performance. A wardrobe staple for the fashionista in you, this crewneck cashmere sweater is everything that a woman could ask for in her 2022 winter collection. 
Features:
World finest 100% imported cashmere
Soft and lightweight fabric
Suitable for hand wash only
Available in multiple colors
Knitted with care and inspired by the classic crewneck cashmere sweater, this one is a blessing in disguise. Lark & Ro's cashmere sweaters are crafted to provide comfort yet look stylish at the same time. This fine knitwear has a soft and silky texture that you are bound to love. Ribbed collar and a side slit at the hem, this sweater will get you #instaready this winter!
Features: 
100% cashmere
Soft texture
Side slits at hem and ribbed collar
Hand-wash in cold water only
Ultra-soft, cozy, and made from 100% imported Mongolian cashmere, this turtleneck by Jennie Liu screams premium in every thread of the fabric. A product of superior quality, comfort, warmth, and elegance, it is widely known to have delivered the highest pilling performance of its class. Despite having ribbed collars, cuff, and hem, not once does it feel bulky! Rather the easy-cut and layers make it a perfect pair with jeggings, skinny jeans, and even shorts. With a flawless fit-to-body design, this sweater is an undeniable choice this winter.
Features: 
100% Mongolian cashmere
Recommended for all seasons
Hand-wash only
Fit-to-body design
Don't let all those diets go waste by hiding that waist under layers! This winter flaunt that bod with Lark & Ro's V-neck Pullover Cashmere Sweater. With a fit that does not disappoint coupled with ribbed cuffs and neckline, this sweater is a great pick. 100% imported cashmere; this knitwear has a soft and silky texture that offers a comfortable and cozy fit. And to top it all, it is available in a wide range of colors and patterns.
Features: 
100% imported cashmere
Form-fitting sweater
Not suitable for machine wash
Keeping it classic always works. State Cashmere Essential Crewneck Sweater is crafted to offer a comfortable fit and look chic at the same time. Wear it over your favorite shirt for a formal look or over your denims for a casual look. 100% pure, sustainable, and hypoallergenic cashmere, you'll love the feel of this sweater on your skin. Ribbed at the cuff, collar, and hem, this crewneck pullover is feminine elegance at its best!
Features: 
100% pure, sustainable and hypoallergenic cashmere
2-ply densely knitted yarn
Available in multiple colors
And with this, we declare that cashmere season is officially upon us! Wear it, style it, flaunt it, and enjoy the classic blend of comfort and chic that this season has to offer. We hope our list of the 13 finest cashmere sweaters, cardigans, and turtlenecks in the market today makes the whole shopping experience easier for you.
If we have missed out on any of your favorite brands, or if you have a query or feedback, do write to us in the comments below!
Why Trust StyleCraze?
The author of this article, Chaitra Krishnan, is a fashion enthusiast and loves to try different fashion stuff. She browsed different online platforms to conduct in-depth research about the product quality and read hundreds of customer reviews to curate this list of the best cashmere sweaters for women. The shortlisted sweaters are super soft and warm, machine washable, and comfortable.
Recommended Articles