11 Best Women's Cycling Pants In 2020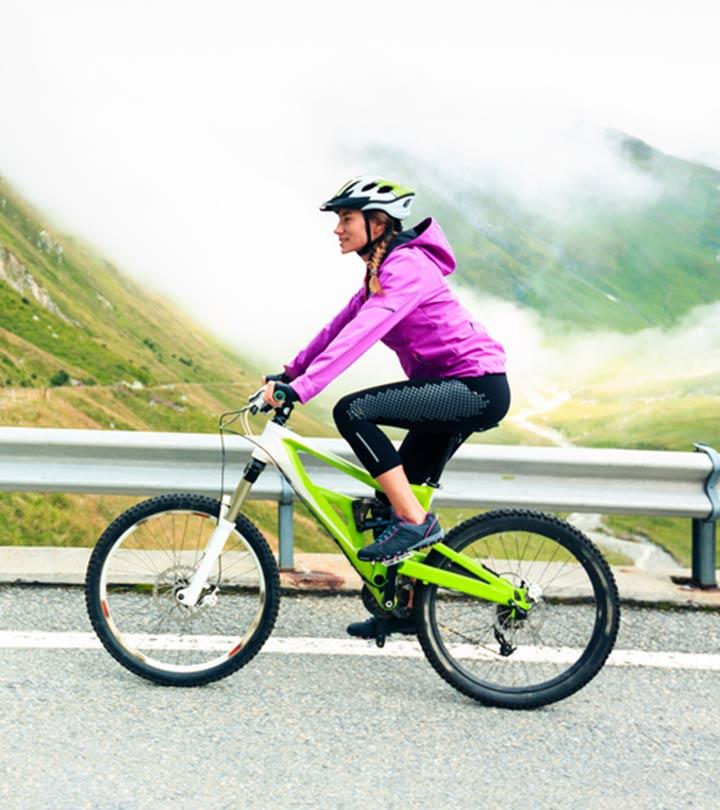 Leggings have replaced our go-to pair of favorite jeans or that singular pair of black formal black pants, as we spend more and more time at home. A good pair of leggings are comfortable enough for all-day wear while looking great for that casual grocery run. Some leggings are specially designed for specific types of workouts such as cycling, yoga, and hiking. Cycling is an excellent way of working out and getting out of the house from some fresh air. It is a great activity to build your stamina and tone your legs.
Cycling pants are specialized pants, which look similar to leggings but offer extra padding in strategic areas and unique design attributes to aid your cycling journeys. Cycling pants provide basic protection against the elements such as heat and cold. The best cycling women's pants are stretchable and offer a tight yet comfortable fit. They are an ideal choice for intense workouts as they are quick-drying. If you're on the lookout for the best women's cycling pants, take a look at these 11 options.
11 Best Women's Cycling Pants You Should Get Your Hand On!
Cycling pants and pants for women generally come in attractive designs and are aesthetically more appealing than men's pants. However, they often lack sizable pockets. Iuga's women's cycling pants come with 2 large pockets and a hidden inner pocket. The pants feel soft to the touch and provide incredible comfort to the wearer. These high-waist pants are designed with a 4-way stretch technology, which offers gentle compression when cycling. It also lends your body a toned, contoured, and fit look. The pants come with a Gusset crotch, which supports free movement and interlocks seams to minimize rubbing and chafing.
Pros
High-waist
Non-see through fabric
Gusset crotch
4-way stretch technology
Cons
It may not be ideal for the summer.
Cycling is a fantastic exercise for the entire body. Besides toning legs, it also helps in toning the hips. 4ucycling women's pants come with a 3D padded cushion in the hips and a wide elastic waistband, which protects the hip bone from injuries caused by long periods of cycling or accidents. The pants are made of premium quality 82% nylon and 18% spandex, which gives them high-elasticity and quick-drying properties. These cycling pants are purpose-built and made of a comfortable, breathable fabric, which aids your workouts.
Pros
3D padding
Quick-drying
Stretchable
Breathable
Cons
Some may feel that the padding is too thick.
Gayhay's high-waisted pants are made of 92% polyester and 8% spandex, making it stretchable and ideal for basic yoga stances or intense workouts. The pants are stylish and can be used for several occasions, such as casual wear, workout wear, and even as work wear when paired with a fitted top and a blazer. They offer immense stretchability with 4-way stretchable fabric. It feels soft to the touch and is made of non-see-through materials.
Pros
Quick-drying
Moisture-wicking
Anti-pilling
Anti-microbial
Cons
Some customers found the fabric thinner than expected.
The Highdays yoga pants are a non see-through, breathable, 4-way stretchable, form-fitting, and comes with 2 pockets. The fabric is highly-stretchable, providing unparalleled comfort for casual use. The yoga pants are high-waisted and cover the hips for a well-toned look. The pants come with a gusseted crotch, which reduces chafing, and it also passes the squat test.
Pros
4-way stretchable
High-waisted
Gusseted crotch
Available in many sizes
Cons
Some customers found the stitching to be unsatisfactory.
Baleaf is a well-known brand in the fitness world for a reason. Their products are made from high-quality materials, and deliver on their promise of excellent, durable athleisure wear. The Baleaf women's cycling pants is among the best women's cycling pants in the market. They are made of 80% nylon, 20% spandex, and provide UPF 50+ sun protection. It comes with a comfortable 3D gel padding, which reduces the effects of vibrations on long rides.
Pros
UPF50+ sun protection
Features pockets
3D gel padding
Reflective elements
Cons
Some customers found the larger sizes slightly uncomfortable.
Baleaf cycling pants are a great addition to all your winter cycling journeys. Its soft thermal fleece provides lasting warmth and comfort through the cold. They come with microfleece lining on the reverse side, which protects your legs against winds and light rains. The pants come with a back pocket secured with a zipper and reflective elements. The reflective elements provide increased visibility, which is useful for dark, foggy days.
Pros
Stretchable
Soft
Pockets with a zipper
Thermal fleece provides heat insulation
Cons
It may not be ideal for summer.
Capri pants are a great style statement. They are trendy and a great alternative to shorts in the warm weather. Since they end around the mid-calf, they are also good workout wear. Highdays Capri Yoga Pants are among the comfiest breathable pants for yoga, cycling, and other forms of exercise. These high-waist pants come with 2 side pockets, and a hidden waistband inner pocket for daily use. These capris are stretchable and non-see-through, making it ideal for all your summer cycling adventures.
Pros
High-waist
Squat test passed
Moisture-wicking
4-way stretch
Cons
Some customers found the fabric too thin and not suitable for long-term use.
Spoear Women's Cycling Pants are made of moisture-wicking fabric, which keeps sweat away from the body and keeps you dry. The 3D gel-padding cushion used in the pants are breathable, soft, and keep your inner thighs and hips cool. It also reduces the effects of vibrations while cycling and provides adequate air circulation. The cycling pants come with multiple reflective elements for visibility. It has reflectors on ankle zippers and back waist, which is useful during long night time cycle rides.
Pros
Back zip pocket
Leg zipper
Silicone gripper on the ankles
Drawstring waistline
Flatlock seams
Cons
Some found the padding inside the pants slightly bulky.
These cycling pants come with 4D sponge cushions with high-density foam to protect the buttocks and reduce the strain incurred while biking. They are made from a mix of 80% nylon and 20% spandex, which provide immense flexibility and quick-drying qualities. The cycling pants have a unique design with reflective strips, which aids night-time riding visibility. They are comfortable for long-term wear as it comes with a breathable mesh and an elastic waistband.
Pros
Multidirectional stretch
Coolmax moisture padded cushion
Zippers on the ankles
Available in other colors
Cons
Tofern Women's Winter Pants are lined with a thick 330 g polar fleece, which provides sufficient warmth and comfort for temperatures as low as -10°C – 14°F. The pant's outer layers are made from 94% polyester and 6% spandex and features a thermoplastic polyurethane (TPU) membrane, which gives it resistance to abrasion and enhanced elasticity. It comes with an elastic waistband and a webbing belt, making it easy to wear and adjust the tightness.
Pros
Scratch-resistant
Moisture-wicking
Windproof
Waterproof upto 1000mm
Cons
Not available in too many colors.
Ending the list with one of the best, if not THE best cycling women's cycling pants is the Belle Roy Women's Cycling Capri Pants. Capri pants are trendy pants perfect for the summer and outdoor activities like hiking and cycling. They are made from a breathable, quick-dry fabric, which wicks away moisture and keeps you dry. It comes with a mesh panel design to aid in cooling and flexibility. The cycling pants have silicone gel pads, which protect your hip bone from injuries.
Pros
Zipper pocket in the waistband
Reflective strips
Leg zippers
Silicone gel pads in the waist
Quick-drying fabric
Cons
The waistband tends to fold on the inside.
Now that we have seen the 11 best women's cycling pants, here are a few crucial things to keep in mind before buying one.
How To Choose The Best Cycling Pants
Although cycling is a strenuous activity, buying a good pair of cycling pants shouldn't be one. Here are a few factors to consider before purchasing a pair of cycling pants:
Cycling involves a lot of movement, and finding the correct size and fit is crucial. Some brands offer limited size variations, while others offer sizes from XS to XXXL. Measure your waist and inseams for an accurate measurement. Do check the label and descriptions to see if the pants you're buying run smaller or bigger than expected. If you like a comfortable fit, pick one size larger.
Style is subjective, so select the colors you like the most. Some prefer their athleisure wear to be discrete and muted, while others prefer their workout wear to be bright and eye-catching. For the wee hours, it is essential to buy pants with reflective strips for increased visibility. A well-styled neutral cycling pant can also be used as casual wear and workwear if needed.
Stretchability and the pant's length are important factors to keep in mind when buying cycling pants. Good stretchability and padding can reduce exhaustion while cycling long distances. Breathable fabric and quick-drying fabrics ensure that sweat does not cause irritation, and comfort is maintained throughout the ride.
The presence of pockets is always a welcome addition in women's cycling pants. It increases the utility and makes life easier with access to convenient storage.
Women's cycling pants have come a long way in offering the perfect balance of fit and function. There are as many options to choose from as there are features. The increase in acceptability of athleisure in work has made cycling pants an ideal choice for every woman's wardrobe. The 11 best women's cycling pants on the list are excellent options for anyone looking to buy high-quality cycling pants.
Expert's Answers For Readers' Questions
What does a beginner cyclist need?
Important things any beginner cyclist need are a good cycle, great safety gear for protection, and fitting workout clothes, including cycling pants for a great biking experience.
Do padded cycling shorts make a difference?
Yes, they do. They prevent chafing on the inner thigh area, protect the hip, and reduce the amount of wear or injury caused by spending a long time on the cycles.