10 Best Women's Cycling Underwear Of 2023 (With Reviews)
Comfortable and moisture-wicking underwear made with lightweight, breathable fabrics.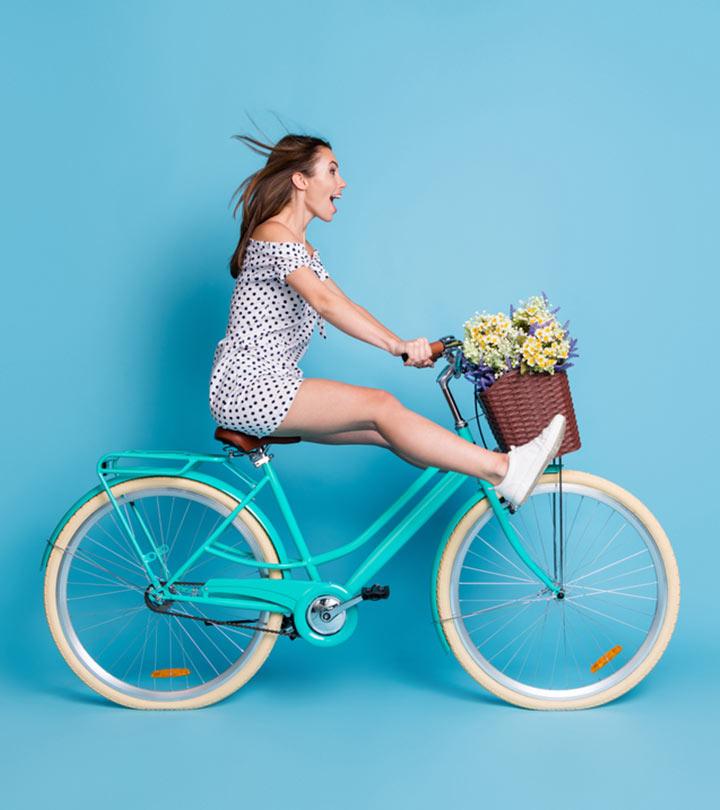 You might have noticed that cycling for long periods can sometimes lead to some pain or simply cause sweat to wreak havoc in and between your thighs. So instead of running your favorite undies, invest in the best women's cycling underwear to make it easy for you to ride longer distances comfortably without any underwear obstructions or discomfort. These underwear come with 3D padding filled with foam to keep your private areas protected while also wicking moisture to ensure you stay sweatproof. Made from breathable, lightweight materials, they also ensure that friction and chafing are kept at bay so you can conquer any terrain. If you are new to the cycling game and want to perfect your routine, you are at the right place. For your convenience, we've listed out the best women's cycling underwear you need to own for a comfortable ride. Just skim through this article, and we're sure you'll find the perfect pair within no time!
10 Best Women's Cycling Underwear That Are Super Flexible
The Eco-Daily Cycling Shorts are built to relieve you from discomfort, irritation, and saddle sores while riding your bike. These shorts are made from a high-performance fabric, such as polyester and spandex fabric blend, which prevents abrasion while pedaling. Enhanced with anti-slip silicone leg grippers, the shorts move in sync with your body while staying secure at the seams. The material used for construction is stretchable, breathable, and moisture-wicking, which means you'll feel dry throughout extended trips. There's a 4D cushion pad in the biking underwear shorts that shields the skin, making your journeys comfy all the way.
Pros
Innovative stitch
Flat-seam design
Minimizes chafing
Non-slip grip
High-density padding
Ergonomic fit
Comes in 8 bright colors
Cons
Price at the time of publication: $39.99
Designed from nylon and spandex, this 3D-padded bicycle underwear is one of a kind. The material is incredibly breathable, which helps dry sweat and prevents irritation from building up down there. The bike briefs will shield your thighs and butt from chafes and pain. You can wear them through every season under leggings, tights, skirts, or baggy shorts without feeling weighed down or bulked up. Despite being heavily padded, this cycling underwear feels lightweight and becomes an indispensable part of your gear for a seamless riding experience.
Pros
Super-light
Skin-friendly
3D ergonomic surface
Comfortable flat seams
Available in 9 colors
Cons
Might slightly pinch when worn for more than a few hours
Price at the time of publication: $21.99
These are specially designed to keep you comfortable on long-distance trips. The construction is such that they perfectly support the pelvic region and keep hip fatigue at bay to keep you race-ready at all times. The 3D pads contain foam that cushions the saddle region, also known as the sit bone, thus easing your spins and providing relief from any kind of pressure on the rear area. The material is a blend of polyester, lycra, polyamide, and spandex, which is as soft and stretchable as it sounds. They have a low-profile design, hence you can pop them on underneath shorts, pants, or skirts and enjoy the freedom of seamless, pain-free movement.
Pros
Lightweight
Soft material
Seamless design
Breathable material
Shock absorbing
Available in 16 colors
Cons
Some may find the padding too large.
Price at the time of publication: $19.99
When all you need is a pair of well-fitting underwear that dries quickly, try these lightweight and strategically padded cycling shorts. The brushed microfiber feels super-soft and amazing against the skin, maximizing comfort and breathability, while the built-in spandex contributes immense elasticity for sizes up to 3XL. Designed to eliminate chafing and wick moisture, you can wear these shorts for hours on end without feeling gross or sweaty. As they are infused with powerful antibacterial properties, you will remain fresh and odor-free along the way.
Pros
Thick padding
Quick-drying
Odor-resistant
Ergonomic design
Fabric retains shape
3D moisture management
Available in 30 colors
Cons
Size might run small for some
Price at the time of publication: $29.99
These bicycle undershorts are a true blend of breathable fabric and ergonomic design. They are engineered with 3D padding that acts as a cushion for the lower body, a flat surface that makes the saddle feel more stable, and anti-chafing properties that reduce friction between your body and the bike. The fast-wicking fabric keeps the pelvic area dry. Women who like a slimmer silhouette will totally love these bike shorts as they come with a 4-way stretch and provide an amazing anatomical fit. There's a 2-inch elastic non-binding waistband that gives you a certain amount of tummy control without feeling too restricting.
Pros
3-inch inseam
Anti-slip leg grippers
Light and sustainable fabric
Doesn't roll down
Supports your movements
Available in 2 and 3-packs
Cons
Waistband might feel slightly low for some
Price at the time of publication: $11.68
An ergonomic design, streamlined look, and comfy feel are the basics of these premium-quality bicycling shorts from Nicewin. Made from chintz fabric, which has quite an interesting history, the shorts have a modern, minimalistic charm that we can't help but love. The 3D gel padding is firmly embedded on the undercarriage to provide optimum comfort, reduce irritation, and alleviate greasiness caused by sweat. It's butterfly-shaped to ensure that the lower part of your hip bone and buttocks are nice and cushioned, which takes the pressure off your back and gives you a smooth ride all the way. If you're worried about cameltoes or slippage while you're in the middle of riding your bike, the silicone leg grips keep these shorts well in place.
Pros
Prevents chafing
4- way stretch
Cushioning barrier
Anti-slip design
Reinforced stitching
Available in 4 colors
Cons
Price at the time of publication: $20.49
If you prefer a boxer-type knicker over high-cut underwear, these shorts are an excellent choice in the category. The polyester and spandex material increases the flexibility of the underwear and makes it feel smooth, lightweight, and breathable. Packed with an ergonomic pro-tech pad, the undies are ideal for containing the sweat, discomfort, and soreness associated with long-distance bike rides. The high-density foam in the padding considerably cushions impact, feeling soft, comfy, and non-irritating. You can wear these versatile shorts for hikes, runs, or even horse rides and pair them with skirts, pants, or shorts.
Pros
Flexible material
Comfortable fit
Absorbs impact
Saddle support
Hip and back support
Wide elastic waistband
Moisture-wicking fabric
Cons
Price at the time of publication: $14.99
This pair of mountain bike shorts can shield you against saddle sores and chafed thighs while fitting like a dream around the waist and legs. Ideal for spin classes and turbulent rides that can quickly turn uncomfortable and downright painful without proper support, these shorts are innovative in both design and function. There's an elastic closure that molds them to your shape and keeps them comfortably tucked throughout the ride. The polyester-spandex-nylon blend of the fabric makes them smooth to touch, while the 3D pad protection refuses to let friction or discomfort get in the way of playtime.
Pros
Slim fit design
Quick-dry fabric
High resilience
Non-seam stitching
Also comes in 2-packs
Available in 13 colors
Cons
Some may find the waistband a little snug.
Price at the time of publication: $12.99
If you are a cyclist on the hunt for pedal-proof undershorts that promote leisurely rides, you'll absolutely love this pair from Cycwear. It's made from nylon and spandex, providing a breathable foundation that stretches to fit your curves just right and keeps you free from sweat and discomfort. The underwear is specially designed for high-impact activities like cycling, riding, and trekking as it supports your bones and guards sensitive areas. An ultra-durable silicone sponge reduces the impact of shock and lets you perform to the best of your abilities.
Pros
Thick 4D padding
Quick-dry fabric
4-way stretch spandex material
Soft, supportive design
Moisture-wicking
Available in 6 colors
Cons
You might have to size up.
Price at the time of publication: $13.99
These figure-hugging boyshorts scream comfort and style without making a sound. Infused with a 4D tech pad, they protect your hip bones against injuries and offer immense relief from pain and sores around sensitive areas. The polyester padding is quite remarkable when it comes to comforting your tush. It also lets the skin breathe and is quick to absorb excess moisture, making the shorts ideal for those who have a tough time dealing with sweat accumulation. Protecting your sit bones are cutaway areas in the padding that reduce friction and give your hips all the support they need.
Pros
Skin-friendly fabric
Sweat-releasing
Flatlock seams
Reduces skin irritation
Multi-thickness density foam
Available in 4 colors
Cons
Some might not like the design.
Price at the time of publication: $7.99
Whatever your specifications or aesthetic, this roundup of the best women's cycling underwear has a pair for every cyclist, spin instructor, and athlete. Before deciding which one to get, check out our buying guide for all the factors you need to consider.
How To Choose The Right Cycling Undershorts
The material of your underwear for cycling is key for maximum comfort and durability. A good-quality pair is stretchable, feels lightweight, and offers a lot of breathing room for ventilation to the skin despite having a firm, secure fit. Synthetics like polyester and nylon blended with spandex are superb at wicking away moisture, so you can go for long rides without worrying about the discomfort caused by sweat accumulation.
Underwear or shorts that keep riding up time and again are a huge no-no, especially when the activity involves your hips and thighs. It's imperative that you opt for a pair that comes with leg grippers that sit snug against the legs and waist without cutting off airflow.
Without the right padding, bicycle shorts can be quite redundant. Look for a thick cushion on the underside that doesn't just absorb the shocks of a bumpy ride but also makes you feel comfy for long durations. Bonus points if it comes with moisture-wicking abilities to complement the fabric and keep you dry everywhere.
To make sure the underwear stays in place and fits snug, you need a wide elastic waistband that's neither too tight nor too loose. Check the sizing chart and manufacturer's instructions in case a specific pair runs small or large so that you can get the right one.
How To Wear Cycling Shorts
Step 1: Choose the cycling underwear as per your need.
Step 2: Check the fit. The underwear has to sit perfectly well and mold itself to your shape.
Step 3: Before putting it on, apply a generous amount of chamois cream on vulnerable areas such as the buttocks, thighs, and waist to prevent irritation or rashes.
Step 4: Pop them on! Padded shorts are meant to feel like a second skin, so you don't have to wear regular undies underneath. However, if you feel more comfortable and supported that way, go for it.
Why Trust StyleCraze?
The author, Priyam Gupta, is a fashion enthusiast. After thorough research, she provided a detailed list of the best cycling underwear for women. She went through numerous reviews and feedback on multiple forums and brand websites to help you pick the perfect underwear. The products listed in this post come with 3D padding filled with foam to keep your private areas protected and sweat-proof.
Frequently Asked Questions
Why do you need padded shorts for cycling?
Padded shorts make the hard surface of your bicycle seat more comfortable by cushioning your sit bones and buttocks. They also prevent chafing, reduce road pressure, and ensure pain-free rides.
Does padded underwear work for cycling?
Yes, padded underwear works great and shields you against the impact of bumpy rides on your bones and skin. You can wear it under shorts, pants, or skirts and never worry about chafing or sweat-related discomfort again.
Do I really need to wear underwear when I ride?
Yes. Wear padded underwear to ride the bike comfortably. The underwear protects your private part from harsh abrasions and also wicks away excess sweat.
What type of underwear is the best for cycling?
Lightweight, seamless underwear that offers moisture-wicking properties is the best for cycling.
What is the difference between cycling shorts and cycling underwear?
Cycling shorts are skin-fitted clothing that offers you momentum, comfort, and protection. They feature cushion pads and are aerodynamic. On the other hand, cycling underwear feature sweat-wicking pads that provide coverage only to your private parts. They feature soft and comfy fabrics that protect your delicate skin from constant friction.
Do you wear underwear under cycling pants?
No. Cycling pants come with cushion pads that offer optimum protection to your private parts. They also absorb excess sweat and are skin-friendly. Do not wear underwear underneath the pants to prevent feeling hot. However, if you cycle wearing a regular short or a trouser, wear cycling underwear to protect your skin from constant friction.
Are gel cycling shorts better?
Yes. Gel cycling shorts feel firmer and lighter than foam ones. But, foam shorts compress easily unlike gel shorts.
What type of padding is the best for cycling shorts?
High-quality chamois padding is the best for cycling shorts. It reduces impact, disperses road vibration, and prevents excessive chafing. Chamois are long-lasting as well.
How tight should women's cycling underwear be?
Women's cycling underwear should be tight enough to reduce the chances of abrasion, but the fabric must not tug against the skin.
What should you not wear when cycling?
Do not wear pants with extremely tight waistbands, as they may restrict your movements. In addition, avoid too tight or loose outfits to allow easy hand and leg movements.
Recommended Articles