13 Best Women's Golf Pants To Try In 2022 (With Reviews)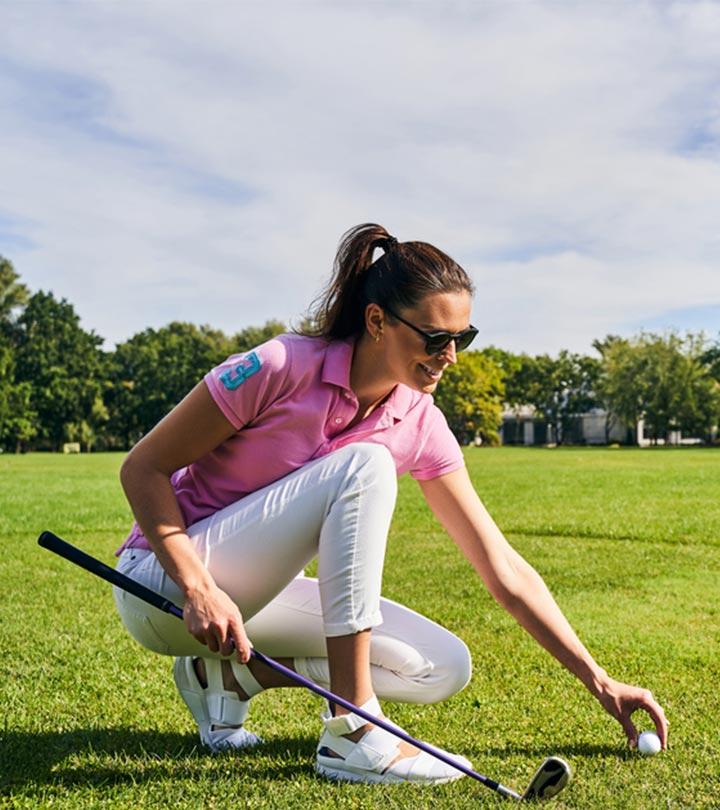 Ladies, if you are a golf enthusiast planning to get back to the course soon, you must invest in the best women's golf pants. These pants ensure that you stay comfortable while hitting some aces and getting back in action. We understand how excited you are to get back to your game with the world slowly reopening and outdoor sports gaining back their traction.
These women's golf pants are made of material thinner than your regular pants. They feature more cuffs and pleat more easily than your everyday pants. They also offer extra space for freedom of movement so that you can swing that club without any restrictions. These pants offer fantastic athletic fits and lend a formal silhouette to your form. So, get yourself a few of these pairs to practice in comfort while staying stylish. In this article, we have listed the top 13 women's golf pants from brands that have been tried and tested by players all around the world. These will elevate not only your sportswoman spirit but also your style quotient. Read on and choose your pick.
13 Best Women's Golf Pants To Upgrade Your Game For 2022
Scouring the malls for plus-size women's golf pants? Look no further! Made with a blend of viscose, nylon, and elastane, these women's golf pants offer unparalleled style and comfort. Featuring a built-in moisture-wicking technology in the fabric, the pants are meant to keep you cool and dry on hot days when excessive sweat is inevitable. The best part about these golf pants for ladies is that they provide the ultimate sun protection by preventing harmful UV rays from penetrating into the fabric, thus shielding your skin from burns and pigmentation. From swinging to bending, the pants will help you nail your game with panache like never before.
Pros
4 color options
Pull-on closure
Machine washable
Tummy control fit
Stretchable
3 functional pockets
Cons
Do you have a penchant for quirky prints like gingham, or perhaps for playful polka dots? These women's patterned golf pants are made for you. Featuring a mix of polyester and spandex, the pants have a high-stretch 4-way spandex construction that keeps you comfortable and at ease throughout the game. Here's what makes the waterproof women's golf pants different from the rest — multiple functional pockets! With 2 deep side pockets for golf balls, 2 back pockets with button closures, and 1 front coin pocket, these are ideal if you tend to carry a lot of things with you.
Pros
Dries quickly
Moisture-wicking fabric
UV protective technology
Lightweight and breathable
Durable zipper closures
SwingFlex ultra-stretch fabric
Cons
Like to keep it short and breezy? Trust this pair of capri-length and comfortable women's golf pants to help you sail through a game with ease. Crafted with rayon, nylon, and elastane, the IZOD Women's Golf Capri Pants feature a super-stretchable fabric that allows you ample room for movement. With a streamlined fit that is designed to give you a straight silhouette, these cool women's golf pants sure do have a flattering front style. And if you're terrified of sun damage, fret not because these pants also have a built-in UPF 15+ for sun protection. From black, navy, and pristine white to peppy prints in golden, take your pick to channel the quintessential summer vibe.
Pros
SwingFlex technology
Hook and bar closure
4 deep pockets
Machine washable
Comfortable fabric
Keeps you cool and dry
Cons
Material might be slightly thin
Whether you're heading to the tennis court, going for a round of golf, or spending time at home, the PGA TOUR Capri Golf Pants have got your back in all situations. Featuring a comfortable waistband that doesn't restrict your movements and a moisture-wicking fabric that keeps you dry, these women's golf pants transition from day to night seamlessly. With UPF 50 sun protection that safeguards your skin from the dangerous rays of the sun, these golf pants for women should be your go-to choice for an OOTD that is comfy, easygoing, and fashionable. Pair your favorite black or white pair with a golf polo for a classic, high-end look.
Pros
2 color options
Zipper closure
Machine washable
Cool and dry fit
Moisture-wicking fabric
Cons
Might not be true to size
Baggy pants are on the fashion memo this season, and these straight-leg women's golf pants will help you hop on the trend effortlessly. Made with a blend of nylon and spandex, the Willit Women's Golf Travel Pants have an ultra-stretch fabric and a wide waistband, which helps you stay comfortable all day long. If you have sensitive skin that tends to react to abrasion, these pants will be your ultimate companion because of the flatlock stitching that reduces chafing while providing second-skin softness. From golf and jogging to traveling and lounging at home, trust the pants to fit easily into every major or minor life event.
Pros
Multiple color options
Drawstring closure
Lightweight fabric
Wrinkle-free
Moisture-wicking material
Deep pockets
Cons
Might be slightly short for some
Do you love slim-fit women's golf pants that make you look defined and uber-chic? The Lesmart Women's Golf Pants have a flat front and straight-leg fit, which accentuates your silhouette. Made with a polyester and spandex blend, the trendy women's golf pants have a high-stretch 4-way spandex construction to enhance comfort and keep you dry. As an aficionado of quirky designs, these women's golf pants will fill your sartorial void with a range of patterns and prints.
Pros
Button closure
5 color options
Comfortable
Waterproof
Lightweight fabric
5 pockets
Cons
Might not have a lot of stretch
The whole purpose of wearing women's golf pants is that they combine formalwear with a sporty aesthetic. Striking that balance perfectly, these Adidas women's golf pants embody everything we love about this pant style. Made with premium materials and specifically designed for easy movement, the pants provide an unparalleled amount of comfort and support on and off the golf course. Available in both vibrant and dusky colors, they feature a power mesh waistband along with enough pockets to carry a ball marker or anything you would need for a round of golf. The straight-leg fit of these pants over the hips and thighs is guaranteed to amp up your style as well as confidence.
Pros
Multiple color options
Pull-on closure
Defines the figure
Comfortable
Multiple pockets
Cons
Fabric might be slightly thin
While the name of these pants may point you in a different direction, they are actually one of the best women's golf pants. Made from polyester and spandex, these daily sports women's golf pants feature a 4-way stretch fabric for enhanced ease of movement and flexibility for the game. They also come with a UPF 50+ coating, which protects your skin from sun damage and the adverse effects of the UVA or UVB rays. The elastic waistband and zip fly with hook closure come together to lend you a customizable fit. If you love pockets, these pants will hit all the sweet spots on your fashion list. Think 2 front regular hand pockets, 1 flap cargo pocket on the right leg, 1 zipper cargo pocket on the left leg, and 2 velcro flap pockets on the back. Phew!
Pros
7 color options
Waterproof
Lightweight material
Moisture-wicking
Breathable fabric
6 functional pockets
Cons
Might be slightly tight in the hips for some
No matter how much you love tapered silhouettes, nothing beats the look of skinny pants. This pair of trendy women's golf pants from Fitous has a classic straight fit with a 7-inch zipper on the calf, which makes it super easy to wear and remove. Not only are they spacious and convenient but they also make you look elegant on the course. With 5 pockets to hold your valuables — 2 pockets with a non-slip strip, 1 zipper pocket on the side, and 2 side slant pockets — you won't need a caddy ever again.
Pros
3 classic colors
Wrinkle-free material
Breathable and lightweight
Moisture-wicking fabric
UPF50 sun protection
Button-end closures
Cons
From women's khaki golf pants to other bright colors like lake blue, peach bud, ink blue, and more, these bottoms should be your go-to if you're dreaming of summer and golf. Featuring a stretchable blend of polyester and spandex, they come with Air Hole Technology, which helps absorb sweat and keep you cool throughout the game. Whether you enjoy hiking, golfing, traveling, or lounging at home, these women's petite golf pants promise top-notch comfort and freedom of movement in all activities. And here's the best part: the elastic waistband with a belt loop allows a personalized fit that feels like the pants were made for you.
Pros
3 pockets for storage
Machine washable
Button-end closure
UPF50 sun protection
4-way stretch
Breathable material
Cons
You might have to size down
On the hunt for the best women's golf pants that effortlessly combine aesthetic with high utility? Count on these capri pants to up the ante. Available in neutral colors like grey, black, and fossil, these pants boast a 4-way stretch fabric that allows ultimate mobility and comfort for active days and restful nights. Made from polyester and spandex, these golf pants for women have built-in UPF50 sun protection to protect your skin and a quick-drying material to keep you cool. Are you scared of dirt or perhaps tiny bugs that might disrupt your game? Not anymore. Their adjustable cord locks around the cuffs are designed to defend you against pests and discourage flaps from pulling your focus away.
Pros
Smooth zipper closure
Breathable and lightweight
Moisture-wicking material
4 zipper pockets
Comfortable all day
Ideal for all seasons
Cons
Fabric might roll slightly in the back
Who doesn't harbor a love for tall women's golf pants that are classy, comfortable, and high on performance? If you're looking to add a pair of long and high-waisted golf pants to your closet, make way for the PUMA 2022 Women's Golf Pants. Available in color options like pristine white, peacoat, and black, this recreational sports garment is guaranteed to accentuate your silhouette and confidence on the course. These women's fitted golf pants have a traditional pant structure with a fabric that will keep you comfortable and warm throughout the day without overheating so that you can have all the fun without any of the hassles.
Pros
3 color options
Stylish and trendy
Comfortable
Seamless fit
Cons
Might be slightly roomy at the hips
Want to jump on the split hem pants-wagon? Turn to these pants from BALEAF, which have been crafted with nylon and spandex for long-term wear on and off the golf course. Featuring a 4-way stretch woven fabric, these women's golf pants provide comfort and movement with zero restriction. Take your pick from a myriad colors like light grey, dark blue, black, khaki, and steel grey for a subtle yet stylish look. The waterproof women's golf pants allow enhanced airflow to keep you cool and dry while lending you a sleek silhouette. With 5 pockets to store all of your belongings and convenient zipper closures, these bottoms are a hole-in-one investment.
Pros
Waterproof
Lightweight
Machine washable
Sun protection
Wicks away sweat
Elastic waistband on back
Cons
Might be slightly baggy for some
Now that you have the ultimate roster of the best women's golf pants, there are certain things you should keep in mind before making a purchase. Our elaborate buying guide will help you narrow down on a pair that's right for you and your needs.
How To Choose The Best Golf Pants For Women
When buying women's golf pants, make sure the pants have enough room for movement and effortless mobility with no restriction. This feature will enable you to swing the golf club or walk around on the course hassle-free.
The best women's golf pants feature a breathable material that wicks away sweat and moisture while you play, keeping you cool and dry. Bonus points if the pants are waterproof.
Since you will be donning female golf pants predominantly on the golf course, you need enough pockets to keep your valuables handy. Ideally, a good pair should have 2 zipper pockets on the front, 2 rear pockets on the back, and 1 small pocket at the waist. This will allow you to store all your belongings and small equipment for the game like ball markers.
Often, a pair of comfortable women's golf pants transcends into daily life — from the golf course to chilling at home. So, it is important to make sure that the pants are soft, smooth, and airy to keep you at comfort and ease no matter where you are.
One of the more elegant sports in comparison to other forms, golf comes with its own standards for everything — from game rules to fashion sensibilities. While the sport requires you to dress in pre-set attire, we know it can often be a minefield to find the best pair of women's golf pants. Some do not last long while others have an unpleasant fit. As a golf enthusiast, it's likely that you are eternally seeking a sleek pair of women's pull-on golf pants. This edit of our 13 favorite picks in terms of design and functionality will help you swing those strokes in style.
Why Trust StyleCraze?
The author of this article, Priyam Gupta, is a fashion enthusiast. She believes that you must invest in the best women's golf pant to feel comfortable and make your golfing sessions enjoyable. To help her readers practice in comfort while staying stylish, she has reviewed some of the best golf pants available for women. She has gone through multiple online reviews to pick the best products for her readers.
Frequently Asked Questions
Are golf pants good for hot weather?
As long as your golf pants have moisture-wicking properties, you can wear them in hot weather. This allows sweat to be absorbed instantly, keeping you cool and dry in warmer temperatures.
Can golf pants be worn as dressy pants?
Yes. Golf pants harbor the sleek and classy look of formalwear. They can be easily worn as dressy pants for work, formal dinners, brunch outings, and more!
Is there a difference between golf pants and dress pants?
Dress pants are made with a thicker material, which is heavier and pleats well. On the other hand, modern golf pants have a thinner material to ensure breathability and top-notch comfort.
Can golf pants be worn to work?
Yes, you can wear golf pants to work! Most of these pants look and feel like regular trousers or chinos, so they can seamlessly transcend into your workwear wardrobe.
Are golf pants stretchy?
Women's golf pants are made with nylon and spandex and tend to offer a 4-way stretch. This blend and technology ensure ultimate flexibility and comfort for fuss-free movement.
Can ladies wear leggings for golf?
Yes, women can wear leggings for golf. In fact, wearing full-length slacks is now becoming a modern attire for a round of the game amongst women. However, many leggings are not great at wicking moisture and facilitating airflow, which is why golf pants would be more comfortable and appropriate for playing.
Recommended Articles:
Best Golf Skirts For Women
Best Black Work Pants For Women – Absolute Must-Haves
Best Golf Hats And Visors For Women, According to Reviews
Best Wide-Leg Joggers (Review and Buying Guide)
Best Skirted Leggings That Women Should Try