13 Best Lightweight Robes For Women To Begin Your Day In Style – 2023
Relax and make yourself calm in a comfortable and luxurious attire after a hectic day.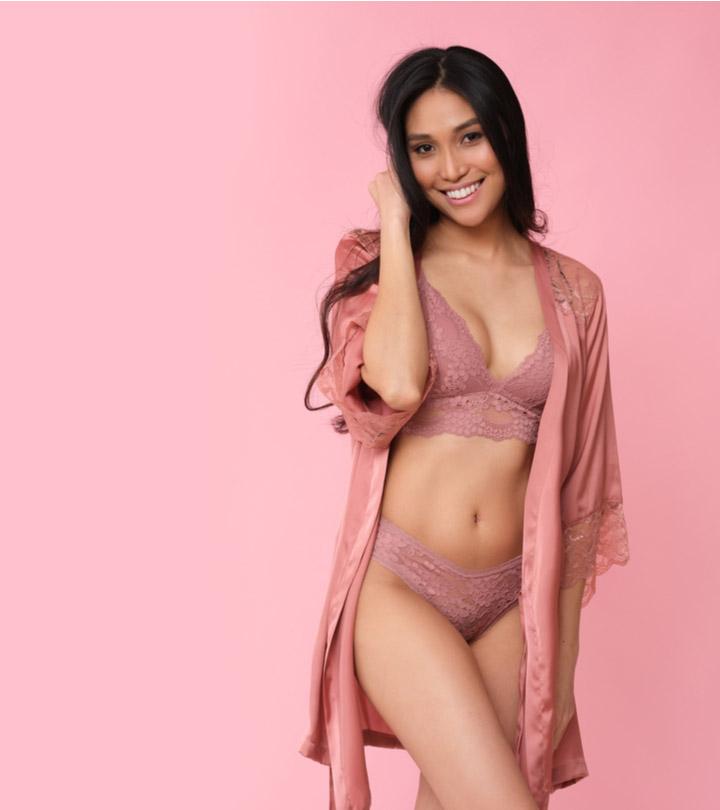 Lounging at home has never been more in style and we are right behind the hottest trend when it comes to stay-at-home fashion. The role of a good lightweight robe cannot be overemphasized when it comes to making your time at home comfortable and luxurious. A relaxing hot shower at the end of your hectic day is elevated by a snug, cozy robe that helps you transition seamlessly to a good night's sleep.
The best lightweight robes are not only ultra soft and comfy, they also help make you feel and look like the fashionable diva you are as you lounge around your space. Whether you are going on a beach holiday, a girls getaway, or a trip to your neighbourhood hot tub, a good robe is a must-have accessory in your travel bag. Not sure where to start? Check out our pick of the 13 best lightweight robes to keep you cool and fresh as you get ready for a rocking day.
13 Best Lightweight Robes To Keep You Cool While Getting Ready For The Day
Get vacation-ready and holiday in style with this soft, lightweight women's robe which is equal parts comfortable, fashionable, and oh-so-chic. Made of a blend of polyester and spandex, this elegant robe features convenient side pockets, 3/4th length sleeves, an attached belt, and is ideal to wear just out of the shower, while lounging by the pool, and even when nursing your baby. The ideal gift for the fashionista in your circle, you can't go wrong with the attractive print and the vibrant colors.
Pros
 Attractive and stylish print
 Lightweight and breathable
 Comfortable and soft material
 Ideal for gifting
Cons
 Some might find that the sizing of this robe runs a bit small.
If you're looking to give all the lovely ladies in your bridal party a gift that they will treasure and love, these gorgeous calf-length lightweight robes are the perfect pick. Designed for comfort, these robes are made with a blend of cotton and spandex, and can be used for a variety of purposes. Soft, stylish, and available in a variety of vibrant colors and attractive prints, these pretty robes also come with convenient side pockets and a sash-style belt, making it an absolute wardrobe must-have.
Pros
 Soft, lightweight fabric
 Made of high-quality cotton
 Beautiful, stylish design
 Suitable for daily wear
Cons
 Some might find that the fabric of this robe is a bit thin.
Treat yourself to a spa-at-home experience with this ultra-soft, lightweight robe which is made with 100% natural cotton and feels oh-so-good against the skin. Ideal to put on right after your bath, the length and design of this cotton robe also make it appropriate to put on and lounge around the house. The perfect gift for the special woman in your life, be it your mother, sister, best friend, or trusted colleague, this robe also has a slim, flattering fit. Skin-friendly and breathable, this robe is sure to become your new hot favourite.
Pros
 Made of 100% natural cotton
 Skin-friendly and breathable
 Slim, flattering fit
 Adjustable belt for comfort
Cons
 Some might find that this robe tends to shrink a bit after a wash.
Price at the time of publication: $19.99
Set yourself up for a good night's sleep with this beautiful, classic robe which acts as the perfect transition between a hot bath and your soft, inviting bed. This full length robe has convenient side pockets that fit everything from your phone to little tidbits you might need around the house, and an adjustable belt for ultimate comfort and a perfect fit. This versatile robe can also be packed into your suitcase to make all your travels just a little more comfortable, whether it is a work trip, a spa getaway, or your annual beach vacation.
Pros
 Lightweight and comfortable
 Stylish, full-length design
 Made of soft cotton and polyester
 Ideal for travel
Cons
 Some might find that the sleeves of this robe are a bit long.
Relax in style with this luxurious lightweight bathrobe which is so soft and comfortable, you'll want to live in it. The ideal swimsuit cover-up or towel replacement, this plush robe is highly absorbent and is perfect for a day at the spa, a night in the hot tub, or just to lounge around the house in. And there's more! This premium terry cloth robe has 2 large deep pockets, a belt-tie design, and full sleeves to help you feel warm and cozy on those cold, wintry nights. Functional and fashionable, this pretty robe is definitely worth a try!
Pros
 Highly absorbent material
 Soft and lightweight
 Suitable as a towel replacement
 Ideal for cold weather
Cons
 Some might find that this bathrobe smells a bit unpleasant.
If you're always on the lookout for soft, comfortable pieces of clothing to lounge around the house in, you're going to love this zipper-front robe which doubles up as a loose, airy dress. Comfortable and lightweight, this robe is ideal for people who have just been through surgery or childbirth and want something breathable and roomy to recover in. Available in multiple attractive colors, this robe also makes a great Christmas present for those in your circle who like to relax in style.
Pros
 Convenient zipper-front design
 Comfortable and lightweight
 Loose, full-length fit
 Suitable for gifting
Cons
 Some might find that the sizes of these robes run a bit large.
Plus size women can now rejoice! Here's a gorgeous printed robe which is designed to accentuate all your natural curves and make you feel stylish and confident. Featuring a vibrant floral print, this knee length robe is made of a silky satin material and has inner and outer belts for a secure fit. Comfortable enough to even sleep in, you can pack this washable silk robe for a girls trip, a romantic vacation, or use it daily as the perfect post-bath pick-me-up. So get your hands on this one-of-a-kind lightweight robe and fall in love with the ultra-soft fabric which feels heavenly against the skin.
Pros
 Beautiful vibrant print
 Silky satin material
 Available in plus sizes
 Adjustable inner and outer tie-style belts
Cons
 Some might find that the length of this robe is a bit short.
You don't have to wait for your vacation at a luxury hotel to enjoy one of these luxurious bathrobes. Get cozy and envelop yourself in the soft, smooth fabric of these lightweight bathrobes and experience next level relaxation. Made of a blend of cotton and polyester, these short bathrobes have large pockets to keep your knickknacks handy and are guaranteed to make you both look and feel oh so cute. Comfortable and durable, these bathrobes also make the perfect gift and are a wardrobe essential that no one should have to do without.
Pros
 Lightweight and highly absorbent
 Double-stitched for durability
 Smooth and breathable
 Ideal for gifting
Cons
 Some might find the fabric of these robes a bit thin.
Say hello to ultimate luxury with this deliciously soft full-length lightweight bathrobe which is made with 100% high-quality Turkish cotton and is designed to keep you warm and cozy. This plush robe has full-length sleeves and an attached hood making it ideal to put on right after your bath. A removable belt ensures a snug fit while wide pockets allow you to keep all your bath essentials handy. So what are you waiting for? Get your hands on this comfortable robe and get transported to a place of total relaxation.
Pros
 Made of high-quality Turkish cotton
 Soft and highly absorbent
 Durable and long-lasting
 Full-length robe with an attached hood
Cons
 Some might find this bathrobe a bit warm to use in the summer months.
Get instantly transported to a luxury spa vacation with this ultra-soft fleece robe which makes you feel like you have been wrapped in a cozy blanket. Short enough to be stylish yet comfortable, this pretty robe comes with conveniently-placed side pockets and an adjustable belt. Available in multiple pastel colors, these beautiful winter robes are the perfect gifts for your bridesmaids and will have you looking camera-ready for that bridal shoot. Just pair this robe with some fluffy slippers, pick up a hot coffee, and switch over to relax mode in the comfort of your home.
Pros
 Made with lightweight double-knit fleece
 Soft and comfortable
 Conveniently-placed side pockets
 Available in multiple pastel colors
Cons
 Some might find the length of this robe a bit short.
If you're looking for a lightweight robe to keep you warm after your shower, you are going to love this stylish yet comfortable full-length robe that not only helps your skin breathe, it also keeps you cozy and snug. Highly absorbent, these robes also have an attractive lace trim on the sleeves making them ideal to lounge in after a relaxing spa massage. The 3/4th length sleeves ensure you can work around the house comfortably without getting your robe dirty. Whether you're packing for your honeymoon, or going away for a girls weekend, this gorgeous robe definitely deserves a place in your suitcase.
Pros
 Soft and breathable
 Attractive lace trim on the sleeves
 Convenient full-length design
 Suitable to wear in all seasons
Cons
 Some might find that the sizes of this robe run a bit small.
Comfort meets style with this luxurious kimono robe which ticks all the right boxes when it comes to a wardrobe staple which is equal parts functional and fashionable. The flattering, full coverage design ensures you can wear this robe around the house and even entertain guests without any embarrassing slip-ups. The beautiful colors and 2-tie secure fit, make this robe a hot favorite amongst young women everywhere. Made of a blend of cotton and polyester, this robe is so soft and absorbent, we are absolutely sure you will fall in love with this lounging must-have.
Pros
 Soft and luxurious
 Full coverage design
 Convenient 3/4th length sleeves
 Available in multiple vibrant colors
Cons
 Some might find that the belt of this robe sits a bit high.
Loungewear never looked this good! Staying at home shouldn't mean being dressed in your drabbest attire. This elegant, classic robe is ideal to put on after your shower and complete your chores while looking and feeling like every bit the diva you are. Featuring gorgeous pastel prints, this versatile robe has a convenient breakaway zipper, 3/4 length sleeves, conveniently placed side pockets, and a flattering fit that accentuates your best features. Ultra soft and oh-so-comfortable, this lightweight robe is sure to be your newest wardrobe staple.
Pros
 Beautiful, pastel print
 Convenient breakaway zipper
 Classic, luxurious design
 Suitable for daily wear
Cons
 Some might find that the zipper is a bit delicate.
Now that we've had a look at our pick of the 13 best lightweight robes for women in 2023, let us look at some things to consider when picking the perfect robe for your lounging needs.
How To Choose The Best Lightweight Robe For Women
 Style and fit – Fancy a cute, short lightweight robe to carry along for a girls trip? Or do you prefer the hotel-style full length robes in neutral colors which can also act as a towel replacement. These are all things to consider when picking the right lightweight robe for your wardrobe. The length of the robe, convenient pockets, sleeve length, and the fit are all factors to keep in mind when picking a robe that transports you to a relaxing spa-at-home experience.
 Material – All of us want a soft, plush robe to put on after a bath in order to feel like a million bucks. While organic cotton robes are great for those who want to feel cool and fresh after a shower, fleece robes are better suited for those cold, wintry nights. A lightweight blend of polyester and cotton is great for a robe which also acts as loungewear while a linen bathrobe will make you feel like a million bucks. Don't hesitate to try a few before you find one that is the perfect fit for you.
 Occasion – Are you the maid of honour at your best friend's wedding and are looking for cute, stylish robes for all the bridesmaids? Then it's best to pick a short, lightweight robe with a pretty print which looks great in those Instagram photos. If you are going for a beach vacation and want a robe that doubles up as a cover up, pick one that is absorbent and has a flattering fit. Depending on when and where you plan to use your robe, there are a myriad of gorgeous options available to choose from.
Why Trust StyleCraze?
The author, Priyam Gupta, is a fashion enthusiast and finds her passion in trying out new arrivals. She has reviewed tons of lightweight robes for women and scrolled through numerous reviews posted by users on trusted online platforms. The robes listed in the article are comfy, ultra-soft, trendy, and cozy.
Frequently Asked Questions
What is a lightweight robe called?
A lightweight robe is a bathrobe you wear when your body is wet. But those robes you wear while lounging at home are housecoats or dressing gowns.
What can I use instead of a bathrobe?
You can use a wrapper or wraparound instead of a bathrobe to dry your body.
What is the difference between a bathrobe and a regular robe?
Bathrobes are plain clothing pieces made of water-absorbent material. On the other hand, regular robes may have intricate designs but are not made of toweling materials. They are simple loose-fitting clothes that you can wear in your home.
Is a cotton or silk robe better?
Cotton robes are breathable, lightweight, and super comfortable. Silk robes are smooth and lightweight but trap heat in your body, making you sweat a lot during the hot weather. So, cotton robes are better and easy to maintain.
What kind of robe is the best for after showering?
A cotton waffle weave robe is the best for after-shower wear. The material absorbs water and is lightweight.
How often should robes be washed?
Wash your robes after three to four wears to prevent bacterial molds.