11 Best Women's Mountain Bike Shoes For Clipless And Flat Pedals
A good pair of biking shoes are a must-have if you love riding through rough terrain.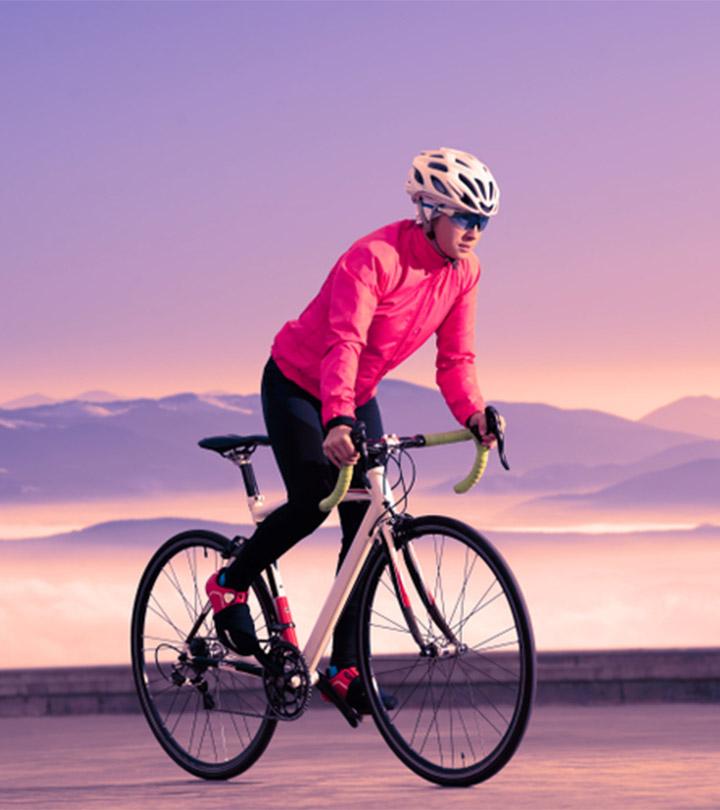 A good pair of women's bike shoes are perfect for your outdoor cycling rides. Cycling or biking is a fun and effective way to burn calories. But not all of us like to sit on stationary bikes, hit the gym, or take laps around the park. Some of us here love the outdoors and want to combine adventure into our fitness routine. So, whether you are competing in a race or just want to take a ride through the hills around your neighborhood, a pair of well-fitted biking shoes is a must.
We have compiled a list of the 11 best women's bike shoes that are designed for flat pedals and last through years of cycling and adventure. So, if you are looking to invest in a pair, we suggest you keep scrolling to find out more.
Top Picks
11 Best Women's Mountains Bike Shoes In 2023
Pros
Stiff sole
Triple Velcro strap
Reinforced toe box
Breathable mesh inserts
Knit upper
Cons
Will not work with a Peloton bike
Price at the time of publication: $98.95
Ideal for mountain biking or indoor cycling on stationary exercise bikes, this pair offers universal compatibility for 2 bolt cleats, regular MTB cleats, and the Shimano SPD. The sole of the shoes comes with a bolt cleat adjustment scale. For extra comfort and a snug fit, the shoes feature 3 Velcro straps on the upper while the soles are rubberized. The durable shoes are also equipped with a tongue center separation and the anatomic shape of shoes help eliminate hot spots while reducing pressure from the instep.
Pros
Nylon tips in heels
3 straps on the upper
Rubberized soles
Universal compatibility
Anatomically designed
Cons
Some may find it slightly narrow
Price at the time of publication: $45.95
Pros
Comfortable inner
Rotating buckle
Mesh upper
Easy to wear and remove
Nylon sole
Cons
Cleat compatibility with a Peloton bike is doubtful
Price at the time of publication: $54.99
Pros
Available in many vibrant colors
Breathable mesh upper
Adjustable buckle
Faux leather sole
Single button release
Dial closure
Cons
May not be compatible with Asian-made pedals
Price at the time of publication: $59.99
Pros
Casual fit and wear
Available in other colors
Rubber sole
Low-cut style
Classic-dotty rubber outsole
Cons
Price at the time of publication: $89.95
Do you know what can make your mountain biking experience all the more smooth and exciting? A spectacular pair of shoes such as this one of course! For a fit that feels like you're only wearing socks, this pair comes with a micro adjustable buckle. The 2-bolt cleat shoes are compatible with SPD, Crank Brothers, and MTB pedals. For ease of wear and quick-drying, the shoes have removable and perforated insoles. Compatible with indoor bikes as well, the shoes are also equipped with hook and loop straps for a good fit.
Pros
Manmade soles
Hook and loop straps
Adjustable buckle with quick release
Quick-drying removable insoles
Compatible with indoor bikes
Cons
Cleats and pedals not included
Price at the time of publication: $34.95
Looking for cycling shoes that's compatible with SPD locks and can also be used as indoor riding shoes? If yes, you can count on these ones! Made of high-quality synthetic material and a lightweight upper, the shoes are super comfortable and offer a great fit. The sole is made of nylon and helps direct the legs into the correct posture for riding. The shoes are also compatible with 2 or 3 bolt cleat and pedal systems, including indoor exercise bikes.
Pros
Nylon sole
Lightweight
For male and female
Compatible with indoor bikes
Cons
Some may find it slightly rigid
Price at the time of publication: $52.99
Want biking shoes that let your feet breathe while offering a snug and comfortable fit. Here's one you can trust. Designed with a breathable synthetic mesh upper and a water-resistant nylon sole with cleats, it is anti-slip and hugs your feet like a thin pair of socks. It comes with an adjustable buckle and hook and loop straps and takes about 10 seconds to slip into and out of. The pair is compatible with a Peloton SPD and a Look Delta and can be used for indoor exercise bikes and spin class too.
Pros
Available in other colors
Adjustable buckle
Easy to wear and take off
Water-resistant nylon sole
Weighs only 455 grams
Synthetic upper
Cons
May feel slightly narrow for those with wide feet
Price at the time of publication: $49.99
Made with a durable nylon sole, these mountain bike cycling shoes come with SPD cleats and are compatible with indoor bikes, Shimano SPD, and Look X-Track pedals. The upper is made with a lightweight and breathable mesh fabric that absorbs sweat when you are cycling. The 3 adjustable Velcro straps offer a comfortable fit and the straps are outfitted with reflective strips, making the pair a great choice for cycling during the nighttime.
Pros
Easy to wear and take off
Reflective strips
Adjustable Velcro straps
Padded heel cup
Anti-slip sole
Cons
Some may feel the clips against the balls of their feet when cycling for long hours
Price at the time of publication: $55.99
Looking for comfort like never before while cycling? Choose this stylish pair to help you out. Ergonomically designed to follow the contours of your feet and a good choice for indoor cycling as well, these shoes are crafted with breathable mesh on the upper and with transparent textile lining, the shoes boast a low-cut construction. The shoes also feature Velcro straps and a rotary buckle, so you can find yourself that perfect fit. It also comes with a comfortable molded EVA insole that's removable.
Pros
Textile lining
Low-cut design
Rotary dial and Velcro straps
Removable EVA insole
Available in other colors
Cons
The shoes do not come with the cleats.
Price at the time of publication: $73.99
Made with a high-quality nano upper and a nylon outsole, these shiny delights are designed with a reel knob lacing system. It comes with gear technology which allows you to tighten your laces in 3 seconds! When paired with the right cleats, it improves your pedal strokes and improves flexibility.  The unique bulge design of the shoes repels mud from the sole, so you can enjoy a great ride even on rainy days.
Pros
Laces up in 3 seconds
Grippy sole
Improves agility
Nano upper
Mud-expelling
Cons
Only compatible with 2-bolt cleats
Price at the time of publication: $69.99
Ready to get yourself a pair and cycle into the wind like never before or still have a few doubts that you'd like cleared? If it's the latter, head on down to our quick and helpful buying guide before you make the purchase.
Things To Know Before Buying Mountain Bike Shoes

Flat pedals are designed with a large platform aimed at supporting your feet and also come with pins to help increase grip. They are typically made of aluminum and you don't require special shoes. Simply put, flat pedals are regular bike pedals with a flat surface and offer no provisions to 'clip' your shoes into. On the other hand clipless pedals function on 2-hole and 3-hole cleat systems. Clipless pedals require specific shoes made for cycling that come with a recess area and can fit a cleat like a puzzle. Make your pick depending on the type of pedal you have.
Shoes made for flat pedals
One of the biggest advantages of shoes made for flat pedals is that it's a basic, simple design and doesn't require the frills that come with a clipless design. They are made with a flat, rubberized sole, which is slightly sticky. They are generally well-cushioned and adequately stiff, making it a good choice for cycling indoors or going or going to a quick ride around the block, but may not be the best choice for long hours of cycling or mountain biking.
Shoes made for clipless pedals
Clipless pedal mountain bike shoes are quite versatile, in that they can be used for XC racing and DH. They are made with a stiffer sole as compared to that of a flat pedal shoe and come with a space to mount to the cleats. Clipless shoes for beginners are usually made of nylon shank while high-end models and those made for professionals use carbon fiber. Oftentimes, clipless shoes won't even require you to tie the laces as they come with adjustable Velcro straps and rotary dials that will help you lace your shoes up in seconds.
The shoes should hug the contours of your feet and offer a snug fit without feeling chafing or tight. Measure your feet properly before ordering a pair and understand the different arches and curves of your feet first. Are there any pressure points? Are your feet wider in the front than the average feet? Are you flat footed? Having answers to all these questions will help you buy shoes that are comfortable and well-fitted.
If you are going to be cycling in hot and humid climates, you should opt for shoes that have a mesh upper, preferably with perforations, so that even if your feet get sweaty, they can quickly dry off. Flat pedal shoes typically offer lesser ventilation. If you're cycling in cold weather or wet conditions, keep in mind that a typical XC clipless mountain bike shoe will make your toes rigid, as though they are frozen.
Why Trust StyleCraze?
The author, Priyam Gupta, is a fashion enthusiast who loves to stay on top of her style game no matter what she is doing. She conducted extensive research, pouring over many reviews on various forums to bring you this curated list of the best women's mountain biker shoes. If you love cycling outdoors, picking the right biker shoes is very important. She selected these shoes based on the material, breathability, support, comfort, and more.
Do mountain bike shoes make a difference?
If your bike has flat pedals, it's not a necessity. However, if it's a clipless pedal, mountain bike shoes can make a mountain of difference. They are designed to give you a greater degree of control for a smooth ride and provide 10% more power output than regular shoes.
Do mountain bike shoes have cleats?
To simply answer the question: no, mountain bike shoes do not have cleats. They are devices that may or may not come with the shoes you buy. Cleats are installed onto the soles of mountain bike shoes.
What is the difference between road and mountain bike shoes?
Road bike shoes as the name suggests are used for cycling in the city and relatively smoother streets and surfaces, including an indoor exercising cycle. On the other hand, mountain bike shoes are designed for rough terrains and offer better grip and control.
What type of shoe is the best for MTB?
For riding flat pedals, it is best to wear flat-soled shoes specially designed for mountain biking. The stiff soles made of rubber enable the metal pins in the pedals to bite in, providing optimum grip on uneven, rough terrain.
Are mountain bike shoes good for walking?
Yes. Mountain bike shoes feature stiff, rugged soles that provide traction on rough terrain. They also feature cleats recessed into the soles, enabling easy and comfortable walkability on trails, especially if you have to hike.
Can we use hiking shoes for mountain biking?
Yes. Hiking boots are suitable for mountain biking with flat pedals. They offer additional protection, warmth, and comfort. Opt for waterproof versions for better suitability during extreme weather conditions.
Recommended Articles: