15 Best Plus Size Robes For Women To Buy In 2023
Gentle and premium-quality clothing to keep your warm, comfortable yet fashionable.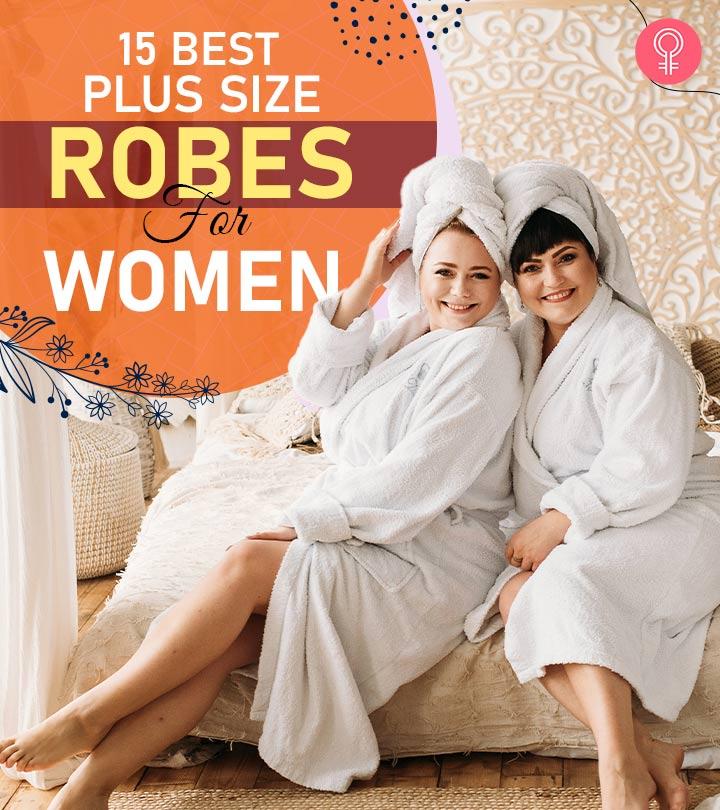 People often wear robes indoors for comfort and convenience. A robe can be a comfortable and easy way to cover up when lounging at home, especially when getting out of bed in the morning or watching tv on the sofa. Robes can also provide an extra layer of warmth on chilly days. Furthermore, robes can be a stylish and luxurious option for lounging around the house. There are several styles and materials to choose from, so you can find one that suits your preferences. Here is an expert's guide to the best stylish and comfortable plus size women's robes on the market. Scroll down to add them to your collection and slip into the world of comfort!
15 Best Plus Size Robes For Women
The Super Shopping-Zone Women's Plus Size Satin Robe is made of 100% satin fabric and comes with a tie closure which makes them easy to put on or take off. Its light fabric keeps you relaxed and carefree. The robe features an outer belt and inner ties to make adjustments to the fit. This boutique robe is available in attractive colors, styles, and sizes. It features long sleeves and a short length, making it great for slumber parties, romantic evenings, and bridesmaid parties.
Pros
Breathable
Lightweight
Soft
Comfortable
Budget-friendly
Cons
None
Price at the time of publication: $18.99
Siorro Cotton Robe is skin-friendly, moisture-wicking, and oh-so-comfortable! This robe features a V-neck, ¾ roomy sleeves, inner sash, and a removable belt at the waist for a comfortable fit. It also comes with side pockets to hold your phone, keys, and other small essentials. This robe is not too thick for after-bath use and is great for your morning and night routine. It is easy to wash and the color does fade. In addition, it is available in multiple sizes and colors, including navy, black, plum, green, burgundy, etc.
Pros
Stretchable
Full coverage
Breathable
Lightweight
Machine washable
Available in multiple colors
Cons
None
Price at the time of publication: $24.99
Price at the time of publication: $25.17
The Costume Deals Knit Robe has two side seam pockets that carry all your little essentials safely. It comes with inside ties and a stitched waist belt, so you can wear it without worrying about falling off or losing it. This cozy robe looks very feminine, making it a perfect addition for a beach party, bridesmaid party, and everyday routine. It is extremely durable and can easily withstand repeated washing. What makes it worth buying is its gentle stretch that feels like a second skin, and the soft, flexible fabric moves with your body for ultimate comfort. Furthermore, this robe has relaxed fit sleeves, and the length extends to the ankle. It is available in multiple solid colors and sizes.
Pros
Non-removable sash closure
Breathable
Soft
Stretchable
Machine washable
Lightweight
Cons 
Price at the time of publication: $25.99
Price at the time of publication: $22.99
The Corset Outlet Women's Plus Size Satin Robe is made of 100% imitation silk fabric for a vintage feel and a glamorous look. The flattering oblique V-neck design and three-fourth sleeves make this robe ideal for wedding parties, baby showers, slumber parties, relaxed evenings, and spa sessions. It has a matching, removable waist belt and inner string for a perfect fit. This robe retains your body heat and makes you feel warm on colder nights.
Pros
Lightweight
Comfortable
Comes with an adjustable belt
Soft
Machine washable
Budget-friendly
Cons
None
Price at the time of publication: $13.99
Applesauce Women's Plus Size Kimono Robe is a blend of polyester and spandex material, which keeps you comfortable. This lightweight robe accentuates your curves and looks elegant on all occasions, be it a girl's night indoors, spa session, intimate evenings, or a shower party. This blossom print robe has wide sleeves and an open front style. It also features a sash tie closure, belt loop, and inside strings for a customizable fit.
Pros
Side-seam pockets
Breathable
Lightweight
Comfortable
Tie closure
Machine washable
Cons
The Beverly Rock Cotton Robe is 100% cotton material and has two front pockets to hold all your essentials. It has an inside belt closure and a front belt for a perfect fit. It is a lightweight and moisture-wicking kimono-style bathrobe that gives you good coverage and a flattering silhouette. This robe is available in seven different colors and multiple sizes.
Pros
Machine washable
Belt-closure
Breathable
Full coverage
True to size
Cons
Price at the time of publication: $40
Price at the time of publication: $35.99
The sexy, knee-length V Viborous Women's Plus Size Kimono Robe is an ideal choice for a smooth, silky, and luxurious feel. Its good quality satin fabric looks sensuous while being extremely comfortable. It features long, drop-shoulder sleeves, inside ties, and removable belts. This plus-size kimono fabric accentuates your curves and looks flattering. It is available in a variety of beautiful shades, from neutrals like champagne and white to dark colors such as black, navy, and wine. It has a lustrous sheen that reflects light. The 5% stretch across the grain adds more softness to it. Its oblique V-neck design makes your neck look slender and flatters your natural body shape.
Pros
Comfortable
Non-see-through
Skin-friendly
Matching waist belt
Easy to wash
Cons
Price at the time of publication: $16.99
The premium-quality fabric of the Super Shopping-Zone Women's Plus Size Long Robe keeps you cool in summers and warm in winter and fall, making it a great choice for all seasons. It is made of a soft and breathable fabric blend that feels light and smooth against your skin. It is skin-friendly and brings a chic style to your at-home casualwear. This robe hugs all your curves beautifully and looks flattering. It has handy side pockets that add functionality to the luxurious robe. Other features that make it worth it are inside ties, a matching belt, and three-fourth sleeves. The length of the robe extends to the floor, giving it a retro look. It is extremely durable and can easily withstand repeated machine washings. This breezy long robe is an ideal pick for relaxed spa sessions, shower parties, girl night outs, and cozy evenings.
Pros
Super-absorbent
Long-lasting
Wrinkle-free
Easy to maintain
Secure fit
Pure color tone
Functional side seam pockets
Cons
None
iFigure Robe is made of a combination of 95% rayon and 5% spandex material. It has a tie closure, making it easy to put on and take off. Its skin-friendly fabric feels like a second skin, ideal for an everyday routine. It is super absorbent and moisture-wicking, making you feel fresh all day long. The classic wrap design of this kimono robe makes it suitable for vacations, parties, spas, and night-outs. It has a mid-calf length, ¾ sleeves, inner string, waist front tie, and side pockets. Its deep V-neck looks bold and the belt closure gives you a sleek silhouette. The belt is back attached, so you do not have to worry about it falling off.
Pros
Soft
Comfortable
Lightweight
Secure tie
Available in multiple colors
Cons
None
The Shanghai Bund Satin Kimono Robe is available in both solid colors and floral patterns. It features long sleeves, a wrap design, and a classic V-neck. This elegant and soft robe is ideal for a bridal party, pajama party, daily routine, and more. It is made of polyester fabric and features an adjustable sash tie closure for a comfortable, secure fit. This robe has two side pockets that keep your essentials close by your side. It absorbs water beautifully, so you can easily slip into the garment right after taking a bath.
Pros
Comfortable
Lightweight
Super absorbent
Durable
Budget-friendly
Cons
Price at the time of publication: $89.84
Dreams and Co. Robe features a poly-fabric blend that absorbs moisture and makes you feel cool and comfortable all day long. The length of this robe is around 14 inches which makes it ideal for cozy evenings and slumber parties. It has an easy tie closure and front pockets for added functionality. Its machine-washable fabric is easy to maintain.
Pros
Durable
Soft
Lightweight
Machine washable
Cons
None
Robes are wardrobe staples that are versatile and come in handy on a regular basis.
You can embrace these oh-so-cozy styles whenever you want. The best plus size robes that are- reviewed in the list are breathable, comfortable, lightweight, and also look stylish and classy. They are perfectly suitable for everyday use and are available in a range of inclusive sizes. With any of these robes in your closet, you can comfortably lounge around all day.
Srijani Roy Chowdhury, the author of this article, is a fashion aficionado who loves to review different products and keep up with the latest fashion trends. She went through numerous feedback on multiple forums and websites before curating a list of the best plus size robes for women that will help you go from drab to fab in seconds.
Frequently Asked Questions
What is the difference between a robe and a bathrobe?
A robe is a long, loosely-fitted clothing often worn as an outer garment. They are made from materials such as wool or silk. On the other hand, bathrobes are similar to robes, usually made of terrycloth worn after a bath or a swim when the body is still damp.
Does the size of a robe matter?
Yes, just like any other clothing article, a robe's size also matters. If you buy a smaller robe, it may not cover your body entirely, and a robe that is too large may be uncomfortable and unflattering.
How do I choose the right size robe?
You can choose the right size of robe with the help of a measuring tape. First, measure the length of the garment with your chest, bust, waist, and shoulder-width measurement to get the best fit. You can also look at the sizing chart provided by the brands to find your perfect fit.
What is the warmest material for a robe for plus size?
Robes made of wool or flannel are best if you seek warmth. These materials retain body heat and keep you warm after a shower or a swim.
Do you wear clothes under a robe?
No. Usually robes are worn without anything underneath or just with your inner-wear. However, you may prefer to wear robes over pajamas.
When should you wear a robe?
Robes are designed to be worn after a bath or swim to absorb the water and keep you warm. You can also wear a robe when you are getting ready or anytime you are not in your regular clothes.
Why do robes have two loops?
Robes come with two loops so that they can be adjusted and tied closely to your body. You can also adjust the length of the robe by tying it on either of the loops.
How do you use a shower robe?
Shower robes are worn after towel drying yourself after a shower or a swim to absorb the remaining moisture and keep you warm. It is worn like a coat and wrapped snugly around the body by adjusting the straps.