13 Best Women's Ski Jackets That Are Stylish Yet Durable – 2023
Make your way up and down the snow with grace, style, and plenty of cushion and comfort.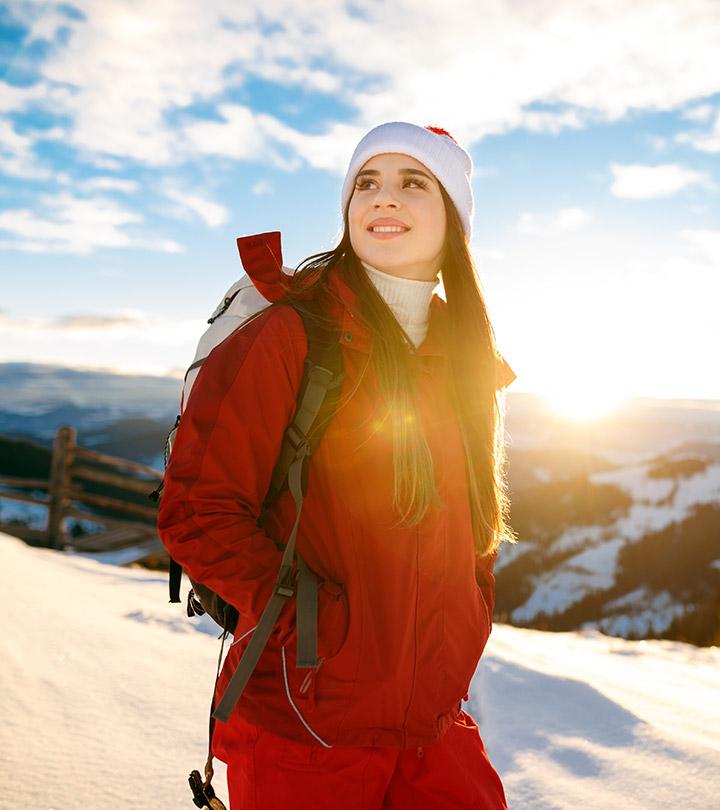 If you are making arrangements to go on a ski trip, the first thing you need to add to your luggage is a warm and waterproof ski jacket. The best ski jackets for women have the perfect combination of waterproofing, wind protection, breathability, a powder skirt, insulation, and other slope-specific features.
If you are wondering how to pick a ski jacket that is comfortable, trendy, and durable, check out this article. We have rounded up the 13 best ski jackets for women, perfect for the snowy weather. Read on!
Don't let the extreme weather spoil your winter adventures! Instead, go for Wantdo Ski Jacket, which features a professional water-repellent coat, fuzzy lining, and durable fabric with 2400 polyester fiber assuring the best heat retention. The waterproof ski jacket has the outer shell of this rain jacket that works under over 10000mm pressure head. What's more? It keeps your body dry and comfortable when you are outside in rainy or misty conditions. Among other features, this jacket has multiple pockets, windproof fabric, and adjustable cuffs. It comes with a standard fit in a wide range of colors to choose from!
Pros
Protects against harsh weather conditions
Has a quick-dry feature
Wind and waterproof
Stretchable glove with thumb hole to seal the warmth
Standard fit
Padded pockets
Cons
The standard size may not fit all
Cuffs are poorly designed
Price at the time of publication: $79.98
Chilly winter winds can be a nightmare for travelers. During days like these, MOERDENG's waterproof ski jacket will keep you warm and safe. The snowproof ski jacket is made from high-quality polyester material, it is waterproof, windproof, durable, and stain repellent. With adjustable cuffs, storm hood, and stretchable glove holes, this synthetic-filled jacket also helps in sealing in the warmth. With a standard fit, it is ideal for skiing, snowboarding, and other winter outdoor sports.
Pros
Sweat and moisture-absorbent coating
It has a relaxed fit
Cons
Faux pockets
Standard fit may not fit all
Price at the time of publication: $64.99
Made from Teflon coating designed to deal with rain or misty weather, this jacket is the ultimate savior. This 3-in-1 ski jacket is also tear-resistant. It is ideal for those who are always on the move. The waterproof and anti-static functions of Teflon make it more durable and stain-repellent. It can easily withstand rain for 3-5 hours and will keep you dry while indulging in snow sports.
Pros
Outer and inner layers can be worn separately
Designed for cold and snowy weather
Cons
It gives off a bulky appearance for those with a petite body
Price at the time of publication: $85.97
From skiing to snowboarding, this versatile jacket can take on any adventure. The softshell ski jacket is designed for all weather conditions, the waterproof shell and inner fleece lining can be worn together or on its own. The external hooded softshell is waterproof with Teflon surface protection, which makes it ideal for the harsh winter days and outdoor activities. On the other hand, the shell ski jacket has an inner fleece liner that is removable and provides great comfort and warmth.
Pros
It has spacious inner pockets
It is suitable for all weather conditions
It's lightweight, thin, and highly durable
Cons
The standard size may not fit all
The zipper is fragile
The Heathyoga Women's Ski Jacket is made with 100% polyester that resists rain and snow. It is designed with a 3-layer fabric- a waterproof surface, an insulating mid-layer, and a warm inner layer. The skin-friendly fleece interior of the jacket imparts lasting warmth. It has multiple pockets (two hand pockets, one chest pocket, one internal zippered pocket, and one sleeve pocket). All the pockets are designed with water-resistant zipper closures to keep your essentials safe. It also has a detachable hood with a hidden compartment. Additionally, this fleece-lined ski jacket features an adjustable drawcord hem, adjustable velcro cuffs, and stretchable gloves with thumbholes for optimum heat retention. It is suitable for long journeys, camping, mountaineering, snow sports, and downhill skiing.
Pros
Waterproof
Windproof
Breathable
Detachable hood
Zippered pockets
Adjustable drawcord hem
Durable
Cons
None
Price at the time of publication: $45.99
Want to stay warm on the slopes and look modish? This fashion-friendly, windbreaker jacket is what your winter collection needs! 3-in-1 rain jacket for women, the combination of waterproof coating and fleece inner lining can be worn together or on its own. Ideal for all seasons, the soft and breathable inner retains warmth and keeps you feeling cozy all day long. It is the perfect choice for activities like rock climbing, hiking, skiing, and camping, etc. And that's not all; the removable inner jacket is suitable for warmer days as well.
Pros
It has a seamless zipper
Available in multiple color options
It has a warm-lock inner fleece, multiple pockets and adjustable design for a perfect fit
The jacket has a soft and breathable material
Unisex jacket
The jacket is designed with a stand collar, long sleeves, and adjustable cuffs and drawcord waist
Hardshell
Cons
Outer shell and inner fleece lining are not well connected
Price at the time of publication: $76.49
The Heavenly Long Hooded Jacket by Columbia Women is the perfect winter wear for those who prioritize comfort over everything else. The relaxed and light fit makes it an ideal jacket for plus-sized women. It comes designed with Omni-heat reflective 100% polyester lining that keeps you warm and dry. And if you like pockets, then you're going to love this one for it has an interior security pocket and two zippered hand pockets to carry your phone, wallet, passport and all your essentials! Moreover, the comfort cuffs with thumbholes prevent the cold wind from getting in.
Pros
It is lightweight and warm
Water-resistant
Suitable for outdoor activities
Recommended for plus-sized women too
Cons
The zipper is not durable
It is not entirely windproof
Price at the time of publication: $209.09
This winter, splash some colors on the slope! This Insulated Waterproof Ski & Snowboard Jacket by Aptro will make you stand out on your snow adventures. With 250g insulated filler, it can protect you even on the coldest day. Its unique design brings down the weight and bulkiness without affecting the overall warmth it provides. When it comes to pockets, it doesn't disappoint as it comes with five pockets that you can use for all your skiing essentials. This outdoor and traveling insulated jacket is of superior quality and glamorous at the same time, making it every fashionista's dream winter wear.
Pros
It is sweat-absorbent
Windproof and water-resistant
It has a relaxed fit and is not bulky
The sealed adhesive prevents rainwater from entering
It has 5 pockets
Cons
The pockets don't have zippers
Size may not be suitable for all
Price at the time of publication: $49.99
When it comes to buying ski jackets, the few things we all look for are protection against wind, snow, and, most importantly, comfort. But what we miss out on checking is how flexible the jacket is. After all, a stiff fit will only make you uncomfortable while skiing. Burton Women's Ski Jacket is designed with this in mind. The jacket has a relaxed fit with wind and waterproof coatings. Plus, it combines the warmth of 40% recycled THERMOLITE Insulation. It also comes with a functional yet flattering fit that goes well with almost anything in your closet. It is recommended for downhill skiing and and other winter outdoor activities.
Pros
Two-layered jacket that is waterproof
It has a snag-free neckline for comfort
The jacket keeps you adequately warm
Pockets keep hands warm
Cons
The pockets are designed poorly
The zipper can be uncomfortable at times
Bulky jackets can ruin outdoor winter activities. However, this ski jacket offers a relaxed fit without being too heavy! With tough, weather-tight design and an ergonomic fit, this jacket provides the perfect amount of protection, warmth, and comfort for any of your expeditions in cold conditions. The jacket comes with a thermal reflective liner that helps retain and circulate body heat. The zippered, low profile outer pockets help you stow away keys, cash, and more.
Pros
Assures optimum comfort and warmth
It has an ergonomic fit and weather-tight construction
The jacket comes with a thermal reflective liner and lined zip-off hood
The jacket has multiple zippered pockets
The product is available in multiple colors
Cons
Price at the time of publication: $49.99
Designed with the advanced 'Lotus Leaf Effect' technology that prevents rain from seeping in, HSW Women's Winter Coat Outdoor Jacket has everything that ski enthusiasts will love! This jacket has cool features such as zippered vents on the sides, removable insulated storm hood, and an adjustable hem with drawcord cinch. It also features a soft lining of cotton wool, skiing inner waistband, and built-in sleeve gloves to provide optimum efficiency and comfort. So if you are into activities like camping, cycling, hiking, etc. then this jacket is a must-have!
Pros
This jacket is wind and water resistant
It has built-in sleeves
Multiple pockets to stow away skiing essentials
Comes with a visor that keeps moisture off your face
Ventilated
Cons
Size not suitable for all
It is bulky
Price at the time of publication: $128.99
One of the biggest misconceptions about ski jackets is that it can be worn only while indulging in winter sports. However, this 3-in-1 water-resistant jacket has a detachable inner, thus making it ideal for winter or relatively less cold days. The outer fabric keeps you warm and is waterproof, windproof, and breathable. Plus, its quick-dry and water-repellent features keep your body dry in snowy or rainy conditions.
Pros
It has a 3-in-1 detachable design
The product has a two-zipper closure
The outer layer has quick-dry and water-repellent functions making it ideal for snowboarding and skiing
Cons
The zipper is stiff at times and should be used with caution
Price at the time of publication: $68.98
This jacket is known for its superior fit and functionality. It is waterproof and is lined for warmth retention. It is fully insulated and has a two-way hood so you will stay warm and protected against the cold, harsh winds. It also has an integrated powder skirt that is built to prevent snow from building up into your layers. Reliable and stylish, this jacket is a great investment.
Pros
Fully insulated
Has an integrated powder skirt
Cons
Price at the time of publication: $90.99
Why Trust StyleCraze?
Srijita De, the author of this article, is a fashion enthusiast and loves to keep pace with the latest trends in the industry. She understands that Ski Jackets help you stay warm and stylish during winters. She went through various online platforms to check user reviews and narrowed down the list of the best women's ski jackets. The products listed in our article protect you against harsh weather conditions and they are water-resistant and wind-resistant.
Frequently Asked Questions
How do I know if my ski jacket is too big?
If your ski jacket's arms extend past your thumb and the shoulders are significantly wider than your shoulders, it's too huge.
Should ski jackets be loose or tight?
Your ski jacket should be tight enough to keep you warm, but not so tight that layers make you feel heavy, tight, or stuffy.
Recommended Articles: