13 Best Women's Travel Shoes Of 2022 With A Buying Guide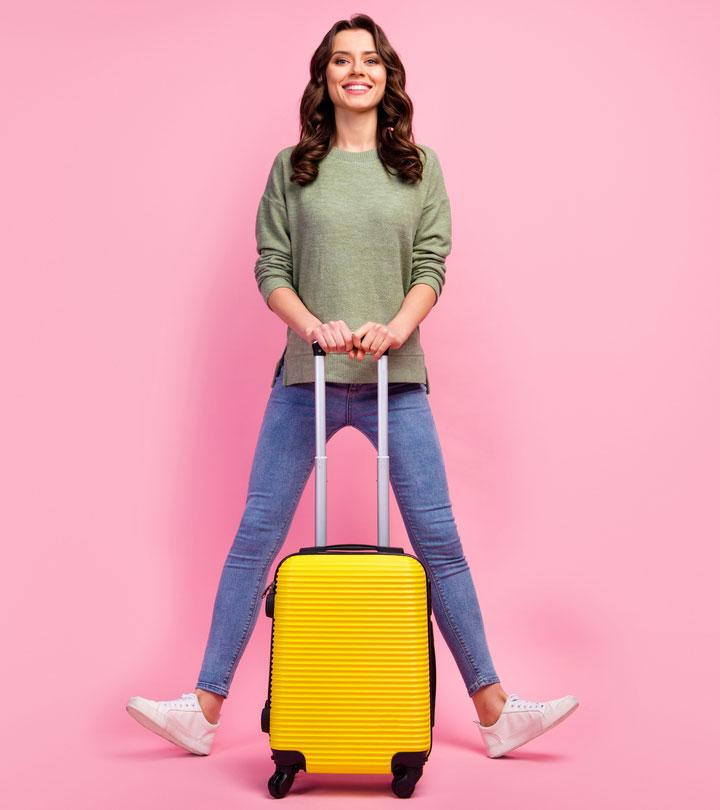 If you love to explore the outside world and go on holiday, you must know the importance of wearing the best travel shoes. No matter what kind of weather or trails you come across, your holiday experience is going to be a memorable one if you get your hands on the right pair of shoes. No matter how stylish your shoe looks, if it does not offer you the right support, there is no point in wearing them. It won't make you feel like a free bird while traveling. Every foot is different, so you should find a nice pair with insoles that can make your travel experience a comfortable one. Whether you have to confront a terrain or walk by crisscrossed alleys and winding roads, you should be able to do it effortlessly.
Keep scrolling to check out the 13 best travel-friendly shoes with sturdy features, and make your best pick now!
13 Best Women's Travel Shoes For Comfort-Filled Adventures
Searching for super-lightweight and stylish travel shoes that keep you comfy for a long time? These slip-on loafers have you covered from front to back. The sole is made from a blend of MD and Air Cushion, both of which extend flexibility and softness to the shoes. They employ high-quality rubber on the outsole that helps keep you steady on your feet, a boxed toe for a secure, blister-free fit, and a perforated arch that balances your body posture while providing breathability. Not only will you be ready for long walks around the city without having to worry about soreness, you'll also look the part of a trendy tourist in their element.
PROS
 Breathable mesh fabric
 Flexible rubber sole
 Air-cushioned insole
 Lightweight and flexible
 Available in 32 colors
CONS
 Could use more arch support
You can't list the best pairs of travel shoes without mentioning TOMS at least once — that's how iconic the brand is. This particular slip-on is extremely popular among travelers owing to the lightweight canvas design that makes it a breeze to pack. The shoes are equipped with a cushioned insole that minimizes the pressure of walking along with an espadrille rope-wrapped sole that lends it the edge of superior quality. As light as they look, the outsole is crafted with some heavy traction that keeps your stride steady and under control. TOMS are also renowned for being comfy right out of the box, so you won't have to worry about bites and blisters hindering your vacation.
PROS
 Durable synthetic material
 Lightweight upper
 Offers an excellent grip
 Spacious toe box
 Super-comfy walking shoes
 Available in multiple colors
CONS
 Might take some time to break in
Reviewers dealing with a host of foot-related issues like bad knees and back pain have labeled this shoe a "lifesaver". Infinitely more comfortable than they appear, these loafers are made with 100% leather and come with rubber soles, combining the benefits of the finest materials in shoe construction. The lightweight body will especially fulfill its purpose when you've been walking for a while and your feet are beginning to drag. Surprisingly snug and durable, the leather upper is easy to clean and has a bit of stretch to accommodate wider feet. Whether you're on a vacation or working in a profession that requires you to stand for hours, these shoes are ideal for you.
PROS
 100% leather
 High-traction sole
 Cushioned insole
 Available in 32 colors
CONS
 The heel might be slightly wide for some.
The coolest part about these shoes is not even the completely open mesh that offers unparalleled breathability. It's the fact that these water shoes are more suited to aquatic environments than anything else you might have worn. The solyte midsole is exceptionally lightweight and bounces back after each use, maintaining the shoe's durability. Of course, traction is one of its biggest selling points, which comes from the water drain outsole that keeps you safe and stable in water and on land. Since the entire purpose is to get them wet, they come with a ComforDry sockliner that preserves the interiors from moisture and cold air.
PROS
 Ultra-breathable
 Soft and lightweight
 Prevents skidding
 Padded sockliner
 Available in 20 colors
CONS
 May not be suitable for beach trips
Blending premium materials with best-in-class comfort technology, these shoes from Skechers are a must-buy for every traveler. They feature Goga MaxⓇ insoles for high-rebound cushioning and are constructed with a heathered jersey knit fabric upper that feels soft against the skin. The synthetic sole is lightweight and offers high levels of breathability, making them an excellent option when you plan to spend the whole day exploring new sights. Though crafted as slip-ons, the stretchable laces allow you to adjust the fit, which is good because your feet might begin to swell after hours of walking. The best part, however, is that the proprietary midsole has memory retention properties that reduce pressure, improve arch support, and absorb shock at the heel.
PROS
 Easy to put on and take off
 Lightly padded collar
 Stitched seam moc toe front
 Super-comfortable insole
 Soft fabric lining
 Available in 5 neutral shades
CONS
This neutral classic is a low-top that provides full support to your feet, thanks to the soft garment leather upper. Featuring a terry lining on the tongue top as well as the heel, they are designed to enhance your comfort and boost your endurance against fatigue. Durable and super-lightweight, they have a die-cut EVA midsole that absorbs impact while you walk or run, along with a padded sockliner that responds to your movements by cushioning every stride. The rubber outsole gives you excellent traction against most surfaces as well as a free range of motion, so you can wear them all day long without feeling restricted.
PROS
 Looks great with any outfit
 Durable and lightweight
 Shock-absorbing sockliner
 Available in multiple styles
CONS
What could be more fitting for a sojourn to another part of the world than wearing travel-inspired shoes born in Spain? This brand brings you unique, almost exotic collections of shoes with over 40 creative patterns influenced by the artwork of Antoni Gaudi. In addition to fascinating designs and original artwork, this pair features a bionic insole that creates a snug and comfortable fit. It's also incredibly lightweight and has a streamlined structure that facilitates quick slip-on and off. It comes with an EVA sole for extra durability and a heel pull tab that makes for even easier wear. The best part is that the shoes are eco-friendly, making them an excellent choice for conscious travelers.
PROS
 One-of-a-kind design
 Easy to slip in and out of
 Vegan and eco-friendly
 Available in 44 patterns
CONS
 You might have to size up.
The trend-forward style and comfort technology employed by Konhill make this pair a winner for every explorer who puts support above anything else. With a high-traction rubber sole, a flexible and wear-resistant elastic MD outsole, and an ultra-lightweight upper crafted from premium knit, these shoes are ideal for every step in your itinerary. From camping and driving to leisure walks and even horse-riding, their comfortable, quick-drying, and super breathable construction makes them an all-rounder. They look really sharp and pair well with almost everything, so we would go so far as to say that you can spend your entire trip in this pair alone.
PROS
 Chic and versatile
 Premium-quality knit
 Dries quickly
 Resistant to wear and tear
 Available in 19 colors
CONS
 Has a slight chemical odor at first
Padded and breathable in all the right places, this pair simulates the walking-on-clouds vibe with help from a soft memory foam insole that feels amazing from the very first step. At its heart is an MD sole that resists abrasion and keeps your feet from rubbing. Strategically engineered with a breathable mesh upper that airs you out and a super-smooth fabric that feels gentle against the skin, the pair is ideal for walking miles and miles, without even realizing it. The elasticity makes them a breeze to wear and remove while the fashionable laces contribute to adjustability and a secure fit.
PROS
 Super-soft memory foam
 Breathable mesh fabric
 Flexible MD outsole
 Available in 17 colors
CONS
 Might not be suitable for sports
From the house of a widely-trusted footwear brand comes this ultra-light pair equipped with the latest support technology. The smooth tongue and integrated collar make them easy to slip into and out of, while the MD outsole and memory foam insole provide superior cushioning. There's a no-slip sole at the bottom that keeps accidents at bay and allows sturdy, measured gaits at all speeds. The flexibility is incredible, as is the bounce-back rate and shock absorption. Even after traversing a considerable distance, you will feel as though you're walking barefoot.
PROS
 Lots of breathability
 Soft and lightweight
 Memory foam insole
 Ideal for all occasions
 Available in 8 colors
CONS
 Arch support might be slightly weak
A beautiful blend of textile, synthetic, and rubber materials, this pair from Adidas can take you from a leisurely saunter to a full-fledged sprint in a matter of seconds while feeling equally comfy during both. They come with a cloudfoam midsole that cushions your feet from every angle, and an OrtoLite sockliner that helps you sidestep blisters and deliver consistently high performances throughout every gymming session. The mesh upper enhances breathability and keeps the feet feeling fresh and sweat-free. If you're concerned about wear and tear from overuse, the Adiwear outsole will take care of that by improving flexibility and expanding shelf life. These shoes are ideal for those who want something versatile that works well for both traveling and multisport training.
PROS
 Long shelf life
 Workout-friendly
 Superior cushioning
 Available in 6 colors
CONS
 Might be slightly wide for narrow feet
Pristine white sneakers have become a staple in every millennial closet but these are way more sturdy and durable than most. Some of the most comforting features include a unique design at the ankles that makes them easier to wear and remove, a lightweight and breathable fabric that resists fatigue and keeps your feet dry all day long, and an ultra-soft EVA sole that simulates the movement of your legs. Since the sole is non-slip, it enhances external friction and lets you walk freely without worrying about skids. Great for everything from leisure to exercise, this sneaker is available in 4 colors.
PROS
 Wide range of motion
 Comfortable and versatile
 High-functioning grip
 Reduces fatigue
 Available in 4 colors
CONS
 The heels might rub ever-so-slightly at first.
It only feels right to wrap this list up with something classic and timeless, which is what this Jenn Ardor slip-on is all about. The pre-distressed look sans any laces has been huge for generations and will not get old anytime soon. There have been some upgrades in the style, though, such as elastic band closures that make adjusting for a secure fit even easier. The non-slip sole provides a fail-proof grip and maintains the stability of every step, while the thick and luxurious cushioning on the insoles lets you spend all day walking around without experiencing fatigue. If you want to do your comfort and design sensibilities a favor, go for this pair.
PROS
 Seamless to wear
 Classic canvas design
 Non-slip rubber outsole
 Available in 16 colors
CONS
With the comfiest of travel gear laid out before you, it's time to pick your favorite(s)! In case you are still unsure as to which of these will serve your needs more efficiently, here's a mini-guide to lead your way towards the right choice.
How To Choose The Most Comfortable Travel Shoes
Honestly, what's the point of wearing shoes that don't make you feel like you're walking on your bed? A cushioned and contoured footbed makes walking more enjoyable, provides arch support that improves posture and corrects misalignment, and adds a spring to every step you take. You are bound to feel less exhausted after a long day of exploration.
Try to strike a balance between too snug and too roomy because that's where the sweet spot is. You'll want to invest in a pair that doesn't threaten to come off at the slightest movement but at the same time, there should be enough space in the toe box to accommodate wider feet. This is because when you spend a lot of time walking/running/climbing, there's the possibility of swollen feet that might make less roomy shoes feel constricting and uncomfortable. Make sure your toes don't touch the inside of the shoe and you're good to go.
If you want your shoes to last beyond a single trip, opt for fabrics like rubber and leather that are stable and have a certain amount of stretch. Rubber is especially ideal for giving you traction on slippery surfaces, which means fewer chances of injuries due to accidental skids. Shoes with an adequate level of grip at the bottom allow you to control your gait and speed as well — a feature that comes in really handy in dangerous or high-intensity situations.
The style and design of your shoes aren't just aesthetic aspects — they have a direct impact on things like convenience, too. Think about it: if you buy a pair that goes with most of your outfits, you can cut down so much on baggage fees. You'll be able to travel light without worrying about losing your bags or re-packing everything when it's time to go home.
Tips For Packing Your Travel Shoes
 Clean your shoes thoroughly
For the greatest packing efficiency, your shoes might have to brush up against your clothes. The first step, therefore, is to pick up a special disinfectant for shoes and get to spraying. Once that's done, you can use a UV shoe sanitizer (depending on the fabric) and smear it over the body for a complete cleanse. A bonus benefit is that your pair of hiking boots or heels will shine like new!
There's so much unused space inside shoes, especially if it's a pair of boots. Make the most of it by rolling up all your socks and stuffing them inside each shoe. Not only does this save room for other essentials without bulking up your suitcase, but it also helps the shoes retain their shape.
This tip is specific to sneakers and sports shoes. Due to their awkward shape, they can be tough to pack in any sort of semblance. One trick is to place them next to each other with their outsoles facing the opposite directions and the uppers facing inwards, which creates a rectangle and makes organization easier. You can add layers of clothing in between and on top to secure them in position.
Why Trust StyleCraze?
Fashion enthusiast Priyam Gupta loves experimenting with fashion goodies. Traveling, being an essential aspect amongst many, she went on a hunt for the best women's travel shoes. With extensive research, she curated a list of them for her readers. These listed products are not only comfortable and flexible, but they are also stylish. You can walk on rough terrains and traverse crisscrossed alleys easily with these shoes.
Frequently Asked Questions
How to survive long days on your feet?
The most important thing is to wear the right shoes. They should be slightly elevated at the heel, offer good arch support, and fit you well even if your feet get swollen. Another tip is to stretch as much as you can to make sure your muscles don't get too stiff. Take plenty of breaks in between and stay hydrated to alleviate fatigue.
How to soothe sore feet on your trip?
You can immerse your feet in a vat of ice for 20 minutes to reduce swelling and inflammation. As cold as that sounds, it will do wonders for your muscles and help your whole body recover from strain and exhaustion. If you don't have access to a freezer, you could try massaging the feet by rolling them from heel to toe over a ball. This stretches out the muscles and alleviates joint pain.
Recommended Articles: