18 Best Women's Water Shoes For The Ultimate Comfort – 2023
Revive the inner child in you and play with water without worrying about your feet.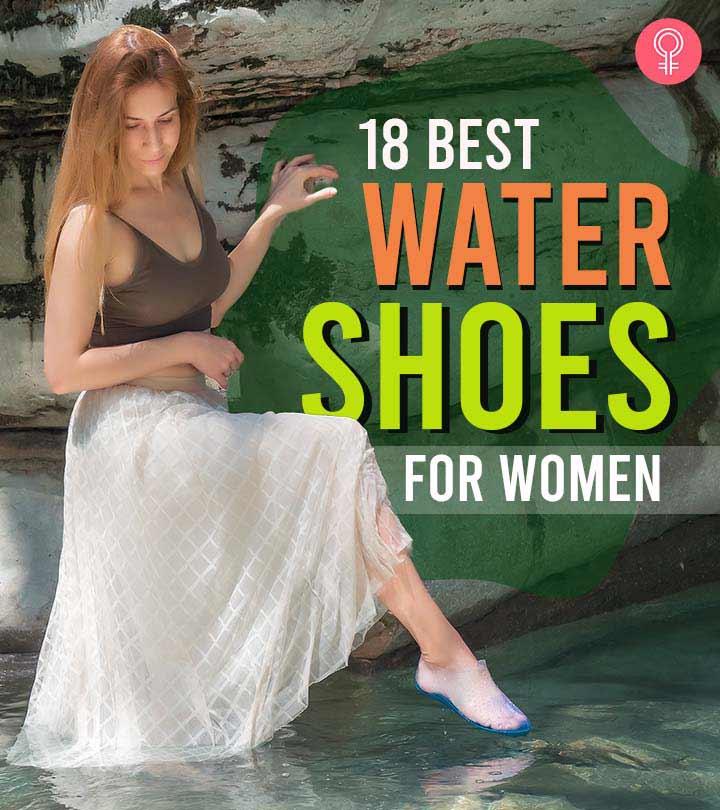 Are you a water-sport enthusiast or someone who prefers hitting the beaches often? Then your search for the right footwear is justified! Get a pair of water shoes that suit your preferences and activities. From casual beach walkers to water sport athletes, everyone can benefit from this unique footwear that protects your feet from unpredictable impact while you are in or around water.
Water shoes incorporate a host of features like thermal protection, water drainage, and underfoot traction to ensure a safe and comfortable experience throughout your activity time.
Today's water shoes have evolved with a much sleeker design that gives a fashionable look while keeping your comfort levels high. To pair up perfectly with your preferences, we have rounded up a list of the 18 best water shoes for women. Scroll down to know more!
Best Water Shoes For Women
These cool shoes from Mishansha are perfect for outdoors or indoors. They are crafted out of ultra-light lycra that resists salt, abrasion, and regular wear and tear. The shoes ensure comfort throughout the day. They feature cross ventilation and drainage points for quick drying. Moreover, their anti-slip rubber sole provides the best traction, while their pull tap at the heels ensures easy on and off without letting them drip.
Pros
Lightweight
Breathable
Salt-resistant
Wear-resistant
Durable
Skin-friendly
Anti-slip
Cons
These extremely lightweight shoes from Barerun give a barefoot feel with an ankle-hugging fit and perfect grip. The shoes are made of high-quality rubber with thick rubberized soles and anti-skid bottom that protect your feet from unpredictable underwater accidents. Their foldable structure adds to your convenience and allows you to carry them easily as they do not occupy a lot of space in your travel bag. Moreover, you get multiple design and color options to select from to match your style needs.
Pros
Breathable
Lightweight
Anti-skid rubber sole
Smooth fabric
Cons
Looking for a cooler option for your footwear? Unlike regular footwear, the snug fit Simari water shoes hold on to your feet like a pro, making your beach trip or water activities way safer. They are made from breathable polyester mesh and rubber sole that guarantee utmost comfort. Their unique design comes with 8 drainage holes to ensure the shoes stay dry. This footwear comes with an elastic shoelace with a locking mechanism, pull tap at the heel, and wide neckline for easy on and off whenever you want. Besides, the stretchy and bendable fabric of the shoes is super lightweight that goes perfectly from beaches and pools to kayaking, sailing, and even family outings.
Pros
Lightweight
Breathable
Quick-dry
Cons
Get ripped after few uses
Enjoy your vacation and splash around in the water with these fashionable water shoes from Zhuanglin. They are crafted of breathable, ultra-lightweight fabric that ensures superior comfort by creating a cooler environment for your feet. Besides the mesh panel, their solyte midsole provides excellent bounce and enhances durability for lasting wear. Their anti-slip rubber sole renders excellent traction that maintains stability for safely experiencing extreme water sports. The unique design of these aqua shoes comes with multiple drainage holes that do not allow water to get clogged (thereby ensuring a quick dry mechanism).
Pros
Quick-dry
Lightweight
Breathable
Anti-slip
Cons
Are you a water-sport lover? Then a comfortable water shoe made out of breathable fabric with an anti-slip sole is a must for you. Opting for L-RUN Athletic Hiking Water Shoes would be the best bet. These aqua shoes feature a honeycomb insole structure, sweat absorbing fabric, multiple drainage holes for quick-dry, and a lace-up strip for a perfect fit. These water shoes protect your feet from sharp objects and ensure a secure fit. Besides, the TPR sole offers maximum traction, making it suitable for running or walking on slippery and wet terrains. Plus, their lightweight and flexible body made of stretchy material ensures cross ventilation and gives a barefoot feel. Moreover, the foldable outsole ensures easy storage when you are on the go.
Pros
Breathable
Quick-dry
Anti-slip sole
Sweat-absorbent
Flexible
Cons
None
These lightweight slip-on women's water shoes from DLGJPA are engineered with high-quality fabric. It highlights a unique hydrophobic mesh design that ensures faster drying and breathability for comfortable wear. The midfoot webbing system provides an adaptive and supportive fit, while the soft cushiony EVA outsole with flex grooves offers plush comfort. These multi-functional aqua shoes feature a wear-resistant body. Their fluid-flow technology provides excellent drainage while their anti-slip outsoles aid better traction. Moreover, the elastic strap with pull tap and the flexible fabric enhances stability, allows easy on and off, and prevents the shoes from dripping off.
Pros
Breathable
Flexible
Wear-resistant
Anti-slip sole
Cons
None
Planning for an adventure trip? Don't forget to add these quick-dry shoes from Aleader in your backpack. The breathable and airy mesh of these water shoes keeps your foot dry and refreshed. The shoes feature fluid-flow technology for faster drying, a hydrophobic mesh for excellent breathability, and rubber pods for superior traction. Additionally, the solyte midsole and cushiony, soft sock-liner offer excellent bounce while walking. This cozy, stylish footwear is great for people always ready for adventure.
Pros
Breathable
Vegan
Hydrophobic mesh
Good traction
Lightweight
Cons
Enjoy water adventure sports with these exclusive water shoes from Hiitave. Their mesh material and hard soles keep your feet protected from cuts and abrasions. Plus, the breathable mesh on the upper keeps your foot refreshed. The solyte midsole offers excellent bounce while the ultra-grip hard sole provides exceptional traction that maintains balance on wet and slippery terrains. The most innovative feature of these water shoes is their toe box design. They offer more space for your feet and give a comfortable fit. Moreover, they also highlight the zero heel lift, which is an adjustable shocklace system for a snug fit and a flexible design. These shoes are perfect for all your outdoor activities, from swimming to kayaking and windsurfing.
Pros
Quick-dry
Breathable
Good traction
Lightweight
Toe box design
Cons
The tightly weaved breathable mesh and super light body of these water shoes from Suokeni are completely fit for water activities. These shoes are made of soft, breathable fabric and good quality rubber sole featuring stretchy MD outsole for faster drying. The cross-ventilation mechanism and multiple unique drainage points keep your feet cool and dry. Besides being lightweight, these shoes alleviate the chances of dripping off due to their unique elastic shoelace system. Moreover, the anti-slip grip maintains balance on slippery terrain. Their stylish design does not compromise on your comfort and safety. The shoes can easily cope with different conditions and offer great performance.
Pros
Ultra-lightweight
Flexible
Durable
Wear-resistant
Anti-slip
Breathable
Cons
None
Make your outdoor vacation way more memorable, comfortable, and safe with these flexible and breathable water shoes from Seekway. Their thick rubber soles offer cushiony comfort and give your feet all-around protection. The high-quality mesh ensures air permeability, keeping your foot refreshed. Plus, the 3D non-slip treads provide excellent grip by increasing friction and track adhesion. They even prevent slipping on wet terrain. The spandex fabric boasts of tiny air holes for drawing out water.
Pros
Breathable
Non-slip treads
Cushiony comfort
Lightweight
Cons
None
These multi-functional unisex water shoes from Sobaso level up your comfort and are perfect for beach games, extreme water games, or family outings. These shoes feature non-slip rubber soles for perfect grip and EVA insoles for utmost comfort. Plus, the elastic shoelaces ensure ankle-hugging fit, while the knit mesh provides faster drainage and cross-ventilation. Not only do these shoes protect your feet from hot beaches and hard rocks, they also up your style statement as they pair well with any outfit. Besides their lightweight stretchy fiber material, their easy on and off mechanism and unique elastic laces allow you to adjust the shoes seamlessly.
Pros
Good traction
Breathable
Quick-dry
Lightweight
Cons
Laces rip out after a few uses
From trailing, hiking, and water activities to casual walk or work, the Merrell water shoes have got you covered with their durable and thoughtfully designed products. These aqua shoes feature a Vibram outsole that provides amphibious traction. These shoes also ensure overall feet protection from the terrain with their UniFly midsole. They are crafted with neoprene and nubuck leather that dries up faster than regular shoes. Plus, the adjustable bungee cord-locking lace is a nice plus making it perfect for water trails.
Pros
Durable
Versatile
Good traction
Quick-dry
Lightweight
Cons
None
If you are a sports enthusiast and prefer indulging in extreme sports, protecting your feet from accidents is a must. Give overall protection with the utmost comfort that your feet deserve with these ultra-lightweight, soft water shoes from Nortiv 8. This footwear features a rubber outsole for high-traction grip, breathable fabric, and 10 drainage holes to prevent water clogging and faster drying. The unique design of these shoes provides the protection from unpredictable accidents and the EVA ventilated sole ensures a healthier foot environment.
Pros
Quick-dry
Lightweight
Soft
Flexible
Non-slip
Shock-absorbent
Cons
None
Enjoy a relaxing beach walk, indulge in sport, and experience a barefoot feel with these athletic hiking water shoes from Jiasuqi. These hiking sandal-type water shoes are crafted with lightweight, breathable, hydrophobic, quick-dry mesh material that does not absorb water. Plus, the added drainage points enable easy flow of water, keeping the shoes dry. The flexible and non-slip rubber sole provides strong traction and protects your feet from injuries. The hook-and-loop closure ensures easy on and off adjustment with a comfortable sock-like fit. Moreover, their flexible and portable design bends into a small size that fits into your bag.
Pros
Flexible
Soft
Breathable
Quick-dry
Strong traction
Cons
None
Make your footwear game a breeze, especially when you are in and around water, with these soft and comfortable water shoes from Speedo. These shoes feature synthetic soles and mesh design for proper ventilation and quick-drying. The neoprene collar ensures easy on and off with secure fit and makes it great for all day wear.
Pros
Good ventilation
Quick-drying
Suit all-day wear
Cons
None
The versatile and durable design of these water shoes from Merrell allows you to indulge in extreme water sports or hiking trails. This footwear is a complete pro at preventing waterlogging due to its micro-mesh upper and antimicrobial footbed. Besides, the toe bumper and injection-molded TPU rear foot stabilizer provide overall protection and balance on watery terrain. The anti-friction linings and shock-absorbing heels make these shoes a great choice for water sport enthusiasts.
Pros
Durable
Vegan
Shock-absorbent
Antimicrobial footbed
Cons
If your adventure-hungry soul craves extreme sports, you will need these amphibious shoes to support you across all terrains. The lightweight design and the thin and snug fit with durable mega grip soles ensures easy movement in and around water while keeping your feet dry. The biggest plus of these shoes are their V-Aqua sole that provides strong traction for holding your balance even on slippery terrain. Besides stability and flexibility, these render rugged longevity, and their inside silicone prints impart a secure fit for all-day wear.
Pros
Durable
Excellent grip
Lightweight
Flexible
Barefoot feel
Cons
None
These water shoes from Speedo are specially engineered for surfwalker and rush climbing that provide excellent breathability. The rubber soles offer ultimate support and level up your comfort game while you are engaged in extreme water activities. Their hydrophobic EVA insole and S-TRAC design outsole expels water to keep your feet dry for a comfortable feel.
Pros
Great support
Breathable
Good drainage
Cons
None
Do water sports intrigue you? Then trigger your sporting spree with the water shoes. Check out the section below to learn about the benefits of water shoes and make them your all-time companion wherever you are in and around water.
What Are The Benefits Of Wearing Water Shoes?
These shoes are easy to pack while you are on the go.
They have thick soles that protect your feet from sharp objects and hot surfaces.
These shoes are designed to provide optimum traction on slippery surfaces, making them suitable for trekking through trails, creek beds, or streams.
These shoes are extremely lightweight and specially designed to repel water.
To avoid the discomfort that arise from squishiness, these water shoes have multiple drainage points.
The mesh material enhances breathability and keeps your feet cool.
The shoes also provide optimum insulation that regulates your body temperature underwater.
Wrong footwear can be downright dangerous while you are hiking on a rough terrain or rafting through a river. Hence, consider the following factors before investing in a pair.
How To Select The Best Water Shoes For Women?
Size And Fit: The main factor you must focus on before buying water shoes is the size and fit. Shoes that are either too tight or slouch on your feet are not suitable for water sports. Purchase a pair that fits comfortably and provides full coverage to your bare feet and incorporates a toe guard.
Comfort And Breathability: Buy water shoes made of breathable fabric. These support proper circulation and regulate body temperature even underwater to provide utmost warmth and comfort. Opt for breathable fibers while buying water shoes. Nylon mesh or leather are best for sweaty feet as they provide optimum breathability.
Traction: To enjoy every moment with confidence, invest in those water shoes that provide optimal traction to tackle any terrain. These offer plenty of grip and save you from embarrassing slips and dangerous falls.
Stability: Stability is must when you look for water shoes as these would support your feet while trekking through wet terrain or hiking. Opt for arch support built into the shoe design for better effectiveness.
Why Trust StyleCraze?
Baishali Bhattacharya, the author of this article, is a certified image consultant who is always on top of the latest fashion trends. As a person who likes outdoor activities and sports, she keeps researching things that help her make the activities fun and interesting. So, she went through several online platforms and researched the best water shoes for women who love water sports. These shoes are fashionable, comfortable, and feature thermal protection, water drainage, and underfoot traction.
Frequently Asked Questions
Can you swim with water shoes on?
Yes, most mesh water shoes are perfect for boating as well as swimming. These shoes offer proper drainage and ventilation which makes them suitable for swimming.
Do water shoes keep your feet dry?
Yes, water shoes keep your feet dry, comfortable, and protected. They come with moisture-wicking fabric and proper drainage features that keep your feet dry.
Can I wear water shoes every day?
Yes, wear water shoes every day if you have water-related activities to take part in. These shoes are not greatly equipped for use on land surfaces.
Do you wear socks with water shoes?
No, most people do not wear socks with their water shoes.
What is the difference between water socks and water shoes?
There is no major difference between water socks and water shoes. However, water socks are preferred by surfers and snorkelers for better insulation. Water shoes offer grip and support, which makes them the ideal footwear for hanging out from rocky shores or quickly moving between land and water.
Can you wear sandals instead of water shoes?
Yes, wear water sandals instead of water shoes if the activities are not too intense. Wear water shoes if you are going for intense activities, especially hiking through wet areas.
Recommended Articles