The 13 Best Wigs For Women That Are Natural-Looking – 2023
Sport a new hairstyle every day with these heat-resistant, natural-looking wigs.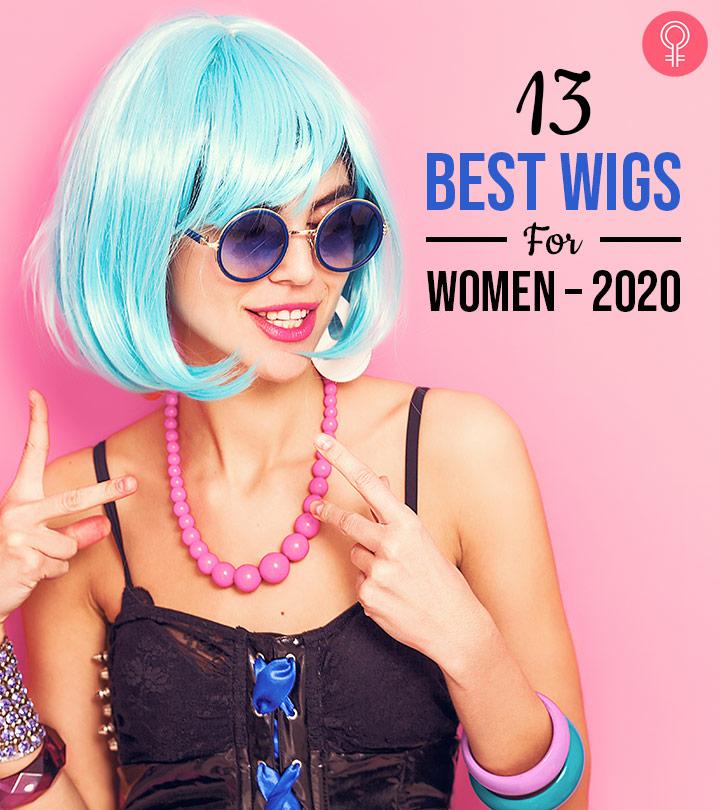 A kickass wig can come to your rescue and help you avoid a bad hair day or help you pull off a new look without doing much to your hair. There are wigs for natural hair protection and wigs for changing hairstyles. While many such wigs are available, you need to choose the best wigs for women to look like an absolute boss! Not only do these wigs make you look good, but they also save you and your hair a world of pain and abuse from styling and harsh chemical products! Also, if you aren't too keen about chopping and dying your hair that frequently, wigs are your new secret best friends. A lovely wig that is well woven and has a natural feel will cost you quite dearly. However, there are cheaper and more inexpensive options that can do the job just as well. To know more about the best wigs for women, check out our list of the top 13 wigs you can buy!
13 Best Women's Wigs
Women who love long hair but also want to try short bob hairstyles can use this wig. The AGPTEK Short Bob Hair Wig is available in black, blonde, red, and dark brown colors to suit different skin tones. This affordable wig is made using high-quality Japanese fiber. It is straight and heat-resistant, has flat bangs, and resembles human hair very closely. You can personalize the straight wig and create different wig styles by using a curling or a flat iron. The hair is sewn on an adjustable, light, netting cap that fits an average size head. Adjust the hooks inside the high-quality wig as per your size, and you are good to go.
Pros
Heat-resistant
Made using Japanese fiber
Available in 4 different colors
Resembles human hair
Affordable
Flat iron and styling tools can be used to create different hairstyles.
Cons
Price at the time of publication: $11.99
Dying to sport ravishing, red hair, but don't want to dye your hair? This wig can be the answer to your prayers. ThE EmaxDesign wig is a 28-inches long, stunning red cosplay wig and is perfect for Halloween, theme parties, and concerts. The wig is made using 100% Japanese fiber and is shiny and soft to touch. It doesn't need any pins or tape to fix and comes with a wig cap that fits an average human head. The wig is also easy to wash and is scalp-friendly. If you need further convincing, check this YouTuber's review out and know about the tester's experience of using it.
Pros
Heat-resistant
Adjustable
Comes with wig cap and comb
Natural-looking
Cons
Shedding of hair strands
Doesn't fit large heads
Price at the time of publication: $12.99
Women who want to sport a blonde long hair look can try the Bengem Blond Wavy Wig. It comes with a breathable mesh liner wig cap. The adjustable strap offers the versatility of fitting the wig to different head sizes. Additionally, the wavy wig is soft and shiny. This synthetic wig is available in blonde, black, brown, yellow, and red colors. Multiple reviewers online on Amazon claims that the wig hair retains its size and feels thick and soft.
Pros
Adjustable straps
Mesh cap
Heat-resistant
Cons
None

Price at the time of publication: $17.99
The Old Lady Cosplay set contains a grandmother wig and other accessories. This wig is suitable if you are dressing up for cosplay or a play as a granny. The set includes a wig cap, pair of granny glasses, an eyeglass chain, a cord strap, and a pearl-beads necklace for a realistic look. The wig is made using 100% synthetic fiber that is long-lasting and fits perfectly. The eyeglass chain gives the perfect touch to your overall look.
Pros
Free wig cap, glasses, eyeglass chain, and pearl necklace
100% synthetic fiber
Cons
Not perfect for big heads
Slight itchiness
Hair shedding
Price at the time of publication: $13.99
You will love this dual-tone hair wig if you love dressing up for costume or theme parties. This ultra-dramatic, short bob, wavy, and curly wig is heat-resistant and 14 inches long. You can further style this heat-resistant wig with different styling tools. This short wig is made using 100% synthetic fiber and is soft to touch. Check out the review of this product on YouTube to know why it is one of the best out there.
Pros
100% synthetic fiber
Comes with a wig cap for a better fit
Heat-resistant
Soft to touch
Cons
Not for broad and large heads.
Price at the time of publication: $17.99
Finding a red-haired wig that gives a realistic look and is very close to human hair is hard. Your search ends with this 32-inch Rbenxia hair wig, which is perfect in terms of length, style, and fit. This curly and long, red hair wig is made of supreme quality synthetic fiber, which makes it long-lasting and soft to touch. It can be fit on the head with adjustable hooks. The hair can be ironed, curled, and styled as you wish with styling tools.  The rave reviews online claim that the product feels soft and is a great value for money.
Pros
Heat-resistant and styling tools compatible
Matches the real human hair
Gives a dramatic look
Cons
Hooks don't adjust perfectly for long hours.
Hair sheds from the parting.
Price at the time of publication: $13.99
Love the gorgeous braided hairstyle of Princess Anna from Frozen? Try this Anogol braided brown wig and look just like her in the next costume party. This wig comes with a wig cap and two adjustable straps, which helps in fitting the wig on different head sizes. The hairnet is a high-quality Swiss net that is breathable and comfortable. The braided pigtail wig is made using 100% synthetic fiber and can be straightened, curled, or styled as you wish. This is a great wig to wear for Halloween parties, cosplay events, theme parties, etc.
Pros
100% synthetic fiber
Heat-resistant
Easy to style
Cons
Imperfect fit for large heads.
Price at the time of publication: $17.99
If you can't dye your entire hair pink like your favorite celebrities and influencers, go for this long, curly, and synthetic wig with air bangs. This pink hair wig from Beron is 14 inches long, has cute bangs that can be styled easily, and comes with adjustable straps to easily fit on different sizes of heads. The wig is made using 100% synthetic and heat-resistant fiber and resembles human-hair very closely.
Pros
14 inches long
100% synthetic and heat resistant fiber
Adjustable, breathable, and a light wig cap
Cons
Hair shedding from the parting and bangs.
Slightly uneven
Price at the time of publication: $17.99
The eNilecor Short Bob Hair Wig is available in more than 12 colors and has straight, crisp bangs. This lavender-purple wig also comes with a wig cap that easily fits on most heads and gives a nice grip. The cap comes with a breathable net that not only holds the wig perfectly but will also make you feel comfortable when you wear the wig. This is a stylish and modern-age wig for rocking a party look. Online reviewers claimed that the color remained vivid and the hair appeared frizz-free.
Pros
Premium quality
Breathable and cooling rose net
Can be trimmed and styled as you like
Cons
Price at the time of publication: $21.99
This long, curly, blonde with reddish-brown hair wig is here to transport you back to the 80s. This is a custom-designed wig that is made using 100% heat-resistant synthetic fiber that looks natural and mimics the natural hairline. You can iron the curly hair to make it straight or style it as per the occasion. The hairnet is adjustable and has two straps that be used for a better grip and fit. It is a lovely wig for the 80's inspired/themed parties.
Pros
100% synthetic fibers
Compatible with curling and ironing tools
Heat-resistant
Adjustable
Cons
Price at the time of publication: $21.99
This is another one of the best curly and wavy wigs for women who adore voluminous, long hair. This wig is available in plenty of colors and is made from 100% Japanese high-quality synthetic fiber, which makes it super soft to touch and handle. This 27-inches long wig has adjustable hooks to fit various head sizes. The curls are tight and shiny, which gives off a dramatic look. It can be further styled to create fabulous wig hairstyles within minutes.
Pros
Voluminous and fluffy
100% high-quality Japanese fibers
Durable
Soft
Cons
Long bangs
Not properly adjustable.
Price at the time of publication: $23.99
You can wear this black wig on a daily basis as it has the perfect hairline and looks natural. It has large bangs in the front and long, wavy strands behind. This wig for daily wear is made from premium-quality synthetic fibers that are heat-resistant. The bangs are stunning, and you can trim and style them as per your wish. It is a great wig for concerts, theme parties, and cosplays.
Pros
High-quality synthetic fibers for better texture
Suitable for daily wear
Velvety soft
Cons
The wig length is a poor fit for different head sizes.
Uneven
Price at the time of publication: $21.59
If you have been dying to bleach your hair ombre, this is the right wig for you. It has a natural wavy texture and beautiful bangs and volume. The wavy strands are heat-resistant, and the bangs can be trimmed and styled, depending on the look you want to achieve.
Pros
Voluminous and soft-textured
Does not knot or tangle easily
Easy-to-style bangs
Cons
Bangs require trimming as per forehead size.
Price at the time of publication: $21.59
Why Trust StyleCraze?
Sakshi Bahal, the author of this article, has a keen interest in hair care. She continuously researches various products used in hair care and comes up with the best for readers. She compiles the list of best wigs for women after reading many consumer reviews and extensive research. She says that these wigs are perfect for flaunting your style for various occasions without treating them with harsh chemicals and dyeing. The best part is these wigs fall under the affordable scale.
Frequently Asked Questions
What kind of wig looks the most natural?
Human hair wigs look the most natural.
What is the most comfortable wig to wear?
A hand-tied wig is the most comfortable to wear for longer periods of time. They sit softly on your scalp and offer a secure fit.
What is the best wig for beginners?
Closure wigs in sizes 4×4 are best for beginners. They are easy to manage and offer great coverage.
Do you need to wear a wig cap under a wig?
Yes, wig caps protect the scalp and keep your wigs securely on your head. Do not skip wearing a wig cap, especially if you have a sensitive scalp.
What wigs are easy to maintain?
Synthetic wigs are easy to maintain. They do not frizz and remain weather-proof.
How long does a wig last?
If worn every day, a good-quality wig lasts for about four to six months. Wigs can even last for more than a year if maintained properly.
Recommended Articles