The 14 Best Wooden Cutting Boards And Buying Guide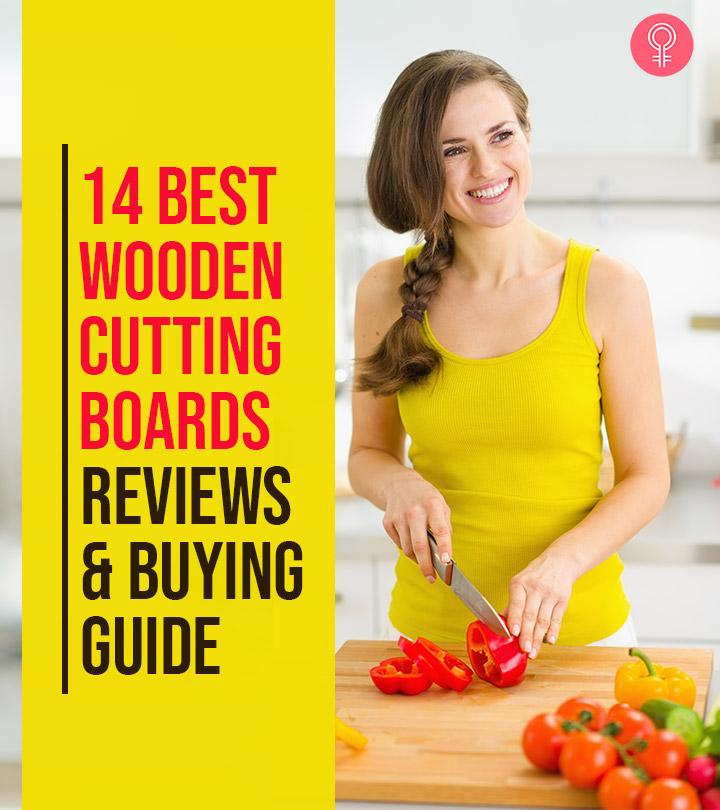 The cutting board is the kitchen's unsung hero. From chopping vegetables and carving meat to neatly slicing bread and portioning fruits – a good quality cutting board is essential when preparing meals. Compared to the plastic cutting boards, wooden cutting boards are tough, hygienic, and easy to clean and maintain. Moreover, a good one will last you for years. If you are ready to bid farewell to your old plastic chopping board and switch to its wooden counterpart, we have some recommendations. Scroll down and check out our list of the 14 top-rated wooden cutting boards that are worth the purchase!
14 Best Wooden Cutting Boards
This organic bamboo cutting board by Royal Craft Wood is a 3-piece set. You get three wooden cutting boards of different sizes. These durable boards are ideal for chopping, slicing, and can also double as cheese platter boards. These have a knife-friendly surface, so you need not worry about the knives leaving any marks on the surface. There is a juice groove on the boards' sides to collect all juices from vegetables and meat.
Specifications
Dimensions: 15 x 10 x 0.6, 12 x 8 x 0.6, 9 x 6 x 0.6 inches
Weight: 4.39 lbs
Pros
Bacteria-resistant
Non-toxic
Handcrafted
Easy to clean
Reversible design
Cons
Not dishwasher-safe
Expensive
This budget-cutting board is made of natural bamboo. It has an antibacterial surface that does not allow germs to get into your food. It is sturdy and will not easily warp and crack. This cutting board is manufactured without using harmful chemicals, dyes, solvents, adhesives, stains, lacquers, sealants, formaldehyde, or pesticides.
Specifications
Dimensions: 18 x 12.5 x 0.7 inches
Weight: 2.8 lbs
Pros
Durable
Antibacterial
Lightweight
Knife-friendly
Chemical-free
Two-sided
Deep juice groove
Cons
Not dishwasher-friendly
Splinters
This is a set of three premium quality wooden cutting boards that can be used for both cutting and serving. The boards are BPA-free and completely safe for kitchen use. They are made of moisture-resistant wood and do not crack easily. These boards have an ergonomic design and are easy to grip.
Specifications
Dimensions: 13 x 9.5 x 3/8, 11 x 8.5 x 3/8, 8 x 6 x 3/8 inches
Weight: 1 lb
Pros
Durable
Doesn't dull knives
Smooth and rounded edges
Easy to clean
Reversible design
Ergonomic grip
Crack-resistant
Moisture-resistant
100% natural bamboo
Cons
This is a thick butcher block-style cutting wood. It is made of sturdy and durable acacia wood and will last you for years. You just have to apply oil every 3-4 weeks to keep the wood hydrated. The acacia wood for this board is procured from sustainable plantations and certified by the Forest Stewardship Council. It is a natural product and is manufactured without any chemicals.
Specifications
Dimensions: 16 x 12 x 1.5 inches
Weight: 7 lbs
Pros
Easy to maintain
Antibacterial surface
Versatile
Sturdy
Deep juice grooves
Sustainable materials
Dual purpose
Reversible
Cons
Not dishwasher-safe
Might peel
Expensive
This sturdy cutting board is made of natural Moso bamboo. This bamboo has a hard density and is almost maintenance-free. The Utopia Kitchen Bamboo Cutting Board is fairly large and can be used for cutting meat. It is designed to outlast harsh use. The surface is finished with sunflower oil and not any toxic paint. This product is lightweight, crack, and warp-resistant and has a tough-to-scar body.
Specifications
Dimensions: 17.8 x 11.6 x 0.8 inches
Weight: 3.54 lbs
Pros
Easy maintenance
Lightweight
Durable
Sturdy
100% natural bamboo
No formaldehyde
Cons
This wooden cutting board is made of the heart of organic acacia wood and is sturdy. It can withstand heavy blows and rough use. This cutting board will not blunt your knives and is available in different sizes. It is smoothened and pre-oiled, so you need not bother oiling it. You can use the board on both sides, and it comes with a 1-year warranty.
Specifications
Dimensions: 16.54 x 12.99 x 0.98 inches
Weight: 5.49 lbs
Pros
Environment-friendly
Sustainable
Inexpensive
BPA-free
Mildew-proof
Side handles
Drip groove
Cons
Groove is not deep enough
This statement cutting board is made of natural bamboo and is BPA-free. It has smooth, polished edges and three built-in compartments. There is no more room for any mess as it has deep juice grooves to avoid juice flowing around in the table. This board can be used for serving and chopping.
Specifications
Dimensions: 17×12.6×0.76 inches
Weight: 3.1 lbs
Pros
BPA-free
100% organic
Built-in juice groove
Easy handle design
Cons
The Farberware Bamboo Cutting Board is sturdy and easy on knives. This heavy-duty butcher clock-style reversible board comes in a set of three. These boards have three different sizes and are ideal for slicing, cutting, chopping, or carving. You may also use it as a cheese board or serving tray.
Specifications
Dimensions: 8 x 10, 5.5 x 8 inches
Weight: 1 lb
Pros
Sustainable
Easy cleaning
Dries immediately
Antibacterial
Durable
Scratch-resistant
Cons
The John Boos Cutting Board is made of maple wood and comes in several sizes that have decorative accents. It is sturdy and has an antibacterial surface. This cutting board has grooves on one side, and the other side is entirely flat. It is thick and is easy to maintain. You have to apply the John Boos mystery oil regularly to avoid drying and cracking.
Specifications
Dimensions: 20 x 15 x 1.5 inches
Weight: 1 lb
Pros
Easy care
Food safe
Integrated hand grips
Reversible design
1-year guarantee
Quick dry
Cons
This one meets the demanding expectations of domestic and commercial kitchens and is one of the best budget-cutting boards. This board is made of high-quality acacia wood and is extremely sturdy. This butcher block-style cutting board stays stable while cutting and is easy to carry. You can use it as a serving board as well. This premium quality cutting board meets the highest level of quality and food safety standards.
Specifications
Dimensions: 17.7 x 3.94 x 13.7 inches
Weight: 8.73 lbs
Pros
Easy care
Easy to handle
Sustainable
Reversible
Handles for grip
Includes knife, sharpener, and brush
Cons
The walnut wood cutting board by Virginia Boys Kitchen has a dark brown shade. This high-quality, sturdy cutting board is perfect for slicing or chopping meats, fruits, and vegetables and is knife-friendly. The natural wood body of this cutting board is expertly carved and well-finished. It is ideal for serving and also adds a glam quotient to your kitchen.
Specifications
Dimensions: 20 x 15 x 0.75 inches
Weight: 6 lbs
Pros
Durable
Thick
Sturdy
Easy dry
Lightweight
Knife-friendly surface
Juice grooves
Cons
A good cutting board is the hero of every kitchen. If you are looking at options fit for domestic or commercial use, this 20-inch Acacia wood cutting board is a perfect choice. It has a sturdy 3.5-inch handle for grip and comes with a 25-year Jamie Oliver guarantee. It is well-built and can last for years if properly maintained.
Specifications
Dimensions: 20.47 x 12.6 x 0.79 inches
Weight: 3.35 lbs
Pros
Easy care
Long-lasting
Affordable
Oil-finished
Matt lacquer coating
Cons
The TeakHaus Carving Board can also be used as a cutting board. This board looks elegant and has a rustic appeal. While this carving board is ideal for slicing meat, you can also cut bread, vegetables, juicy fruits, and other eatables. It is made of teak wood and resistant to moisture and stain. This board is easy to clean and maintain. Massage the wooden board with mineral oil occasionally for maintaining it.
Specifications
Dimensions: 20 x 15 x 1.5 inches
Weight: 0.88 lb
Pros
Easy care
Environment-friendly
Moisture-resistant
Stain-resistant
Durable
Doesn't warp and crack easily
Cons
The Ironwood Gourmet 2818 Chef's Board is a premium-quality acacia wood cutting board. This butcher block-style board can be used as a cutting and serving board. The acacia wood used for this board is sustainably harvested. The body of this cutting board is durable and can withstand wear and tear.
Specifications
Dimensions: 14 x 14 x 1.25 inches
Weight: 4 lbs
Pros
Durable
Easy dry
Food safe
Lightweight
Doesn't dull knives
Cons
Expensive
Not dishwasher-safe
We know you are already thinking of replacing your old plastic cutting board with a new wooden one. Before buying a new wooden cutting board, there are a few points you must keep in mind.
How To Choose The Best Wooden Cutting Board: Buying Guide
Type Of Wood: Wooden cutting boards are either made of hardwood or softwood. Hardwood grows slow and is denser than softwood. Also, hardwood does not get damaged or scratched easily like softwood. Go for boards made of hardwood like mahogany, maple, oak, and teak. These are dense and durable.
Porosity: Wood can be either closed-grain or open-grain. Closed grain wood has smaller pores and a smooth finish. Open grain wood has larger pores, and they can easily absorb liquid and food bits, creating a breeding ground for bacteria.
Toxicity: You may develop rashes and allergic reactions to wood. When choosing a cutting board, it is better to stick to wood varieties that produce fruits like walnut, maple, and cherry. Also, check if the manufacturer has used non-toxic glue, finishes, and conditioners.
The wood type is another pointer to consider when buying a cutting board as the quality and longevity of the board often depend on it.
Types Of Wood To Consider
Sugar Maple: Sugar maple boards are durable, dense, and scratch-resistant. However, maple wood has a neutral color, so the stains will be visible.
Ash: Ash wood boards can withstand any kind of rough usage because of their ring-porous nature.
Beech: This wood is scratch and impact resistant. It ranks high on the hardness scale. Beech wood is tight-grained, so it doesn't retain water and is food safe.
Walnut: Walnut is the softest among all the hardwoods. It is safe for knives but may scratch easily and is prone to breakage.
Bamboo: Technically, bamboo is not wood but an eco-friendly choice for cutting boards. It is hard, renewable, sustainable, and does not absorb much water. Bamboo cutting boards are easy to maintain and not harsh on the knives.
Teak: Teak cutting boards are known for their sturdiness. The dark hue helps mask stains. These boards are resistant to molds, warping, and scratches. However, they may dull your knife in the long run.
Pecan: Pecan is more durable than maple. However, this wood falls somewhat between open and closed grain, so it is likely to allow water to seep in.
Cutting boards frequently come in contact with food and knives. Hence, it is crucial to pick the right cutting board made of the right type of wood. We hope that you have got an understanding of the parameters that you must evaluate before selecting a cutting board. Go ahead and pick one from the list that you think is right for your kitchen.
Frequently Asked Questions
How to clean a wooden cutting board?
You may follow the manufacturer's cleaning guidelines or use antibacterial dish soap and hot water for cleaning. Place the board in the upright position and allow it to dry. You may also soak it in a vinegar solution (one part vinegar and four parts water), rinse it with water, and pat dry. Or you can opt for a lemon-salt solution for scrubbing the board clean.
What woods are not suitable for cutting boards?
Softwoods like pine, redwood, cedar, and hickory are not suitable for cutting boards as they hold in moisture and are prone to breakage.
What woods are toxic to humans?
Wood varieties like purpleheart, cedar, poison walnut, brazilwood, Australian cypress, and ebony are toxic. They may cause nausea and irritation.
Do wooden cutting boards harbor bacteria?
Yes. Open grain woods can retain moisture. These may be hard to clean, thus promoting bacterial growth.
How do you season a wooden cutting board?
Pour seasoning oil or coconut oil. Rub the oil with a cloth linearly towards the direction of the grain. Do this 1-3 times and then let the wooden board rest for 4-6 hours. Wipe excess oil, and your board is seasoned.
Recommended Articles