11 Best Wool Leggings To Beat The Chill In Style
Keep yourself protected with winter clothing that is fashionable and comfortable.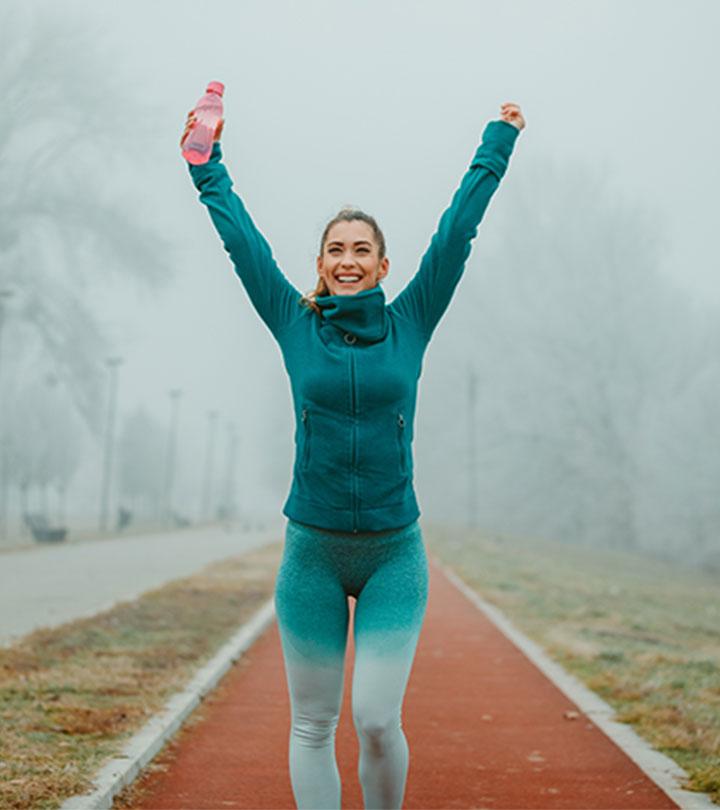 Are you someone who loves the winters and gets all excited instantly when the season comes knocking at your door? It is that time of the year when you get to wear all those statement jackets, trench coats, hoodies, and boots. However, to keep your lower body warm and toasty, you need to wear the best wool leggings.
This article discusses the 11 best wool leggings you can wear during freezing temperatures. Our top picks are designed with high-quality merino wool for your comfort. Merino wool leggings are ideal for times where you have to walk to work in the cold. It is an exceptional fabric that helps regulate the skin temperature and keeps itching and discomfort at bay. It also absorbs all the moisture and odor if you are hiking or skiing. There are countless options available, and to help you out, we have curated a list of the best available in the market. Keep scrolling!
11 Best Wool Leggings That Pack In Warmth For The Winter
Minus33 offers 100% merino wool leggings that have an interlock knit construction with flatlock seams for a clean finish.  Soft and comfortable, the thermal pants can be worn under your clothing or as part of outerwear for warmth during winters. With moisture-wicking properties, Minus33's merino leggings absorb sweat, use less water, and dry quickly. As it is a midweight thermal pant, the UPF rating of 50+ offers sun protection and offers great insulation. It is available in 6 colors, so you can put together a stylish outfit even in the chilly weather.
Pros
Offers sun protection
Can be used as base layer or outerwear
Moisture-wicking
Provides thermal insulation
Available in 6 colors
Quick-drying
Cons
Some may find the waistband to be too thin
These wool leggings for winter regulate your body temperature to keep you toasty during the colder months. Made with 100% superfine micron, this lightweight pair of pants doesn't cause itching, rubbing, or overheating as with other synthetic fabrics. Their moisture-wicking and odor-resistant properties keep you fresh and dry as you indulge in some of your favorite outdoor sports. Blocking out the harmful rays of the sun, these women's wool tights keep the skin well-protected.
Pros
Anti-itch
Odor-resistant
Moisture-wicking
Offers UV protection
Lightweight
Regulates body temperature
Cons
Some might find the crotch area to be baggy
These Smartwool tights trap in body heat to keep you protected in freezing temperatures. Using 100% merino wool in an interlock knit pattern, this outdoor clothing is still breathable and wards sweat away from the skin. The flatlock seam construction helps prevent chafing and the stretchable Smartwool leggings give you a wider range of movement. With a merino-covered waistband the fit is comfortable and leaves no marks.
Pros
Odor-resistant
Doesn't cause chafing
Breathable
Soft waistband
Lightweight with a clean finish
Moisture-wicking
Cons
Engel's wool tights are made with a blend of 70% organic merino wool and 30% silk for softness and warmth. Available in 5 colors, these woolen leggings can be a great addition to your winter wardrobe. The fabric is strong owing to the blend of sturdy fibers and also repels dirt, which makes it super easy to clean. As this pair of leggings is lightweight, you can don this pair as a base layer or rock them solo.
Pros
Lightweight
Dirt-repellent
Soft and warm
Available in 5 colors
Stretchable
Cons
84% polyester, 11% merino wool, and 5% spandex is used in making PARADOX's wool outdoors pants that helps enhance your performance. The DRI-Release fabric pulls moisture and sweat away from the skin to keep you dry and releases it into the air. Drying 4 times faster than materials like cotton, this fabric makes cleaning easy. With a FreshGuard that operates as odor control and the anti-itch benefit, you need to get your hands on these lightweight wool pants for cold weather.
Pros
Anti-itch
Moisture-wicking
Quick-dry
Controls odor
Durable stitching
Lightweight
Cons
Might not be warm enough for extreme winters
With no itching, MERIWOOL's wool knit leggings dry quickly, are breathable, and prevent overheating. They not only wick away moisture but are also resistant to odor to keep you insulated while smelling good. Available in 10 colors, MERIWOOL's warm winter leggings are designed to flatter your body shape, so you can feel confident. Light enough to be worn as a base layer, these leggings also complement other outfits.
Pros
Odor-resistant
Moisture-wicking
Quick-dry
Anti-itch
Flatters body shape
Lightweight
Cons
Might stretch out quickly
Made with 100% merino wool, Eizniz's wool yoga pants provide your skin with top-notch insulation to fight off the cold. Even if you're active all day long, you can count on these leggings to keep you fresh owing to their odor-resistant properties. And to keep you dry, the merino wool base layer fabric naturally wicks away all sweat, keeping you dry through all kinds of movement. Both non-itchy and non-clammy, these woolen leggings are available in 16 colors.
Pros
Odor-resistant
Moisture-wicking
Non-itchy
Available in 16 colors
Smooth finish
Cons
Some might find the waistband too small
These Icebreaker leggings are silky soft to touch and offer thermal regulation to keep you warm when the temperature drops. Merino wool is super resilient and as it is also biodegradable, you can rest assured you're doing your bit for the environment. Suppressing all odors and managing moisture, the Icebreaker merino wool leggings keep you comfortable and dry in the winter. With 4 colors available, you can upgrade your winter fashion with any of these pairs.
Pros
Moisture-wicking
Odor-controlling
Available in 4 colors
Regulates temperature
Allows for easy care
Quick-drying
Cons
Some may find that it stretches too much
Kari Traa is a champion Olympic skier who designed these sportswear leggings that use body mapping for the right fit. The 100% merino wool construction keeps the funky pants breathable and super soft against your skin. With flattering cut lines and trendy prints, these women's wool leggings are available in 3 colors. Drawing inspiration from Norwegian heritage and knitting traditions, you will find the Kari Traa Akle thicker wool leggings to add flair to any outfit you pair them with.
Pros
Flatters body
Breathable
Available in 3 colors
Odor-resistant
Moisture-wicking
Soft and warm
Cons
Might not be entirely anti-itch
LAPASA's wool running tights keep you warm without the itch, which is commonly found in woolen clothes. Don't worry about overheating during your favorite activities as the fabric keeps you cool and is breathable. With excellent heat retention, you can run or jog in the chilly weather wearing these leggings as a base or outerwear. Both moisture-wicking and odor-resistant, you can depend on merino wool to keep you hygienic.
Pros
Anti-itch
Prevents overheating
Can be worn as a base layer
Moisture-wicking
Odor-resistant
Midweight
Cons
Might lose shape with prolonged use
You can choose from 5 bright and fun colors that Disana offers these knitted leggings in. They are made with 100% organic high quality merino wool that is recyclable and biodegradable. Not only is it thick, the fine ribbed knit makes it flexible so you one can move with freedom. Disana has the best wool tights as the elastic waistband is gentle on the skin and doesn't pinch or leave marks. With these wool leggings, your child can enjoy all the other benefits that merino wool comes with.
Pros
Soft and thick
Flexible
Soft elastic waistband
Odor-resistant
Moisture-wicking
Anti-itch
Cons
Some might find the fit to be baggy
Now that we've looked at some of the best wool leggings on the market, let's learn how you can pick out the best pair for yourself this winter.
How To Choose The Best Wool Leggings
The weight of merino wool leggings can help keep you warm but also cool in chilly weather conditions, owing to its temperature-regulating properties. If you live in a place that experiences harsh winters, heavyweight merino wool is a good option. If you will not be outdoors much, a midweight option will also be ideal. However, if you're someone that doesn't get cold easily or lives in a place with milder winters, you can opt for lightweight merino wool. The higher the wool content, the warmer you will be and this also means better odor-resistance. If you happen to be traveling where you can't easily wash your leggings, heavyweight is best suited.
Look for flatlock seams in your leggings as they help with outdoor activities. This stitch prevents chafing and allows comfort with ease of movement.
Crotch gussets sewn in also promote freedom of movement as they can prevent discomfort when you're bending down or squatting. A gusseted crotch also helps hold the fabric together at the center.
If your body heats up quicker than with most people, you can look for leggings that come with built-in mesh panels as they keep air flow strong along with insulation.
While size requires you to measure your waist and thighs, the leggings have to fit you properly and flatter body shape.
Leggings can be high or low waist; you can choose depending upon your preferences and whether you'll be layering them or using them as outerwear.
Wider waistbands are generally more comfortable and can be worn solo for physical activities but might be obtrusive when worn as a base layer.
Some leggings can have bands or cuffs at the ankles which can prevent the fabric from rolling up. If this is something you prefer, you can look into these options.
Leggings made of 100% merino wool can become baggier with use. If you want something that is tight and fits well, look for wool blended with other synthetics such as polyester or Lycra.
Why Trust Stylecraze
The author, Chaitra Krishnan, is a fashion enthusiast and loves to stay updated about the latest trends in the industry. She has curated this list of best wool leggings for the winters after reviewing a wide range of products and skimming through hundreds of reviews on the internet. These leggings have made it to the list owing to their durability, comfort, seamless design, and skin-friendly fabric.
Frequently Asked Questions
Are merino wool leggings warm?
Merino wool leggings trap heat and are temperature-regulating, making them a fantastic choice for winters as they keep you warm.
Are tights warm enough for winter?
Tights made with merino wool lock in heat and prevent it from escaping. This keeps you warm during the winter. If this isn't enough, you could always wear merino wool leggings as a base layer with other outerwear like jeans or trousers.
Recommended Articles: