13 Best Wool Socks That Will Keep Your Feet Warm & Comfy – 2022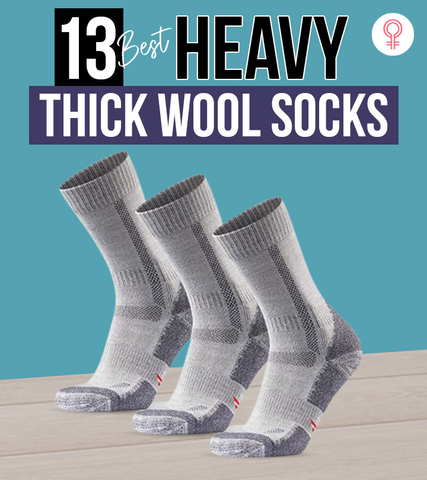 Do you plan to visit the mountains this winter? Or do you have to regularly shovel out the snow to keep your driveway clear? Try the best wool socks to help keep your feet warm and toasty while you do these tasks. Our toes get the most sensitive to cold during the winter season, and woolen socks offer amazing insulation to keep your feet cozy.
Woolen socks are moisture-wicking, which means there would be no sweat or bad odor even after wearing them for long hours. To guide you with your search, we have compiled a list of 13 thick and comfortable wool socks available on the market. Scroll down and choose your pick.
13 Best Heavy Thick Wool Socks Available Right Now
These hiking socks by Danish Endurance are made of a merino wool blend that keeps your feet fresh in the summer and warm during winter. They are designed with a ventilation mesh lane that helps wick away sweat and controls odor. The padded bottoms reduce the risk of foot ache, ensure shock absorption, and prevent blisters. These socks are perfect for hiking, walking, running, or daily wear. They are available in multiple sizes and come in a wide range of colors such as oak brown, navy, gray, forest green, red, black, and light gray.
Pros
Anti-blister
Cooling mesh
Temperature control
Durable
Soft
Comfortable
Moisture-wicking
Not scratchy
Quick-drying
Available in multiple colors
Cons
None
These high-quality socks by Senker are made with polyester, cotton, and Spandex for a comfortable and durable wear. They are soft and keep your feet super warm even in harsh winters. Their multifunctional design makes these thermal socks suitable for school, hiking, skiing, office, and sports. They come in a set of five pairs and fit shoe sizes from US 5-9.
Pros
Skin-friendly
Breathable
Stretchable
Durable
Soft
High elasticity
Available in different prints
Cons
None
Have a comfortable hiking experience with these premium-quality and comfortable woollen socks by Alvada. They are designed with a blend of 80% wool, 15% polyester, 4% nylon, and 1% Spandex for an itch-free experience. The thermal regulating material ensures your feet stay warm and retain moisture even during harsh winters. The cushioning in the foot bed minimizes pain and fatigue in the feet. The non-slip cuff keeps the socks in place, and the brushed fuzzy inner ensures prolonged comfort.
Pros
Fuzzy inner lining
Anti-slip
Temperature regulation
Itch-free
Comfortable
Durable
Moisture-wicking
Cons
None
This outdoor wool sock set by EnerWear is made of high-quality materials comprising of 42% wool, 20% polyester, 34% acrylic, 3% nylon, and 1% Spandex. The socks are designed for extreme weather conditions and keep your feet warm and cozy. The terry loop cushioning throughout the entire foot makes these socks comfortable and perfect for outdoor activities. These socks are available in sizes US 9-11.
Pros
Sweat-wicking
Anti-odor
Quick-drying
Soft
Available in multiple colors
Cons
These Yoicy socks are heavier compared to regular woollen socks. They keep your feet super warm and are also highly fashionable. These multifunctional woollen socks are perfect for winter and both indoor and outdoor activities. They come in a wide variety of colors, from pastel pink and purple to bright oranges and blues. The plain colors can be paired with any outfits and are also perfect for gifting. They are made with 45% polyester, 30% wool, 10% cotton, and 15% Spandex.
Pros

Comfortable
Heavy duty
Soft
Available in multiple bright colors
Cons
None
The People Socks come in a set of three pairs in different colors – navy, brown, and charcoal black. They are cushioned throughout for comfort. The reinforced heel and toe ensure added durability and longer wearability. The toe seam is non-abrasive and does not cause any irritation or pain even during excessive walking. The elastic arch provides a snug fit while keeping your feet warm and cozy.
Pros
Long-lasting
Comfortable
Fluffy texture
Thick
Non-scratchy
Dryer-safe
Cons
None
These merino wool socks by DG Hill regulate your body temperature and keep your feet warm all year round. The soft-brushed fleece interior lining, paired with Spandex and nylon, ensures stretchability and prevents the socks from rolling down. The added arch support makes these wool socks ideal for outdoor sports, hiking, and cold weather. They effortlessly absorb moisture and sweat, thus reducing odor and minimizing dryness. They come in a set of three and are available in a wide range of colors to choose from – lavender, purple, blue, brown, gray, and black.
Pros
Anti-odor
Moisture-wicking
Comfortable
Wide range of sizes
Good fit
Thick cushioning
Breathable
Durable
Available in multiple colors
Cons
None
These super soft wool socks by Zando come in a set of five beautiful and vibrant prints. They are lightweight yet work effectively to keep your feet warm. They are stretchable but do not feel loose or skittish. These printed socks are ideal for outdoor wear, especially hiking. The fun prints make these soft socks perfect for gifting.
Pros
Premium-quality material
Soft
Durable
Stretchy
Breathable
Super warm
Not bulky
Available in multiple prints and colors
Cons
These high-quality winter socks by Jeasona are super thick and made of 29% cotton, 35% wool, and 36% polyester. They are comfortable to wear as well as durable. These thermal socks have a vintage style and are available in a wide range of colors: purple, pink, beige, orange, blue, black, and gray. They can be machine- or hand-washed and are designed to fit US shoe sizes 5-8.
Pros
Durable
Absorb sweat
Soft
Breathable
Non-itchy
Machine-washable
Cons
None
This fashionable set of women's socks by EBMORE is curated with premium-quality cashmere and merino wool for a soft and breathable wear. They have a fuzzy inner lining to keep your feet comfortable and warm. These premium-quality socks have a fuzzy inner lining and are perfect for both indoor and outdoor wear. The socks can fit standard US sizes 6 to 10 and come in a wide range of playful and fun colors.
Pros
Non-constricting
Durable
Comfortable
Non-itchy
Available in fun prints and colors
Cons
None
These socks by NEVSNEV are made of 70% wool, 25% nylon, and 5% Spandex. They are also infused with Lycra rubber for a comfortable and perfect fit. These lightweight and stretchy socks do not leave your feet feeling itchy or sweaty. These merino wool socks are perfect for both outdoor and indoor wear. Their foot rubber prevents torsion, and the durable design ensures long-lasting wear.
Pros
Non-itchy
Breathable
Durable
Comfortable
Machine-washable
High quality
Medium thickness
Cons
This pair of unisex wool socks by Zeal Wood is available in 30+ colors and designs to choose from. These athletic socks are designed with a lightweight mesh for premium comfort and superior ventilation. The reinforced toe and heel prevent abrasion and ensure complete range of movement. These ankle-length socks are perfect for professional sports like running, football, tennis, hockey, soccer, basketball, cycling, etc. They are especially designed keeping in mind the left and right structure of the foot to provide added comfort and prevent blisters. The moisture-wicking fabric keep your feet dry and cool. In case you're not satisfied with the product, the brand offers a 30-day full refund guarantee.
Pros
Durable
Anti-odor
Quick-drying
Multiple cushioning
Prevents blisters
Breathable
Moisture-wicking
Superior shape retention
Good arch support
Soft
Good fit
Cons
None
These maximum-support wool socks by WXXM feature a novelty wing mesh to optimize airflow and a seamless heel and toe for comfort. They are thin and lightweight, so they do not compress your feet or make them sweaty. These socks regulate your body temperature to keep you warm in cold weather and cool in warmer seasons. The protective tab in the back cushions your heel from the cup of the shoe and fits perfectly with a low hiker boot. The seamless toe prevents blisters, while the non-abrasive cuff is anti-slip and comfortable. This pair of wool socks is available in a wide range of sizes for both men and women. The material is made with a blend of 50% merino wool, 30% nylon, and 20% acrylic for extended durability. They are also available in a wide range of colors such as blue, black, pink, and green.
Pros
Maximum ventilation
Breathable
Comfortable
Temperature regulation
Prevents irritation
Prevents blisters
Long-lasting
Lightweight
Stretchable
Moisture-wicking
Anti-slip cuff
Non-abrasive
Cons
None
No matter what you are doing this winter, be it Netflix-ing at home or enjoying the snow in the yard, these comfy wool socks are guaranteed to keep your feet warm and moisture-free. So, pick your favorite from our list and gear up for the chilly winter!
Why Trust StyleCraze?
The author, Baishali Bhattacharya, is a certified image consultant and fashion enthusiast. She perused far and wide on the internet to bring you this list of the best woolen socks for you to wear and keep cozy. These are excellent if you're planning a trip somewhere cold, live in freezing temperatures, or maybe it's winter, and you need to keep those feet warm. These socks were chosen based on thickness, material, and additional benefits like breathability and more.
Frequently Asked Questions
How many days can you wear wool socks at a stretch?
You can wear your wool socks for up to 2 to 3 days without washing. Any longer than that, and they will start looking dirty and smelling bad.
Are cashmere socks warmer than wool socks?
Yes, cashmere socks are much warmer than wool socks. Cashmere fibers are finer, lighter, and warmer, which means you don't have to layer up with bulky socks to keep your feet insulated.
What should I wear under wool socks?
Thin cotton or viscose socks can be worn under thick wool socks to absorb the moisture from your skin. This ultimately ensures dry and comfortably warm feet.
Do you need to wash wool socks?
Wool socks do not need to be washed as often as socks made from other fabrics, such as cotton or synthetic. But, you have to wash them after two to three times of use. Wash them exactly like you would wash your other woolen clothes.
Recommended Articles