15 Best Workout Headbands For Women In 2020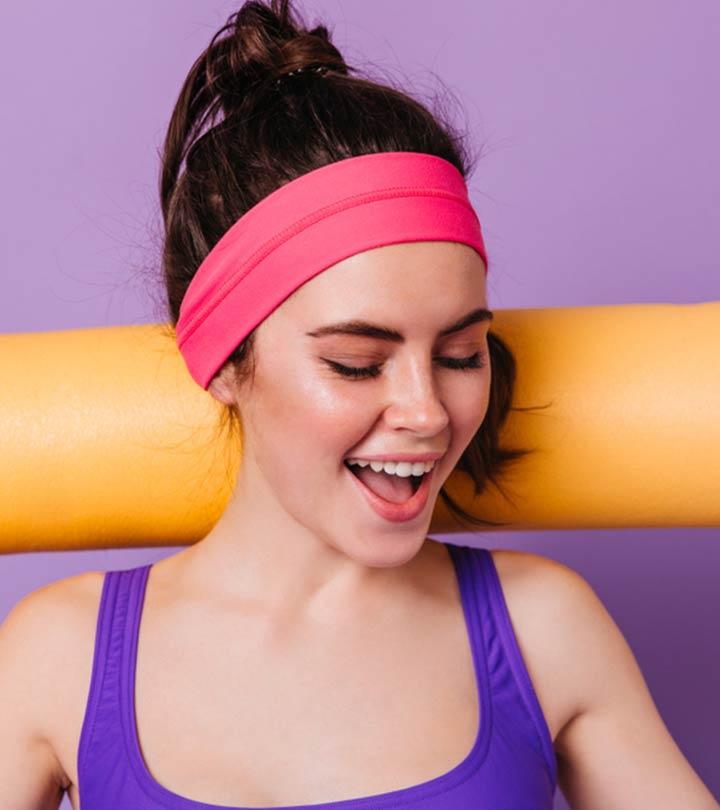 When working out, you've got to keep your eyes on the prize and not let sweat and hair come in the way. Staying fit and being stylish go hand-in-hand, and headbands are the only fitness accessories that never go out of fashion. Worn to keep sweat and hair off your face while working out, running, or while engaged in other forms of athletic activities, headbands add a fresh pop of color to your workout sessions while being useful.
However, only the right kind of athletic headbands and bandanas will do that for you — the one that offers a snug fit, doesn't slip-off, looks chic, and most importantly, one that is comfortable, even when worn for hours. It seems like such a challenging task to look for one that can do all of these things, right? Don't worry, we've simplified it for you by listing out 15 best gym headbands that'll help you accomplish your fitness goals while you sweat it out.
15 Best Workout Headbands To Amp Up Your Fitness Game In 2020
If you like to incorporate stylish accessories to your workout sessions, you should get your hands on a Blom headband for women. It is a fashion chameleon that can be worn as a wide band or in pleats. The breathable band made from a soft viscose fabric with sweat-wicking qualities features a moveable knot and pleat-detailing, making it easy to be worn in various styles.
Pros
Ideal for all seasons
Soft and stretchable
Reversible
Stays put for hours
Cons
Some may find it slightly slippery.
This headband is the best bet for those who love to carry their sporty vibes wherever they go. Crafted with Nike's revolutionary Dri-FIT Technology and a blend of polyester and spandex, this is indeed one of the best types of headbands available. Thanks to the added silicone and excellent sweat-wicking properties, the 3-inch wide band won't lose its shape during a workout and offers a snug fit every time you wear it. The swoosh logo completes your cool, athleisure look while setting the right mood for a great session.
Pros
Does not slip
Soft and durable
Unisex design
Secure and comfortable fit
Cons
As the logo is heat-pressed, it may fade with time.
One of the best sweatbands you can get your hands on, this one is made of high-quality cotton. It provides a tight yet comfortable fit with no chances of slipping-off, even through rigorous training sessions. Try donning it for other sports like basketball, soccer, tennis, cycling, spinning, MMA, skiing, and rest assured that it won't disappoint you. This workout headband is known to absorb sweat 8 times faster than a regular cotton headband.
Pros
Available in other colors
Unisex
Stretchable
Sweat-absorbing
Cons
It may be uncomfortable for some as it covers the ears.
Complement your workout wardrobe one at a time with this 6-piece value-pack of colorful headbands. The headband measures 4 inches in width and 8.8 inches in length and is one of the best workout headbands for women. Don these running headbands during any season, any time, and anywhere courtesy the adaptable poly-spandex blend it is made of. Suitable for yoga, gym, and even your makeup/skincare routine, this sweatband is multifaceted and one of the best headbands available at an affordable price point. The brand promises replacement if you come across any quality-issues.
Pros
Available in multipacks
Available in vibrant colors
Lightweight and stretchable
Long-lasting wear
Cons
It may not offer a comfortable stretch.
Suitable for most physical activities, the 4-inch wide RiptGear yoga headband is designed from stretchable, non-slip materials to ensure that it doesn't slip off. Ideal for complicated yoga stances and intense workout sessions, this funky headband feels light on the head despite providing a tight fit. With brilliant colors that do not fade away even after multiple washes, you can rest assured that RiptGear's headbands are made of high-quality materials.
Pros
Available in multipacks
Ideal for any activity
4 inches wide
Versatile design
Can be worn in many ways
Cons
Some may find it slightly loose
This headband might appear as a regular headband, but its versatility sets it apart to make it one of the best running headbands for women. The 2-layer, polyester, and spandex fabric lets you play with its wearability. You can fold it, wear it as a wide band, or with a ponytail. It features a moisture-wicking material with mesh lining. Neither too tight nor too loose, this workout headband by Isnowood ensures a no-slip fit without leaving any marks on your forehead.
Pros
Standard size fits all
Versatile and fashionable
Quick moisture-absorbing
Breathable
Cons
Some may feel that the band is not wide enough.
This reversible headband is one of the best headbands for women who often complain of headband induced headaches. The black bowtie on the headband looks incredibly cute and stylish. It comes with windproof, quick-wicking, and quick-drying properties and can be styled in many ways. You can style it as a balaclava, a wristband, a scarf, a neck gaiter, and a helmet liner, among other styles.
Pros
Multipurpose
Non-woven microfiber
Ideal for everyday use
Soft material
Cons
It may be slightly loose for people with a small head.
Uber-fashionable and functional, Calbeing's headband remains the best choice for many fitness influencers. The widely-cut band offers extra coverage you need for bad hair days. The lightweight headband made with 87% nylon and 13% lycra spandex is available in 6 subdued color options. So, get ready for all those high pumping gym sessions without worrying about sweat, hair, and all that comes in the way.
Pros
Easy to care/wash
Multiple usages
Cozy and comfortable fit
3 inches wide
Cons
It may not offer a good fit for people with a slightly large head.
If you always thought skinny headbands are only for a good show, think again. Tough's skinny sports headbands will change your mind. Made using 95% polyester and 5% spandex, this comfortable band with non-slip silicone grip holds hair as perfectly as any other wide band. These athletic bands are exceptionally soft and lightweight, you'll forget you even have them on. They are available in various colors and designs like neon green, pink, camouflage, and geometric shapes. Toss one up on your head for some real swag while sweating-it-out!
Pros
Multipack
Thin and lightweight
Non-slip and easy-to-wear
Available in other color and pattern variations
Cons
Some may find it too tight
This headband by Heathyoga comes with a special "grip-wave" texture, which works for even the sweatiest of workout sessions. It is made of high-quality stretchable fabric and absorbs sweat 3 times faster than common cotton sweatbands. The super-flexible nylon-spandex blend makes it a popular choice among many fitness enthusiasts and the best workout headbands that you'll ever come across.
Pros
Breathable material
Unique "grip-wave" texture
One size fits all
Excellent elasticity
Cons
May slip off during high-intensity workouts
With its innovative, integrated loop design, the running headband is going to be the ultimate companion of your ponytail while you run, gym or Zumba or indulge in any other HIIT session. The super-soft, polyester fleece of Trailheads headband insulates while its contoured shape covers your ears entirely. Owing to its moisture-wicking qualities, the headband assures a sweat-free workout session each time you hit the gym.
Pros
Moisture-wicking
Sweat-absorbing
Available in 13 colors
4 inches wide over the ears
Cons
It may not be ideal for the summer.
This knotted, thick headband not just exudes all those boho-vibes, but the criss-cross design keeps it from falling off. Available in funky colors, the cute-looking bandana is equally suitable for a coffee date as it is for working out, running a marathon, or even as a fashion accessory when hanging out with your friends. The 4-piece set comes in different color variations, so that you can switch up your style every day.
Pros
Stylish design
Thick and seamless fabric
Soft and stretchable
Absorbs sweat quickly
Cons
Some may find it slightly bulky-looking.
Looking to add some color to your fitness regime? These headbands are available in different colors that will help amp up your style game. Talk about functionality, and Bondi Bands promise 10 times more sweat-absorption than regular sweatbands. It also boasts of a no-slip, no-drip technology. Available in 2, 3, and 4-inch widths, these sweatbands are ideal for men, women, and children.
Pros
Unisex
Breathable material
Moisture-wicking design
Over 20 color options
Cons
The tapered back may feel uncomfortable for some.
Looking for cool sweatbands? You need not look any further than this. Made from a polyester and cotton blend, this headband is worth your attention. Quick-drying and skin-friendly, it won't let our skin feel any strain during long hours of gymming or yoga sessions. These wide, super- sporty looking gym headbands do not shrink and fade after washing.
Pros
Comfortable and breathable
Anti-slip
Quick-drying
Athlete-tested
Lightweight
Cons
It may not keep your head warm during colder days.
Available in vibrant colors, this fitness headband uses patented TreadGripStrip Technology on the insides of the headbands. It features a soft, foam rubber neoprene strip that ensures it will never slip off. The low maintenance headbands can be hand-washed or machine washed, and are super quick-drying in nature. The no-slip bandana will stay put on your head courtesy its tie-back feature.
Pros
Comfortable and breathable
Patented TreadGripStrip technology
Quick-drying
Available in different colors and patterns
Cons
Some still find it slippery
When choosing headbands for workout sessions, there are many things you should consider. It should keep the hair out of the face while keeping sweat out of the eyes. During the wintertime, you should look for a headband, which offers enough warmth. Let's take a look at a few other pointers.
How To Choose The Best Headband?
The primary purpose of a workout headband is to keep sweat and hair away from our face. Ensure the material of the headband you're buying is super-absorbing, preferably nylon, rayon, or a cotton and spandex blend. Look for phrases like, "quick-drying", "moisture-wicking", "super-absorbent".
The next best thing your headband should do is snugly fit around your forehead to keep it from slipping and letting your hair get in the way. Ensure that the band is of the right fit, stretchable and tight. Extreme strain can damage your hair and leave marks on your forehead, so make sure it offers a snug fit without causing pain.
Working out is harder during winter. Thick headbands can give you some respite. Choosing a snug, cozy, or preferably double/triple layered fabrics for your bandana might work in your favor. It will also eliminate the need for wearing a separate ear warmer.
Look for adequate length and width of your headband so that it doesn't give you a headache even when worn for a long time. Wide workout headbands may offer respite but also tend to become loose quicker. However, most people opt for wider headbands as they look charming and stylish.
Expert's Answers for Readers Questions
Do headbands stop sweat?
The best workout headbands are made using soft and stretchable materials like viscose, nylon, lycra, poly-spandex when choosing the fabric of your bandana. They come with moisture-wicking properties that effectively prevent sweat from getting into our face and eyes while we work out.
Why do headbands slip off?
Headbands whose fabric lacks a fair amount of spandex often fall off from the head. For high-intensity workout, we need headbands made from high-quality materials for them to stay put on our heads.
Should you wear a sweatband while working out?
Yes, we should wear a headband to prevent sweat from getting into our eyes while working out at the gym. The headband also helps in keeping our hair away from falling on our faces as we work out.