15 Best Workout Headphones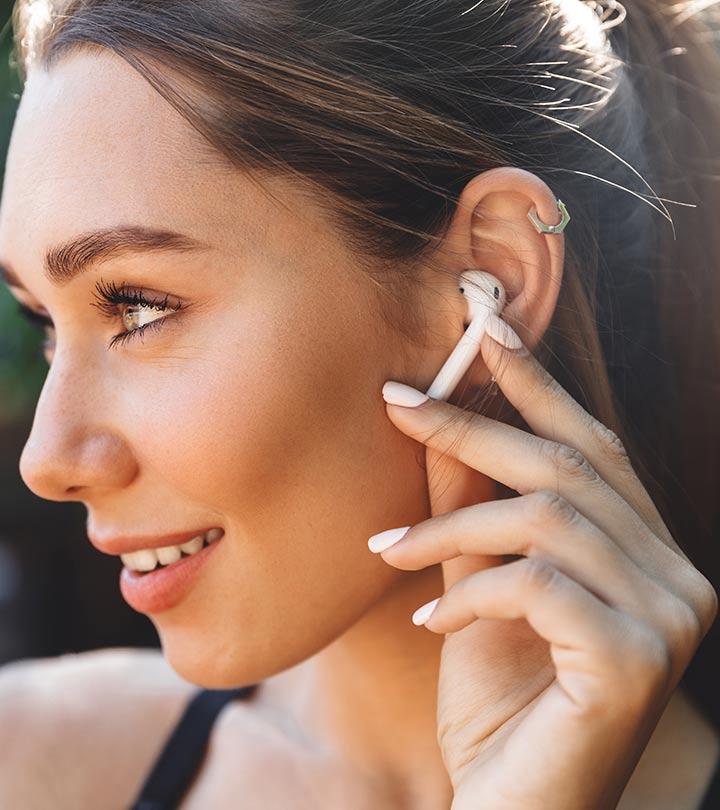 How many times have your headphones fallen out of your ears while you were sprinting on the treadmill? Too many to count, right? Well, you are not alone. This is a problem faced by almost everyone, and the sweat just makes it worse. Don't worry, sweaty – uh oh, I meant sweety! Many brands have come up with amazing headphones that stay put in your ears no matter how vigorously you work out. First, let's talk about what you need to look out for when buying workout headphones.
What You Should Look For In Workout Headphones
1. Waterproof
This is the most important thing to look out for. They should be immune to not only sweat but also rainwater and moisture. You could be running outdoors and it may start raining – and trust me, you don't want the water to get inside your headphones. Get a waterproof pair so you can wear them no matter what kind of workout you opt for – whether indoors or outdoors.
2. Good Fit
Your headphones should fit comfortably. Nowadays, there are all kinds of fitness-oriented designs available that are exercise-friendly. Some wrap tightly around your head, some go over and around your ears, and some sit deep inside your ears. Then, there are lightweight Bluetooth in-ear headphones with curved, hook-like structures that fit under the pinna of your ears. There is nothing more annoying than your headphones falling off when you are trying to stay focused. Even the best running headphones can become annoying when their cable snags on the back of your neck or your clothing.
3. Good Sound Quality
Gyms are noisy, filled with the grunting and groaning of people and loud music playing over the speakers. If you want to work out to your own tunes, you will need headphones that block out all external sounds. Go for headphones that cancel out all external noise and have great sound quality.
4. Long Battery Life
Image your wireless headphones running out of battery in the middle of your workout. Sounds like a nightmare! Make sure that the headphones you get have good battery life. You shouldn't have to worry about charging them too often.
Now that you know what to look out for when buying workout headphones, check out the best ones available right now!
Top 15 Workout Headphones
Plantronics BackBeat Fit 500 headphones have a robust design and an excellent sound profile. They are ideal for anyone who wants a rich sound experience while working out. They feature 40mm audio drivers and a closed back on-ear design. They also have comfortable ear cups and a memory foam headband. The cups are great at muffling ambient noise. BackBeat Fit 500 headphones have a nanocoating that is IP67-certified, which means they are protected against sweat, moisture, and water. In fact, they can be immersed in 3.9 feet deep water for up to half an hour. The ear cups boast a P2i military-grade nano-coating that ensures the entire product is waterproof.
BackBeat Fit 500 headphones can last up to 18 hours on a single charge. You can go as far as 33 feet away from your music device without facing any issues. The playback controls are located on the right ear cup, and the volume rockers are placed on the side of the right ear cup. BackBeat Fit 500 headphones come with a 3.5mm backup jack, which can be plugged at the bottom of the right cup. This is great as you can use the wire to listen to music and finish your workout when you run out of battery.
Pros
Great sound quality
Reasonably priced
Sweat- and waterproof
18-hour battery life
Great noise isolation
Comes with a 3.5mm backup jack
Supports Google Now, Siri, and Cortana
Cons
May be a little loose for people with small heads
Headphones may shift during rigorous exercise
Jaybird is known for its amazing Bluetooth headphones. Jaybird X3 wireless in-ear headphones are extremely comfortable. Even though these headphones have super tiny 6mm drivers, their sound quality is absolutely gorgeous.
These headphones are compatible with the Jaybird MySound app. You can create or customize EQ presets on the app and adjust the level of mids, bass, and treble you want to hear. You can even save these settings to your earbuds to use your EQ presets no matter which music device you pair them with. Jaybird X3 supports Bluetooth 4.1, which is a major upgrade from its predecessor Jaybird X2's Bluetooth 2.1. This upgrade has greatly improved the battery life of these headphones.
Pros
Great sound quality
Completely seal off your ear canals, muffling noise effectively
Comes with a large variety of compatible silicone ear fins and ear tips for optimum comfort and fit
Protected with a hydrophobic nano-coating, which prevents moisture build-up
8-hour battery life
Water-resistant
Cons
Do not have active noise-cancellation
The inline remote is bulky, relatively heavy, and feels uncomfortable dangling on your neck
The headphones have a charging clip, which is cumbersome and restricts your options for charging them
Cannot be charged with a regular USB cable
Reports of intermittent Bluetooth dropouts

If you are willing to shell out a little bit more for your headphones, you can take a look at the Jaybird X4 headphones. They do everything the Jaybird X3 can, and more. They are completely waterproof, not just water-resistant. They also feature redesigned ear fins, called the Sport Fit Plus, that provide a more comfortable fit while exercising. They also come with an adjustable speed cinch which helps you manage the cable and prevents it from getting tangled or flapping around on your neck.
Pros
Amazing sound quality
Comfortable fit
Customizable EQ on app
8-hour battery life
Waterproof
Cons
Comes with a charging clip – if you lose it, you can't charge your headphones using just any USB cable
Bulky inline remote
Reports of intermittent Bluetooth dropouts

AfterShokz specializes in making bone conduction headphones. Bone conduction headphones play sound through your cheekbones by using bone conduction transducers. These headphones are uniquely designed to keep your ears free from earbuds. This allows maximum situational awareness and comfort. AfterShokz Trekz Air headphones are ideal for outdoor workouts. In fact, AfterShokz is the only brand of headphones that is approved for use in road races in the United Kingdom. These headphones use Bluetooth 4.2, which has a range of up to 33 feet. They weigh 30 grams and are super comfortable to wear. Their flexible wraparound design provides a good grip even during extreme sports like CrossFit and off-road racing.
Trekz Air headphones are protected from dust, sweat, and moisture. They can be worn in most weather conditions. AfterShokz Trekz Air headphones have dual noise-canceling microphones, which enhance speech quality during calls. They also block out ambient sound.
They take around two hours to charge fully, and you can use them for up to six hours continuously.
Pros
Amazing sound quality
Extremely lightweight and comfortable
Sweatproof and water-resistant
Perfect for outdoor workouts
Dual noise-canceling
Cons
Low volume issues
Short battery life compared to other products in the market

These are Jabra's most popular wireless headphones. Elite Active 65t headphones are completely waterproof. You can even wear them out in the rain as they are well protected against water as well as sweat and moisture. They look great and have great sound quality, exceptional fit, decent sound isolation, and a super long battery life. Jabra has its own Jabra Sound+ app that lets users customize the sound.
These headphones have fewer dropouts than the other Jabra models. Their 4-microphone technology enables you to experience quality calls. The headphones have a built-in motion sensor that helps you track your activity progress through the app. They also support Siri, Alexa, and Google Assistant.
Pros
Feature Jabra's HearThrough technology, which allows you to listen to outside noise like the honking of cars when you are out running, jogging, or cycling
Customizable EQ
Great noise isolation
Supports Alexa, Siri, and Google Assistant
Sweat- and waterproof
Tracks workout performance
Cons
Expensive
Inconsistent pairing
Uncomfortably tight fit for some people

Bose is the king as far as music equipment brands go. Its SoundSport Wireless headphones are one of the best workout headphones on the market. They are designed to be loose on your ears — just enough to let the right amount of outside noise to get in your ears. This is very necessary if you are working out outdoors.
Bose offers ear tips with soft silicone fins in different sizes. It has excellent sound quality and booming bass. The battery of these headphones can last up to six hours after a complete charge. Their microphone has an auto-off feature, which minimizes battery consumption. Their Bluetooth connectivity is also great and can function as far as 33 feet. They also feature NFC (near-field communication), which has made the pairing process simpler and easier.
Pros
Comfortable to wear
Superb sound quality
Supports NFC Bluetooth pairing
Auto-off feature that maximizes battery life
Cons
Stick out of the ears and it feels as if they are going to fall out
Made of hard plastic to protect them from sweat. However, many people have reported water damage

BeatsX wireless in-ear headphones are a favorite among gym-goers. They have a well-balanced sound system. Their battery can last up to eight hours on a single charge. Apple's W1 chip makes their battery consumption efficient. The best feature of these headphones is the company's proprietary quick charging technology, Fast Fuel, which allows the Beats wireless headphones to play for two hours from a five-minute charge. The headphones feature Class 1 Bluetooth, which means you can access it for up to 100 feet. You can easily adjust volume, control music playback, accept or end calls, and activate Siri using the inline mic/remote from this distance.
These headphones have longer free-forming flat cables, so they sit on your neck without getting all tangled up. When you are not using them, you can just let them sit around your neck and allow the magnetic earbuds to stick to each other to form a loop. The company also offers a variety of ear tips – you can choose the ones that are perfect for your ears. The removable wing tips provide stability and let you do vigorous workouts with ease.
BeatsX wireless in-ear headphones can be charged using Apple's lightning cable. This makes it easy for the headphones to pair with an iOS device.
Pros
Fit snugly in your ears
Lightweight
8-hour battery life
Removable wing tips
Cons
Not sweatproof, though they do function in the presence of sweat quite well. However, sweat can cut down the lifespan of these headphones to a large extent.
Long cable

Sennheiser CX Sport in-ear headphones have a solid bass presence and great sound quality. They give you a decent six hours of battery life on 1.5 hours of charging. A ten-minute charge will give an hour of battery life.
They come with four sizes of silicone ear tips and three sizes of ear fins, so you can select the perfect ones for your ears. They are sweat-resistant and lightweight. They have a relatively flat neckband that does not get tangled. They also feature a cinch that allows you to adjust the neckband's grip to your head size. This gives you the perfect fit.
Pros
Water-resistant
Excellent passive noise reduction
Well-balanced sound
Flat and adjustable neckband
Cons
The inline microphone and remote control are a little bulky
Average battery life
Expensive

These headphones are one of the best high-end options in the cable-free headphones category. The sound quality of SoundSport Free is pretty great considering they are truly wireless headphones. They have a battery life of five hours. However, the charging case can support them for an extra ten hours. SoundSport Free are good at receiving Bluetooth signal from the source even if it is far off, and you are guaranteed a stable, near-perfect connectivity. They are also sweat- and moisture-resistant.
Pros
Great sound quality
Sweat- and moisture-resistant
Stable Bluetooth connection
Bose's Connect App helps track them misplaced earbuds
Cons
Sometimes have high latency if used while video streaming
Look bulky since they stick out of your ears, which is counter-intuitive to its wireless design.
Not great noise isolation
Fins don't seal off your ear canal entirely

Anker Soundbuds Curve are for anyone who wants good headphones for a super cheap deal. They have decent bass-heavy sound quality and are a great fit. They are also sweat-resistant and have a super long battery life of 12.5 hours (plus an hour on a 10-minute charge). They are a cheap dupe of Beats Powerbeats 2 and Powerbeats 3. The ear hooks are super comfortable to wear, and the additional ear wings on top keep the headphones in place during vigorous workouts.
There are only three buttons on the inline remote control. In addition to the play/pause function, the main button also activates Siri or Google Assistant when pressed for longer. Pressing it for even longer will turn the device off.
Pros
Sweat-resistant
Affordable
Comfortable fit
12.5-hour battery life
Cons
Noise isolation is below average
The audio cable that connects the headphones is thinner than most wireless in-ears

BackBeat Fit in-ear headphones are one of the best wireless workout headphones under $100 in the market. Their wraparound design and the ear hooks guarantee a comfy fit even during rigorous workouts. They are sturdy, lightweight, and flexible for maximum comfort. The earbuds do not go too deep into your ear canal. This reduces the chances of fatigue when you wear them for a long period of time.
The controls are on the ears and not inline. They also offer extra support for Siri and Google Voice. BackBeat Fit has good sound quality and deep bass. They are waterproof and sweatproof because of their nano-coating. They last up to eight hours on a single charge.
Pros
8-hour battery life
Sweat-proof and water-resistant
Comfortable and lightweight
Snug fit
Attractive color choices
Cons
Controls are overly sensitive to touch
The ear hooks can be too tight for some people

Urbanears Stadion headphones are great for running. Since they have a solid neck band and coiled cables hooked to the earbuds, they fit snugly without blocking out the outside noises around you. These have decent audio and seven hours of battery life. They are also available in a wide range of funky colors.
Pros
Good sound quality
Snug fit
Decent battery life
Cons
The control buttons sit directly on the back of your neck, making it difficult to use them while working out
Can get snagged in your hair
Sound isolation is average

Sony WI-SP500 headphones are not only a great wireless music player but they also have a built-in microphone that makes it easy to attend calls. These headphones provide up to eight hours of playback on a single charge. They also have open type drivers that let in outside sound for increased awareness during outdoor workouts – reducing chances of bumping into a car or bike while running. They fit snugly around your head and are super lightweight. They are also waterproof and sweat-proof.
Pros
8-hour battery life
Snug fit
Budget-friendly
Waterproof and sweat-proof
Cons
Reports that sometimes you can only hear through one of the sides
People with larger or smaller heads may not get a snug fit

If in-ear headphones are not your thing and you are looking for a stable on-ear option, go for JBL E45BT headphones. They don't cover your ears fully, so your outer-ear will not overheat while working out the way it does with over-ear headphones. These headphones come in a variety of colors and offer simple, physical inputs. These enable you to skip through tracks or control your volume easily without having to use your phone. The JBL E45BT headphones sound decent and have a great battery life. A short two-hour charge time can provide up to 26 hours of battery life. In case the battery runs out, you can use the included audio cable.
Pros
Deep, well-balanced, and punchy bass.
Budget-friendly
Protects your outer ears from over-heating
Great battery life
Cons
The on-ear design does not isolate much noise
The bass delivery varies across users

RHA TrueConnect headphones look similar to Apple AirPods and are almost equally comfortable. They are moisture-proof, sweat-proof, and water-resistant. RHA headphones offer a great fit and numerous types of ear tips that you can choose from. They are perfect for gym, though you may have to push them deep into your ears if you are running outdoors on a bumpy road. They provide five-hour playback from a single charge, and 20-hour backup after fast charging it through the charging case.
Pros
Sweatproof and water-resistant
Super long battery life
Snug fit
Cons
Lack of overt bass
Pairing not always smooth
Expensive

As you can see, choosing the best wireless workout headphones for your requirements is not easy! There are many options out there and they can be quite expensive. You need to know the pros and cons of each product before investing in a pair that suits you best. Hopefully, this guide will make your job easier. Have you decided on which workout headphones you want? Let us know in the comments section below. Happy shopping!
Expert's Answers To Readers' Questions
Are headphones or earbuds better for working out?
It depends on your preference, the shape of your ears, the size of your head, your hair, and so on. You can try using both and see which ones suit your requirements the most.
Can you exercise with headphones?
Of course! There are plenty of headphones in the market that cater just to people who want to work out while listening to music.
Is it better to workout with music or without?
This is a no-brainer. Of course, with music! Music helps you disassociate from your current state. Most of us need a stimulant like funky beats to finish our workouts. But, if you don't want to, it's perfectly fine! The important thing is that you complete the workout, the music is secondary.