20 Best Workout Leggings Brands For Every Type Of Exercise – 2022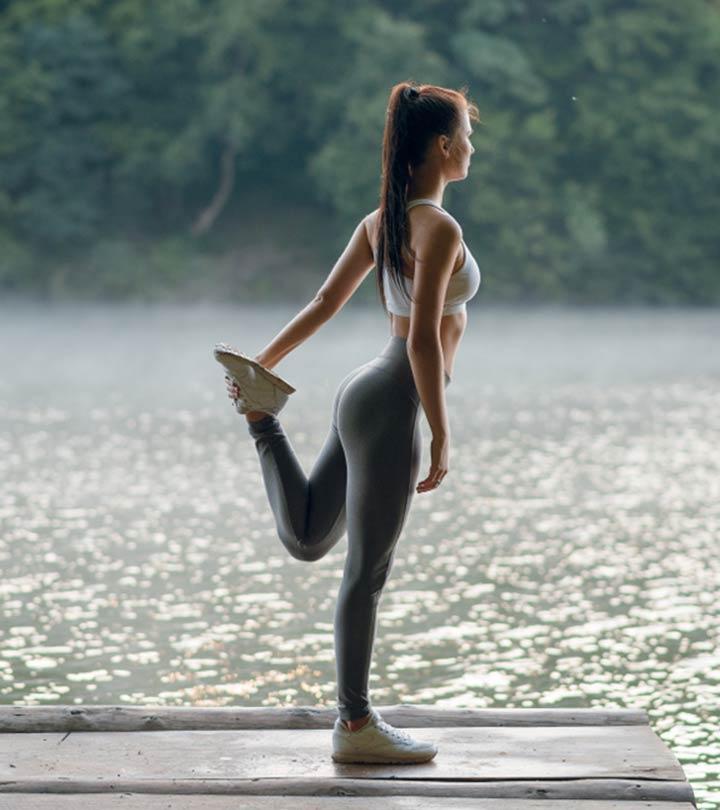 Having workout leggings from the best leggings brand will ensure their quality and durability at once. These leggings will be much more comfortable for heavy, long-hour workouts and great for many physical activities like pilates, yoga, gymming, running, etc. Having the right workout leggings will often even inspire you to get going on tiresome days. We have listed below the 19 best workout leggings for you to try.
Occffy's high waist yoga pants are unique workout leggings that offer ample support, comfort, and style – all at the same time. These pants have great elasticity and are made of breathable fabric. Occffy's pants are designed in ways to compliment your body type and curves. These workout leggings are amazing for all kinds of physical activities and exercises.
Description
Hopgo Women's High Waist Workout Leggings are made of super-durable fabric, with 80% nylon and 20% spandex. The fabric is extremely lightweight and moisture absorbent. These workout leggings look super stylish with mesh detailing. They are perfect for workouts, such as cycling, jogging, running, dancing, and pilates. 
Lingswallow's high waist yoga pants are a must-have for yoga lovers. They come with active elasticity and are 100% non-see-through. They are designed to protect your privacy when you do squats or bend over. The high waist feature is ultra-supportive and offers tummy control. The fabric is breathable yet light at the same time, so the pants feel like your second skin. 
These high waisted yoga pants are super functional and are designed to flatter your figure and complement your curves. They are made of 75% polyester and 25% spandex. The fabric is super soft, and the compression offers a gentle hug to your body. The high waist offers ample support and elasticity for high-pressure workouts. These pants come in various colors and have a hidden waistband pocket.
Fengbay's yoga workout pants are 4-way stretch and completely non-see-through. These pants are great for workouts, exercises, and rigorous physical activities. The fabric used for these pants is super comfortable and stretchy, thus offering flexibility. Fengbay's workout pants absorb moisture and reduce irritation. These pants come in different colors. 
HKJIEVSHOP workout leggings are designed with a high waist along with tummy control. This feature highlights your curves and figure. These workout leggings are moisture absorbent and super lightweight. HKJIEVSHOP's workout leggings provide two outside side pockets that are extremely handy and functional. They come in five different vibrant colors. 
These workout leggings not only look super stylish but also their high waist feature gives shape to your curves and improves flexibility. They come in two colors, black and gray. Luna's workout leggings are made of great quality fabric that is super durable. The fabric is a blend of nylon, polyester, and elastane. The flat seam waistband does not dig into your skin but lies comfortably against it.
These workout leggings from UURUN are stretchy, high waist, and super stylish. They come with a 4-way stretch along with a butt lift. These workout leggings are designed to absorb moisture and sweat. They come in 8 lively colors and are perfect for sports and gym workout regimens. 
Ewedoos workout leggings are ultra-soft and have a 4-way stretch fabric with high elasticity. They offer tremendous comfort and performance. These pants are completely non-see-through, with two side pockets on the outside. The high waist and tummy control provide shape and style to your body. Ewedoos pants are all-purpose pants that can be worn for a variety of workout sessions.
Running Girl has come out with super cute workout leggings in many different colors. They are high waisted to accentuate your shape and figure. These leggings also provide a butt lift that offers maximum support. The fabric is stretchy, which makes it easy for you to do and squats and other physical exercises. These workout leggings are pocket-friendly.
Who can say no to camo leggings? These camo workout leggings from Running Girl are just perfect. The high waist leggings are 100% squat proof. They are tight and complement your waist and legs. Running Girl's camo workout leggings come in several different colors and are available in all sizes. They are effortlessly stylish and great for any kind of workout.
IUGA is a brand that provides high-quality activewear. Their ultra-fit high waist workout leggings look stylish and are super lightweight. They are designed to complement your body type. These pants come in multiple colors and all sizes.
Dibaolong Women's high waisted workout leggings look super stylish. They are ripped and high waisted and also offer butt lifts. These slim-fit pants are super stretchy and elastic with moisture absorbent features. They are great for lightweight workout sessions like jogging.
Oalka's workout leggings are made of 86% nylon, 14% spandex, and 13% spandex. This 4-way stretch fabric wicks sweat and is breathable, which makes these leggings perfect for summers. The waistband has a hidden inner pocket in which you can stash your keys or other essentials. The interlock seams help in reducing irritation and eliminating chafing, thus providing maximum comfort.
These are super cute workout leggings that offer both style and comfort. They absorb moisture and are super stretchy. They come with pockets on the outside that are quite handy. They are available in several colors and all sizes. These workout leggings are perfect for squats and running. 
Lululemon has come out with amazing yoga pants that are also perfect to be used as workout leggings. These workout leggings are made with excellent fabric that absorbs moisture. It is super flexible and lightweight. 
17. Gymshark Leggings
Gymshark's high waisted workout leggings are effortlessly stylish and easy to work out in. The fabric is moisture absorbent and super lightweight. These charcoal black leggings look amazing and are perfect for squats.
18. Fabletics Mila High-Waisted Pocket Leggings
These workout leggings from Fabletics are super stylish and comfortable. They have mesh at the sides, which allows your skin to breathe easily, and absorb moisture. The pockets on each side are super useful as you can put your phone and keys in them. They come in multiple colors and are available in all sizes.
19. Athleta Crunch Colorblock 7/8 Tight in SuperSonic
Athleta's workout leggings are super stretchy and stylish. Their leggings are designed for mainstream workout sessions. Their fabric is a mixture of nylon and spandex that makes these workout leggings super durable.
Why Trust StyleCraze?
Pratima Ati is a fashion enthusiast and loves experimenting with trendy and comfortable outfits. She has done a complete review on the best workout leggings brands to help you choose durable and comfortable wear for your exercise. No matter what your choice of ideal workout is, these stretchy and breathable leggings will help you stay comfortable for long hours. Not only they are perfect for the athletic body, but also they are super fashionable and make heads turn!
Recommended Articles