13 Best Workout Leggings Brands For Running, Exercising, And Yoga
Workout clothes are a bigger deal than most of us think, and are an investment worth everything you put in – they can actually make or break your workouts. It's a billion-dollar industry for a reason, and it's evolving with every passing day. From sweatpants and tights to workout leggings made for different workout forms, there was never a better time to shop for athleisure. Some styles like running, yoga, and HIIT exercises need leggings (bottoms) that are not too loose, neither too tight, and brands know how to deal with these and make them for all body types. Let's look at the best of this lot today. You don't have to know how to choose your workout leggings if you know who to buy from, because these brands understand it all and make them accordingly. Check them out.
13 Best Workout Leggings Brands
1. Gymshark
Gymshark is an exclusive activewear brand that makes workout clothing enjoyable, comfortable, and relevant, one piece at a time. Choosing your gear can be an overwhelming experience, and this brand understands this. It helps you feed in all your information and gives you suggestions on the size, variant, and the fit that is appropriate for your body type and choice of workout. From low, high, and mid-rise leggings to high compression, flexi-fit, and sculpture leggings, Gymshark has a lot in store for you fitness freaks.
Check out its collection here: row.gymshark.com
2. Lululemon
Lululemon, a Canadian athletic activewear company, has been gaining popularity since its inception. It is well known for making amazing athleisure for yoga, running, and other outdoor activities. Lululemon firmly believes that yoga is the center of the universe. It is trying to build a yoga community through the brand, and spark meaningful conversations in the world, and, in the process, is making comfortable clothing too. If yoga is your way of life, you know which brand to choose; besides, it helps you with selecting the right clothing according to the type of yoga you do.
Check out its collection here: shop.lululemon.com
3. Fabletics
Fabletics was started by JustFab Inc. in association with Kate Hudson, who is known as a fitness enthusiast apart from being an actress and a model. Kate Hudson figured that even though they were many luxury brands making athletic wear, there weren't enough athleisure that were stylish, high-quality, and comfortable at affordable prices. Fabletics makes athleisure that inspires you to stay fit, healthy, and committed.
Check out its collection here: www.fabletics.com
4. Climawear
Climawear, as the name suggests, started off by making warm base layers to combat the bitter Canadian weathers, and soon moved to use the design innovation in making athleisure. Its clothes are functional, unique, and intricate, almost like your second skin, which is what they should be ideally. It is very affordable, considering the quality and durability.
Check out its collection here: climawear.com
5. Beyond Yoga
Jodi Guber Brufsky, a yoga instructor, felt the need for a brand that made athleisure wear with body positivity at its core. It believes that women should feel no pressure to feel, look, and fit a certain size or meet the societal standards of being beautiful. Its clothes are carefully curated using signature silhouettes, and enhanced with straps, cuts, patterns, inseams, luxury fabrics, etc. Jodi was later joined by Michelle Walher, a designer with a shared vision, and they both are taking the company to great heights to ensure women lead healthy, happy, and confident lives, one garment at a time.
Check out its collection here: www.beyondyoga.com
6. Victoria's Secret
Victoria Sport is a brand extension of Victoria's Secret, a brand known for its high quality and fashionable intimates, apparel, etc. Its yoga and workout leggings are quite popular because they can be worn smoothly from home to studio and back to the street. They come in all formats, and give you good compression to reduce the impact on your muscles. They also come with pockets for functional purposes, and other such interesting design elements. Look for leggings that come with a 4-way stretch.
Check out its collection here: www.victoriassecret.com
7. Adidas
Adidas is an athletic activewear giant – that's no news to us. Apart from making shoes, gym gear, and outdoor clothing for men, women, and kids, Adidas is venturing into making clothing specific to different forms of workout. It launched a range in association with Melissa McCartney to create ultimate yoga tights and leggings that are stylish, modern, and rooted to keep you comfortable in every pose and forget the world.
Check out its collection here: www.adidas.com
8. Nike
Nike is known for its breathable and comfortable workout clothing, bringing in technology and innovation as close to us as possible. Pick any random pair of pants, shoes or zipper jackets, and you cannot go wrong. Dri-fit from Nike is a classic example of how good its products are. Most of its tracks and leggings are high waisted, breathable, and come with excellent compression.
Check out its collection here: store.nike.com
9. Olympia Activewear
Olympia Activewear is based around two words – strong and feminine. Its clothes define, represent, and focus on keeping an active mind and body. You can see impeccable finesse, quality, and functionality in its athleisure apparel.
Check out its collection here: olympiaactivewear.com
10. Outdoor Voices
With a tagline – sportswear for Doing Things Daily, Outdoor Voices lives up to its name. Be it hiking, jogging, running or any other form of fitness you are into, they have answers and great ones too. Perfect for people who are into more than one type of workout. Tyler Haney, the founder, launched her line to prove that athleisure is more than just black spandex. She wanted to fully understand fabrics and how they work on different body types, sweat, weather conditions, etc. and bring a fresher and deeper perspective into athleisure.
Check out its collection here: www.outdoorvoices.com
11. Saski
Tammy Hembrow started Saski with a vision to inspire women not just in the gym but otherwise too. With a soothing color palette, her leggings are great not only for yoga, running or other outdoor activities, but are also perfect street-to-studio clothing options.
Check out its collection here: saskicollection.com
12. Old Navy
It is established that Old Navy is all about durability, comfort, and accessibility, and there's none to touch its products in any of these aspects. Its workout leggings are one of its bestsellers, and something women vouch for.
Check out its collection here: oldnavy.gap.com
13. Asics Seamless
Asics Seamless leggings were a massive hit right from the start. They are breathable, chaff-free, mesh-free and soft on your skin, which is what you need when performing exercises like running, yoga or other HIIT workouts. They enhance your curves, camouflage the flab perfectly, and sit beautifully on your hips and body. You just can't say no to these.
Check out its collection here: www.asics.com
They say your workouts are as comfortable as your clothes, and truer words have never been spoken. Go on, try some of these and get yourself a pair, and you will never go back to your old clothes. What is your idea of comfortable workout clothes? What do you look for when you choose your gear – comfortable, stylish, inexpensive, or all the above? Let us know by dropping in a text in the comment section below.
Recommended Articles:

The following two tabs change content below.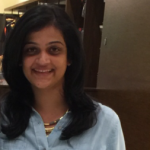 Latest posts by Pratima Ati (see all)