10 Best Wrist Wraps To Buy In 2020 For That Perfect Grip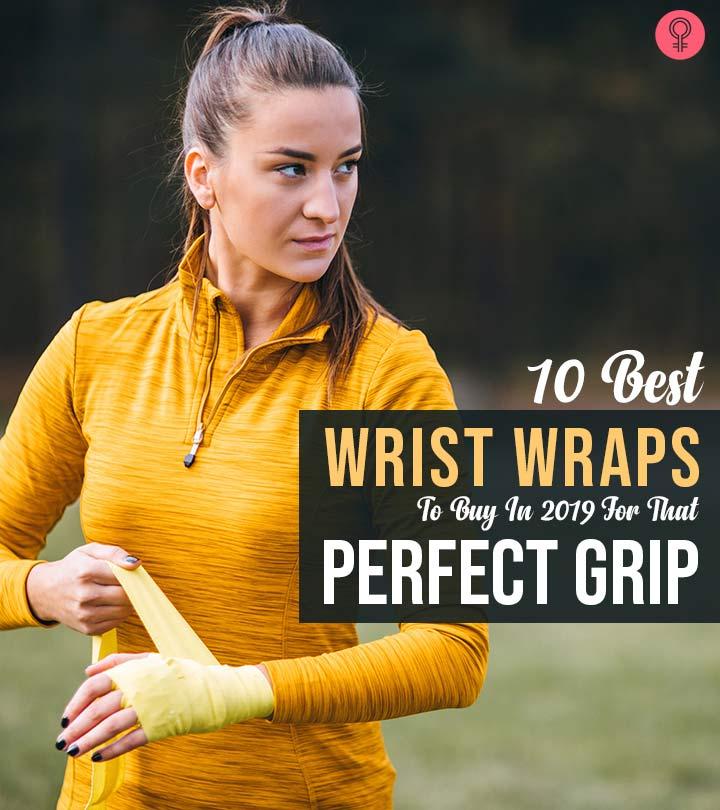 Wrist wraps are stitched pieces of cloth and other material that loop around your wrist and the bar and help you hold on to heavyweights. They provide the extra support you need while doing intense workouts. They can help prevent injuries like carpal tunnel syndrome, syndesmosis, tendinitis, etc. Wrist wraps not only comfort your wrist and prevent injuries but also improve your grip, elongate your training hours, and allow you to lift more weight.
Wrist wraps protect and support the wrists by keeping them in optimal angles, allowing for more reps, PRs, and better results. Wrist wraps are used for bodybuilding, weight lifting, cross fitness, powerlifting, cross-training, gym, and many more workouts and activities that require the involvement of the wrists.
This article will take you through the 10 best wrist wraps available on the market. It also explains the different types available, why you should wear a wrist wrap, and how you should wear it. Keep scrolling down to know more about this gear!
Best Wrist Wraps Of 2019
Rip Toned Lifting Wrist Wraps improve your grip and allow you to lift more weight.  Whether you are recovering from an injury or pushing yourself to the limit, this wrist wrap will help you achieve your goals securely and effectively. This is one of the best weightlifting wrist supports and was endorsed by the 2014 World Champion Powerlifter Kevin Weiss.
These heavy-duty, durable cotton wraps are fully adjustable and machine washable. They are stitched meticulously and do not unravel. They are an excellent pick for barbells, bumper plates, kettlebells, & lifting platforms without sacrificing comfort.
These wraps are comfortable to put on and remove. The neoprene padding makes them super soft and reduces the risk of injury. These are the best wrist wraps for lifting. The wrist wraps are perfect for men and women. They can be used for powerlifting, Crossfit, Xfit, WOD, and bodybuilding.
Pros
Heavy-duty
Durable
Fully adjustable
Machine washable
Do not fray
Easy to wear and remove
Neoprene padding
Unisex
Cons
These wrist wraps are made of stiffer material that provides limited flexibility in the wrist, making them ideal for heavy-lifting. They provide wrist support and stability for weightlifters, Crossfit, MMA, powerlifting, push-ups, planks, burpees, and strength training. They are one of the best heavy-duty wrist wraps and are also endorsed by the 2014 World Champion Powerlifter Kevin Weiss. These are the best Crossfit wrist wraps for gym workouts.
These wrist wraps for lifting will eliminate failed lifts and protect your wrist joints from injury during heavy lifts. They come with reinforced thumb loops for better grip and long-lasting hook and loop straps for secure fastening. The high precision quality stitching makes them last longer and prevents fraying.
The high-end, durable, extra-wide velcro wraps are fully adjustable and machine washable. They are available in two versions:
Stiff Version: Meant for heavy lifts and offers little flexibilit.y
Medium Stiff Version: Provides excellent support and comfort and is more flexible.
These wrist wraps help eliminate pain and discomfort by securing the wrists in a neutral position. They are easy to wear and remove during exercise.
Pros 
Reinforced thumb loops
High precision quality stitching
Long-lasting hook and loop strips
Multiple color options
Fully adjustable
Machine washable
Cons
Nordic Lifting Wrist Wraps are made up of durable, heavy-duty cotton. The neoprene padding lends extra comfort. These wrist wraps come in one size, which fits all. The extra-long wraps offer a better grip when lifting heavyweights. They provide more traction and gripping strength when compared to chalk and letter wraps.
These wrist wraps reduce hand and wrist fatigue and are useful for many cross-training exercises, powerlifting, rows, pull-ups, chin-ups, shrugs, etc. Nordic Lifting Wrist Wraps not only provide support and stability during heavy lifts but also help avoid wrist injuries. It is recommended to use these wrist wraps for bench press, shoulder press, cross-training, and other fitness activities.
 Pros
Extra-long wraps for better grip
One size fits all
Unisex
Reduces hand and wrist fatigue
Neoprene padding for extra comfort
Cons
Grip Power Pads Deluxe Wrist Wraps are made of high-quality stitching and secure closures. These wraps are fully adjustable and are great for all types of workouts. They are 13 inches long and can be secured tightly to immobilize the wrist or wrapped less tightly to allow support with less restriction of blood flow. It is the best weight lifting wrist brace.
The best thing about these wrist wraps is that they will never become too stretchy and stay durable. Whether you are recovering from an injury or pushing yourself to the max in the gym, these will eliminate pain by securing your wrist in a neutral position.
These premium quality wrist wraps can be used for a variety of workouts, including weightlifting, bodybuilding, cross-training, strength training, yoga, and any other activity or exercise that requires excellent wrist support.
Pros
Extended length closure
Elastic 1 or 2 size thumb loops
Washable
One size fits all
Available in a variety of color combinations
Unisex
Cons
Velcro loses its stickiness.
Fit Active Sports Wrist Wraps provide full palm protection and also cover the thumbs. These wraps are made of high-quality silicone printed neoprene, which is resistant to water, dangerous chemicals, oils, heat, and aging, making them last longer.
They are excellent support for performing Olympic lifts, such as snatches, clean and jerks, front squats, and other lifts that require wrist protection. The wrist wraps can be tightened or loosened with velcro, allowing the user to adjust to their comfort. The open hand design provides extra support, enabling your hands to breathe even during intensive workouts.
Pros 
Full palm protection
Prevents injury
Callus guard
Versatile
Open hand design
Cons
Stoic Wrist Wraps are made of high-grade nylon material and are tested to perform in the most extreme conditions. These wraps are 18 inches in length, excluding the hook and the loop, and thus offer higher levels of tightness adjustability and support.
The heavy-duty elastic lends superior levels of support to immobilize the wrist when necessary. They can also be wrapped lightly to allow freedom of movement in the wrist joint. They do not turn overly soft or stretchy. Each wrap comes with a designated right and left a hand for symmetrical wrapping. The thumb loops last longer and don't fray or snap easily.
 Pros
Made of high-grade nylon material
Heavy duty and elastic
Thumb loops last longer
Doesn't turn soft or stretchy
Cons
These wrist wraps are designed to help weightlifters lift more weight over longer workouts and minimize wrist fatigue during reps and prevent your wrist from bending. They are made from soft, comfort fit cotton, polyester, and extra-durable elastic and offer a secure fit for anyone looking to promote their arm exercise with proper form and better leverage.
They feature strongly reinforced thumb loops that keep the wraps in place on your hand and wrist. They provide maximum wrist support and stability to avoid any injury, twist, and strain of the wrist. The extra-wide adjustable fastening wraps add to the comfort. These heavy-duty wrist wraps protect the arm muscles and distribute weight evenly.
Pros
Premium grade wraps with double stitching and high-end durability
Distributes weight evenly
Extra-wide fastening wraps
Fully adjustable
Heavy-duty material to reduce stress, wear and tear
Cons
Velcro wears out quickly.
WOD Wear Elastic Wrist Wraps are made from a cotton, elastic, and polyester blend that absorbs the excess moisture and keeps the skin dry and irritation-free. These are great for bodybuilding, weightlifting, powerlifting, and cross-training, as well as any other workout or sport that requires wrist support.
These weight lifting wrist bands provide excellent wrist support and can be used as a replacement for athletic tape. You can achieve your desired level of support by adjusting the tightness of the wraps. These are unisex workout wrist straps, and one size fits all.
Pros
Perfect for multiple sports
Unisex
One size fits all
Adjustable support
Cons
These heavy-duty wrist wraps are made of durable thick cotton/elastic material with double stitching throughout for maximum comfort and durability. These wraps allow the desired tension adjustment with multiple wraps around your wrist. You can loosen or tighten it depending on the intensity of the workout.
The velcro is strategically positioned to provide a secure grip. Thes wrist wraps feature thick neoprene padding for extra comfort and performance. They come in a PVC carrying bag and are perfect for any type of workout.
Pros
Neoprene padded
Heavy-duty
Come in PVC carrying bag
Thumb loop and strategically positioned velcro for secure grip
Durable thick cotton/elastic material
Cons
Bear Grip Wrist Wraps keep the wrists in perfect form through any lift or movement, allowing you more reps, PRs, and enhanced results. These versatile wrist wraps are ideal for bodybuilding, weightlifting, cross fitness, powerlifting, cross-training, gym workout, and more.
They feature a premium thumb loop, strong velcro closure, and dual elastics for flexible hold. They come with a 60-day warranty. They are available in a variety of colors and lengths of 12″, 18″, or 24″. These wrist wraps are unisex and can be worn by men and women both. These bands are also recommended for use outside of the gym and workouts. They are often used in gymnastics and as wrist braces to alleviate symptoms of carpal tunnel and many more.
Pros
Versatile
Made from premium quality material
60-day warranty
Unisex
Cons 
 If you are into heavy weight lifting, a wrist wrap is a must-buy for you as it keeps the extensors and flexors of the wrist secure so that they don't bend or curve. We have curated the above list of top 10 products on the market after exhaustive research on the market.
Wrist wraps or wraps come in three different types of styles, let's explore what they are. 
Different Types Of Wrist Wraps
These are perfect for Olympic lifts. They attach quickly and easily to the bar. You need first to wear them around your wrists and secure the hanging ends around the bar. The benefit of this type of wrist wrap is that it is easier to bail out of a failed lift. This wrap uses less material. Hence, the grip is not secure enough, and you cannot adjust the tightness around your wrist. 
These Are the most commonly used wraps. They are available in multiple lengths and materials. The loop construction allows for a secure fit around your wrist. The only problem with this type of wrap is that it is difficult to wrap the extra material around the bar, especially with one hand, and this extra material also makes it difficult to bail out of a failed lift. This is the reason this type of wrap is not very famous among Olympic lifters.
In this type of wrist wrap, no wrapping is required around the bar. A standard bar sits comfortably in the hook of the wrap. But the problem with such wraps is that they don't fit around many specialty bars, and it also negatively impacts your technique as you can't squeeze the bar tightly in your hands.
A wrist wrap is a must-have in a weightlifter arsenal. It protects your wrist from wrong bents, fatigue, and strains and offers optimum stabilization to your wrist during rigorous and heavy workouts that depend on your wrist strength. The wrap helps to distribute the weight and prevents unnecessary straining of your wrist region. Here are a few benefits of wearing a wrist wrap.
Why Wear A Wrist Wrap?
If you intend to improve the size and strength of a specific muscle group, using a wrist wrap is a good idea as it allows you to hold on to the bar long enough to fatigue the target muscle group.
It helps prevent injuries to your wrist area.
It enhances your grip and enables you to train more frequently with heavier objects.
Let's now understand how to wear a wrist wrap.
How To Wear A Wrist Wrap 
The wrapping technique for each type of wrist wrap will be different based on the length of the wrap and where the loop is sewn. The method of wrapping it will depend on the individual wearing them.
The easiest way is to wrap one hand at exactly the position you want it to be on the bar. Wrap the second hand closer to the already wrapped hand and then slide it into position. Though this happens to be the most convenient way, yet people might have their favorite ways of wrapping the wrist wrap. Whatever wrapping technique you choose, remember that you should wrap it securely as you are using this to lift heavy weights, so a firm grip is a must to avoid accidents and injuries.
Wrist wraps are an absolute necessity for those who lift heavyweights. The type of wrap you choose depends on your intended purpose and comfort level. Take your pick from the above list of the top 10 wrist wraps and share your experience with us in the comments section below.
Recommended Articles