30 Best Yankee Swap Gift Ideas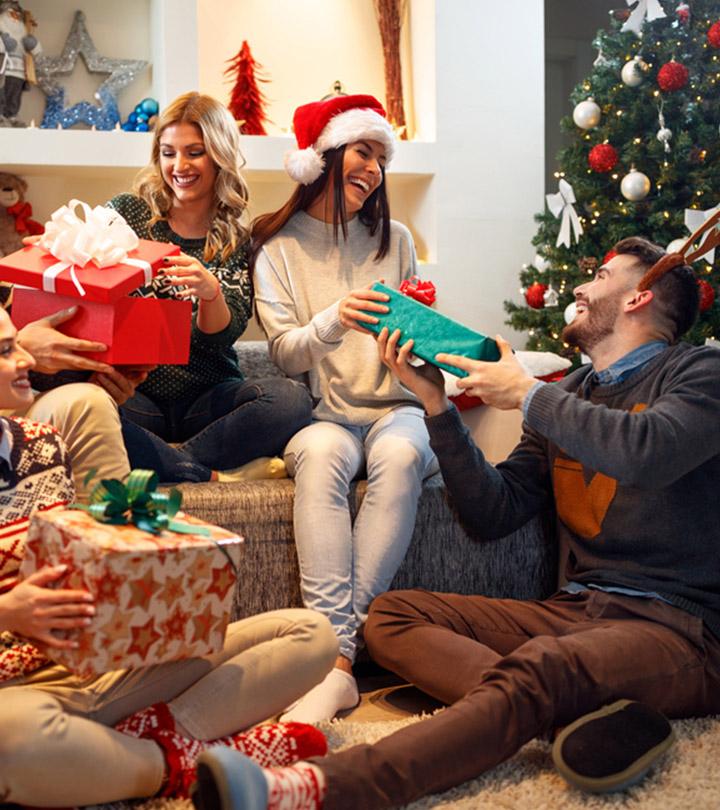 Yankee Swap is a popular party game played during the holiday season, where participants exchange gifts among themselves. Yankee Swap is played to add a touch of humor and make things more exciting than a regular gift exchange. It is a unique and fun way to spread some holiday cheer without overspending on gifts.
The rules are relatively straightforward. Each guest to the party brings one wrapped present, which should be priced around the decided limit, usually $25. Later, guests take turns to pick a present each. The first person chooses a gift from the lot and unwraps it. The following players do the same but can choose to either keep their present or swap it for one that has already been opened. The unwrapping and swapping continue until all guests have picked a present to take home.
What Is A Good Gift For A Yankee Swap?
The rules of Yankee Swap allow gifts to be exchanged after they have been unwrapped. This usually will enable guests to be satisfied with the gifts they each end up with. As long as your gift is something useful and similarly priced as the other gifts, you are good to go. For a Yankee Swap party to be a hit, the gifts should be good, useful, and, most of all, things people will really want. Read on to discover some of the best Yankee Swap gift ideas that are sure to make you the most sought-after guest at the next party.
Top 30 Yankee Swap Gift Ideas
About The Product
Cards Against Humanity, which is well known as "the party game for horrible people," is one of the more awesome and funny Yankee gift swap ideas. It is a simple yet highly entertaining card game. In each round, one player poses a question using a Black Card, and the other players answer that question using their funniest White Card.
Key Features
Comes with more than 150 new cards
Contains 500 white cards and 100 black cards for maximum replayability
Includes a booklet of logical game rules and ridiculous substitute rules
About The Product
Here's something that'll make people crack up at the next Yankee Swap party. It is a funny Yankee Swap gift idea with a healthy twist! The Squatty Potty is a toilet stool, featured on Shark Tank. It is useful in helping you imitate a natural squat that correctly aligns your colon for better bowel movements.
Key Features
Registered with the FDA and recommended by doctors
Featured on Shark Tank and Howard Stern
Made in the USA
Made of hard, easy to clean polyurethane
Improves colon health
Relieves symptoms of hemorrhoids, constipation, and bloating.
About The Product
This is a set of four drinking straws that are made of stainless steel and are reusable and super eco-friendly. Whoever scores this gift at your next Yankee Swap is sure to treasure the stylish and elegant finish of the product. They are perfect for keeping your drinks colder for longer.
Key Features
More eco-friendly than plastic straws
Comes with a flexible cleaning brush
Provides rust- and scratch-proof durability
Made from 18/8 food-grade stainless steel
Designed to fit 30- and 20-ounce tumblers
Each straw measures 10.5 inches long and 9.5mm wide.
About The Product
Black+Decker Brew 'N Go Personal Coffeemaker is a single-serve coffee maker that brews directly into a travel-sized mug (included in the package). It is the perfect gift for a coffee lover, and they are sure to keep you in their good books after receiving a gift like this. The mesh metal filter is a brilliant alternative to messy and wasteful paper filters.
Key Features
Travel mug fits most vehicle cup, holders
Automatic shutoff
Permanent coffee grounds filter
Space-saving design
About The Product
Get this attractive wine tumbler for your next Yankee Swap party – there'll be more than a few people vying for it before the game ends! It is made from unbreakable 18/8 food-grade stainless steel and is insulated to keep your drink icy cold for 9 hours. You could also use it to carry coffee on the go, and it will remain piping hot for at least 3 hours.
Key Features
Comes with a removable BPA-free lid
Portable and lightweight
Reusable and eco-friendly
Double-wall vacuum insulated
About The Product
This mini waffle maker machine from Dash comes in handy when making waffles, paninis, hash browns, biscuit pizzas, and more. Make single-serve sizes of your favorite treats with this sleek and trendy waffle maker. It takes up little space and is ideal for a college dorm or a small kitchen. It is a unisex Yankee Swap gift ideas that are sure to be a hit with all waffle lovers, irrespective of gender.
Key Features
Compact and lightweight design
Easy to clean
Dual non-stick surface
Includes a 1-year manufacturer's warranty
Comes with a recipe book and recipe database access
About The Product
The ladies at your next Yankee Swap are going to be vying for this one! This giftable hand spa gift set from Burt's Bees includes Shea Butter Hand Repair Cream, Almond Milk Hand Cream, and Lemon Butter Cuticle Cream, as well as a pair of cotton gloves. They are perfect for pampering and moisturizing dry skin during the harsh winter months.
Key Features
Contains 2 hand creams and 1 cuticle cream
Made using natural ingredients
Suitable for dehydrated skin
Paraben-free
About The Product
A sleep mask is the perfect present for someone who loves napping or has trouble sleeping peacefully. This sleep eye mask comes with a pair of earplugs and a nifty travel pouch. Your long-haul flights are going to get a lot better with this set in your bag.
Key Features
Made of low-rebound memory foam
Unique heat-bonded technology for more durability
Adjustable strap to fit all sizes
Naturally fits the bridge of the nose
About The Product
For the Monica Geller in your group, this pop-up toaster for hot dogs and buns is going to be a treasure. It comes in an adorable aqua blue shade and can toast up to two scrumptious hot dogs and two buns together. The slide-out drip tray makes it easy to clean without causing any mess.
Key Features
LED lighted adjustable toasting timer
Package includes hot dog cage and mini tongs
Appliance cord wraps under the base for tidy storage
Also available in a retro-red color
About The Product
Don't worry; it's not really dog farts. How would one even package that? This here is a bag full of delicious fruit punch flavored cotton candy. The packaging says "Bag of Dog Farts" as a joke. This is one of the Yankee Swap joke gift ideas that you can put to use when buying gifts for a casual Yankee Swap party with your buddies.
Key Features
10% of profits donated to charities that support animals
Guaranteed to make people laugh
Available in other flavors like cat farts, unicorn farts, dinosaur farts, etc.
About The Product
WoodWick Candle Exotic Spices Trilogy Medium Jar contains three layers of three different fragrances, namely, cinnamon chai, ground cinnamon, and spiced rum. As the candle burns, each fragrance and color melts into the next layer, creating a unique new fragrance. Your house is going to smell amazing each time you light this candle.
Key Features
Wooden wick adds a crackling sound effect
Burns for a long time
Available in a large variety of fragrances
About The Product
If you are looking for office Yankee Swap gift exchange ideas, look no further. This silly toilet-shaped mug is a hilarious ice-breaker that is guaranteed to keep your coworkers entertained. Have a blast at the next office party, watching people swapping to either get this mug or avoid it altogether. Whoever ends up with it must surely have an appetite for toilet humor to take this gift in the right spirit.
Key Features
Perfect for home or office
12 oz ceramic coffee mug
Not suitable for microwave
Also available in golden color
About The Product
This set of four stemless wine glasses makes for a classy Yankee Swap gift. These glasses add a touch of elegant sophistication to your barware collection. They are shatter-resistant, which makes them perfect for serving wines and cocktails. The bowl shape intensifies the flavor of your wine, making it enjoyable until the last sip. The stemless design also prevents spilling.
Key Features
Durable for everyday use
The stemless base adds stability.
Dishwasher-safe
1-year satisfaction guarantee
About The Product
Pick this blanket for your next Yankee Swap gift exchange and watch the burrito lovers squeal in delight. This round blanket looks exactly like your favorite Mexican food – a giant tortilla. Snuggle up inside it and make a burrito of yourself if you like. Jokes apart, this blanket is made of high-quality flannel to keep you warm during cold summer nights.
Key Features
Measures 71 inches in diameter
Made of 100% microfiber polyester
Has anti-wrinkle and anti-fading properties
About The Product
This one is perfect for an adult-themed Yankee Swap gift Ideas. It is a card game that uses twisted innuendos to generate laughter. It is a popular game at bachelor and bachelorette parties as well as birthdays. You need four or more players who match the funny red setup cards to the hilarious white phrase cards for some outrageous results.
Key Features
Set of 458 cards
Suitable for ages 17 and up
Perfect for adult game nights
About The Product
If you love Mexican food and dinosaurs, this taco holder shaped like a terrifying T-Rex is the perfect kitchen accessory. Modeled after a Tyrannosaurus Rex dinosaur, this taco holder lends a Jurassic touch to Taco Tuesdays. It can hold not only tacos but also sandwiches, toast, waffles, and more. Get creative and add an element of fun to your dining table while you devour tacos in style.
Key Features
Made from 100% food-safe ABS plastic
BPA-free
Created using FDA approved materials
Holds 2 tacos
About The Product
Another one for the office Yankee Swap is this stress-busting punching ball. On a frustrating day at work (you know the kind of day I'm talking about), this punching ball is a great way to get rid of some stress. It is also an exciting way to grab eyeballs and mix things up in the office when you are bored.
Key Features
Durable and long-lasting
Suitable for all ages
Positive stress relief for home or office
Pump is included
Powerful and sturdy suction at the base
About The Product
A Yankee Swap Christmas party is incomplete without some winter-themed gifts. This plush throw is ideal for keeping you snug on cold days. It has cashmere velvet on one side, which reverses to soft cloud sherpa on the other. The soft blanket is made of lamb's wool and provides both warmth and elegance. It is also incredibly soft and low-maintenance.
Key Features
Measures 50×60 inches
Suitable for machine wash
Available in several high-sheen colors
Not chemically treated
About The Product
This premium stainless steel flask is perfect for someone who enjoys their liquor on the go. The brown and black PU leather wrap gives it a stylish look that you would love to flaunt all the time. This is a gift that will have the men swapping other presents for a long time.
Key Features
Made with food-grade stainless steel
Features a stylish copper cap
Includes a large funnel for easy filling
Comes in an elegant black gift box
About The Product
If you are looking for creative Yankee Swap gift ideas, something like this is spot on. The prank gift box appears to contain a gross earwax candle making kit at first glance. You can put your real gift inside the box and surprise whoever gets this box. At the Yankee swap, this will be particularly funny as people will keep swapping to avoid taking this gift.
Key Features
High-quality prank gift box
Made in the USA
Similar in size to a giant phone book
About The Product
This soft electric blanket is perfect for keeping warm during cold weather road trips. It easily plugs into any car, truck, SUV, or RV cigarette lighter. It is quick to heat up and stays warm until unplugged. The cord on this heated fleece throw is so long that even the passengers in the backseat can stay cozy.
Key Features
Folds easily for compact storage
96-inch long cord
Adaptable to different vehicle models
Measures 59" (L) x 43" (W)
About The Product
This gift is exactly what it looks like – a coffee mug for the donut lover. It is a fun family Yankee swap gift idea, especially if there's more than one fan of donuts in the house. This mug is shaped like a tempting chocolate-sprinkled donut and is sure to see its fair share of swapping and arguing over it.
Key Features
Made of high-quality ceramic
Easy-to-clean
Can hold 14 oz of coffee or tea
Not suitable for dishwasher and microwave
About The Product
The Knock Knock Bathroom Guest Book is not your run-of-the-mill guest book. It has generous doodle space and outrageous prompts for your guests to record their most memorable toilet ideas for posterity. It is an awesome Yankee swap gift idea that is sure to be a keepsake for whoever gets to take it home. Every trip to the loo can now be as memorable as the last.
Key Features
Padded 8.5 x 5.5 hardcover book
Comes with foil stamping ribbon page marker
Includes 112 pages
About The Product
This set of two hidden alcohol sunscreen flasks will beckon any liquor lover who loves sneaking their alcohol without getting caught. It looks deceptively like a tube of suntan lotion, making it easy to carry your drink with you anywhere you want. The two containers can hold up to 20 shots worth of liquor.
Key Features
Includes leak-proof adhesive foam safety seals
Made of BPA-free food-grade plastic
Easy to carry around
Reusable and easy to clean
About The Product
This is one of the funniest office, Yankee Swap gift ideas. Moodycards are ideal for office use. With more than 30 different mood messages, you are sure to find one to match your mood on any given day. They are also a great way to generate laughter on dull days. It also has additional blank cards and an erasable marker for you to create your own mood messages.
Key Features
Erasable marker and 4 blank cards included
Contains 30 mood messages
Ideal for non-verbal communication
About The Product
This holiday nuts gift basket may cause a ruckus at the next Yankee Swap. It contains seven varieties of fresh and delicious roasted nuts: almonds, pistachios, cashews, peanuts, honey-glazed pecans, raw walnuts, and a mix of all of the above. The container has seven neat sections to display the nuts and is covered in a shrink wrap seal to preserve freshness.
Key Features
100% natural nuts
Kosher certified
No added chemicals
About The Product
This adorable flower pot is perfect for housing succulents while adding a touch of brightness to your living or working space. The planter size suits a desk, bookshelf, or dining table. It is decorated with cute little hedgehogs along the side. There are a hedgehog and snail on the top, a few hedgehogs on the stairs, and a baby hedgehog sleeping inside the house at the bottom.
Key Features
Made of resin
Best suited for succulents
Excellent detailing
Measures 5.5" x 4"
About The Product
This can of dehydrated water makes for a hilarious Yankee Swap gift idea. It is sure to crack people up at the next party. This 16 oz. Steel can promise to give you countless gallons of water when diluted. Give it to someone going camping or hiking, and watch them laugh out loud when they see it.
Key Features
100% money-back guarantee
Funny gag gift for holiday parties
16 oz can be made of steel
About The Product
This beautiful clear umbrella combines practical use with comic value. Designed after the famous song "It's raining men," the design features several different men "raining" along the sides of the dome-shaped umbrella. The semi-automatic gliding design makes it easy to open and close. It is a fun way to cheer yourself as well as the people around you.
Key Features
The dome-shaped design offers maximum coverage.
Made of high-quality material
Acrylic handle with a comfortable grip
About The Product
A cross-body bag shaped like a pineapple – you must really love the fruit to want something like this. And that's why this purse is on our unique Yankee Swap gift ideas list. The bag features a faux leather exterior and polyester interior and is lightweight, easy to carry, and convenient for carrying a mobile phone and wallet.
Key Features
PU Leather and polyester lining
Zipper closure
Measures 6.3×5.5×2.8"
These are some of the most interesting Yankee Swap gift ideas out there. Of course, this isn't a definitive list, but more of a guide to give you ideas for the upcoming holiday season. Yankee Swap is played at Christmas parties everywhere – at offices, house parties, and family get-togethers. You can pick your present depending on the kind of people you'll be playing it with.
What did you think of this list? Would you pick any of these products for your next party? What would you like to add to this list? Let us know your thoughts in the comments section below.
Expert's Answers For Readers' Questions
What Is The Difference Between White Elephant And Yankee Swap?
White Elephant is another gift exchange, quite similar to the Yankee Swap, but with one minor difference. The gifts given in a White Elephant exchange are usually gag gifts, either amusing or tacky. It could even be something you had no use for. For a Yankee Swap, however, the gifts should be a little more useful than an ordinary gag.
The term White Elephant implies a useless gift that becomes a burden to whoever gets it. It comes from a story about the King of Siam, who would gift white elephants (as punishment) to courtiers who displeased him. These animals were extraordinarily high-maintenance, and getting one would lead the owner to financial ruin.
Recommended Articles