10 Best Yardley Perfumes For Women (2023)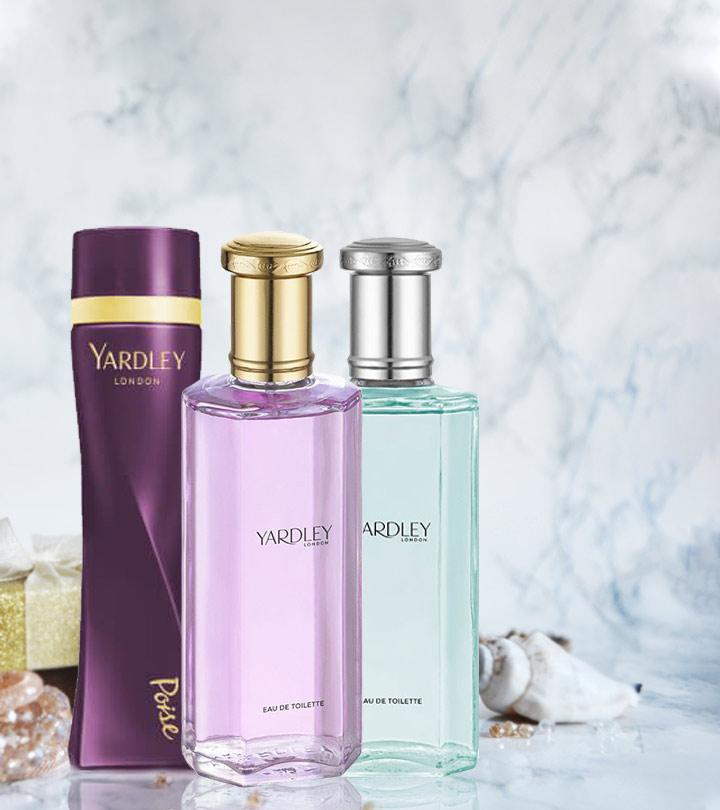 Yardley London is an esteemed name among England's oldest purveyors of quality perfumes and soaps. With a heritage of more than 240 years, Yardley London is typically English. Every whiff of this brand's iconic fragrances transports you to the lush English gardens and countryside meadows in bloom.
The subtle yet pleasing perfumes from this brand come in a wide range and are readily available in India today. Read on to discover some of the best Yardley perfumes for women that you must try for a memorable date night with your beloved.
Top 10 Yardley Perfumes For Women 
Morning Dew By Yardley London Perfumed Cologne is a celebration of the modern woman and her individuality. Its fragrance has several layers of rich notes that unfold in succession to give you a sublime and delicate experience. The perfume comes across as a perfect balance between strength and softness.
The top notes of this refreshing scent open with mandarin and freesia, followed by a voluptuous heart of rose. The sensual base notes of musk and sandalwood leave a seductive trail that lingers for hours.
April Violets By Yardley London Eau De Toilette is a classic, old-fashioned fragrance that was first released in 1913. Its floral scent possesses a timeless appeal that captivates women of all ages.
The top notes of violet leaves and citrus fruits strike an assertive and fresh chord without feeling overwhelming. A gorgeous heart of mimosa, orris, white peach, and rose follows next. The earthy base of this perfume with vanilla, sandalwood, and powdery notes offers a beautiful contrast to the otherwise light and delicate theme.
Price at the time of publication: ₹3691
Poise By Yardley London Eau De Parfum is dedicated to the unique and confident boss-woman who is a go-getter. This rich oriental floral fragrance is a bouquet of sparkling and spicy notes that blend to create an alluring perfume that elicits compliments all day long.
The top notes of mandarin and pink pepper evolve into floral heart notes of peach, rose, and lilac. The woody dry down in the base notes comes from amber, patchouli, and sandalwood. This perfume has a glamorous yet understated elegance with just a hint of mystery to keep others hooked.
Autumn Bloom By Yardley London Perfumed Cologne is a luxurious oriental fragrance infused with vibrant fresh flowers. Rejoice in your individuality with the many layers of rich notes in this perfume. It is the invigorating scent of fresh flowers in the English countryside.
The scent opens with top notes of apple and bergamot that energize you instantly, right from the first whiff. Rose and apple blossom highlight the delicate heart notes, making this an unforgettable fragrance. Sandalwood and amber in the base notes linger and continue to seduce the senses throughout the day.
English Rose By Yardley London Eau De Toilette is a refreshing floral fragrance that evokes the royalty, elegance, beauty, and passion of the rose. Reminiscent of the classic scent of an English garden, it has long been adored by generations of women.
This perfume delights your senses with sparkling citrus and rose top notes blended with tea accord. The heart notes include rosebud, magnolia, violet, and cassis with warm woody notes. The velvety tones of the base are enhanced with patchouli and musk. This lightweight rose perfume is suited for everyday wear and is office-friendly.
Country Breeze By Yardley London Perfumed Cologne is a bewitching journey through the refreshing fragrance that pervades English meadows. Every spray will energize and rejuvenate you with its unique fusion of softness and strength. Celebrate your individuality with Country Breeze.
This scent opens with top notes of mandarin and bergamot, followed by sublime heart notes of jasmine and freesia continuing the floral theme of the fragrance. The delicate fragrance has a mesmerizing dry down with base notes of seductive musk. It is suitable for a casual brunch with friends as well as a regular day at the office.
Price at the time of publication: ₹366
English Bluebell By Yardley London Eau De Toilette is an attempt to capture the essence of taking a stroll through an English garden in full bloom. This fragrance was created by the house of Yardley with perfumer Pierre Kurzenne and released in 2015.
This floral perfume is infused with delightful fruit notes for an addictive freshness. It opens with top notes of cassis, peach, and bergamot. The heart notes are a flirty blend of bluebell, peony, jasmine, and lily of the valley. The base notes are smooth and woody with vanilla, musk, amber, cedarwood, and sandalwood.
London Mist By Yardley London Perfumed Cologne is an ode to the contemporary woman. There are luxurious layers of several notes in this perfume, each revealing a delicate yet sublime experience. Its fragrance envelops you in a dreamy haze similar to a romantic bouquet of flowers.
The top notes are melon and peach, followed by cyclamen and orchid in the floral heart. The base notes of cinnamon and cedarwood add a captivating trail to the scent, which lingers as you go about your day or evening.
Royal Diamond By Yardley London Eau De Toilette is evocative of all things regal and classy. It is a sophisticated sparkling fragrance that reminds you of an old-world royal gala: a grand ballroom bathed in the light of a thousand chandeliers and guests decked in diamonds and surrounded by brilliant dialogue and elegant dancing.
Pink pepper, bergamot, and peony open this majestic fragrance. The alluring floral heart notes consist of wild rose, lily-of-the-valley, and honey. The woody base notes of cashmeran, cedarwood, amber, sandalwood, and vanilla make this fragrance a fresh bouquet of elegance and charm.
Lily Of The Valley by Yardley London Eau De Toilette was first launched by the design house of Yardley London in the year 1920. This vintage fragrance is filled with fiery spicy notes. The scent is named after the tiny white flowers that grow in the English countryside.
The top notes of bergamot, lemon, and lavender leaves revitalize your senses with the first whiff. The heart notes that follow are a medley of floral fragrances evocative of a bountiful garden, including the delicate lily of the valley. The warm woody base notes are aromatic with musk and amber, creating a lingering trail.
These are the best and most romantic Yardley perfumes for women. They are all pleasing to the senses and yet have their distinct scents. Choose one of these fragrances and find your mood instantly uplifted. Which of these Yardley perfumes would you like to try? Let us know in the comments section below.
Recommended Articles:
Best Perfumes For Women Available In India
Best Pheromones Perfumes Available In India
Best Deodorants For Women Available In India
Best Adidas Perfumes For Women
Best Fragrance Soaps Available In India