9 Best Yellow Eyeshadows For Eyes That Dazzle In 2023
Go for a yellow eye makeup look for the perfect summery, festive, and cheerful vibe.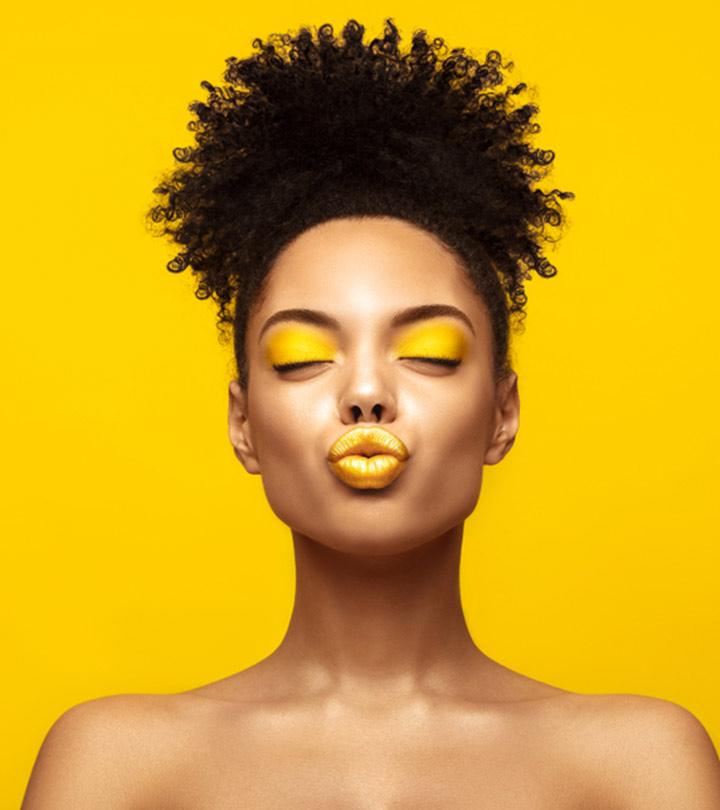 The makeup trend that has taken the internet by storm is wearing the best yellow eyeshadow on your lids. While earlier people would go for darker shades like black, brown, and even blue, yellow has become the new sensation with the emerging pop trend. The vibrancy of yellow works best in bringing all eyes to you. Why make your makeup meek and subtle when you can go for something really bold and zesty. While you would think it wouldn't suit your style, once you try it, you will know why it is famous for being one of the most versatile eyeshadows of all. It adds a summery look to your eyelids, and regardless of your complexion, it will make your eyes the center of focus. The best part is, no matter how dark or light your eyelids are, it will only make it shimmer in different shades of gold. So are we ready to be loud and stunning as a sunflower? Here is a list of 9 yellow eyeshadows from luminous yellow to sunny yellows, that are the highest-rated among makeup enthusiasts. Go through the list, and you will know exactly what to gift your eyes.
9 Best Yellow Eyeshadows To Brighten Your Makeup Look!
If you've stayed clear of yellow eyeshadows because you're afraid it might not complement dark skin tones, think again! This sultry mustard yellow eyeshadow has a hue that is ideal for any complexion and ensures your eyes are always the talk of the town. Available in a single piece, this one is travel-friendly, waterproof, and highly pigmented, allowing you to experiment with any look. With ingredients like talc, mica, and mineral oils, it absorbs excess oil, blends effortlessly, and adds a touch of irresistible shine and shimmer. If you want to elevate your fashion game, this is the eyeshadow for you!
Pros
Ideal for deeper skin tones
Blends easily
Lasts long
Highly pigmented
Waterproof
Does not feel heavy on the eyes
Cons
You might experience some fall out as it is powdery.
Price at the time of publication: $5.98
Say hello to your new favorite vibrantly pigmented yellow eyeshadow palette from Ucanbe that houses 15 warm, shimmery, and elegant shades. This palette comes with matte, metallic, and foil formulas with a high color payoff for intense color and stunning eyes that never go out of style. The palette features gorgeous shades ranging from yellow and ginger hues to warm olive shades, including gilded shades that add a touch of luxury and glamor to your eye makeup looks. It's no wonder this palette has made it to our list of the 9 best yellow eyeshadows of 2023. Highly pigmented and easy to blend, this one will ensure you look your best on all occasions. Whether you want a matte look for the day or into a bit of shimmer and glitz for the night, with this neon yellow eyeshadow palette, you're all set to go! If you want to know more about the benefits of this product, check out this quick review on YouTube.
Pros
Highly pigmented
Waterproof
Blends well
Matte, shimmer, and foil shades
Lasts long with high color payoff
Wide range of complimentary shades
Cons
If not blended correctly, the pigment might be a lot.
Price at the time of publication: $7.99
It doesn't matter if you're a makeup novice or have been in this game for ages; the Docolor bright yellow eyeshadow is a must-have in every makeup bag. This palette contains 8 pigmented mattes and 1 yellow eye glitter shade that helps you create unique looks with a clean finish. Ideal for beginners, this one comes with buildable coverage that allows you to tone down the loudness of bright yellows with the earthiness of brown shades. It also comes with a long-lasting, water-resistant formula that saves you from constant trips to the bathroom for touch-ups! Just take that leap of faith and bring home this yellow eyeshadow palette because we're sure it won't disappoint. Here's an honest review of the product.
Pros
Bold pigment
Easily blendable
Lasts long
Perfect for beginners
Water resistant
Matte finish
Cons
The glitter shade might be slightly chunky and difficult to apply
Price at the time of publication: $12.99
Here's one for all those obsessed with the smokey eye makeup look! This yellow eyeshadow by Chartreuse is one of its kind, with a green tinge that makes it the ideal hue if you're trying to perfect an exotic smokey eye look. Not only can you use this one as a regular powder-pressed eyeshadow, but it can also double as a vibrant eyeliner when applied wet! While most powdery eyeshadows have fallouts and settle into your skin, causing breakouts, this dark yellow eyeshadow is non-comedogenic, making it ideal and safe for sensitive skin. It also lasts for up to 6 hours and doesn't cause creasing or feathering.
Pros
Non-comedogenic
Suits all skin tones
Can be used as an eyeliner as well
Lasts for 6 hours
Does not crease of feather
Cons
If you prefer pigmented shades, this might appear to be a little sheer.
Price at the time of publication: $13.99
When in need of a long-lasting eyeshadow for those wild nights with your girls, trust in NYX! This pastel yellow eyeshadow has a luxuriously creamy texture that will last all day long. With a velvety-satin finish that is easy to blend, get a flawless studio finish makeup look each time you use this single yellow eyeshadow. What's more, this one also has a subtle sheen that makes your eyes pop! With a high color payoff, zero fallout, and effortless application, this might be one of the best yellow eyeshadows because it looks as good as it feels!
Pros
Long lasting
Creme texture
Blends easily
Highly pigmented
No fallout
Cons
This might not suit all skin tones as it is a pastel shade
Price at the time of publication: $12.49
One of the best upgrades in the beauty industry has got to be liquid glitter eyeshadows. No amount of obsessing is enough when it comes to this product! This liquid yellow eyeshadow comes with golden glitter that makes your eyes dazzle. Most glitter eyeshadows tend to get all over your face with time; however, this glitter liquid eyeliner stays put for long hours due to its long-lasting formula. With a formula that offers a hassle-free application and highly pigmented shade, pick this golden hue eyeshadow if you're looking for some glitz and glam!
Pros
Long-lasting formula
Highly pigmented
Easy application
Suitable for professional use
Cons
It might get a little messy while removing
Price at the time of publication: $10.99
If you're looking for a versatile yellow eyeshadow, try this one! This yellow eyeshadow palette from Beauty Junkees comes in powder form with a buildable texture that can transform from being sheer to highly pigmented in seconds. Not only can this one be used as a gorgeous eyeshadow to bring some colors to your lids, but it can also be used to highlight, contour, and add a gradation texture to your makeup looks. A long lasting eyeshadow palette with highly pigmented colors and buildable formula — What more can a girl ask for?
Pros
Multipurpose
Long lasting
Blends easily
Buildable coverage
Matte finish
Cons
It might have a small amount of fall out
Price at the time of publication: $19.97
Are you messy when it comes to eyeshadows? Do you get them all over your eyes and end up looking like a raccoon? Well, worry no more because what we have here is an eyeshadow crayon! This crayon has a silky smooth texture that glides effortlessly onto your eyelids, offering a seamless and clean finish. With its irresistible soft texture, one stroke is all you need for some bold and vibrant lids. The convenient retractable crayon tip also makes it easy for you to highlight the inner corner or outline the waterline so that you can add a dash of color to any makeup look. This yellow eyeshadow crayon is perfect for some quick, bold eyes!
Pros
Long lasting
Easy to use
Bold color
Smooth texture
Suits all skin tones
Cons
Might be slightly expensive
Price at the time of publication: $11.99
Perfect any eyeshadow look with this sunshine yellow eye makeup that has 9 matte and shimmer shades. The ultra-soft and smooth powder texture of these warm yellow hues allows you to create stunning and out-of-the-box looks with ease. It has no fallout, blends seamlessly, and offers high pigments. And don't worry about the hot sun melting away your makeup because this one comes with a sweat-proof, waterproof, and long-lasting formula that ensures your eye makeup stays on regardless of the weather. Made from safe and healthy ingredients that are cruelty-free, this one is ideal for sensitive skin and makes your eyes pop like a burst of lemon yellow. Here's a video featuring a detailed review of the product.
Pros
Cruelty-free
Easily blendable
Long lasting
Water and sweatproof
Highly pigmented
Has matte and metallic shades
Cons
Since it's a powder pressed eyeshadow a little fall out can be expected
Price at the time of publication: $12.99
We hope that these reviews help you choose the yellow eyeshadow of your dreams this 2023! Here's a step-by-step guide for the perfect yellow eyeshadow look.
How To Wear Yellow Eyeshadow?
Step 1 – Use a primer
Yellow is a bright color but when used as makeup we need a clean canvas to make the color pop! The best thing to do for this is to prime your eyelids, either with an eyeshadow primer or some concealer. And make sure it sets before you apply your yellow eyeshadow.
Step 2 – Apply light cream base
Apply a light cream base in case you want to cover your whole eyelid with yellow. The light cream helps by giving the vibrant yellow a background.
Step 3 – Blend
Blending is your best friend when it comes to bold and vibrant colors, we don't want it to look like you get some paint on your eyes.
Step 4 – Brush off fallout
Make sure to brush off any fallout on the apple of your cheeks or around your eye area. If you have to put on some winged eyeliner, make sure there is no loose eyeshadow around.
Step 5 – Keep it simple
Always keep it minimal and simple when you are using bold colors. The colors need to speak for themselves. You could go for some apricot lips and cheeks which is usually a great pairing with yellow eyeshadow. And just some light lip gloss should seal the deal!
Why Trust Stylecraze
The author, Srijita De, is a makeup enthusiast and finds her passion in recommending the best products through her well-researched reviews. She has compiled this list of the best yellow eyeshadows after thorough research and a careful analysis of hundreds of user reviews on trusted online platforms. These highly pigmented products blend easily and give your eyes a long-lasting vibrant look.
Frequently Asked Questions
Is yellow eyeshadow flattering?
Yes. The right shade of yellow eyeshadow lifts your eye look and enhances the structure of your lids. It brightens your face and looks flattering on all skin tones.
What lipstick goes with yellow eyeshadow?
A vibrant orange, pink, or red lipstick stands out with yellow eyeshadow. The colors compliment the yellow-eye look.
Does yellow eyeshadow go with green eyes?
Yes. A warmer shade of yellow compliments green eyes. It makes the green eyes pop.
How do you make yellow eyeshadow brighter?
Prime and conceal your lids first, then dampen your brush with a makeup setting spray. Lastly, apply the yellow eyeshadow on the lids with the damp brush and achieve a bright and vibrant eyeshadow look.
What does yellow eyeshadow mean?
Yellow eyeshadow stands for bright sunshine and happiness. Therefore, it is an ideal choice for festive occasions.
How do you remove yellow eyeshadow?
• Pour a few drops of makeup remover on a cotton pad.
• Move the cotton pad with gentle circular motions on the lids.
• Swipe the pad in downwards motions and remove the eyeshadow.
• Splash water on your lids.
Recommended Articles: