11 Best Yes To Products – 2022
Say hello to brighter and healthier skin with these dermatologist favorites.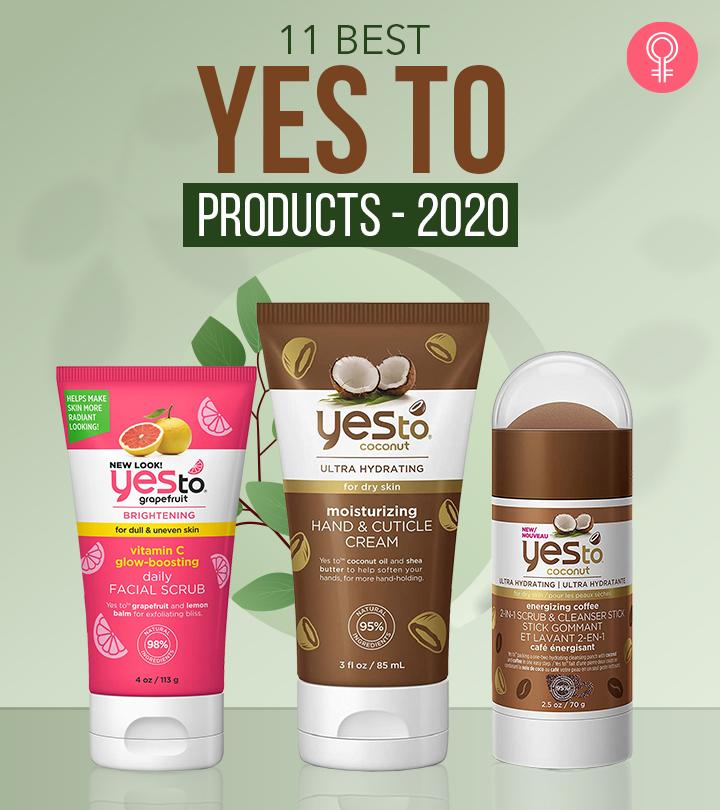 Products with non-toxic and natural ingredients are a huge hit amongst skin care enthusiasts. One such brand is Yes To. The best Yes To products are formulated with 95% natural ingredients. They are free of toxic chemicals like parabens, SLS, microbeads, silicones, and artificial colors. Their fragrances are approved for use after going through rigorous testing for skin irritation. These products are clinically and dermatologically proven to be hypoallergenic. These non-comedogenic products do not make you break out or strip away the skin's natural oils. They also cater to all skin types.
Here are the 11 best Yes To products you can buy online. Scroll down!
11 Best Yes To Products Available Right Now
This 2-in-1 scrub and cleanser stick with a coffee and coconut base is super easy to use. Just glide it over your wet skin and feel the invigorating action of the coffee in this formula. The product lathers up and removes dirt, excess oil, and dead skin cells gently. The coconut in it hydrates the skin and without stripping away its natural oils. This stick is a quick and effective way to cleanse your skin and is especially useful during traveling. It is convenient to carry and leak-proof. This vegan product is made with natural ingredients that leave your skin feeling soft and clean. Learn more about this product in this video.
Pros
Exfoliates the skin
Paraben-free
SLS-free
Travel-friendly
Hydrates the skin
Revitalizes the skin
Silicone-free
Cruelty-free
Vegan
Cons
The stick turns soft and gooey over time
Yes To Cucumbers Soothing Hypoallergenic Facial Wipes are made with plant-based fabric that is compostable. These wipes cleanse and nourish the skin as they contain hydrating glycerin, cucumber, and aloe extracts. The green tea extract – with its powerful antioxidant properties – protects the skin and reduces inflammation. You can also use these wipes to remove makeup. These soothing wipes can remove stubborn eye makeup easily in one quick swipe. They are non-oily and do not clog pores as they are formulated without any parabens, sulfates, or preservatives. These non-irritating wipes are gentle on the skin as they are made with natural ingredients that leave it feeling refreshed and radiant. This video will provide you with added insights about the product.  
Pros
Hypoallergenic
Eco-friendly
Soothes the skin
Oil-free
Non-comedogenic
Petroleum-free
SLS-free
Paraben-free
Cruelty-free
Suitable for sensitive skin
Cons
Yes To Coconut Ultra Hydrating Moisturizing Hand & Cuticle Cream is specially formulated for dry skin. This award-winning cream restores moisture to dry, parched, cracked, and chapped skin and cuticles as it is rich in coconut oil, jojoba oil, sesame seed oil, avocado oil, and sweet almond oil. This nourishing cream also contains extracts of grapefruit, banana, and hibiscus that rejuvenate, repair, and protect the skin. This ultra-hydrating moisturizer is enriched with nutrients such as minerals, amino acids, essential fatty acids, and vitamins A, C, and E. 
Pros
Moisturizes the skin
Protects the skin
Repairs and nourishes the skin
SLS-free
Paraben-free
Cruelty-free
Cons
Yes To Grapefruit Vitamin C Glow Boosting Daily Facial Scrub contains a grapefruit and lemon balm that gently exfoliates the skin to remove dead skin cells, dirt, and impurities. It reveals new skin cells, which leads to an even skin tone and complexion. This scrub also helps in repairing and protecting the skin cells. Its hydrating formula adds radiance to the skin as it contains vitamin C. It also boosts collagen production. Thus, it gives you a youthful glow.
Pros
Brightens the skin
Improves complexion
Silicone-free
SLS-free
Paraben-free
Cruelty-free
Vegan
Cons
May cause mild irritation
Yes To Tomatoes Detoxifying Charcoal Facial Cleanser is great for acne-prone skin. It contains salicylic acid that chemically exfoliates the skin and fights acne-causing bacteria to prevent future breakouts. This face wash also contains charcoal which draws out the impurities, blackheads, and gunk in the pores and helps in controlling shine. It has biodegradable jojoba oil spheres that work as physical exfoliants. The tomato extracts in it brighten the skin while the potent antioxidants from ginkgo rooibos and pumpkin protect the skin from free radicals and premature aging.
Pros
Prevents skin damage
Moisturizes the skin
Removes blackheads
Fights the signs of aging
Soothes the skin
Deeply cleanses the skin
Suitable for acne-prone skin
Vegan
Paraben-free
SLS-free
Silicone-free
Certified organic ingredients
Cons
Yes To Naturals Tea Tree & Sage Oil Scalp Relief Shampoo is great for dry and itchy scalp. It contains tea tree oil, sage oil, and salicylic acid that moisturize and soothe the scalp. This shampoo gently cleanses the scalp to provide relief from irritation and scaling. Since it is formulated with natural ingredients, it is safe to use on sensitive or inflamed skin. This vegan is also free from toxic parabens, silicons, and preservatives. It has a fresh fragrance that revitalizes the scalp.
Pros
Suitable for dry and itchy scalp
Antimicrobial properties
Soothes the scalp
Reduces inflammation
Vegan
Cruelty-free
Paraben-free
Silicone-free
Cons
Contains sulfates
May cause hair fall initially
Yes To Cucumbers Soothing Gentle Milk Cleanser is formulated with hydrating cucumber, soothing aloe vera, and calming green tea extracts for sensitive skin. Thus, it removes dirt and impurities from the skin without drying it out. Glycerin and soy proteins soften and nurture the skin, thus making it look healthy, radiant, and clean. The vegan product is made with natural ingredients and without silicones, SLS, and parabens.
Pros
Suitable for sensitive skin
Prevents skin damage
Soothes the skin
Moisturizes the skin
Gentle formula
Vegan
Cons
The dispenser pump does not work effectively
If you are looking for a soothing moisturizer for your sensitive skin, Yes To Cucumbers Soothing Daily Calming Moisturizer is a great choice. It is formulated with ultra-hydrating, nourishing, and calming aloe, sweet almond oil, and cucumber extracts. The essential fatty acids in it provide intense moisturization, while the anti-inflammatory and cooling effects of aloe vera soothe the skin. This nutrient-rich cream improves your skin complexion and texture. 
Pros
Nourishes the skin
Soothes inflammation
Suitable for sensitive skin
Paraben-free
SLS-free
Cruelty-free
Cons
Yes To Cucumbers Soothing Daily Calming Moisturizer is formulated with coconut oil and eucalyptus oil to hydrate and restore moisture to your lips. It revitalizes skin cells with natural ingredients and moisture to make your lips feel soft and luscious. The unsaturated fats in it nourish dry, chapped lips. This award-winning product is Leaping Bunny-certified.
Pros
Restores moisture
Petroleum-free
Cruelty-free
Paraben-free
Cooling sensation
Cons
Yes To Tomatoes Clear Skin Daily Pore Scrub contains salicylic acid that helps you achieve clear skin. Tomatoes and ginger root have brightening, antioxidant, and antimicrobial properties that combat acne. This face scrub also prevents the recurrence of breakouts. This exfoliating scrub also contains soothing bamboo extracts that deeply cleanse the pores without drying out or irritating the skin. It is gentle yet effective enough to remove blackheads. The lycopene extracts in it fade blemishes, acne scars, and pigmentation. Thus, it reveals a clear, radiant complexion.
Pros
Fights acne
Brightens the skin
Unclogs pores
Deeply cleanses the skin
Reduces redness
Gentle formula
Vegan
Cons
Contains alcohol that may cause mild irritation and dryness
Yes To Ultra Moisture Coconut & Argan Oil Shampoo is an ultra-moisturizing shampoo as it contains virgin coconut oil and argan oil that provides intense hydration to your hair. The extracts of hibiscus, grapeseed, guava, noni, and banana in it restore the natural texture and shine of your hair. This vegan shampoo protects and softens your hair to make it more manageable. It is free from harmful chemicals like parabens and silicones. This high-quality shampoo transforms dry, dull, and damaged hair into lustrous and healthy locks.
Pros
Reduces frizz
Adds shine
Restores moisture to dry hair
Repairs damaged hair
Vegan
Paraben-free
Silicone-free
Cons
Why Trust StyleCraze?
Shiboli Chakraborti is a certified skin care coach who loves reviewing beauty products. She has created this detailed and well-researched list of the best Yes To products to help her readers pick the best options. Her expertise in the domain, and hours of research of online user feedback helped her curate the list. This comprehensive list features a wide range of products including cleansers, scrubs, facial wipes, shampoos, and much more.
Recommended Articles