15 Best Yoga Bolsters Of 2021 To Support And Tone Your Body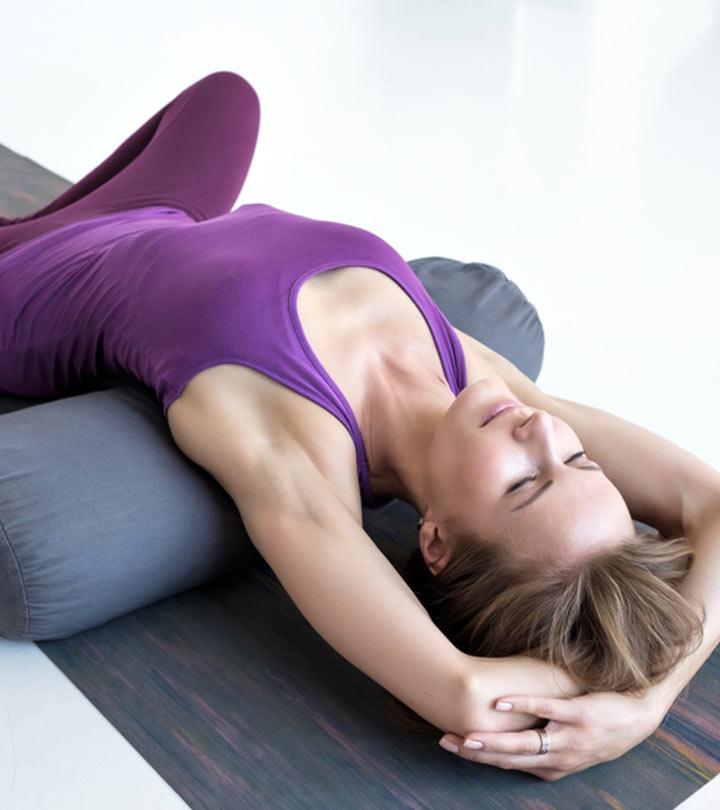 Yoga offers support and flexibility, and tones and strengthens your body. We all know that regular yoga helps us stay fit, active, and healthy. Ensuring your yoga poses are perfect and fine-tuned can help you reap all of their benefits. This is where yoga bolsters come into play.
Yoga bolsters are a popular prop that provides comfort, supports poses, and enhances stretching and restorative postures. When placed under your back, knees, neck, or shoulders, yoga bolsters relax nerves and muscles and boost blood flow.
This article lists the fifteen best yoga bolsters that offer ultimate comfort and support to your entire body. Check them out!
15 Best Yoga Bolsters
The YogaAccessories Yoga Bolster is a supportive cushion that helps fine-tune yoga postures. It is made of 100% cotton filling. It weighs 6 lbs and has dimensions of 24" x 6" x 12". It is lightweight and provides optimum support. This yoga pillow offers perfect support for restorative yoga, prenatal yoga, and offers deep relaxation during Shavasana. This top-selling yoga pillow is flat on the top and bottom. It is available in attractive colors. The hygiene-friendly case is machine-washable.
Pros
Perfect shape and size
Rectangular bolster for optimum support
Lightweight
Soft and supple
Hygiene-friendly case
Machine washable
Cons
Undesirable chemical smell
The ForPro Professional Collection Round Bolster is made of high-density vinyl that is oil- and stain-resistant. This large yoga pillow is 26 inches long and 6 inches in diameter. It weighs 1 lb. This uniquely-designed yoga bolster conforms to the body's natural curves and offers comfortable support to the vertebrae and back. It is designed to relieve strain from the lower back while stretching or performing other holding poses. The yoga bolster can be placed under your knees or under your ankles. It also supports the neck while relaxing the entire body. You can take the bolster for a body massage as well. This bolster is easy to use, and its pillowcase is machine-washable.
Pros
Stain-resistant
Oil-resistant
Sleek appearance
Ideal for massage therapy
Easy-to-hold handles
Conforms to the body's natural curves
Durable
Sturdy
Easy to wash
Suitable for physical therapy to support knees
Cons
The foam may feel too soft
No color choices
The Peace Yoga Buckwheat Yoga Bolster is filled with buckwheat hulls that can be easily added and removed as needed. The buckwheat filling offers the ideal firmness. It is also soft enough to keep your body relaxed and comforted. This meditation bolster protects from hard floors. It relieves stress and strain from the hip joints, knees, and ankles.
The bolster also helps maintain proper posture. The case is made of 100% cotton and is protected by a full-zip closure. It is easy to remove and wash, and the bolster's handle makes it travel-friendly. This beautifully-designed and versatile yoga bolster is a perfect prop for beginners as well as professional yoga practitioners. It is available in multiple pillowcase colors.
Pros
Eco-friendly
Natural ingredients
Zipper-locked pillowcase
Easy to remove
Machine-washable
Releases numbness of extremities
Grab-and-go handle
Available in different, attractive colors
Cons
Product is oversized
Expensive
The Lotuscrafts Yoga Bolster is filled with soft elastic kapok wool that provides support for deeper yoga poses. It is perfect for practicing restorative yoga and yin yoga routines. It is soft and supple, allowing you to relax and breathe deeply in restorative postures. It helps release stress and tension. The versatile yoga bolster offers firm support during forward bends and leg raises.
The high-quality and robust material improves durability. The pillowcase is made of 100% organic cotton fabric that is skin-friendly. It is dyed with environmental-friendly colors and is easy to wash. The bolster comes with a removable cover. Its drawstring makes it easy to be carried.
Pros
Made of certified organic cotton
Perfect for restorative and yin yoga
Made of soft and supple material
Supports deeper yoga postures
Lightweight
Environmentally-friendly colors
Skin-friendly
Easy to carry
Easy to wash
Versatile
Relaxes spine
Cons
The cover could be difficult to remove and replace
If you are keen to build strength and stamina, the Hugger Mugger Standard Yoga Bolster is the right pick. It is 25 inches long, 11 inches wide, and 5 inches thick. It has both sides flat for added stability. It is made with high-grade quality fabric with a foam core. This increases durability. This versatile bolster can be used for any pose for added support. It is convenient to handle and easy to wash.
Pros
Sturdy
High-quality fabric
Optimal comfort
Easy to wash
Supports a firm core
Both sides flat for increased stability
Upholstery-grade fabric
Long-lasting
Available in different colors
Cons
Washing may cause the fabric to shrink
Bolster is too thick
The Brentwood Home Yoga Bolster is the best pick for restorative yoga, meditators, and other skilled yoga personnel. This comfortable home yoga bolster provides complete back support and deepens yoga postures. It is 25 inches long, 11 inches wide, and 6 inches thick. The bolster weighs about 12 lbs. The interior of this versatile bolster is filled with buckwheat hulls that create a firm base to support and align the body perfectly. An inner cotton liner holds the hulls and allows them to be easily moved and refilled – ensuring the bolster is fresh every time. The exterior of the bolster is made of a soft stretch-knit with elegant embroidery. The pillowcase can be removed easily. It is washable.
Pros
Sturdy design
Removable exterior cover
Buckwheat hulls offer a firm base
Soft fabric
Travel-friendly
Easy to wash
Improves strength and stamina
Cons
None
The Ajna Yoga Bolster provides great support to the spine and the entire body while performing deep stretches. The bolster is made from mixed density layers of recycled foam with a concentrated core for long-lasting performance. The luxurious eco suede cover can be easily removed for washing and reuse. The bolster is ultra-lightweight. The dual-core design helps maintain its exact structure. The bolster is suitable for restorative yoga, yin yoga, and prenatal yoga. It provides optimum support for the joints and back. It offers lumbar relief.
Pros
Eco-friendly
Long-lasting performance
100% vegan material
Free from harmful chemicals
Ergonomic design
Outstanding durability
Easy to wash
Easy to carry
Alleviates pressure on the joints
Perfect for meditation and deep breathing
Full-body relaxation
Available in 3 different colors
Cons
None
The Bean Products Yoga Bolster provides professional-level comfort and support while performing yoga. It is available as a rectangular, round, or a breathable pranayama bolster. It is made of 100% cotton, hemp, and vinyl material for ultimate comfort. The rectangular extra-firm studio-quality bolster helps deepen yoga postures. It opens up the chest and hip joints. The round-shaped bolster is perfect for knee support and physical therapy. The pranayama bolster is filled with 100% cotton and supports the back, from the tailbone to the neck, allowing expansion of the front body and lungs. The bolster has a zipper-lock. It comes in an easy to remove pillowcase that is machine-washable.
Pros
Comes in three shapes
Supports back and spine
Provides full-body support
Pillowcase is easy to wash
Helps in deeper forward bends
Durable and extra firm
Cons
The Manduka Enlight Yoga Bolster is lightweight and round-shaped. It offers superior comfort and support. It is filled with resilient, long-lasting foam that creates a firm cushion. It is 27″ x 9″ x 9″ and weighs 2.32 lbs. Its hidden zipper construction offers a seamless finish. The bolster has a faux-suede logo-engraved handle that makes it easy to be carried.
Pros
Ultra-lightweight
Long-lasting
Resilient
Soft, absorbent fabric
Cover is easy to wash and dry
Seamless finish
Provides ultimate support
Travel-friendly
Cons
The Retrospec Sequoia Yoga Bolster is made of 100% organic cotton filling that increases its durability. It measures 28″ x 10″ x 10″ in its round form and 24″ x 12″ x 6″ in its rectangular form. It comes with a cotton shell that is removable. The natural cotton filling does not release harmful chemicals and is skin-friendly. This extra support bolster can be a daily yoga prop during meditation. It also alleviates muscle soreness and promotes spine health. It is machine-washable and its built-in handle makes it easy to be carried.
Pros
Made of 100% cotton fabric
Built-in durable handle
Easy to carry
Machine-washable cover
Improves posture
Skin-friendly fabric
Helps alleviate muscle tension and stress
Cons
None
The Leewadee Yoga Bolster is made of a comfortable, stable, breathable fabric. It comprises of untreated kapok, a plant-based fiber that is extracted from the fruits of the tropical trees that increase durability. The firm and comfortable padding provides ultimate comfort and support to the back and the entire body, making it perfect for pilates. The bolster's double seam increases its strength. It is suitable for both men and women.
Pros
Durable
Sturdy
Perfect for pilates
Comfortable padding for support
Full-body relaxation
Double seam for extra support
Suitable for both men and women
Cons
The Gaiam Rectangular Yoga Bolster measures 25" x 11" x 7". It offers complete support to the back and helps deepen one's meditation practice. It is made of 100% polyester filled with natural cotton batting that provides firm support. The ultra-soft bolster relaxes and opens tight muscles during a yoga practice. The fabric is easy to remove and machine-washable.
Pros
Soft and supple
Cotton batting offers firm support
Relaxes and supports the entire body
Easy to wash
Cons
The filling may feel lumpy
Heavy bolster
The Mind Reader Cotton Yoga Bolster is made of natural kapok wool that offers ideal support during restorative and Yin yoga poses. Its high-quality organic cotton cover makes this bolster durable. It supports the gentle opening of the chest, forward bends, and other poses involving raised legs. It comes with a removable cover that is machine-washable.
Pros
Lightweight
Durable
Supports entire body
Good quality cotton cover
Machine-washable cover
Cons
The Crown Sporting Goods Yoga Bolster is made of 100% cotton fabric. It is an effective prop for restorative yoga, spinal stretches, deep meditative breathing, and poses involving chest opening. The sturdy, extra-firm, good-quality bolster is wrapped in two layers of soft fabric for extra comfort. The zipped cover is easy to remove and is machine-washable. The bolster has a handle attached that makes it easy to be carried.
Pros
Lightweight
Provides full-body support
Two layers of soft fabric for added comfort
Easy to carry
Machine-washable cover
Available in 4 attractive colors
Cons
None
The Seat Of Your Soul Yoga Bolster is filled with buckwheat hulls for better durability. Its organic cotton wrapping case offers added comfort. The bolster is 28" long, 9" wide, and 5" high. It weighs 10.5 lbs. Its heavy stitching makes it firm and sturdy for long-lasting performance. It is available in four different shapes and attractive colors. Its ergonomic design aligns your spine and eases all strain. The outer cover is made of GOTS-certified soft cotton fabric that offers ultra-comfort and deepens yoga poses. The bolster's adjustable wrap-around zipper customizes the cushion for a perfect fit.
Pros
Buckwheat hulls improve durability
Long-lasting performance
Adjustable zipper
Provides adequate support
No toxic materials
Durable, organic cover
Comes with a carrying strap
Easy to wash
Available in attractive colors
Available in four sizes
Cons
None
These are the top-quality yoga bolsters that you can buy online. While most yoga bolsters are similar, they also are available in different types.
Types Of Yoga Bolsters
Standard Yoga Bolsters: Standard yoga bolsters are the most versatile. Their flat rectangular design provides good elevation to maintain the body's curvature. You can also use them for seated postures and other seated forward bends. Also, they can provide solid support in meditation postures.
Round Yoga Bolsters: These are larger, heavier, and better suited for advanced practice. They are more suitable for sitting postures.
Pranayama Bolsters: These lean bolsters are a variation of the standard bolsters. They are smaller and act as a great cushion for the knees. They also help relax the body and offer support to the back.
In the following section, we have discussed the benefits of yoga bolsters.
Benefits Of Yoga Bolsters
They help support the entire body while practicing advanced yoga postures. They are particularly helpful for beginners and those with limited mobility as they provide additional support throughout each posture.
Bolsters help align the spine properly and help prevent back injury.
They can also be used for restorative postures. A bolster placed under your knees, back, or neck alleviates tension and stress. It also relaxes the body from the core.
Bolsters help boost blood flow when placed under the spine, chest, or shoulders.
They alleviate swelling and inflammation by relaxing the nerves and muscles.
They can be used to stimulate metabolism. Bolsters that are used in poses that fold or twist the abdomen can stimulate the digestive system and improve metabolism.
Let us check how to use yoga bolsters.
How To Use Yoga Bolsters
To support back bends, begin by sitting on the mat. Place the bolster on the floor behind you. With your hands, push yourself back until you are resting the middle of your back on the bolster. Finally, raise your arms out to the sides until they are resting on the floor just above your bolster.
To perform supported child poses, place the bolster in between your knees and kneel on the mat. Stretch your hands slowly forward until your entire body relaxes on the bolster.
Elevating legs up the wall is a popular posture that boosts blood circulation to the heart and the brain. Lay back and place your bolster underneath your bottom. Finally, extend your legs and rest them against the wall.
The following section helps you choose the right bolster for you.
Tips To Choose The Right Yoga Bolster
The weight and filling material of the bolster are important factors to consider. Choose a high-density foam or cotton batting interior for utmost firmness and comfort. You can also choose bolsters with kapok filling, buckwheat filling, or a synthetic fiberfill.
Identify the purpose you want to serve and select amongst bolsters from different shapes.
The bolster cover is important to consider. It should be made of skin-friendly fabric, either cotton or hemp. The fabric should be hygienic and easy to wash. It must suit all skin types.
An ideal yoga bolster is a good investment for your health. It supports your back and the entire body and relaxes the nerves and muscle. It also alleviates physical stress, tension, and is suitable for physical therapy. It can be used as an effective prop for prenatal yoga to support the back and spine. Pick your favorite yoga bolster from the list and enjoy its benefits today!
Expert's Answers For Readers' Questions
1. Is a yoga bolster the same as a yoga block?
No. A yoga bolster is different from a yoga block. A yoga block supports every yoga pose while a yoga bolster is specifically meant to support your back and relax the body.
2. What is yoga bolsters filled with?
Yoga bolsters are filled with vinyl foam or buckwheat hulls. These maintain firmness and offer comfort.
3. Do I need a yoga bolster?
Yoga bolsters can be used both by beginners or experts. They are an advanced prop that refines your posture and relaxes your body. You can definitely use one.
Recommended Articles