12 Best Yoga Books For Beginners To Heal Your Body, Mind, & Spirit
Kickstart your yoga journey by practicing efficient techniques from these books.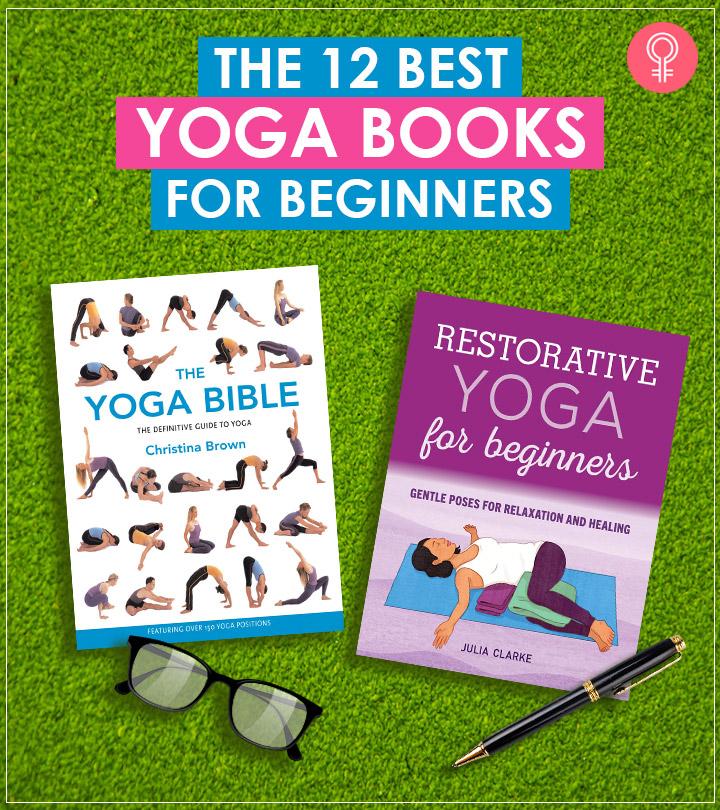 Yoga involves physical, mental, and spiritual practices that ensure you are the pink of health. While many look to yoga instructors, youtube tutorials, and other sources for the best information, there's nothing like a good yoga book for beginners that will help you with the basics. To help you get your hands on the best one, we've curated a list of the 12 books specially written for beginners to master all the yoga poses you want. These books come with a pool of wealth that talks about different posture correction exercises, what each exercise is for, the ideal time to breathe in and out, and more. Also, taking the book in your hands helps you learn at your own pace and not hurry, according to your instructor. So, go and give our list a read and find a book that will be your next yoga buddy!
The 12 Best Yoga Books For Beginners
The Yoga Bible is authored by internationally renowned teacher and bestselling author Christina Brown. This paperback is a comprehensive guide to learning more about the mind-body connection. This book delves deeper into our spiritual and physical well-being by bringing suppleness to our bodies. It features about 170 postures from the main yoga schools and is an unrivaled, complete handbook to practice yoga and discover mental and physical healing. It is published by Krause Publications and motivates yoga beginners and experts to find a routine that best suits them.
Price at the time of publication: $17.65
Restorative Yoga For Beginners from Rockridge Press is perfect for people recovering from an illness or any injury or beginners looking for a natural way of relaxation. It focuses on simple postures and helps in deep relaxation that will pave the way to a peaceful and meditative state. It introduces you to the spiritual origins and the refreshing advantages of restorative yoga. This healing guide leads you to the right positions that help in reducing lower back pain, relieving stress, breathing easily, increasing your energy, and helping you get ready for childbirth. The instructions are accompanied by illustrations, ensuring that you get into a posture and out of it comfortably and safely. It advises you on what to wear and the different props you can use for yoga. It walks you through 36 essential restorative yoga poses and 20 sequences, including labels and the therapeutic benefits of each. It claims to restore your vital energy (prana) through breathing exercises and meditations. This book is the perfect guide for beginners and will help you bring harmony gradually into your life. It comprises 180 pages, is written by yoga teacher Julia Clarke, who holds a master's degree in Ayurveda, yoga's sister science, and specializes in the healing arts of yoga.
The Yoga Beginner's Bible, authored by Tai Morello, comprises 133 pages and is a sure-shot way to find out why celebrities like Jennifer Aniston and Robert Downey Jr took time out of their hectic schedules to incorporate this life-changing activity. This book is the perfect, comprehensive guide to practice yoga and discover mental and physical leveling in life. It guides you in strength-building and balance improvement. It is meant for beginners since it covers everything you need to know about Yoga and leaves no stone unturned. It helps to heal your body and also allows your psyche to relax while studying it deeply.
Price at the time of publication: $194
Yoga For Beginners is authored by acclaimed yogi Cory Martin, and is published by Althea Press. It helps you learn yoga within your own home's comfort through simple poses, calms your mind, and strengthens your body. This book is the perfect guide to start you off with yoga. You can achieve improved breathing, mental clarity, and increased vitality with yoga. It has step-by-step instructions, takes you through 35 poses, and offers a calming and strengthening effect on your life. The full-color illustrations, the rejuvenating meditation methods, and the nutrition advice that complement your yoga make it your go-to book as a beginner. So, take that first step, take a deep breath and let this handbook help you create your own yoga sequences.
Price at the time of publication: $296
Yoga: Your Home Practice Companion, written by the experts from Sivanada Yoga Vedanta Centre, is a complete lifestyle guide with meditation programs, yoga practice, and recipes for a healthy diet that will help you attain a healthy body, mind, and inner serenity. This handbook provides a step-by-step explanation of asanas, detailed illustrations, mental awareness techniques, nutrition tips, and recipes, which can lead you to self-discovery and a deeper understanding of yourself. This helps you understand breathing and mental agility techniques that recharge your energy levels and help to beat stress. It also assists you in leading a healthier lifestyle with a yogic diet that includes 40 plant-based recipes. This holistic home guide comprises 256 pages and helps to improve your health, awareness, and peace of mind. It is a handbook of 12 asanas, including 20, 40, and 60-minute programs.
Price at the time of publication: $25.23
Yoga For Beginners, written by Emily Oddo, is the perfect guide to learn yoga poses while strengthening your body, soothing your mind, and handling stress. We all lead such hectic lives these days, which leaves no time to be in touch with our inner selves. When we need a breather, we turn to yoga which has been known to work wonders on the body and mind, and this book introduces you to the history and benefits of yoga. It also teaches you some postures and routines to aid in stress relief and strengthen your body. This book includes illustrations that will help you learn the poses easily, which will provide a sense of achievement and also help you retain the knowledge and become proficient in it. It can assist in achieving body-mind alignment, promote overall fitness, and aid in weight management. It is suitable for beginner, intermediate and advanced users. It is divided into 6 sections, starting with a deep understanding of yoga. It moves on to pre-yoga orientations and preparation, then takes you through the basic poses, and finally talks about the routines. It also covers the yoga diet and FAQs.
The Women's Health Big Book Of Yoga is written by the yoga expert Kathryn Budig and is an essential and authoritative guide to yoga. This is a great starter handbook for those who practice this ancient art of breathing, meditation, and physical postures that help to lose weight and soothe your mind. It also provides valuable information on injury prevention. This book explains every pose that will help readers lose weight and develop a healthy body. It also contains workout sessions for 15 minutes or even less, core-strengthening exercises to lead you to more satisfying sex, and a nutrition plan that will encourage you to eat healthy, calming, and cleansing food. This book helps the readers attain fitness, good health, and happiness from basic postures to relaxation methods to preventing common injuries.
Price at the time of publication: $10.99
Yoga For Beginners comprises 106 pages and is written by Olivia Summers and helps you learn yoga by doing it for just 10 minutes a day. It contains 30 essential poses that help transform your mind, body, and spirit and take you from a newbie to an enthusiast in one month. This book also guides you to a fun and enlightening path and helps you become the best version of yourself. In the case of beginners, you need to follow the plan and advice to attain your physical, mental, and spiritual goals. Here are a few aspects this book will cover: being non-flexible can be a good reason to start yoga, Sanskrit words reference guide, 30 yoga poses, why yoga is beyond exercise, mindfulness practice, and how to find inner peace, types of yoga, modifying poses due to injury or restrictions, beginner tips and the importance of savasana.
Yoga Guide For Beginners comprises 244 pages and is authored by Melody White. If you feel tired all the time and are looking for something that could improve your physical and mental health, then it's time to introduce yoga into your life. This illustrated yoga guide is especially for beginners and will give you the knowledge to get started. It features a collection of practices for your mind, body, and soul that originated in ancient India to bring inner peace and well-being. It provides guidance that can give you an energy boost and shares techniques to achieve better sleep.
There are 101 illustrated yoga poses inside this book, starting from the beginner to a more advanced level. You can mix and match the yoga poses to create your sequences. The poses range from the easiest to the hardest, in the correct order, divided into different categories based on the focus. These include yoga poses for warming up, for the neck, for the chest, for the legs, for the back, for the arms, wrists, and shoulders, and the whole body. Each pose consists of an image, the focus, physical indications and contraindications, time for holding the pose, the Sanskrit name, and the aimed level (beginner, intermediate or advanced). After the 101 poses, there are 10 illustrated sequences that you can use for different situations, which are perfect for the beginner yogi.
Price at the time of publication: $9.99
Yoga For Beginners, written by Susan Mori, is a well-written guide to strengthen your body, calm your mind and be in the moment. If you are a person who feels stressed, mentally drained, and not in harmony with your body, yoga will help you relax your mind, body, and soul. It will improve your physical, mental, and emotional well-being through stretches, poses, breathing exercises, and meditation. Yoga can help you achieve improved focus. This book motivates you to start your yoga routine through its simple instructions. It is divided into 10 chapters, and it starts with a little write-up about yoga. Then it talks about breathing, poses, mediation, Surya Namaskars, tips for beginners, yoga plan, how to practice yoga daily, and finally, FAQs for beginners. There is a paperback, audiobook, and a Kindle version. When you buy the Kindle version, an accompanying pdf will be available in your audible library along with the audio.
Price at the time of publication: $7.99
Chair Yoga For Beginners, authored by Sophia Morales, is a comprehensive guide to easy yoga poses and sequences suitable for all age groups. This can be done at home in 10 minutes and improve your strength, flexibility, and calmness. There are both paperback and Kindle editions of this book. Chair yoga relieves you from pain, reduces stress, and heals your body. This book helps you to beat the sedentary life without having to leave your house. It takes you through an exhaustive collection of easy poses suitable for people belonging to all age groups and backgrounds.
This book helps you with breathing and warm-up exercises that free you from tension and soothe your mind. It provides step-by-step sequences that help you conquer the starting trouble. There are practical poses for your upper and lower body and face exercises that relieve you from head, shoulder, and neck pain. The simple chair yoga poses help in strengthening your torso, legs, and back. There are also some standing exercises and bonus meditations that help in developing mindfulness and inner tranquility. This book is your sure shot way to become more flexible, fit, reverse the harmful impact of an inactive lifestyle, and help you relax and find your inner zen.
Price at the time of publication: $9.99
Yoga For Your Brain Totally Tangled Edition, by Sandy Steen Bartholomew, is a portable deck of tangle cards in a case that includes 40 step-by-step tangling patterns, easy instructions on each card, and 9 bonus cards that are beginner-friendly. Rick Roberts and Maria Thomas created the Zentangle (R) method. It is a fun and relaxing technique to form beautiful images by drawing structured patterns. It is suitable for people belonging to all age groups and skill-sets; all you need is white paper, a pen, and this card deck. Author Sandy Steen Bartholomew's tangling cards are perfect for classes, tangling on the go, and sharing with friends. With 40 different cards, the whole family can involve themselves in this fun activity. Sandy is an illustrator, a Certified Zentangle Teacher, a mixed-media artist, and an author. These cards are printed in quality paper and packed in a portable and handy case.
Price at the time of publication: $9.99
Now that you are familiar with the different kinds of yoga books available for beginners, you must have made up your mind about a particular book. However, there are some aspects you must consider before you set your eyes on the final book.
How To Choose The Best Yoga Book For Beginners?
Here are some tips for buying the perfect yoga book for beginners:
 Easy step-by-step instructions: Remember, as a beginner, you need simple and easy instructions that don't get you frustrated on the first day itself.
 Clear illustrations: Whether they are drawings or black and white pictures or color photos of the different poses, clarity and explanations should match each pose.
 Sequences: Since you are a newbie, the book should offer some ready-made sequences that you can start with, and help form your sequences as you progress.
 Exercise, breathing, and meditation: While yoga would cover exercises like Surya Namaskar that will help you strengthen and tone your muscles, it should also help you improve your breathing and mental awareness through meditation.
 De-stress and relax: In today's fast-paced world of hectic work and social pressures, you need tips to handle stress, calm your mind, and discover your inner zen.
 Nutrition: Many of the yoga books mentioned above offer some nutrition advice that will complement your yoga sessions.
 Quality: Make sure the print is not too small and the pictures are not blurred. If it is an audiobook, the voice has to be pleasant and soothing.
 Comprehensive list of asanas: The book should cover most of the important asanas, preferably in an order that starts with the easiest and ends with the toughest.
Why Trust StyleCraze?
Aditi Naskar, the author of this article, has a diploma in health and wellness. She uses her knowledge and expertise to find the perfect fitness products for her readers. Engaging in physical activities can keep you healthy in the long run, so she went through several reliable reviews on various forums and compiled this list of the top yoga books available online. These books provide vast information on how to do each pose, when is the right time to do them, and how you can benefit from them.
Frequently Asked Questions
Can You Learn Yoga From a Book?
Yes, you can. Yoga for beginners can get you started on the different poses, breathing exercises, and even meditation.
Which yoga pose is best for beginners?
Many poses are suitable for beginners, such as the mountain pose, forward fold, plank pose, downward dog, and child's pose. You could start with the mountain pose, also known as Tadasana, where you stand steady like a mountain.
Can I learn yoga from a book?
Yes, reading about yoga from books is an effective way to learn different postures and expand your knowledge of yoga. Yoga books help you enhance your personal yoga sessions.
How quickly does yoga change your body? Can I do it by reading a yoga book?
It takes around six to twelve weeks for yoga enthusiasts to master the knowledge yoga books have to offer. Some detailed yoga books like The Yoga Bible By Christina Brown help in mental and physical healing which takes around two to three months of practice.
What should I eat before morning yoga?
Eat fruits, nuts, oatmeal, and smoothies before practicing your morning yoga. Consider going through the book Yoga For Beginners By Emily Oddo which offers more explanation on food and diet.
Recommended Articles