10 Best Yoga Mats For Bad Knees To Dissipate Your Pain
Keep your knees protected as you ace the most complex yoga asanas on these mats.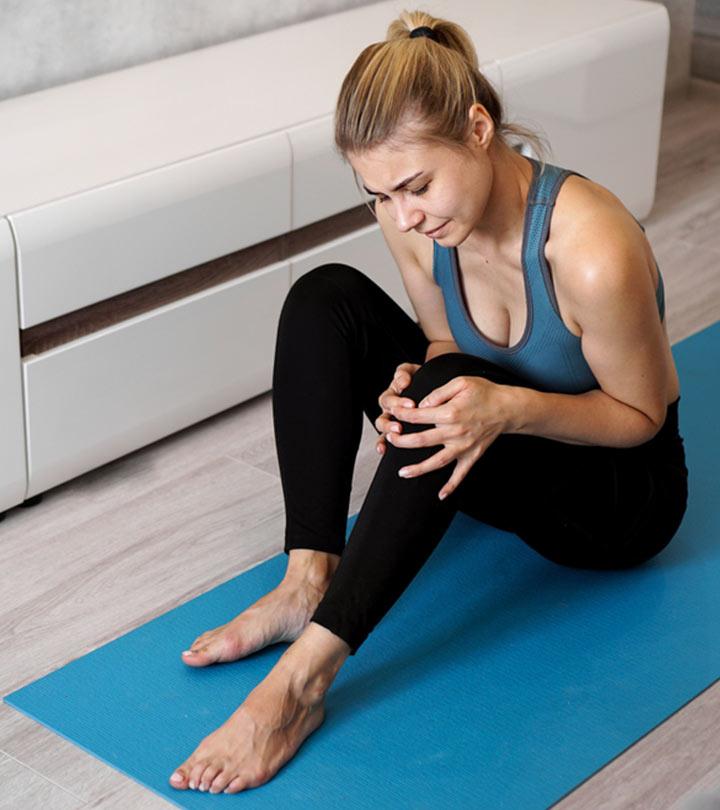 The older we get, the more critical it becomes to be active and have a consistent workout routine. But, not everyone can readily embrace heavy-duty strength workouts because of bad knees or other issues that may hinder their performance. This means that you have to embrace low-impact exercises to be in shape and prevent additional stress on your knees or joints. Thanks to the best yoga mat for bad knees, now you can do all your yoga asanas and pilates exercise pain-free.
To prevent your knees from buckling after your workout, we have listed the 10 best yoga mats for bad knees that will dissipate your pain overnight and let you work out in peace. In this article, we have listed a bunch of mats that provide adequate cushioning and are long, and have a non-slip surface. So, keep reading to know which mat will suit your needs the best.
10 Best Yoga Mats For Bad Knees To Prevent Joint Pain In 2022
This mat has made it to our list of thick yoga mats for bad knees because it checks all the boxes. It has double-sided non-slip surfaces, suitable for all low-impact workouts that require balance, and it comfortably cushions your spine, knees, and hips. The slip-resistant feature makes it perfect for hot yoga workouts, so no matter how sweaty you get, you won't risk any injury on the mat. Also, this mat comes with a knee pad for extra protection and comfort. The mat comes with a strap and is lightweight, making it travel-friendly. Look at this video for a detailed review of the BalanceFrom GoYoga+ Yoga Mat.
Pros
Moisture-resistant
Travel-friendly
Slip-proof
Double-sided surface
Comfortable cushioning
It comes with a knee pad
Available in 7 fun colors
Cons
Maybe prone to folding marks after long term use
People love this yoga mat for bad knees because it is super comfortable and offers the best joint/back support during low-impact workouts. The premium-grade materials are made from eco-friendly thermoplastic polymers that are much better than conventional rubber and plastic mats. This means that the mats have a higher elasticity than traditional yoga mats, and they are abrasion and tear-resistant while being durable. In addition, it is 1/3 inch thick, which means whatever pose you perform, you will be supported comfortably, without any pain or discomfort. The non-slip feature is due to the bumpy texture on the underside of the mat and increases traction, giving the mat a firm connection to the floor.
Pros
1/3 inch thickness and cushioning
Premium grade eco-friendly material
Flexible
Abrasion and tear-resistant
Durable
Slip-resistant
Provides support
Prevents pain and discomfort
Cons
The mat may not be sweat-resistant
The Clever Non-Slip Essential Yoga Mat is considered one the best yoga mats for bad knees this year, and with good reason. The TPE mat is extra thick and designed to provide a comfortable workout experience. The mat is 72 inches long and 25 and a half inches wide, making it suitable for people of all heights and body types. Also, it is pretty lightweight and travel-friendly, so you can use it anywhere at home or carry it to your yoga class. The mat has an effective double-sided design which makes it slip-proof and gives your hands good traction for yoga practice. No matter how much your stretch or how frequently you use the mat, it won't tear or rip.
Pros
Durable
Slip-proof
Comfortable
Travel-friendly
Easy to clean
Moisture-resistant
Cons
The mat may get warped after initial uses
Fitness experts and yogis have been raving about this yoga mat for bad knees and for good reason. It is 2/5-inch thick and rolls up beautifully, making it comfortable for bad knees and convenient for traveling. Not only is it good quality, but it is also budget-friendly, so you don't have to worry about breaking the bank. Choose from 9 fun colors to coordinate with your workout accessories. The non-toxic material makes it safe for use at home, especially if you have pets or kids. The mat comes with a carrying strap, so you can roll it up and go wherever you want. Since the mat is nice and thick, it is perfect to use on hardwood floors because it will provide extra cushioning on your knees without sinking.
Pros
Travel-friendly
Non-toxic materials
Prevents knee and joint pain
Available in 9 colors
Ideal for all heights
Cons
The TENOLS JELS Extra Thick Yoga Mat is perfect for people looking for formats that won't slip or slide. This is because it has a unique anti-slip feature consisting of suction cup designs that ensure the mat stays on any floor surface. It's also popular for its durable, anti-tear design, making it long-lasting. In addition, the cozy material is thick enough to offer your knees and joints relief and supportive enough not to trigger any pain. No matter how much you sweat during the workout, your slip-proof design will keep you safe.
Pros
Durable
Non-slip suction cup design
Sweat-resistant
Extra cushioning
Suitable for any floor surface
Anti-tear
Available in 5 colors
Cons
The mat may have a chemically smell
This unique yoga mat is quickly becoming a cult favorite among fitness enthusiasts. The innovative material is made from eco-friendly thermoplastic elastomers, making it flexible and durable. This mat is unique because it has a body alignment system, and it helps you focus and adjust your pose accurately. The mat has fantastic non-slip technology on both sides, with a wavy underside providing traction on any floor surface. The top is also sweat-resistant, so whenever you sweat, your grip on the mat will get stronger, keeping you safe during the workout. Since the material is PVC-free, you don't have to worry about any chemical smell that will assault your senses when you work out. Lastly, the mat provides proper knee cushioning without triggering any pain.
Pros
Alignment guiding lines
Flexible
Durable
PVC-free
Eco friendly
Sweatproof
Easy to clean
Travel-friendly
Slip-proof
Cons
The color may fade after consistent use
The Amazon Basics Yoga Mat is available in 7 unique colors and is half-inch thick, so it looks great and feels comfortable on bad knees and aching joints. The mat also has a shock-absorbing feature that reduces stress on knees and minimizes pressure on your joints. Furthermore, the convenient carrying strap makes the mat travel-friendly. The mat also has a textured foam surface which is supremely helpful to people who get sweaty palms as it prevents you from slipping and sliding during your yoga asanas. And if this was not all, the extra padding on the mat is quite comfortable for doing yoga poses like cat/cow, especially when placed on hardwood floors.
Pros
Available in 7 colors
Stable
Slip-proof surface
Shock absorbing
Travel-friendly
Minimizes pressure on joints and knees
Cons
This yoga mat by NOW YOGING is not only budget-friendly but is made from premium-quality TPE. This doesn't have a strong chemical odor, won't shred, is super durable, and is slip-proof as well. The mat is lightweight and comes with a strap, making it travel-friendly. In addition, the mat has alignment lines etched into it that will guide you during your yoga session and ensure that your posture is correct, so you don't hurt yourself. The cushioning system is great, too, because it offers superior elasticity and shock absorption, which won't trigger any knee or joint pain.
Pros
Lightweight
Durable
Slip-proof
Premium-quality TPE
Travel-friendly
Extra cushioning
Includes alignment lines
Cons
The strap's stitching may come apart after frequent use
If the thought of kneeling or putting pressure on your wrist makes you twitch, you must purchase this thick yoga mat for bad knees. The foam interior is durable and by far one of the thickest workout mats in the market right now. It has a 1.5-inch thick surface that feels amazing and offers much support for weak knees. However, this mat does not roll up like traditional yoga mats; instead, you have to fold it into a square. It also has convenient carrying handles that make it easy to travel. Lastly, the surface is covered in vinyl, which provides good traction for your hands and feet and makes it easy to clean. Watch this video for an honest review of the ProsourceFit Tri-Fold Folding Exercise Mat.
Pros
Durable
1.5-inch thickness
Vinyl-covered surface
Resilient foam interior
Easy to clean
Foldable
Provides optimal joint support
Cons
The mat may not be very flexible
The Sivan Health And Fitness Foam Yoga Mat is a popular and well-loved fitness mat thanks to its non-slip surface that offers reinforced stability. It has a 1.2-inch thickness, gentle on bad knees, and aching joints. The material is made from non-toxic material, so it is safe to store at home, especially if you have kids or pets. The thick foam surface is suitable for workouts on any hard floor. Besides being easy to clean and durable, you can choose from three fun, versatile colors. If you want a mat that will help you focus on your exercise and not your pain trigger points, you must go for this one!
Pros
Free from harsh chemicals
1.2-inch thick
Available in 3 colors
Easy to clean, durable
Non-slip surface
Cons
May not provide optimal support for the back
Now that you know about the best yoga mat for bad knees available online, you must know the essential factors that make a good mat. Keep reading our buying guide to know which one will suit your needs the best.
How To Choose The Best Yoga Mat For Bad Knees
This is one of the key features you need to look for when searching for yoga mats. A good amount of thickness will protect your joints and knees from aching, especially if you have hard floors. Look for mats at least 1.2 inches thick to provide additional support without causing discomfort.
Thickness and cushioning go hand in hand. If one is compromised, it will affect the other. So look for mats with optimal cushioning and some resistance so that your hands and knees don't sink in when working out.
Thickness and cushioning go hand in hand. If one is compromised, it will affect the other. So look for mats with optimal cushioning and some resistance so your hands and knees don't sink in when working out.
Why Trust Stylecraze
Shreya Viswanathan, the author, is a beauty and health enthusiast who is always on the lookout for trying new products that can help you with your health, style, comfort, and convenience. She has scoured through several health and beauty forums and done an in-depth review before recommending these top yoga mats for bad knees. These anti-slip yoga mats are especially designed to provide you the right cushioning and support for your knees, to help alleviate the pain and discomfort.
Frequently Asked Questions
Is there any special yoga mat just for bad knees?
We recommend that you try out Gaiam's premium mat because it is an extra thick 6mm yoga mat perfect for sensitive knees. Also, the mat is quite lightweight, which makes it travel-friendly too.
Why should we use a yoga mat if we have knee pain?
Yoga mats are suitable for low-impact exercises; good-quality mats will minimize the amount of stress on the joints and provide you with a good workout experience.
How often should we wash a yoga mat?
It depends on the intensity of your sessions. Usually, you can work out for a week or so before your mat needs a good cleaning.
Which yoga mat is more comfortable for bad knees?
The premium yoga mat by Gaiam is extra thick that makes it perfect for sensitive knees. In addition, the textured sticky surface offers a good grip for when your palms or feet get sweaty.
How thick should a yoga mat be for bad knees?
Purchase yoga mats that are 1.2 inches or more in thickness to keep your knees comfortable.
Can yoga help bad knees?
Yes, yoga reduces chronic pain in your knees and improves mobility. It improves your overall physical fitness and minimizes stress.