11 Best Yoga Mat Straps For Easy Portability
Carry your mat to your favorite spot for meditation easily, wrapping it up with a strap.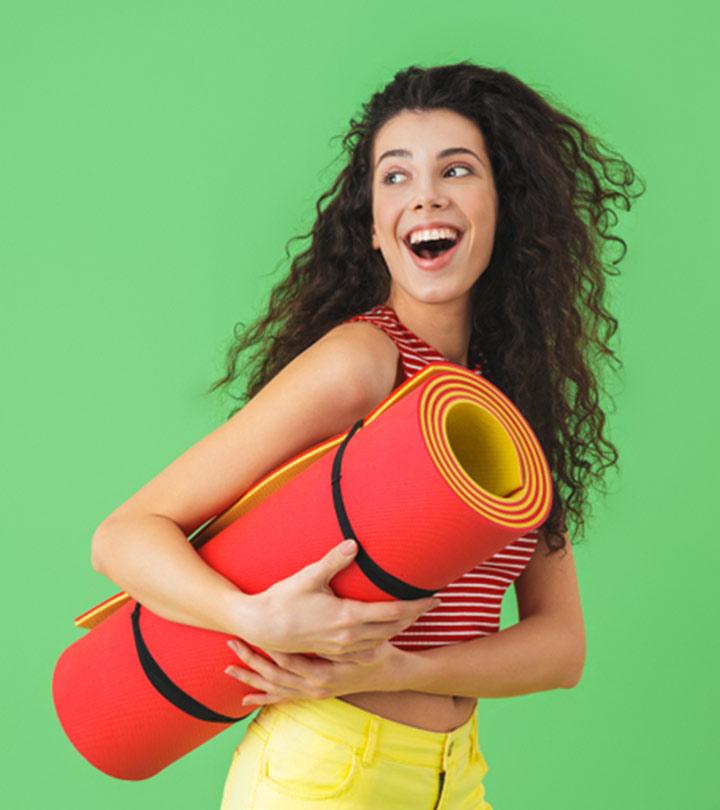 A yoga mat enables you to perform asanas with ease. The best yoga mat straps help you carry your mat from your home to the yoga studio or outdoors. These functional tools also enable you to store your mat easily. These convenient mat carriers are made to fit most mat sizes, and they combine comfort with functionality.
Yoga is a good way to stay fit and active. A good yoga session is beneficial for your physical as well as mental well-being. It keeps you fit, flexible, and calm. Yoga is also an easy way to start the fitness journey, and you can do it indoors throughout the year. Whats' more? There is a yoga session for all stages of practitioners—beginners, intermediate, or advanced yogis. A good yoga mat ensures that you perform your asanas with ease and comfort, while a good quality yoga mat strap often doubles as a stretching strap for your asanas.
In this article, we listed some of our favorites that are available on the market right now. Keep scrolling to check them out now!
11 Best Yoga Mat Straps With Easy Grips To Carry Your Mat
If you're looking for a sturdy mat strap, you're come to the right place! The Tumaz Yoga Mat Strap made from polyester cotton is 60% thicker than most mat straps. It is available in up to 15 unique colors and 2 sizes, which corresponds to the size of your mat. The aesthetically-pleasing yoga mat carrier is designed to provide a smooth texture that allows you to carry the mat around comfortably and is resistant to tearing and won't break or cut when in use. The mat carrier can also be used as a stretch strap, making it a user-friendly product that will prove beneficial as you practice yoga every day.
Pros
Sturdy and durable
Eco-friendly
Special tight-knit technique
Doubles as a stretching strap
Cons
Some may find this mat strap slightly slippery
Price at the time of publication: $9.45
Made from 100% pure cotton, this thick yoga mat carrier strap has loops on each end to secure your mat for you to carry it around. The sturdy mat strap is machine washable and softens with use, and won't feel rough on your hands or shoulders. If you want a lightweight sling that will easily adjust to fit any mat size, this is the right one for you. Tested by experts to ensure that it offers optimal comfort levels and that it can overcome even the most rigorous yoga practice, the easy-cinch yoga mat sling is available in 2 sizes and can be used by slipping the loops over both ends of the mat and tightening it.
Pros
Durable
Flexible strap
Available in 2 lengths
Easy to use
Machine-washable
Cons
Some may find the cotton strap to be rather stiff initially.
Price at the time of publication: $12.99
Do you want a lightweight and convenient carrier for your yoga mat? You will find that the Fit Spirit Cotton Yoga Mat Carrying Strap is ideal for your needs and is the ultimate yoga essentials accessory. Available in 5 colors, including blue, green, pink, purple, and red, this affordable mat strap will keep your mat safe from opening up while you are on the go. With this product, you'll get the perfect combination of function and comfort as the hands-free solution lets the mat on your shoulder feel weightless. Crafted for easy portability, this multipurpose strap can also be used as a stretching strap. Include the strap in simple warm-up or cool-down regimes and revel in the wonder that this yoga mat strap is. Increase your flexibility by investing in this functional mat strap for all comfort-related things.
Pros
Convenient carrying option
Allows for easy portability
Available in 5 colors
Doubles as a stretching strap
Adjustable shoulder strap
Cons
It may not be suitable for heavy mats
Price at the time of publication: $6.49
This 1-size yoga mat carrier by Manduka is designed to fit yoga mats of all sizes. The Commuter Mat Carrier allows you to carry your mat with ease along with you as you head for an outdoor practice session. An eco-friendly alternative, it is easily accessible and comes with a padded shoulder strap for extra comfort. This strap is made from natural cotton twill and webbing, making it easy to machine wash and keep clean. The 68-inch yoga mat strap uses a noiseless gravity cinch closure to latch on to your mat without alerting the entire room. These unbleached straps are also free of AZO dyes and reduce the number of toxins and chemicals released into the environment, making this a sustainable choice.
Pros
Made from natural and renewable materials
Lightweight
Comes with a shoulder pad
Unbleached and free from AZO dyes
Extra shoulder comfort
Cons
It may take a while to get used to holding the mat in place.
Price at the time of publication: $17.4
Excited to hit the yoga studio but find it difficult to lug your mat around? The Reehut Yoga Mat Strap is apt for those looking for a mat that combines comfort with functionality. Whether you are practicing at home or heading outdoors, this affordable and lightweight strap will keep your hands free and prevent the mat from opening up as you move around. If you love a good multi-purpose product, we're here to tell you that you can also use this strap to help you stretch and increase flexibility during practice. Made from 100% high-quality and durable cotton with thick loops on each end, you can use this machine-washable mat strap to fasten your mat wherever you go.
Pros
Lightweight and comfortable
Convenient storage
Multipurpose strap
Made from high-quality and durable cotton
Machine-washable
Cons
It may not be entirely adjustable
Price at the time of publication: $5.99
Gift the yogi in you the Yoga Mat Strap by FitLifestyleCo that comes with adjustable loops that allow you to secure your yoga mat and prevent it from opening up as you commute. The simple black harness will allow you to store your mat compactly and is much easier to use as compared to the hassles of a mat bag. The lightweight straps fit most standard mats and are made of durable cotton. Simply strap on your mat and stay worry-free after a studio practice session.
Pros
Adjustable loops
Allows for easy storage
Lightweight strap
Suitable for standard mats
Cons
May not be suitable for larger yoga mats
Price at the time of publication: $12.11
If secure and straightforward mat storage is what you are looking for, you're in luck! The Gaiam On-The-Go Yoga Mat Carrier has a streamlined design that was made for yoga mats of all sizes. This strap is accompanied by a quick-release magnetic snap that allows you to easily access and store your mat. Choose this design if you want an elegant and simple yet durable carrier that is also machine-wash friendly. The strapped carrier also features an internal mat that secures your mat and an outer pocket to store items like your keys, wallet, or phone. This fashionable strap is made from 100% cotton with a polyester lining and will help you easily transport your mat to and back from your yoga studio.
Pros
Streamlined design
It fits all mat sizes
Easy access and storage
Machine-washable
Cons
Some may find that the straps are too narrow
Price at the time of publication: $28.42
Looking for a yoga mat strap that offers comfort and flexibility? Trust this one to do the job! The inexpensive, lightweight, and convenient strap will keep your hands free and prevent the mat from opening up as you walk around, whether you're training at the studio or outdoors. It is made from durable cotton and comes with adjustable loops that allow the sling strap to fit most mat sizes. The 1.5-inch wide soft yoga mat strap can also be used as a stretching tool to help you hold yoga poses or during physical therapy.
Pros
Made from durable material
Multi-purpose strap
Lightweight and convenient design
Adjustable loops
Cons
Some may find that the strap is too short to carry over the shoulder.
Price at the time of publication: $6.5
Are you looking for a convenient way to carry your favorite yoga mat? The YogaAccessories Embroidered Yoga Mat Harness Strap is made just for you! This lightweight strap fits a classic 0.125-inch and a thicker 0.25-inch yoga mat, among others. The sling comes with 2 quick-release buckles at the end of an adjustable loop to comfortably wrap around your yoga mat. The sturdy and durable harness strap is solid and lasts long-term, or at least longer than your mat anyway. Each sling is beautifully-patterned with geometrical shapes on a solid black surface.
Pros
Lightweight and convenient
Wraps around any size mats
Sturdy quick-release buckles
Stylish geometric patterns
Easy-to-use
Cons
May not be suitable for varying mat sizes
Price at the time of publication: $9.99
Are you on the hunt for a thick and fashionable strap to help you carry your yoga mat? This one is ideal for you! This mat strap fits most standard yoga and pilates mats and comes with adjustable loops on both ends to secure your mat in place. You can use this strap as a cross-body sling and remain hands-free as you move around. Available in up to 21 unique colors, these stylish patterned straps are sure to make heads turn! Not only is this mat easy to use, but it also has a multifunction feature that lets you use it as a stretching strap to practice challenging postures. This yoga mat strap is made of thick, reliable, and durable polyester cotton that is also soft and comfortable on your hands and shoulders.
Pros
Adjustable loops
Available in 21 colors
Easy-to-use
Multifunctional strap
Thick and durable material
Cons
May not be entirely adjustable
Price at the time of publication: $9.99
This adjustable yoga mat carrier strap fits most yoga mats, pilates mats, and blankets. The carrier sling size is specially tailor-made for a snug mid-upper back placement and limits bouncing as you walk around. The carrier straps are not as bulky as a mat bag and are composed of environmental-friendly vegan leather. The 34-inch long strap will let you hold your mat with a 4-6 inch diameter when rolled. Choose this brown strap to create a fashionable style statement and carry your mat while you are commuting comfortably.
Pros
Comfortable
Fits most yoga and pilates mats
Upper-back placement to prevent bouncing
Made from vegan leather
Stylish strap
Cons
You may find that it is time-consuming to put on the straps each time.
Price at the time of publication: $24.99
Now that you are aware of the available options on the market for you, you can make the best buying choice. There may be a few things to consider before you click 'Add to Cart.'
What Should You Look For When Buying A Yoga Mat Strap
The material of the yoga mat strap will determine its texture, eco-friendliness, and wearability. Yoga mat straps are most commonly made with sturdy and durable cotton and sometimes polyester. Look for a cotton-based mat strap that is thick and will last you a long time, depending on how well you use it and take care of it.
Don't think twice before you prioritize a strap's texture because it will determine how comfortable the strap will be to hold or sling across your shoulder. Slightly thicker yoga mat straps are recommended to help you comfortably carry on your shoulders as you commute. You may also want to ensure that they have strong loops to keep your mat rolled up and fastened.
Yoga mat straps are available in different sizes and materials. When choosing one for you, ensure that they are easy to maintain. Most cotton straps are machine-washable or, at the least, can be gently hand washed. You might also want to consider a suitable area to store your mat and mat strap that is away from any corrosive materials. Increase their lifespan by being careful as to how well you maintain these yoga mat straps.
How To Use Your Yoga Mat Strap
Using a yoga mat strap is a simple process, once you get the hang of it. Simply roll up your mat after a practice session and use the loops at the end of the strap to secure both ends of the yoga mat. Tighten the straps if they have an adjustable feature, and sling the mat strap across your shoulder. You can go hands-free as you invest in these lightweight and convenient straps made for durable use.
If you find yourself often attending yoga sessions and being actively involved in pro-yoga groups, you probably think twice about the portability of your yoga mat. What you will need is a carrier that is conveinent, lightweight, and takes up little to no space. Mat bags can be bulky and time-consuming to pack, so you can opt for these stylish yoga mat straps that are ideal if you want a low-hassle, sleek alternative. There are several different clasp and material choices for you to make when it comes to these straps. Narrow down your personal preferences and look for one that is durable and comes with an easy-to-use feature. Adjustable and quiet straps should be top on your list of choices, and you can go right ahead to buy a fashionable and reliable yoga mat strap!
Why Trust StyleCraze?
The author, Shreya Vishwanathan, is a fitness enthusiast and finds her passion in helping people make the right buying choices through her well-researched articles. She has curated this list of the best yoga mat straps after screening various products and their specifications and evaluating their reviews on trusted online forums. These straps are durable, adjustable, and feel soft on your hands, while some of them even double as stretching straps.
Frequently Asked Questions
Why do you need a yoga mat carrying strap?
A yoga mat strap will easily help you carry around your mat as you move from one place to another without the hassle of tugging it around. These are comfortable and convenient straps that let you sling on your mat on your shoulders and make it accessible, especially for those who need to commute a lot.
Are these straps easy for kids to use?
Depending on the type of yoga mat strap you purchase and whether it comes with an adjustability feature, it will determine whether your child can use the strap.
Are yoga mat straps necessary?
Yes. Yoga mat straps enable easy portability and allow users to carry their mats without hassle, enhancing their build for a longer time.
How do I know how long of a strap to get?
The 6-foot yoga strap is considered relatively universal. For taller persons, an 8- or 10-foot strap will provide enough length to hold an extended leg while still having a sufficient amount of belt to grasp onto.
Can yoga mat straps be used for other things?
Yes. Stretching with yoga mat straps helps develop a vast range of motion. For example, these straps might help with sitting positions that involve leg stretching.
Recommended Articles