13 Best Yoga Mats On The Market, According To Reviews – 2022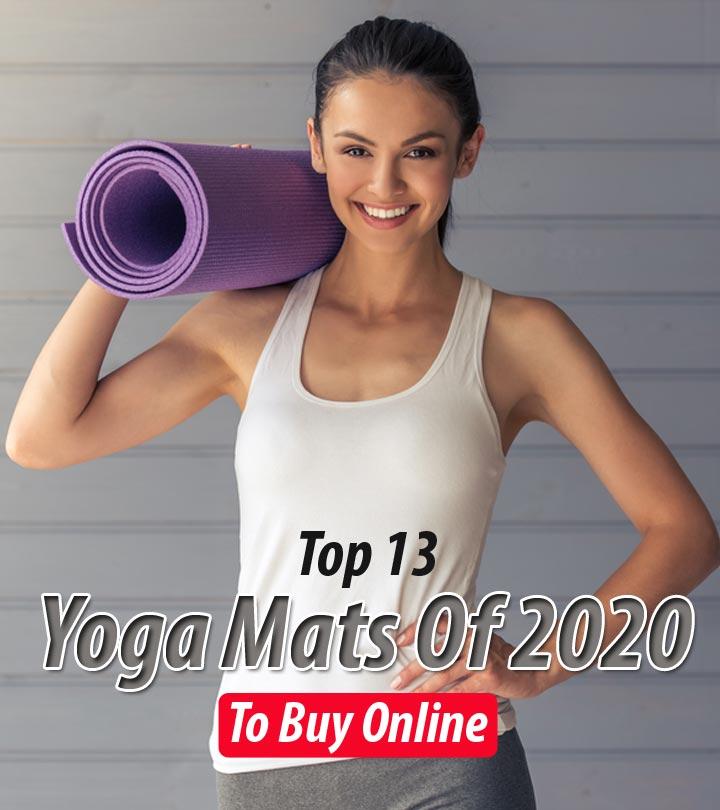 The stay-at-home situation has motivated many to begin exercising, and doing yoga is also one of them. The best yoga mat can make your exercises effortless. So, it is important to find one online that fits right with you. Whether you are looking to do weight training, meditation, or perform your asanas, a mat can prevent your lingering joint and muscle pain at the end. Find the best out of these 13 durable yoga mats!
Best Yoga Mats
TheBalanceFrom GoYoga All-Purpose Yoga Mat is made of high-density foam. It is thick enough to provide support and cushion your back, hips, knees, and elbows on hard floors. The double-sided non-slip surface prevents injuries and helps you maintain balance while exercising.
Pros
71″ long 24″ wide ½ " thick
Double-sided slip-resistant surface
Easy to strap
Lightweight
Easy to clean
Free yoga mat strap
2-year BalanceFrom warranty
Comes in 7 colors
Cons
None
The AmazonBasics yoga mat is one of the most sold and highly rated yoga mats. It is perfect for your home workout, and you can easily do yoga, pilates, bodyweight training, and meditation on it.
Pros
74" long 24" wide ½" thick
Durable
Comfortable
Provides cushion to joints and back
Lightweight
Textured surface for enhanced traction
Carrying strap included
Cons
Unlike any other yoga mats on the market, the Gaiam Yoga Mat comes in beautiful prints and colors. It is made with non-toxic and 6P-free PVC material. It is also free of DEHP, DBP, BBP, DINP, DIDP, and DNOP.
Pros
68" long 24" wide 6 mm thick
Durable
Lightweight
Non-sticky
Slip-resistant
Stylish design
Eco-friendly
Cons
Not thick enough for providing cushion to the joints and back.
The Manduka PRO Yoga Mat is made of eco-friendly, chemical-free, Oeko-Tek certified material that provides an ultra-dense cushion for support and stability. The closed-cell surface prevents sweat from permeating the mat. The top side of this mat has a fabric finish, which prevents the curling of the corners.
Pros
71″ long 26″ wide 6 mm thick
Lightweight
Easy to wash
Prevents sweat from seeping in
Cons
Cannot soak in water for wash
May not provide good grip
The Jade Yoga – Harmony Yoga Mat is made of open cell natural rubber, which provides superior grip and cushion. This yoga mat is 3/16" thick, which helps it provide great cushion, traction, and stability for standing and balancing poses.
Pros
Durable
Made of natural material
No PVCs or synthetic material
Provides good grip
Durable
Cons
Might be sticky
Might not be good for warm weather.
Might smell
This yoga mat is made of eco-friendly SGS certified TPE material. It has body alignment lines that help keep your body in proper alignment while exercising. It has a double layer, non-slip texture to cushion and support your body.
Pros
Slip-resistant
Double layer
Eco-friendly material
PVC-free
SGS certified TPE material
Latex-free
Easy to clean
Carrying strap included
Cons
The Aurorae Synergy 2 in 1 Yoga Mat is integrated with a non-slip microfiber towel that is perfect for Astanga, Bikram yoga, and hot yoga. It is slip-resistant and non-toxic and works well even if it gets wet due to sweat drops.
Pros
Durable
Lightweight
Easy to wash
Odorless
Non-toxic
Latex-free
Phthalate-free
Cons
The TOPLUS Yoga mat is made with premium TPE-friendly material. It is a double-sided, slip-resistant yoga mat that is good for exercising on wooden, tiled, and cement floors. These mats provide an optimum level of cushion to the joints and back.
Pros
Double-sided
Provides good grip
Comfortable
Durable
Comes with a carrying strap
Cons
The IUGA Pro Non Slip Yoga Mat is made of SGS certified, eco-friendly material that's perfect for hot yoga, Bikram yoga, Ashtanga, or any other high-intensity exercises. It provides a strong grip and doesn't slip. It is free of PVC and other toxic materials.
Pros
Polyurethane top layer
Lightweight
Durable
No flaking
Lightweight
100% eco-friendly
Free carrying strap
Cons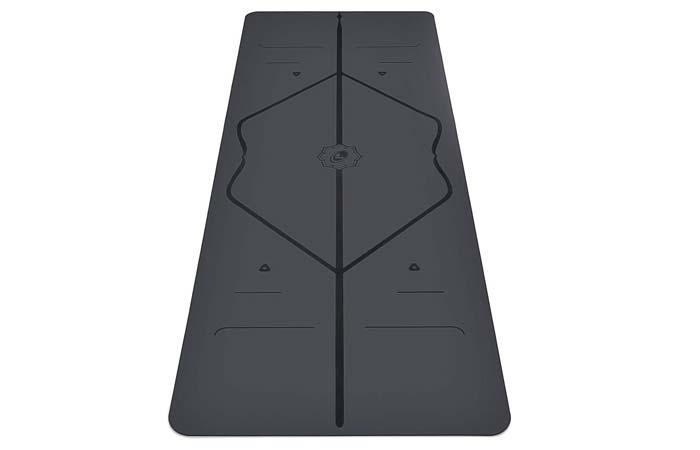 The Liforme Original Yoga Mat has a futuristic design that helps in perfect body alignment for most yoga poses. It is made of a revolutionary "GripForMe" eco-friendly material that provides grip and stability.
Pros
Has body alignment lines
Eco-friendly
Made of "GripForMe" material
Liforme Yoga Mat bag included
Cons
Not well-cushioned
Might not be very durable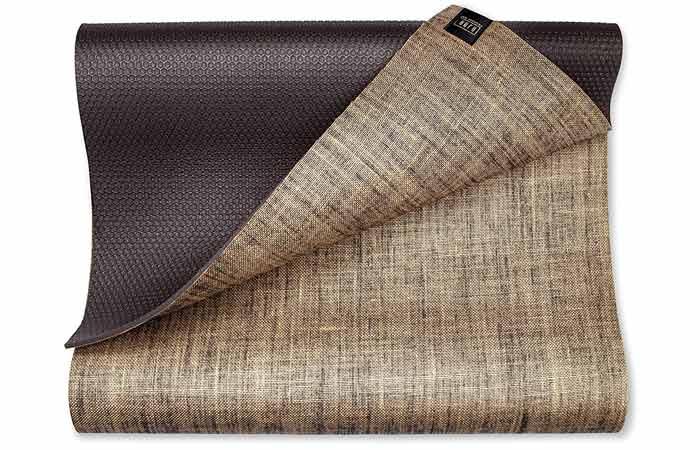 The Ajna Eco Organic Yoga Mat is made of jute. It is odorless, eco-friendly, non-toxic, and biodegradable. It is also safe and sustainable. It is suitable for all kinds of yoga. These mats are free of harmful chemicals, latex, BPA, 6P phthalate, and heavy metals,
Pros
Lightweight
Durable
Washable
No odor
Non-toxic
Slip-resistant
Cons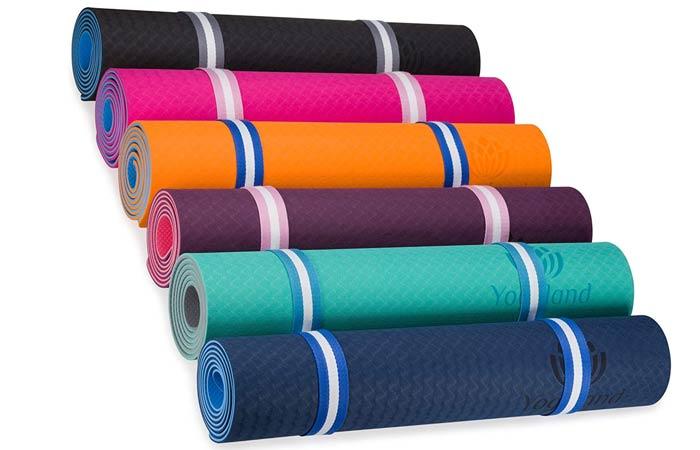 The YOGALAND Premium Yoga Mat is made of materials certified by SGS, TUV, and RoHS. It is free of harmful chemicals, like latex, PVC, and silicone. It provides a firm grip and prevents slipping.
Pros
Non-toxic
PVC-free
Latex-free
Firm grip
Strap included
Cons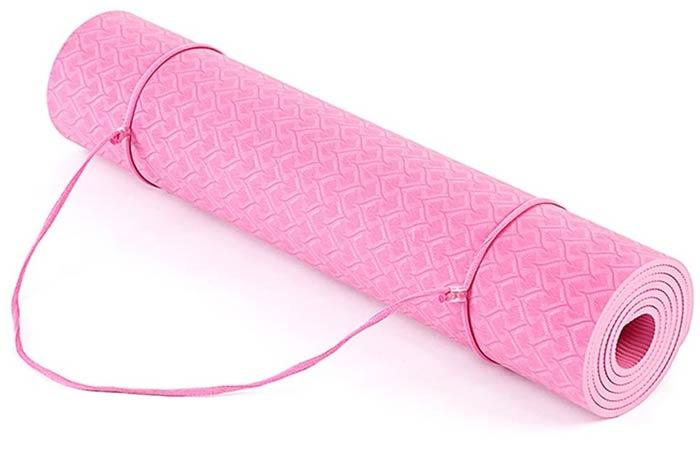 This yoga mat is made of durable TPE material that is odorless. It provides stable grip and is lightweight. It is eco-friendly and recyclable. The surface is moisture-resistant and waterproof. It comes with durability and anti-tear guarantee.
Pros
Lightweight
Odorless
Non-toxic
Recyclable
Slip-resistant
Cons
Staying active is not only good for staying in shape, but it will also promote mental health. The best part is you do not have to buy expensive gym equipment – all you need is a yoga mat. Buy one and get started soon!
Why Trust StyleCraze?
The author, Aditi Naskar, holds a diploma in health and wellness and has a keen interest in writing fitness articles. She understands that doing yoga requires you to have a comfortable surface when stretching and flexing your body. Hence, she has compiled this list of best yoga mats after thorough research and an in-depth analysis of user feedback. The mats included in the list are lightweight and offer good support while doing yoga.
Recommended Articles