13 Best Yoga Straps For Stretching & Strengthening (2023)
Improve your range of motion and flexibility by performing excellent posture exercises.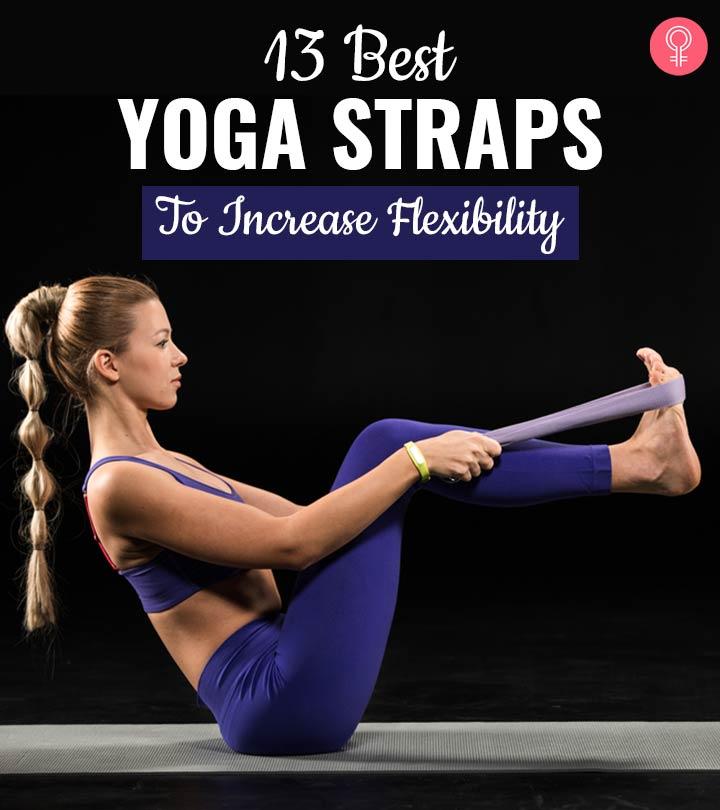 Doing freehand yoga might look amazing, but performing all the poses without help is rare. The best yoga straps will help you achieve the postures safely and effectively. A yoga strap can assist in elongating muscles which greatly improves flexibility. Not only will it keep your muscles flexible, but it will also prepare you for a full range of motions, body toning, and rehabilitation after surgery. With their versatile use, yoga straps are essential props that can assist you in keeping your body in perfect shape and optimal health. Here are the 13 best yoga straps to help you keep your body in perfect shape and health.
13 Best Yoga Straps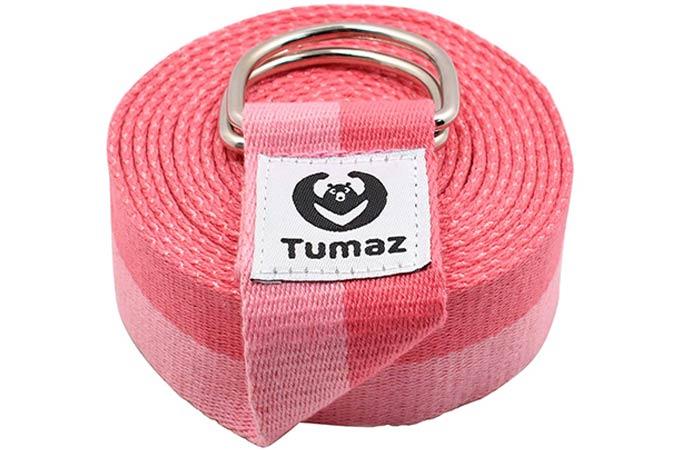 The Tumaz Yoga strap is a highly recommended choice for both beginners and advanced practitioners, especially for flexibility training. This non-elastic, wide, stretch-out strap offers exceptional stability and flexibility. It also allows for maximum stretch during yoga and helps warm up different muscle groups. It is one of the best yoga straps available on the market that is made of polyester cotton, is 2.5 mm thick, and is attached to a 4 mm "welded" D-ring buckle. that assists in maintaining postures without muscle tension or helping you to get into a more advanced version of postures. The fabric is durable and provides comfort when stretched to the maximum. This exercise strap is made of special webbing techniques to maintain the delicate texture and make it extra thick. In tests, it could withstand a maximum load of 2,379 lbs in real tests. The Tomaz yoga strap is available in different, bright colors.
Designed For: Yoga, stretching, PT, Pilates, and Physical Therapy.
Pros
Made with eco-friendly dye
Special tight-knit technique
Durable
Extra thick
Withstands heavy loads
Available in single or dual bright colors
Comfortable
Will not tear or break
Effective to relax tight muscles and ease muscle stiffness
Cons
None
Price at the time of publication: $7.95
The Clever Yoga Yoga Strap is thick, sturdy, and made with 100% cotton with a long solid metal D-ring around the loop at one end. This is a non-slip, flexible strap that allows for maximum stretchability. The stronger buckle ensures safety and security while practicing. It is a perfectly essential accessory for beginners to stretch their upper and lower extremities and to connect in basic poses. It also helps professionals perform deeper and tougher yoga poses.
This premium quality eco-friendly yoga strap is safe for use. Its 100% cotton fabric is easy to wash. This durable thick cotton strap is a perfect prop for physical therapy as it also helps stretch your limbs after an injury. It is available in different sizes – a 8 ft yoga strap for beginners and a 10 ft option for professionals, this portable and lightweight yoga strap caters to various needs. Here's a personal review video to help you get a better understanding of the product.
Designed For: Yoga, stretching, physical therapy, pilates, and pulling the shoulders back to prevent slouching.
Pros
Made with 100% cotton
Durable
Thick and sturdy
Non-slip flexible strap
Helps improve your posture
Made with 100% non-toxic material
D-rings made of steel
Machine-washable
Perfect for regular use
Available in 2 different sizes
Available in 7 bright colors
Cons
None

Price at the time of publication: $12.99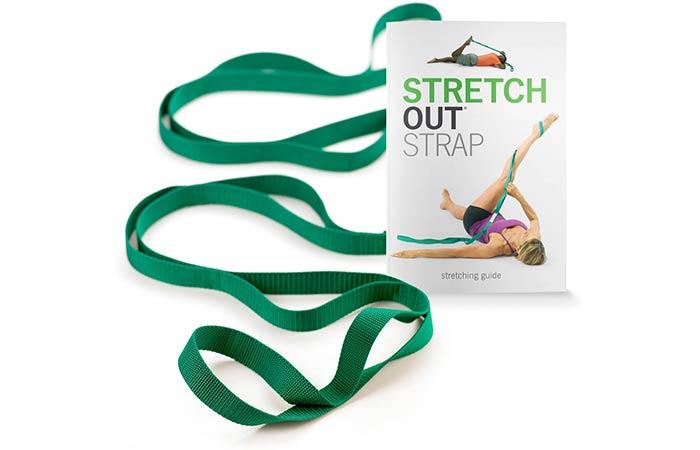 The OPTP Stretch Out Strap is a 6'4" nylon yoga strap with 10 individual loops. It is durable, long-lasting, and ensures a maximum stretch. It also improves the range of motion for deeper postures in yoga practices. This highly stretchable yoga strap assists you to hold every yoga pose (even the difficult ones) with greater control. The strap increases the strength and stamina of targeted muscle groups like the legs, arms, back, and shoulders. It also increases core strength. It enhances muscle recovery and reduces the risk of injury.
The OPTP Stretch Out Strap comes with an exercise booklet that consists of more than 30 stretches perfectly explained and demonstrated, step-by-step. It also explains the proper breathing techniques and the contract-relax techniques to increase flexibility. The booklet includes stretches for the back, hamstrings, quads, and shoulders, enabling a well-rounded practice that encompasses deepening poses and shoulder stretching.
Designed For: Yoga, Pilates, Physical Therapy, and any athletic warm-up.
Pros
Durable nylon fabric
Multiple loops to hold different stretching poses
Strap length can be adjusted
Simple, durable, and effective
Easy to use
Best for warming muscle groups
Provides a range of motion
Excellent stretch out strap after knee surgery
Helps in muscle recovery
Comes with a detailed exercise and stretching guide
Cons
Price at the time of publication: $15.95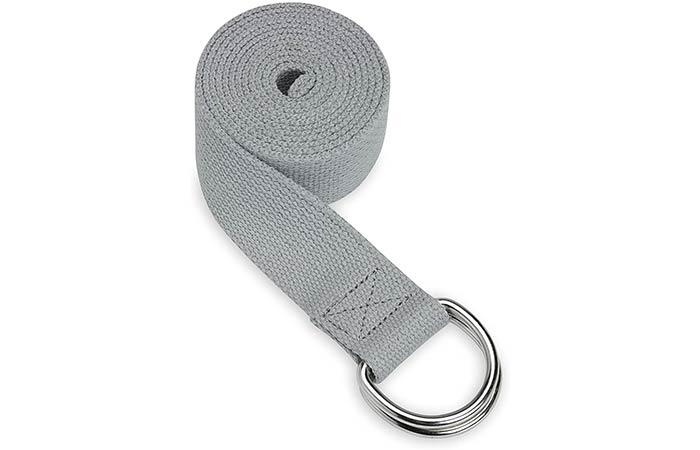 The Gaiam Yoga Strap is a perfect bridge between mind and body satisfaction. This yoga strap is made with machine-washable 100% tightly woven cotton that will not undergo any wear and tear. The strap is attached with a premium quality steel D-buckle for an easy hold. The strap is thick, sturdy, and durable. allowing a more expansive range of motion. You will be able to attempt more advanced postures with more ease.
The easy-release cinch buckle holds the strap securely and ensures 100% safety while you stretch yourself to the extremes. This wide strap allows you to deepen your stretches and sustain each pose for longer duration. This stretching strap is 1.5" wide and is available in 6 ft, 8ft, or 10 ft lengths (in a variety of colors). You can choose the strap length based on your experience level. Click here to check out a detailed personal review of this product.
Designed For: Yoga, maximum stretches.
Pros
Made with 100% heavy-duty cotton
Thick and sturdy
Durable
Simple design
Easy to wash
Provides maximum flexibility
Helps to expand the range
Available in multiple sizes and colors
Can be easily rolled up
Wear- and tear-resistant
Cons
None

Price at the time of publication: $9.99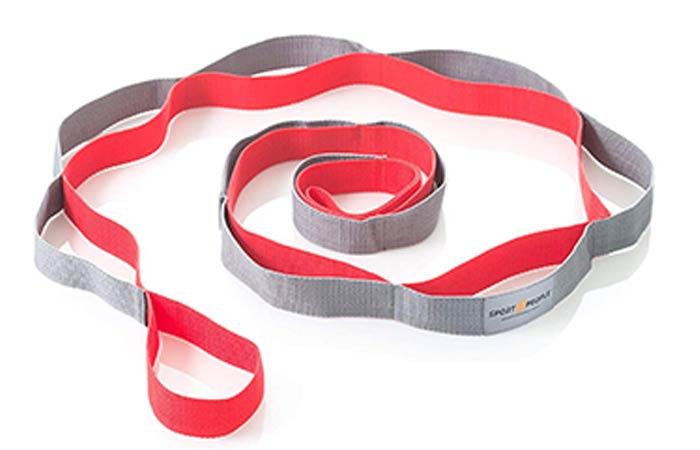 The Sporty2People Stretching Yoga Strap is made of high-quality nylon. It is 96" long and 1.5" wide. It has 12 loops for maximum flexibility. The sturdy and strong stitches give the strap full stability and resistance. This eco-friendly and non-elastic yoga band is perfect for different heights. It has two extra loops to adjust its length as per the height of the individual. It improves stretchability, relaxes muscle stiffness, and deepens every yoga pose by giving support to the different muscle groups.
You can place one leg in a loop while holding the other loop with your one hand. This stretches your leg nicely and increases blood circulation. This strap is recommended for all. It improves posture by reducing stiffness in your back and shoulders. It is an excellent rehabilitation tool and is often recommended by physiotherapists to aid in recovery. This multi-loop yoga strap comes with 2 e-books (with the right guidance of every exercise).
Designed For: Yoga, Pilates, Physical Therapy, warm-up, cool-down, and deep stretching.
Pros
Premium quality nylon fabric
Durable and sturdy
Durable stitching on the seam
Loops for maximum stretchability
Relaxes muscles
Available in 4 different colors
Machine-washable
Provides a maximum range of motion
Includes e-books with workout instructions
Cons
Price at the time of publication: $12.97
The Live Infinitely Yoga Strap allows one to take their yoga practice to the next level. It offers 2 –3" x 6" x 9" EVA foam yoga blocks with easy grip beveled edges. They are made of 100% cotton and are non-toxic. The 6' long durable yoga strap comes with two premium quality metal D-rings. The moisture-resistant and lightweight yoga blocks offer wonderful assistance and support to beginners for performing effective yoga poses. These blocks also assist well in stretching, strengthening, and aligning the body properly without causing muscle strain.
The yoga straps are easy to use, and the comfortable fabric does not cause any harm to the skin. The two D-rings allow you to adjust the strap to the length you desire. The Live Infinitely yoga strap elongates your muscles and improves flexibility. It also strengthens leg muscles by stretching them to the optimum level and helps maintain balance. You also get to access digitized yoga training. You will be sent a free ebook to your mobile phone.
Designed For: Yoga, Pilates, stretching.
Pros
Comes with yoga blocks
Yoga blocks are easy to clean
Yoga blocks are made with non-toxic material
Durable and thick yoga strap
Easy to wash
Two D-rings to adjust the length
Lightweight yoga foams
Perfect to improve balance
Effective for stretching exercises
Digitalized yoga training/free e-book
Odorless and moist-resistant yoga blocks
Available in 5 different colors
Cons
Not suitable for tall individuals.
Price at the time of publication: $11.55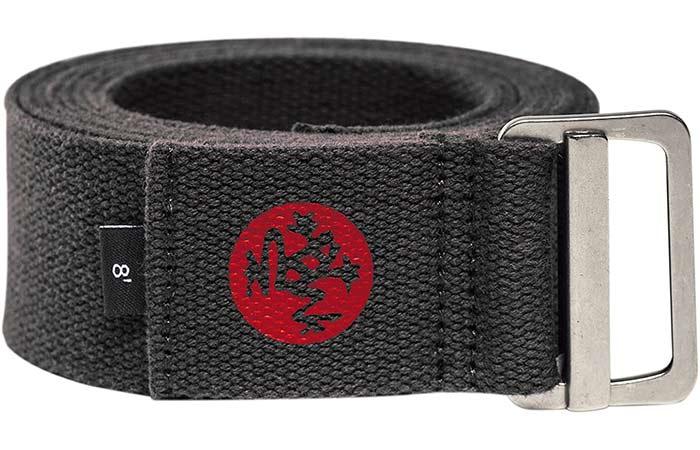 Upgrade your yoga practices with the Maduka Align Yoga Strap. It is made with a  strong, durable cotton webbing with an adjustable loop to provide non-slip support, safety, and security. This stretchable strap is lightweight, eco-friendly, strong, durable, and made with 100% unbleached webbing cotton. The strap measures 1.75" x 8" or 1.75" x 10" and is easy to wash. The buckle along with the improved middle-bar design hold the strap securely in place. The strap is specifically designed for professionals who intend to deepen their yoga poses and balance their bodies better.
Designed For: Yoga, intense stretching.
Pros
Lightweight
Eco-friendly
Durable
Made with 100% unbleached cotton
The buckle is made with zinc alloy
Rust-resistant buckle
Improves flexibility
Ensures maximum stretch
Slip-free support
Washable with hands
Available in 2 colors
Cons
A little heavy for a yoga strap
Expensive
Price at the time of publication: $18
The Yoga Design lab Yoga Strap is among the luxurious straps available. This 8 feet long strap is highly flexible. It is made with a 100% premium-quality cotton with an adjustable wider loop. It is designed to deepen and stretch yourself and your poses. It is lightweight but thick enough to withstand the wear and tear from rigorous practices.
The strap is attached with premium quality zinc alloy-coated D-rings that enhance safety. This eco-friendly, non-toxic material is travel-friendly and slip-resistant. It is easy to clean, wash, and is among the perfect yoga essentials for beginners, intermediates, and advanced professionals. The strap is odor-free. Its non-fade color makes it a perfect choice for men, women, and kids.
Designed For: Yoga, TRX, hot yoga, hatha yoga, power yoga, Pilates, gym or home yoga, and intense stretches.
Pros
Lightweight
Thick
Eco-friendly
Non-fade color
Slip-resistant
Recyclable
Made with non-toxic material
Travel-friendly
Folds into a compact size
Easy to hand wash and clean
Zero odor
Cons
None
Price at the time of publication: $18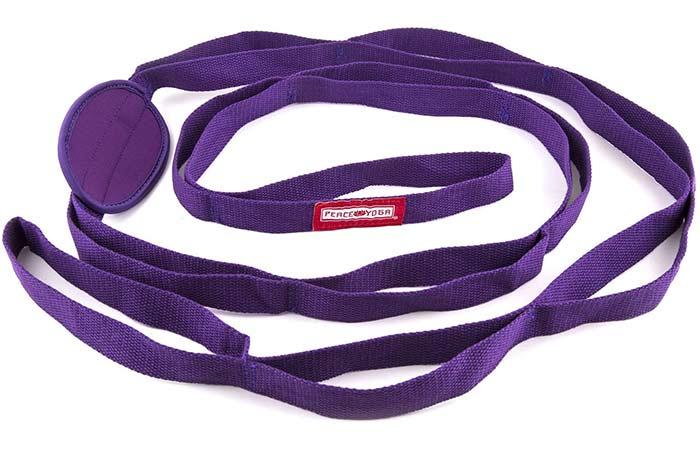 The Peace Yoga Yoga Strap is a lightweight and portable yoga accessory with multiple loops to provide maximum stretch and flexibility. If you want to deepen your yoga pose, enhance your warm-up, increase your flexibility, and strengthen and tone your muscles, this 7 feet long stretchable yoga strap is a perfect choice for you.
It is 0.5" wide with neat stitching and vibrant colors to fit your lifestyle. The yoga strap contains 12 loops that allow you to adjust the strap length as per the requirement. It is an effective tool for beginners to stretch their limbs, and strengthen their back, core, calves, shoulders, glutes, and hamstrings. The strap is also useful for physical therapy.
Designed For: Yoga, Pilates, physical therapy.
Pros
Lightweight
12 loops for effective stretching
7 feet long strap made with durable fabric
Strengthens leg and arm muscles
Add variety to simple and difficult yoga poses
Portable
Assists challenging poses
Improves flexibility
Tones muscles
Cons
Not suitable for resistance training.
No instructional guide.
Poor quality stitching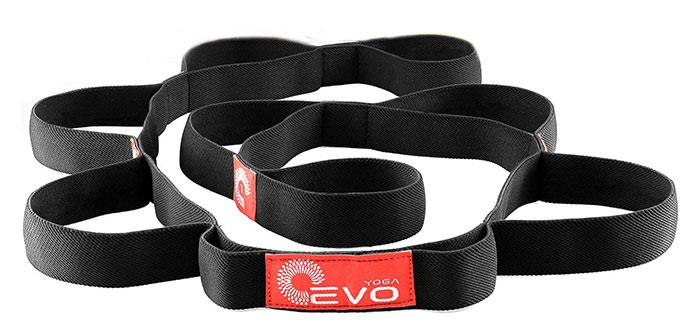 The Yoga EVO Yoga strap is made of a nylon fabric blended with latex-free cotton. It is 55 inches when at rest, and inches long when stretched. The strap is 1.2 inches wide. It has 10 loops for a perfect stretching and a better grip. This soft, elastic strap helps in deep stretching, and is great for warming up muscles without any risk of injury. Two of the 10 elastic loops are placed in the middle of the strap. These are meant for the feet to stretch upwards by placing your hands on each end of the strap. This stretch out strap is perfect for back muscle exercise, lower body exercise, and core and upper body exercises. The strap also comes with a professional yoga tutorial video and an e-book guide.
Designed For: Yoga, Pilates, warming up muscle groups, and for dancing with props.
Pros
Made of latex-free cotton
Contains 10 loops for deep stretching
Advanced design
Provides maximum range of motion
No wear and tear
Easy to carry
Travel- friendly
Comes with a carrying pouch
Contains free e-book and video tutorials
Cons
Price at the time of publication: $16.95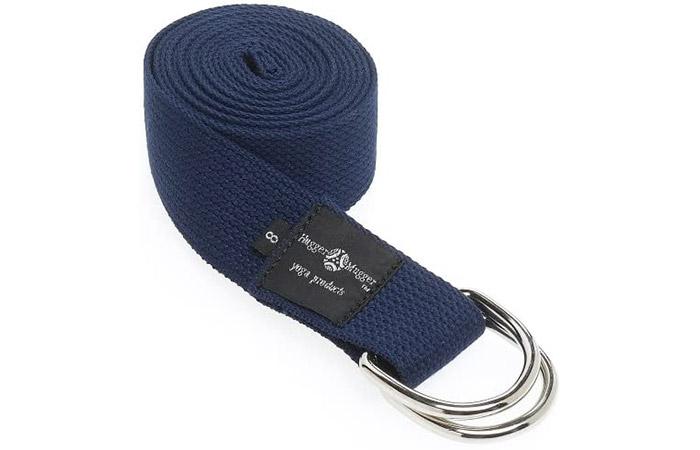 Maintain your optimal alignment with the Hugger Mugger D-Ring Yoga Strap. It is made with a top-grade cotton webbing fabric to prevent wear and tear. It is slightly narrow than other yoga straps but strong enough to build strength, stamina, and increase flexibility. It is not only a valuable tool for correcting alignment but also for enhancing poses. By using this strap, you can deepen stretches, improve balance, and cultivate stability. The metal D-rings enable a wider stretch while providing safety and security. The yoga strap is versatile with variable sizes (6', 8', and 10') and colors.
Designed For: Yoga, stretching, warm-up, physical therapy.
Pros
Lightweight
Cotton webbing fabric
D-rings made with premium steel
Available in different sizes
Available in different colors
Adjustable length
Great strap to strengthen muscles groups
Easy to adjust
Cons
Price at the time of publication: $15.95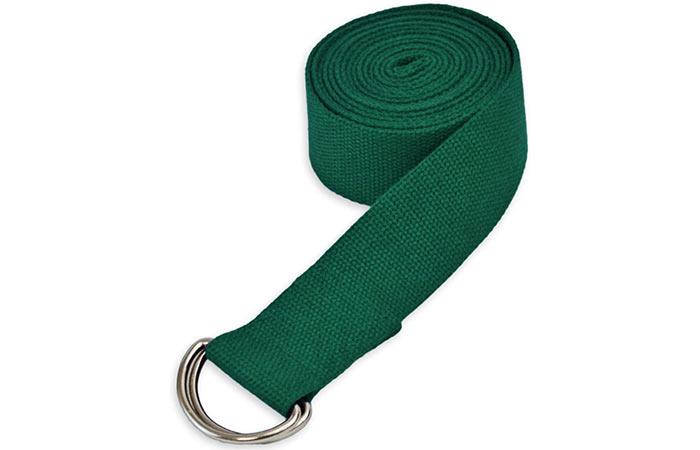 The YogaAccessories Cotton Yoga Strap is made of 100% cotton. It is 1.5 inches wide and prevents a constricted circulation. This strap is easy to grab around your wrist and extend it to your arm's length. This yoga strap helps correct your alignment and expand your range of motion. The metal D-ring fastener is durable and allows you to make easy adjustments.
Designed For: Yoga, pilates, stretching.
Pros
Good quality build
100% cotton fabric
Increases range of motion
Strong, durable fabric
Available in 3 sizes
Available in different colors
Slip-resistant
Perfect, adjustable length
Cons
Price at the time of publication: $8.99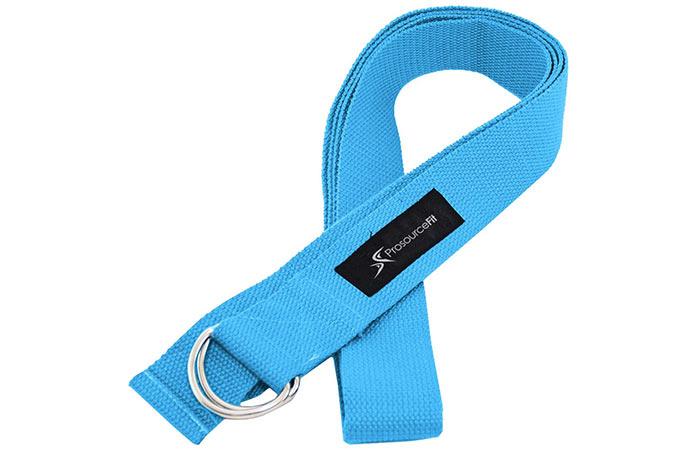 The Prosource Fit Yoga Strap is specifically designed to increase flexibility. The 8 feet long strap is made of 100% cotton. It is ideal even for tall individuals. The plastic cinch buckle holds the strap perfectly and helps extend the stretches to the maximum. If you are struggling to hold poses, then loop this yoga strap around your wrist, arms, and legs for maximum flexibility and stretchability. This stretch out strap helps hold the poses for longer duration without straining the muscles.
Designed For: Yoga, Pilates, deeper stretches, physical therapy.
Pros
Made with 100% cotton fabric
Durable and sturdy
8 feet long
D-rings provide maximum safety
Provides stretching assistance
Perfect for beginners and professionals
Soft on hands
Comfortable
Easy to use
Affordable price
Available in 5 different colors
Cons
Built for only leg and shoulder stretches.
Less width
Thin
Plastic buckle may break.
Price at the time of publication: $7.63
These are the 13 best yoga straps that increase stretchability and flexibility. In the following section, we have discussed how to use a yoga strap.
How To Use A Yoga Strap
Wrap a stretchable yoga strap around your wrists.
Take a deep breath and stretch. Expand as much as you can. This helps expand your chest.
Wrap it around your legs for expanding your lower limbs.
You can also the yoga straps in several other ways. Consult a yoga practitioner.
Yoga straps are useful and comfortable for both beginners and professionals alike. Here are the different ways a yoga strap can help you.
Benefits Of A Yoga Strap
It helps perfect one's body alignment with various asanas.
It deepens your stretches and relieves muscles stiffness.
It reduces the risk of injuries.
It tones your entire body.
In the following section, we have discussed the checklist you should follow before purchasing a yoga strap.
How To Choose The Best Yoga Strap
Material: It should be made of cotton webbing fabric. This improves its strength and durability. It should be thick enough to withstand wear and tear.
Buckle: The ring of the strap must be slip-resistant.
Length: Yoga straps are available usually in three lengths – 6 inches, 8 inches, and 10 inches. Choose the right length as per your height for maximum stretching.
Eco-Friendly: The straps must be eco-friendly with no dyes or PVC material used.
Why Trust StyleCraze?
Aditi Naskar, the author of this article, holds a diploma in health and wellness and has a penchant for reviewing fitness and health products. She believes one should always use quality products when it comes to health and fitness. So, she has conducted in-depth research on the best yoga straps and analyzed their user reviews to make the job easier for her readers. They are durable and effective in relaxing tight muscles and easing muscle stiffness.
Frequently Asked Questions
What kind of yoga strap should we prefer?
A strap with a buckle made of cotton webbing fabric is preferable because it improves strength and durability and promotes healthy alignment and form.
Are yoga straps the same as resistance bands?
No, a yoga belt provides no resistance, but resistance bands offer a variety of resistance levels ranging from low to high.
What is a good length for a yoga strap?
The 6-foot yoga strap is ideal for most, but for taller people, an 8-foot or 10-foot strap will provide enough length to grasp an outstretched leg while maintaining a comfortable amount of strap to grab hold.
What can I use instead of a yoga strap?
Instead of a yoga strap, you can use a necktie, scarf, robe tie, or towel.
Why do yoga straps have D rings?
Yoga straps have D rings to assist you in keeping your back flat during poses
Recommended Articles