10 Best Yoga Swings Of 2023 – Reviews And Buying Guide
Engage in aerial exercises with these swings and fix your back problems gradually.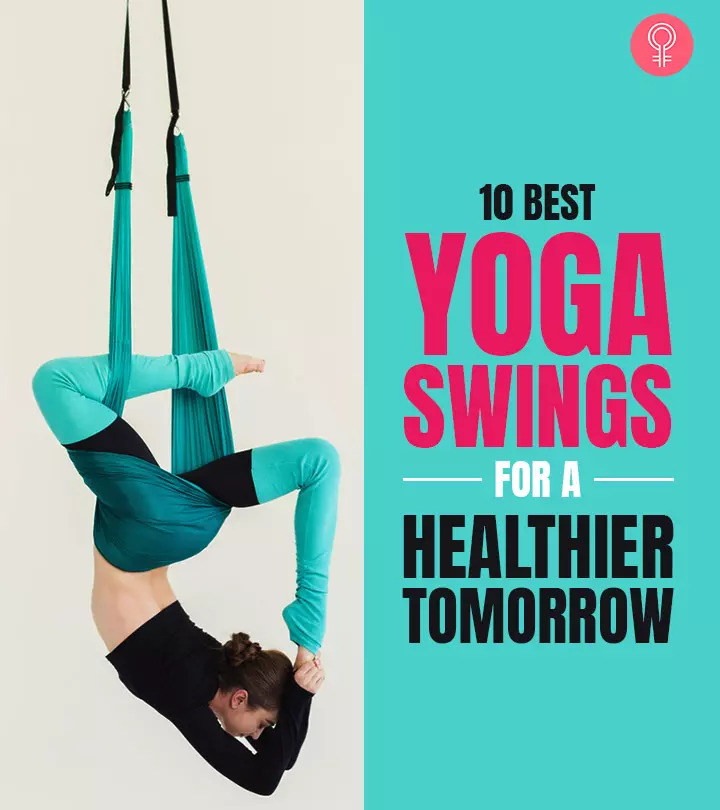 Move over yoga mats, the best yoga swings of the season are coming to take over for a healthier tomorrow. To add some creativity to your yoga practice, a swing would be a great addition to keep you in alignment and increase your mobility. For someone with hip, neck, shoulder, or back issues, a yoga swing is a great way to alleviate these issues, and you can install it in the comfort of your home.
The market is sizzling with many such pieces of equipment, so we have compiled a list of the 10 top yoga swings of 2023 that are going to nail your dreams of doing aerobatic and aerial moves. You can shortlist them by looking at the weight capacity and ways of installation.
10 Best Yoga Swings
This high-end quality yoga swing delivers a studio-like swing facility that is made with a high strength fabric used to make parachutes. It helps reduce pain from sciatica and herniated discs and neck and hip pain. The swing helps you achieve spinal traction and takes the pressure off your vertebral discs.
The UpCircleSeven Aerial Yoga Swing Set comes with a spacious triple stitched swing seat that increases comfort. It has large, padded foam handles. This yoga swing also helps loosen stiff muscles around your spine. It comes with a traveling bag for outdoor arrangements, along with an eBook for easy installation.
Specifications
Load capacity: 550 lbs
Size: 8 feet ✕ 5 feet
Load capacity per hanging strap: 200 lbs
Pros
Wider and more spacious
25% thicker and larger foam padded handles
Soft and silky material
Large swing seat for adequate comfort
Lightweight
Available in vibrant colors
Kid-friendly
Cons
The ropes may fray after use.
Price at the time of publication: $71.97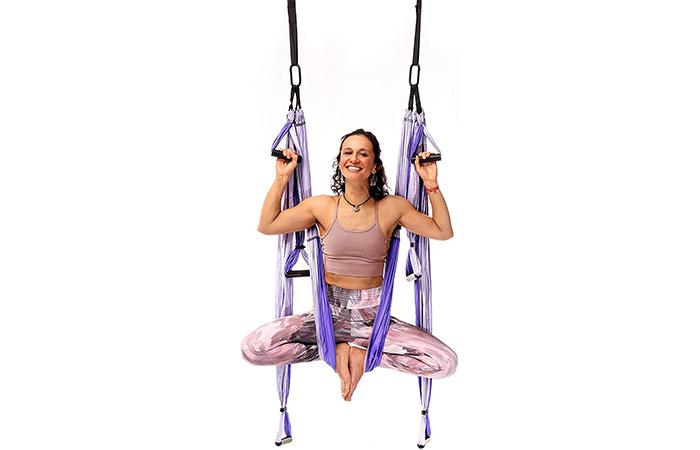 With the YogaBody Yoga Trapeze, you can hold your acrobatic stunts for a longer time without feeling tired. The inversion therapy it offers helps alleviate back pain. It gives instant traction to your spine and creates a natural space between your vertebrae when you swing from your hip. Practicing yoga back bend on the Yoga Trapeze helps in free movement and promotes posture.
You can also perform inverted gravity resistant training to strengthen your core muscles. The Yoga Trapeze comes with a 4 feet long hanging handle. It comes with a nylon rope, and the parachute fabric holds for longer for added safety. If you are still unsure, check out this honest review.
Specifications
Pros
Relieves back pain through inversion therapy
Easy to install
High-quality durable fabric
Includes high-grade gym-quality gripping rubber
Improves back-bend
Withstands heavier weight
Fun to use
Cons
Limited color options
Needs a large space for hanging
Price at the time of publication: $124.95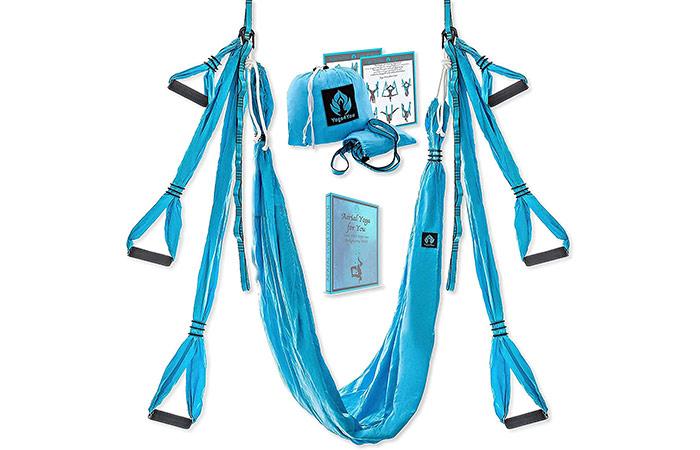 The Yoga4You Aerial Yoga Swing Set is a perfect tool for inversion training both for beginners and professionals. This high-grade swing builds back and neck flexibility and improves mind and body coordination. The spinal decompression and pelvic traction increases blood flow to the muscles and nerve endings. This yoga swing is a great studio element to reduce fatigue, stress, and anxiety. It increases circulation in the lymphatic tissues. It is made of premium quality silk nylon fabric.
The yoga swing's special long extension straps make it a perfect fit for outdoor arrangements. It comes with two portable travel bags – 1 for hanging swings and 1 for extension straps.
Specifications
Load capacity: 600 lbs
Dimensions of swing: 98" x 59"
Length of hanging straps: 50"
Pros
Made with high-graded parachute fabric
Works on flexibility, strength, and balance
Withstands heavy weights
The high-grade hammock makes it easy to swing for longer.
Improves mobility and blood circulation
Inversion techniques treat back pain
Strengthens core muscles
Connects mind and body
Helps in deep relaxation
Kid-friendly
Cons
Price at the time of publication: $59.99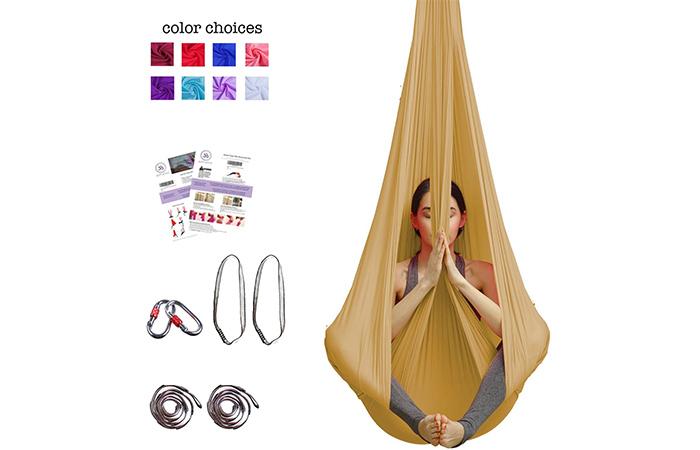 The Aerial Yoga Hammock Yoga Swing is made of Tricot fabric. Its softness and mild elasticity allows you to practice each yoga pose with optimum perfection. The inversion therapy helps decompress your spine, providing a great relief to the back. The hammock comes pre-knotted. Each extension strap contains six loops that allow you adjust its length.
Specifications
Load capacity: 660 lbs
Maximum installation height: 11 feet
Pros
Provides backstretch and support
Increases strength and body balance
Deep conditioning for core strength
Easy to set up
Can be enjoyed with entire family
Cons
Not available in different fabric colors
Price at the time of publication: $56.99
The Yaegoo Aerial Yoga Swing is ideal for building upper body strength and spinal decompression. In addition, you can use this swing for flexibility training, traction, strength training, inversion therapy, and more.
This yoga swing is made of premium-quality fabric, foam handles, a strong hook, and a durable sling. The retractable braces help to adjust the swing as desired. Exercising with this yoga set reduces stress, fatigue and relaxes your body and muscles.
Specifications
Load capacity: 400 pounds
Pros
Easy carrying
Storage bag
Lightweight
Portable
Anti-skid handles
Cons
None
Price at the time of publication: $26.99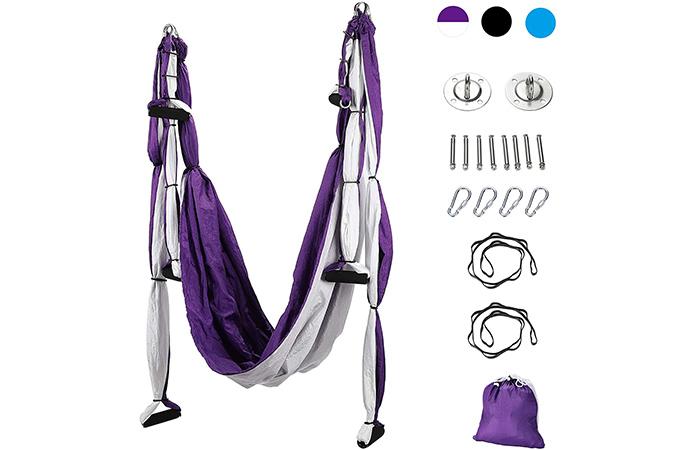 This high-quality aerial yoga swing offers a full-body workout at your own comfortable environment. The polyester taffeta and the smooth swing make your workout comfortable and easy. You can practice back bends, splits, inversions, and deepen your poses by balancing your entire body. The deeper stretches strengthen the hamstrings and open up the hip flexors. This alleviates back and joint pain. Inversion training (hanging freely upside down from the hip joint) compresses your spine and lengthens it for better spinal flexibility.
The high-quality foam handles provide an anti-skid performance. They also alleviate hand fatigue. This simple yet effective yoga swing set develops core strength, offers instant traction to the spine, improves upper body function, and increases full-body strength.
Specifications
Load capacity: 400 lbs
Product size: 98" ✕ 59"
Pros
Easy to set up
Portable and compact
Provides anti-skid performance
Instant traction to your spine
Professional assistance for entire family
Can be hung in outdoor set-up
Cons
Mounting accessories need to be purchased separately.
Price at the time of publication: $49.99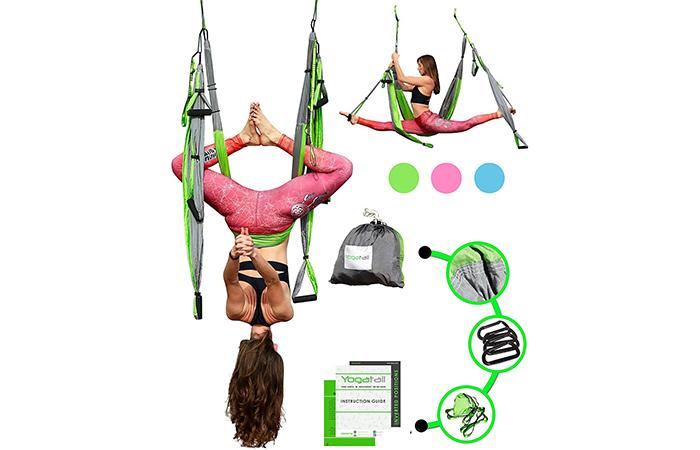 Passive inversion therapy with the Aerial Trapeze Yoga Swing helps decompress the spine and offers relief from joint pain. If you have any history of back pain, herniated disc, carpal tunnel syndrome or aches due to improper posture, this yoga swing can help.
It helps increase strength, improves balance, and opens and enhances different yoga postures. The TRX and strength training straps are added bonuses and help in strengthening your core. The climber trusted Daisy chain extension straps offer a quick and easy way to customize your yoga challenges.
Specifications
Pros
Provides relief from back pain
Works on your back, hips, chest, thighs, and core
Helps reduce fatigue
Helps recover mobility
Boosts energy
Space saving accessories
Available in different colors
Cons
Some sets may have delicate handles that may break.
Price at the time of publication: $49.97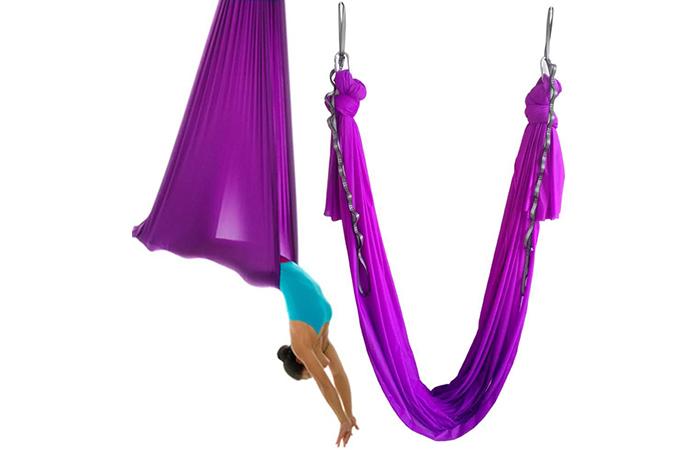 The high-grade quality fabric ensures that your workout is fun, effective, and relaxing. The Aerial Yoga Hammock is a tool that allows an individual to go deeper into the postures by creating an optimum range of motion.
The premium quality aerial fabric with optimum stretchability realigns your spine and reduces back and muscle soreness. The mobility, holding postures, and stretching help improve the functioning of the digestive and lymphatic systems. It helps improve flexibility, boosts energy, and increases focus.
This yoga swing is perfect for aerial yoga, aerial dance, anti-gravity yoga, unnata yoga, suspension yoga, and aerial Pilates.
Specifications
Pros
Fully layered with 3-yard-width yoga style swings
Double point hanging offers safety and comfort
Effective for weight loss
Reduces anxiety
Great for relaxation
Reduce stress
Helpful for autistic rehabilitation training
Cons
Not a fireproof fabric.
Does not come with included accessories.
Price at the time of publication: $67.9
The PINC Active Yoga Swing Set comes with two steel carabiners, two daisy chains, and a cotton storage bag. The swing is made of a stretchy material that helps you to make a seamless transition between poses. The soft swing is perfect for beginners or professionals and helps you to work your core, increase flexibility, and reduce back pain. The yoga swing doesn't need additional hardware and should be hung on a pipe, beam, or a branch, not concrete ceilings.
Specifications
Load capacity: 440 pounds
Size: 12 feet and 5.6 inches length, 9 feet and 0.27 inches width
Pros
Soft silky material
Easy to install
Increases flexibility
Sturdy
Eases pain and stress
One-year guarantee
Cons
None
Price at the time of publication: $47.99
The Happybuy Yoga Sling Inversion Swing Stand is made with superior-quality material and sturdy steel pipes. This yoga set comes with two selectable heights – 9.5 feet for women and 6.5 feet for children and adults to do fitness exercise. It also features safe and reliable brackets that have screws which can rotate in 360°. Furthermore, the foot-pad has a non-slip design ensuring proper grip. To make your experience even safer, the brackets are connected with a safety belt that prevents the yoga set from sliding.
Specifications
Pros
Portable
Stretchy fabric
Easy to set up
Versatile
Cons
None
Price at the time of publication: $375.99
These are the top yoga swings available on the market. But are they really effective? Why should you get one?
Why Buy A Yoga Swing?
Practicing regular yoga may not allow you to do certain stretches recommended for improving joint mobility. A yoga swing makes practicing such poses much easier. It allows one to practice back stretches, mobility poses, and inversion therapy with more ease and perfection.
But before you buy a yoga swing, you must know how to use it. Take guidance from a certified practitioner. The following tips can also help.
How To Use A Yoga Swing
Adjust the base of the seat and sit on the strap.
Grab the handle firmly to get down and lower yourself.
Hold it tight and practice different postures and stretches.
Ask an instructor to guide you.
The following section will tell you what to look for before buying a yoga swing.
Buying Guide For A Perfect Yoga Swing
Weight Capacity: This will help you understand if the swing can hold you safe.
Durability: Check the material, climbing-grade daisy chains, and carabiners. The best aerial yoga swing should come with a locking carabiner for added durability.
Handles: The handles should be made with A Grade gym quality foam. They distribute your weight across the handles as you practice yoga in the air.
Extendable Straps: Yoga swings should have extendable straps to adjust the height as per your needs. This enables you to stretch your legs and hands perfectly.
Seat Size: Check if the seat can hold a bigger or smaller physique.
Portability: A yoga swing should have a carrying bag and all the facilities needed while traveling.
Warranty: Check the warranty the product comes with.
Why Trust StyleCraze?
The author of this article, Aditi Naskar, has a diploma in health and wellness. She has expertise in health, fitness, and wellness trends and keeps a constant eye on fitness advancements. She has compiled this list of the best yoga swings after extensive research and reading many customer feedbacks online on trusted forums. These yoga swings greatly improve flexibility and also manage back pain effectively.
Frequently Asked Questions
Are yoga swings good?
Yoga swings are beneficial because they help relieve spinal compression, reduce stress, and improve strength and flexibility.
How high should my yoga swing be?
Although 300cm is the suggested height for hanging a yoga swing, some experts believe you can go as low as 240cm.
Where should I put my yoga swing?
Hang your yoga swing in the garden. The swing is best placed outside, on the veranda, or on the roof. A tree branch can also be used as a beam. The beam must be sufficiently strong to withstand your weight.
How wide should a yoga swing be?
It is ultimately up to you how far apart the hooks are placed, but the standard distance should be 60cm to 80cm (24 to 32 inches).
Is there a weight limit for yoga swings?
Yes. Most yoga swings can hold between 440 – 600 pounds, but a safe operating weight range is usually around 330 pounds.
Recommended Articles