15 Best Yoga Towels Of 2022 + A Complete Buying Guide
Perform expert yoga poses without risking injuries or getting hurt with these towels.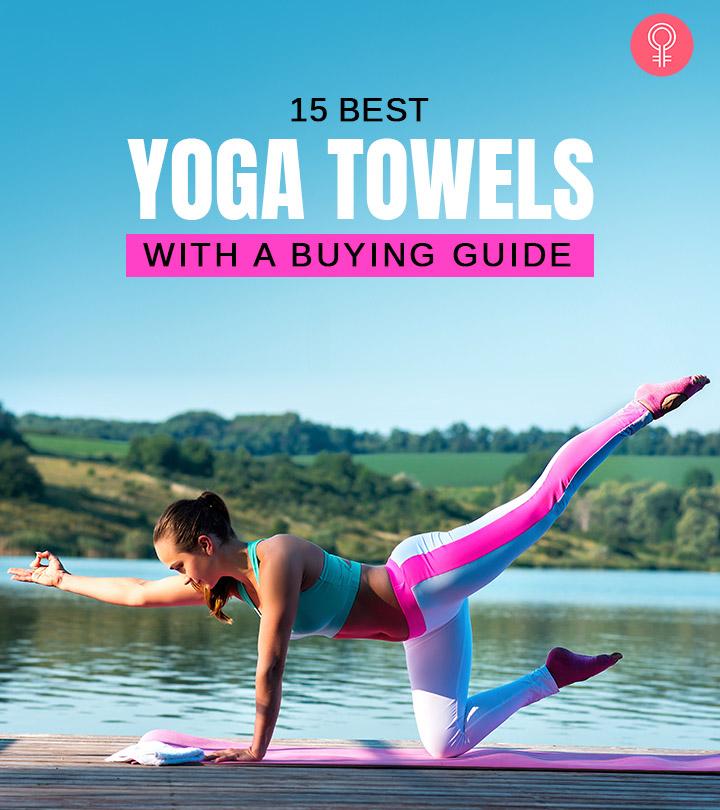 The need for owning the best yoga towel arises when your mat feels too slippery to do expert poses on. While your yoga mat is ideal for sitting and performing poses that do not include movements, the foam might skid over the bare floor and cause unwanted injuries. The easiest way to beat it is by covering the mat with a towel to give you a skid-proof surface. Here is our list of the best yoga towels to make your experience safe and flawless.
15 Best Yoga Towels
The Yoga Jaci Yoga Mat Towel is a well-built, super-soft yoga towel made of 100% microfibers. It helps in performing floor exercises. This sweat-absorbent towel not only absorbs perspiration but also provides a comfortable floor for performing regular yoga, hot yoga, Pilates, etc. This microfiber towel can also be used as a hand towel to wipe away persipiration. The Yoga Jaci Yoga mat Towel measures 24" wide x 72" long and will cover your yoga mat perfectly. Sprinkling some water on the mat before placing the towel may further enhance safety. It is resistant to wear and tear. This lightweight yoga towel can be easily folded and carried to a yoga studio or gym for a more effective workout. It is super-absorbent and can be rolled tightly to a compact diameter of 2.5'' for easy storage. Watch this video to learn what kind of asanas you can perform on this yoga mat.
Pros
Lightweight
Super-soft
Comfortable
Made of 100% microfiber
Sweat-absorbent
Hygenic
Extra-long
Wear- and tear-resistant
Can be easily folded
Easy to carry to the gym or yoga studio
Travel-friendly
Available in different vibrant colors
Free ebook with the purchase
Cons
The more you sweat, the more the Yoga-Mate towel absorbs. This sweat-absorbent microfiber towel soaks 100% of the moisture and helps you stay steady while practising yoga. This high-quality premium stitching 72″ x 26″ towel fits perfectly over a yoga mat. This lightweight, multi-purpose towel is easy to pack and perfect for Pilates, hot yoga, exercise classes, gym, showering, camping, travel, and the beach. It can be easily washed and dried. The towel is resistant to wear and tear.
Pros
Lightweight
Super-absorbent
Soaks moisture
Made with 100% microfiber
Slip-resistant
Multi-purpose
Wear- and tear-resistant
Folded to a compact size
Available in vibrant colors
Cons
The IUGA Non-Slip Yoga Towel is made of the best quality microfiber fabric. This anti-slippery, sweat-absorbent, super-soft yoga towel is available in two sizes – 72″ x 26″ / 68″ x 24″. The four corner pockets ensure easy wrapping of the towel with your yoga mat. The yoga towel does not bunch. This 100% soft microfiber yoga towel comes with a hand towel and a spray bottle. It is machine-washable and lightweight but 30% thicker than the average yoga towel. A youtuber talks about the efficacy of this mat in this video. Check it out.
Pros
Lightweight
Super-soft
Sweat-absorbent
30% thicker
Slip-resistant
Side pockets ensure easy grip
Comes with a hand towel and spray bottle
Available in multiple colors
Easy to wash
Cons
Shrinks easily after a wash.
May have a fishy smell.
The Yogitoes Manduka Yoga Towel has a non-skidding technology that utilizes silicone rubs at the backside to enhance grip. Each towel is sustainably crafted with eight or more discarded plastic bottles. These are recycled and woven into 50% poly yarn that consume 66% lesser energy to produce. The sweat-absorbent towel absorbs 90% of the sweat and keeps you cool and dry. The towel is lightweight, portable, and durable. It can be used for multiple workouts like yoga and Pilates gym or even for traveling.
Pros
Lightweight
Ultra sweat-absorbent
Soft and comfortable
Easy gripping by silicone knobs
Dyes are free of AZO, lead, and heavy metals
Color-safe
Easy to wash
Travel-friendly
Eco-friendly
Made by recycling plastic bottles
Available in a variety of designs
Vibrant colors
Quick-drying
Cons
Silicone dots may hurt the hands.
The Shandali Hot Yoga Towel features an innovative web silicone backing to prevent bunching. With this innovative feature, you can feel 500% better in a yoga practice. It keeps itself from skidding by providing a perfect grip and traction. The silicone thread is woven neatly and tightly to provide a perfect grip with the yoga mat. The extra dense lightweight soft weave provides a comfortable grip, cushioned support to your arms, knees, and shoulders. The sticky towel works as a great yoga aid by folding and placing under your knees for knee support. You can also sit on it and use it as an extra cushion during meditation. Watch this video to learn how you can use this towel to do various asanas.
Pros
Lightweight
Extra dense
Non-skidding silicone knobs
Slip-resistant
Provides a perfect cushion for knees, back, and neck
Easy to wash
Travel-friendly
Provides a proper traction
Perfect for beginners and yogis
Available in different colors
Cons
Thin
Gripping needs improvement.
The YogaRat Hot Yoga Towel is engineered to absorb moisture and sweat during heavy exercise and yoga practice. It is constructed from 80% polyester and 20% nylon top-quality microfiber with 600 GSM (grams per square meter) heavy thread to provide ultra-thickness, enhance gripping, and offer cushion support to joints and knees. It is a perfect yoga towel for those who want an extra cushioning for the knees, back, neck. The sweat-absorbent property allows for a stable practice.
Pros
A strong weave durable quality fabric
Ultra-thicke
Enhances gripping
Slip-resistant
Machine washable and dryable
Provides a cushion
Absorbs extra moisture
Available in different colors
Perfect for hot and humid weather
Can be washed with a fabric softener
Cons
May get slippery after repeated use.
The Shandali GoSweat Hot Yaga Towel is specifically designed to create a solid, stable, and sweat-free environment to practice yoga. It helps deepen your postures with its anti-skid surface that offers maximum support. It is weaved by a soft microfiber with a premium stitching to increase durability. The towel is wear- and tear-resistant. This 26.5" long yoga towel perfectly fits on a standard yoga mat and comes with a free mini hand towel you can wipe your face with. This quality towel is compact and easy to roll and carry.
Pros
Lightweight
Durable
Soft and comfortable
Wear- and tear-resistant
Anti-skid fabric
Easy to wash
Sweat-absorbent
Perfect for beginners or professionals
Compact
Travel-friendly
Available in different colors
Cons
May get slippery after repeated use.
Heathyoga has been serving people for over 10 years with its exclusive professional yoga products. Their silicone-coated sweat-absorbent yoga towel is an innovative addition to a perfect yoga practice. It is made of super-absorbent, quick-dry, durable microfiber with a unique feature of dual-grip two-sided fiber that provides exceptional grip. The microfiber and silicone-coated towel is a modern technological improvement to a traditional yoga mat. This specially designed grid-texture offers added stability. The exclusive corner pocket design helps anchor the yoga towel with your mat to prevent bunching. This yoga towel is available in two sizes – 72″ x 26″ and 68″ x 24″. It is perfect for hot yoga, Bikram Yoga, and power yoga.
Pros
Lightweight
Tightly woven microfiber
Silicone-coated ends
Provides maximum grip
Moisture-wicking microfiber
Easy to carry
Twice as durable
Comes with a carrying bag with a cotton rope closure
Easy to wash
Quick dry
Skin-friendly
Travel-friendly
Available in different colors
Comes with a spray bottle
Cons
Poor quality silicone back
May have an unpleasant smell.
The Manduka eQua Yoga Towel is an eco-friendly product. It is extremely lightweight and measures 72" x 26.5". You can even fold this extra-large yoga towel for providing a cushion to your knees, neck, and back. This durable super-absorbent micro-fiber towel is a perfect rug to provide a hygienic barrier between you and the yoga mat. This soft, comfortable, and slip-free extra long yoga mat is a perfect companion for yoga, Pilates, and hot yoga.
Pros
Ultra-lightweight
Durable
Extra-large
Made of premium quality microfiber
Moisture-absorbent
Slip-resistant
Travel-friendly
Adds traction to sweaty palms and feet
Easy to wash
Available in multiple colors
Cons
Need to improve grip quality.
Not color-safe.
This yoga towel is lightweight, absorbent, and non-slip. It is great for regular yoga, power yoga, and hot yoga. It is eco-friendly and made from 100% recycled plastic bottles and is printed using water-based inks. It measures 72" x 24" and weighs 0.7 lbs. This extra-large yoga towel is enough to cover your yoga mat. It provides a sweat-absorbent, non-slip grip to improve balance.
Pros
Eco-friendly
Lightweight
Made with recycled plastic bottles
Water-based inks for printing
Easy to wash
Dries quickly
Moisture-wicking fiber
Non-slip grip
Easy to carry
Can be folded
Extra-large
Available in different colors and designs
Cons
Can bunch up.
Can feel like plastic.
The Youphoria Yoga towel is ideal for hot yoga, Pilates, and power yoga. This yoga towel is silicone-free and made of microfiber to build traction and enhance gripping to prevent injuries. The non-slip, skid-less yoga towel measures 24" x 72". This lightweight microfiber can absorb more water even after a quick wash. It is easy to dry. This durable towel is made with bacteria-free material.
Pros
Made with durable microfiber
Easy gripping technology
Slip-resistant
Sweat-absorbent
Absorbs water quickly while washing
Quick to dry
Lightweight
Easy to carry
Easy to fold
Latex-free
Skin-friendly
Bacteria-free material
Available in multiple colors
Cons
The Gaiam No-Slip Yoga Towel is 1.5 mm thick. It is lightweight and has microfiber on the top and a rubber no-slip coating at the bottom. This soft comfortable towel measures 68" x 24". It has a multipurpose use for hot yoga, Pilates, standard yoga practice, and stretching. A unique layer on the top of the towel absorbs moisture. The towel is slip-resistant, making it a perfect floor for exercises. The towel is available in five different colors and can be rolled up into a compact size while traveling.
Pros
Ultra-lightweight
Double-coated microfiber layer
Rubber bottom prevents slipping
Sweat-absorbent
Durable
Travel-friendly
Great for hot yoga
Easy to wash
Dries quickly
Available in different dual-tone colors
Cons
Expensive
Smells of rubber
The DubeeBaby Non-Slip Absorbent Yoga Towel is made of 100% microfiber material. It is ultra-soft and comfortable. It measures 24" x 72" and covers your yoga mat perfectly to prevent slippage. The yoga towel is ideal for hot yoga, Bikram yoga, or even Pilates. This sweat-absorbent yoga towel is made of moisture-wicking microfiber that keeps you cool and dry during your yoga practice. It provides a bacteria-free environment.
Pros
Made of 100% microfiber
Slip-resistant material
Thick
Absorbs sweat
Creates a hygienic environment
Anti-skid microfiber
Easy to wash
Dries quickly
Travel-friendly
Perfect for Bikram yoga and hot yoga
Available in a variety of colors
Cons
A little heavy to carry.
Unpleasant smell
The Intention Hot Yoga Towel is antibacterial and measures 26″ x 72″. It is lightweight, moisture-wicking, and made of 100% microfiber. The corner pockets keep the towel from bunching. This yoga towel is skin-friendly, creates a protective hygienic layer between you and the yoga mat, and is fairly easy for machine wash.
Pros
Non-skid microfiber
Non-bunching
Corner pockets wrap entire mat
Slip-resistant
Antibacterial
Moisture-absorbent
Quick-drying
Machine-washable
Flexible size
Large enough to cover the entire yoga mat
Available in multiple colors
Cons
Measurements could be misleading.
The SYOURSELF yoga towel is made of 100% microfiber that is comfortable, soft, and comes in a digital printing. It measures 72" x 24". Its anchor-fit design wraps the yoga mat perfectly and keeps it from bunching. This microfiber yoga towel has a moisture-wicking property and absorbs sweat perfectly. Its strong-gripping property prevents the towel from slipping. The bright, vibrant, water-based, non-fade print design keeps you refreshed as you perform your yoga. You can easily carry the towel wherever you go by rolling it into a microfiber portable pouch. This attractive antibacterial towel is perfect for Bikram Yoga, Pilates, and meditation.
Pros
Lightweight
Ultra-soft
Comfortable
Moisture-wicking property
Anchor-fit design
Anti-slip property
Antibacterial
Perfect for outdoor and indoor sports
Easy to carry
Vibrant digital print
Available in variant colors
Comes with a portable pouch
Fast-drying
Cons
These are the top yoga towels available online. In the following section, we will see how to use a yoga towel in the right way.
How To Use A Yoga Towel Properly
Roll out the anti-slip yoga towel on your yoga mat.
If it has side corner pockets, wrap your yoga mat with the anchors to get a better grip.
Enjoy your yoga postures and deepen them as much as you can.
Dry the yoga towel after each use and wash it once in a week for a bacteria-free environment.
The following are the benefits of using a yoga towel for hot yoga.
Benefits Of A Yoga Towel For Hot Yoga
Absorbs sweat while practising yoga.
Provides a slip- and glide-free yoga practice.
Absorbs sweat and acts as a "sticky" surface after your mat gets sweaty.
Extends the life of a yoga mat.
Dries your hands, feet, and other parts of your body and provides a cooling effect.
Before you buy a yoga towel, you need to consider a few factors.
How To Choose The Best Yoga Towel
A yoga towel is a cushion for your knees, neck, back, and shoulders. It helps you perform yoga postures comfortably. The following checklist can help you make the right choice:
Moisture Absorption: A yoga towel should be made of microfiber fabric that absorbs sweat and has moisture-wicking properties.
Thickness And Cushioning: A yoga towel should be thick enough to provide cushioning for your knees, neck, and back.
Size: The yoga towel must be big enough to cover the yoga mat completely .
Grip: The yoga towel must offer grip and keep the mat from slipping. Silicone knobs behind a yoga towel could provide the best grip.
Why Trust StyleCraze?
The author of this article, Aditi Naskar, is a fitness enthusiast and also holds a diploma in health and wellness.She curated the list of the best yoga mat towels, keeping in mind your workout needs. Aditi's list comprises budget-friendly options which offer durability and a safe experience. Not only are these towels super soft, but are also sweat-absorbent and provide comfort after you perform your regular yoga and exercises.
Frequently Asked Questions
How do you wash a yoga towel?
Yoga towels are generally machine washable. You can put it in the washing machine and wash it separately with mild detergent and lukewarm water.
What is the difference between a yoga mat and a yoga towel?
While yoga mats provide cushioning and padding, yoga towels offer preservation and serve as a protective cover for your mats. Yoga towels promote a clean and hygienic environment, extend the life of the mat, absorb sweat, and keep the surface from becoming slippery. These are made from soft fabric that is easily washable whereas mats are made from a thicker, more stable material. For the best experience, use the mat as well as the towel together.
What size yoga towel do I need?
If you want to know the accurate size of the yoga towel you need, you will need to know the size of your yoga mat. Measure your yoga mat and then pick a towel that will fit on it perfectly.
Are yoga towels microfiber?
Yes, a lot of yoga towels are made of microfiber material so that they can easily absorb moisture.
Can I use a regular towel for yoga?
Unfortunately, a regular towel does not qualify as a yoga towel. It does not have any grip that will prevent any slips. Moreover, it may not fit and stick to the mat.
Recommended Articles