The 11 Best Zero Waste Deodorants Of 2022 – Our Top Picks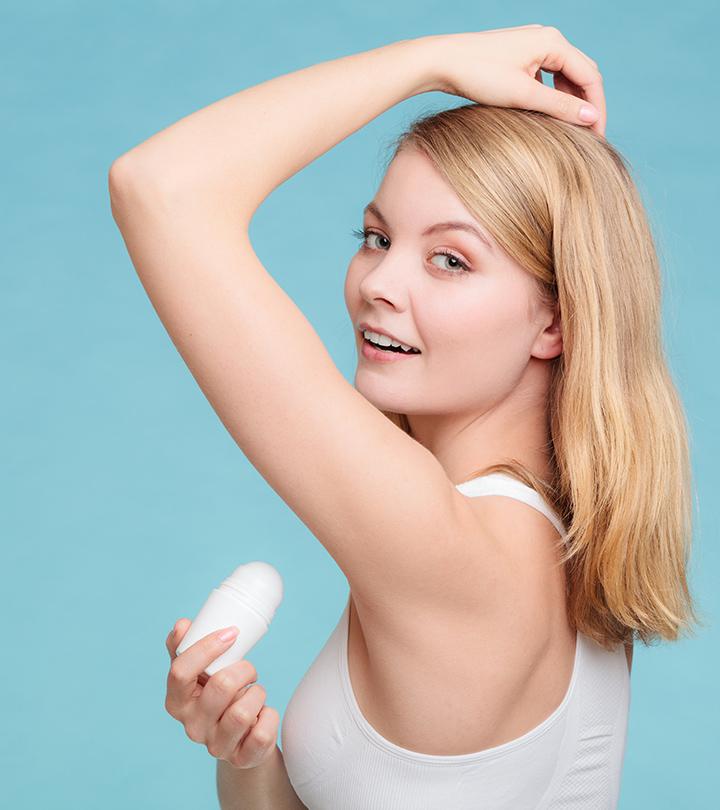 Single-use plastics are extremely bad for the environment. But, almost all products have it in their packaging or formulation. The best zero waste deodorants are packaged using recyclable and bio-degradable packaging materials. Some brands offer refillable or reusable containers too. These deodorants are made of natural ingredients that are safe for the skin and do not cause side effects like hyperpigmentation and dryness.
We all want to smell amazing, but our freshness seems to take a hit when we realize that it is at the cost of our planet. As we move from synthetic products to more sustainable life choices, it is important to pay attention to details like the packaging. Several brands now offer zero-waste products keeping in mind the planet's health. In this article, we have listed the best zero waste deodorants that you could switch to in order to reduce your waste and move towards a more sustainable lifestyle. Keep scrolling to find out more!
11 Best Zero Waste Deodorants For Your Health And The Earth's
For a 48-hour odor protection experience, you should give this plastic-free deodorant a shot. To allow your skin to breathe freely, the formula contains no aluminum like the conventional deodorant. The naturally-derived ingredients keep you fresh and confident whether it be at work or the gym. With Tom's Of Maine's stick deodorant, you can go long and hot summer days with no worries as it doesn't contain any preservatives.
Pros
Preservative-free
Cruelty-free
No artificial fragrances
Aluminum-free
Plastic-free packaging
Long-lasting odor protection
Cons
Might stain clothing with white patches
Ethique's deodorant bar is made without baking soda or aluminum to protect your overall health. To keep foul odors and sweat at bay, the brand uses magnesium hydroxide, zinc oxide, and bamboo. A blend of jojoba and sweet almond oil is also present to keep your underarms feeling silky smooth, all day long. The scent of eucalyptus, lime, and cedarwood is fresh and pleasing to the senses without being overbearing.
Pros
Vegan
Compostable
Palm oil-free
Doesn't contain baking soda or aluminum
Cruelty-free
Cons
Scent might not be long-lasting
Meow Meow Tweet's eco-friendly deodorant is formulated for sensitive skin types. To condition the skin, nourishing butters and plant oils are present. A potent mix of essential oils helps keep you smelling your best with a bright citrus scent. With a creamy texture similar to that of cake frosting, this handmade natural deodorant keeps your feet soft and fragrant! This gentle all-natural deodorant uses a combination of arrowroot and magnesium to keep moisture and odor under control.
Pros
Cruelty-free
Vegan
Palm oil-free
Ideal for sensitive skin
Controls odor and moisture
Conditions skin
Cons
Might leave behind residue
ATTITUDE's environmentally-friendly deodorant utilizes cornstarch and arrowroot to eliminate unpleasant scents and absorb moisture. It doesn't plug up your body's natural temperature-regulating sweat system. Lemon leaf extract purifies the skin and the refreshing aroma of earl grey tea and cucumber lifts the senses. With the help of conditioners like coconut oil and organic shea butter, your skin is also left feeling smooth.
Pros
Cruelty-free and vegan
Hypoallergenic
No aluminum or baking soda
Clinically tested
Non-irritating
Free of parabens, phthalates, triclosan, and artificial colors
Cons
The soft texture might crumble easily.
For effective protection against smells and sweat, Pack & Leaf's natural zero waste deodorant uses a gentle formulation of magnesium and baking soda. With a regular and a travel-sized deodorant included, rest assured you'll be smelling delicious on all the trips you'll be taking! To care for your skin, you'll find shea butter, vitamin E, and coconut oil for moisturization, jojoba seed oil to neutralize odor, and vanilla extract for a natural scent. Arrowroot powder keeps you dry by absorbing moisture while candelilla wax softens skin.
Pros
Paraben-free
Aluminum-free
Cruelty-free and vegan
Contains moisturizing ingredients
Natural scent
Gentle formula
Cons
Might need to be reapplied frequently
Myro's green deodorant is an aloe-based formula that contains sage to neutralize bacteria and odor-fighting probiotics. Its eco-friendly deodorant packaging consists of refillable cases and recyclable pods that minimize plastic waste. With non-irritating ingredients or chemical elements, Myro's formula helps you stay fresh no matter where you go. The sparkling orange, juniper, and sunflower scent carries you through your day with confidence.
Pros
Aloe-based
Free of parabens, phthalates, and aluminum
Doesn't contain triclosan or talc
No artificial fragrances or baking soda
Neutralizes sweat-causing bacteria
Cruelty-free and vegan
Cons
Might not have long staying power
This gem from Island Deodorant contains coconut and jojoba oils, shea butter, probiotics, wax, corn starch, and baking soda to combat odor. If you've been on the hunt for a zero waste deodorant that actually works, try this organic and toxin-free formula. As the oils nourish your skin, the other ingredients keep nasty smells away for a day filled with ease. This non-drying formula is safe for use by even pregnant and nursing ladies.
Pros
Aluminum-free
Vegan
Paraben-free
Gluten-free
BPA-free
Alcohol-free
No added fragrance
Cons
Might not be ideal for sensitive skin
Without clogging pores, BeNat.'s Artisanal Natural Deodorant offers odor protection for long hours. It contains all-natural and fewer ingredients like coconut and avocado seed oil for skin-conditioning, cornstarch, baking soda, and beeswax to prevent smells and moisture, and tea tree essential oil for a light scent. With their eco-friendly deodorant containers, you can also rest assured that you're doing your bit to help save the planet.
Pros
Aluminum-free
Paraben-free
Free of BPA and synthetic fragrances
Free of gluten, alcohol, and GMOs
Doesn't contain phthalates or sulfates
Non-comedogenic
Cons
Some may find it slightly sticky
With Coconut Matter's sustainable deodorant, odor is neutralized by the prevention of bacteria growth owing to coconut oil and elderberry extract. Arrowroot powder and tapioca starch absorb moisture and keep the skin dry. To keep your skin healthy, the formula also contains antioxidants, 19 botanical elements, and minerals. Pure essential oils of lavender, lime, and geranium are blended to lift your mood with a pleasant scent. The compact deodorant goes on with no stains, stickiness, or residue and is safe for children and pregnant women.
Pros
Aluminium-free
Detoxes skin
Free of parabens, phthalates, triclosan, baking soda, or synthetic fragrance
Cruelty-free and vegan
Long-lasting pleasant scent
Safe for children and pregnant women
Cons
Scent might not last long
This no-waste deodorant by DOM'S boasts a summery citrus scent composed of sweet oranges, lemon, and grapefruit. Free of toxins and made with vegan ingredients, your body can sweat naturally while fighting odor with a little help from this deodorant. With this zero waste deodorant, sensitive skin types won't be irritated. DOM'S formula is creamy, heat-stable, goes on mess-free, and a little goes a long way. With pretty jars and bamboo lids, these zero waste vegan deodorants are also suitable for gifting.
Pros
Cruelty-free and vegan
Irritation-free
Free of aluminum, parabens, synthetic fragrances
Phthalate-free
Creamy consistency
Refreshing scent
Cons
Might need frequent reapplication
The ZERO deodorant uses 2 naturally-deodorizing technologies of baking soda and oxygen-infused shea butter to keep body odor at bay. In this zero waste deodorant recipe, you'll also find coconut oil, baking soda, beeswax, and arrowroot powder. While sweat is neutralized, your skin also stays soft and conditioned. Restorative and calming essential oil blend of ylang ylang, chamomile, mandarin, tansy, sweet orange, lavender, elemi, and patchouli release a sweet fragrance.
Pros
Cruelty-free
Uses natural ingredients
Combats body odor
Conditions skin
Long-lasting
Cons
Some may find the scent to be overpowering
Now that we've gone over some of the best zero waste deodorants you can use, let's take a look at how you can pick the right one for yourself.
What To Look For In A Zero Waste Deodorant
Some zero waste deodorants are unscented and this is a great option if you use perfume or have sensitive skin. If you prefer scented options or like to try out a variety of scents, there are multiple options available too. You can choose a citrusy deodorant for a refreshing scent, floral if you like something sweet, and a woody scent if you want something subtle.
Zero waste deodorants are typically made in the form of a bar that is rubbed on the armpits. This option might be difficult to store or use when on-the-go.
A zero waste deodorant stick formula is the most common and it only needs to be twisted for the stick to rise. You can rub it on the skin and twist it back down. This is a hygienic and convenient option, making it ideal for travel.
Cream or balm-like zero waste deodorants come in a glass jar and melt when on the skin. They can sometimes have some solids in the formula that might feel uncomfortable when applied. It is also difficult to achieve a mess-free application with these.
Always check the deodorant ingredient list and ensure they're free of dyes and scents as they can be irritating on sensitive skin. Also keep an eye on the expiry date as natural formulas can turn rancid if used past their date of expiry.
As there are so many kinds of deodorants on the market, let's break them down to understand them better.
Zero Waste Vs. Natural Vs. Aluminum-Free Deodorants
Natural deodorants use recognizable ingredients such as cornstarch, coconut oil, or arrowroot powder to combat odor instead of aluminum. Most of these elements neutralize the bacteria in the sweat and some absorb it while the traditional deodorant might use chemicals. Technically speaking, natural and aluminum-free deodorants are the same. They don't prevent the production of sweat like regular antiperspirants do.
Zero waste deodorants go one step above natural deodorants and they use packaging that doesn't contain plastic. They can be packaged in glass or refillable jars. Generally, zero waste natural deodorants come in paper packaging that is compostable and biodegradable.
Why Trust StyleCraze?
Vaishnavi Kothuri, the author of this article, has a deep interest in skin care and loves writing about different skin care products. She has carefully selected these zero waste deodorants after closely studying the user feedback on trusted forums and brand websites. The zero-waste deodorants listed in this article are safe on the skin and do not cause side effects like hyperpigmentation and dryness.
Frequently Asked Questions
Does a plastic-free deodorant work?
Yes, plastic-free deodorants contain natural minerals and plant-based extracts that help combat body odor and smooth skin.
Is it okay to use baking soda as a deodorant?
Baking soda can help absorb odors and is a part of many DIY deodorant recipes. However, it might be abrasive or irritating for sensitive skin types.
Is a natural deodorant better for the environment?
Definitely! Natural deodorants are made with ingredients that cause no harm to animals, your skin, or the earth. Their recyclable, compostable, and biodegradable packaging won't clog landfills.
Why do I stink with natural deodorants?
Natural deodorants don't stop your body from sweating as they don't contain the antiperspirant aluminum. The bacteria that grows on this sweat might cause more body odor.