The 5 Best Zero Waste Sunscreens For Every Skin Type – 2022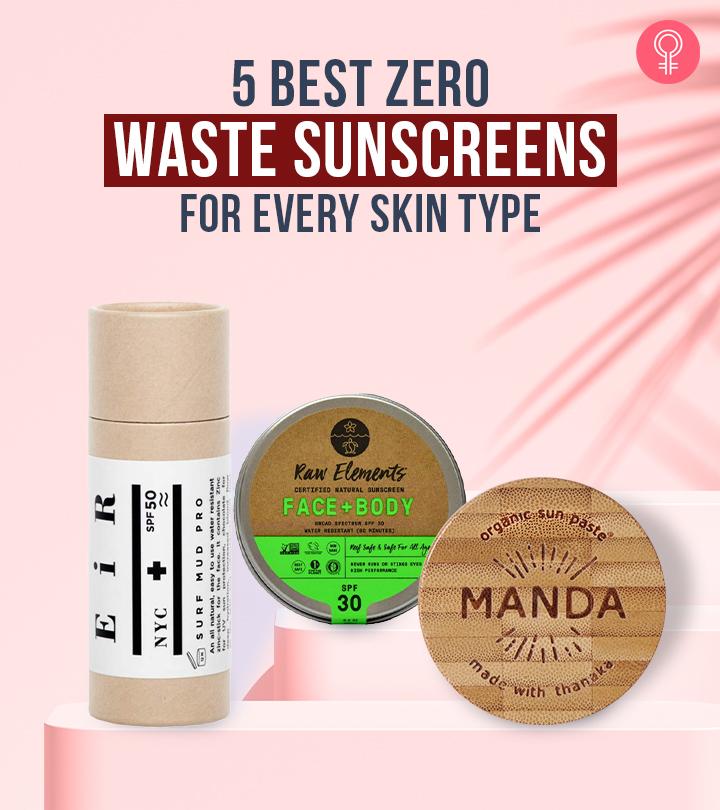 Everyone agrees that we have to apply sunscreen when we step out to protect our skin from the harmful UV rays. But regular sunscreens contain chemicals that damage the skin and the ocean. How about using the best zero waste sunscreens to prevent all that?
Traditional sunscreens are made with chemicals that affect the body's endocrinal system, and hormone levels and their production. When you head out to swim in the ocean after applying your favorite sunscreen, these chemicals can wreak serious havoc on marine life and ocean environments. However, zero waste sunscreens reduce your carbon footprint. They are eco-friendly, plastic-free, and healthier alternatives that protect your skin completely. Keep reading to check out our top suggestions.
5 Best Zero Waste Sunscreens
The Raw Elements Natural Sunscreen is rated 1 on the EWG Skin Deep scale. It is a performance-driven face and body sun protector that lasts more than an hour. This product does not irritate the eyes and has a subtle and moisturizing formula. It is mild enough for children as well. This sunscreen lotion contains only one active ingredient – 23% non-nano zinc oxide, and it has broad-spectrum SPF 30 to protect your skin from UVA and UVB rays.
Pros
Water-resistant
Contains organic ingredients
Suits sensitive skin
Suitable for all ages
Easy to apply
Soy-free
Gluten-free
Nut-free
Cons
This sunscreen from All Good uses clean non-nano zinc oxide as its active ingredient, which does not get absorbed into the skin. Instead, it creates a barrier that protects the skin from the harmful rays of the sun. This sunscreen butter is crafted with organic ingredients like calendula, coconut oil, and beeswax, all of which nourish and soothe the skin. The product works well in extreme environments like high elevation or water sports. This portable sunscreen lasts up to 80 minutes and has broad-spectrum SPF 50.
Pros
Water-resistant
Does not burn the eyes
Oxybenzone-free
GMO-free
Gluten-free
Cons
Does not spread easily on the skin.
Less quantity for the price.
Leaves a white cast on darker skin tones.
The MANDA Organic Sun Paste is a high-performing SPF 50 sun protector that is created for outdoor lovers. It stays on for a long time, which means you don't need to worry about reapplying it too frequently. This product is made from the trunk of the Thanaka tree, which is a natural cosmetic commonly applied topically as natural sun protection. This sun paste also has coconut and shea butter, both of which have anti-inflammatory and healing properties.
Pros
Water-resistant
Child-friendly
Safe for acne-prone skin
Cruelty-free
Cons
Greasy
Tends to harden in cold weather.
The SurfDurt Original Sunblock is an all-natural sunscreen made with solar-powered manufacturing. It is formulated with 23% non-nano zinc oxide and bio-based ingredients like coconut, avocado, and jojoba oils that protect and nourish the skin. This zero-waste sunscreen has broad-spectrum SPF 30 to protect your skin from UV damage. It forms a visible natural barrier on your skin and shields it from the sun. This sweatproof formula lasts for up to 80 minutes.
Pros
Water-resistant
Lightweight formula
Kid-friendly
Non-greasy
Cruelty-free
Cons
This sunscreen comes in a sleek, sustainable stick packaging that slides on the skin to offer a chocolate-scented finish and long-lasting protection. It contains non-nano zinc oxide for UV protection, beeswax to seal in moisture, cocoa butter to deeply hydrate the skin, and cocoa powder to protect the skin from free radical damage. All the ingredients in the product are safe for kids. This sunscreen improves skin tone and elasticity and helps you achieve a sun-kissed glow.
Pros
Waterproof
Smells good
Cruelty-free
Paraben-free
Chemical-free
Cons
Greasy
Does not spread easily.
If you are wondering about the factors to look for while opting for a zero waste sunscreen, scroll down to the next section.
What Should You Look For In A Zero Waste Sunscreen?
Zero waste sunscreens do not cause any harm to our bodies or the environment at large. This means harmful chemicals are out of the question if you choose to use a zero-waste product. Ensure that the sunscreen does not contain toxic ingredients, such as oxybenzone, avobenzone, octisalate, octocrylene, homosalate, and octinoxate.
Different kinds of sunscreens filter out different percentages of UV rays. SPF 15 filters out about 93% of all UVB rays, SPF 30 filters 97% and SPF 50 filters out 98%. Go for sunscreen with at least SPF 30 to protect your skin from UV damage.
Broad-Spectrum Protection
There are three kinds of sun rays – UVA, UVB, and UBC. We are protected from the UVC rays, thanks to the ozone layer of the earth. Unfortunately, we are not protected from UVA and UVB rays, which cause aging, wrinkling, skin cancer, and eye damage. Look for a sunscreen that has broad-spectrum protection, which will protect you from both UVA and UVB rays.
If you are getting in and out of the water and are active, it is important to choose a water-resistant sunscreen. Look for one that offers at least 40 minutes of water resistance.
The whole purpose of a zero waste sunscreen is to reduce environmental pollution. Hence, go for products that not only have biodegradable ingredients but also come in eco-friendly or reusable packaging.
Sunscreens are unavoidable, and skipping them is a big no-no. Using the best zero-waste sunscreen takes care of our skin and our environment. Unfortunately, traditional sunscreen products are harmful for the marine life, and they can also harm your skin and, in worst cases, can elevate your hormonal levels. These zero-waste sunscreen products are eco-friendly, water-resistant, and are cruelty-free. Read the reviews closely and refer to the buying guide to pick the right sunscreen that your skin needs.
Why Trust StyleCraze?
The author, Oyendrila Kanjilal, is a makeup enthusiast who digs different makeup products. She conducted in-depth research on the sunscreens available on the market and read numerous online reviews to narrow down a list of the best zero waste sunscreens. Her recommended plastic-free products are water-resistant, made of safe ingredients, and protect your skin from harmful UV rays without affecting the environment!
The following two tabs change content below.